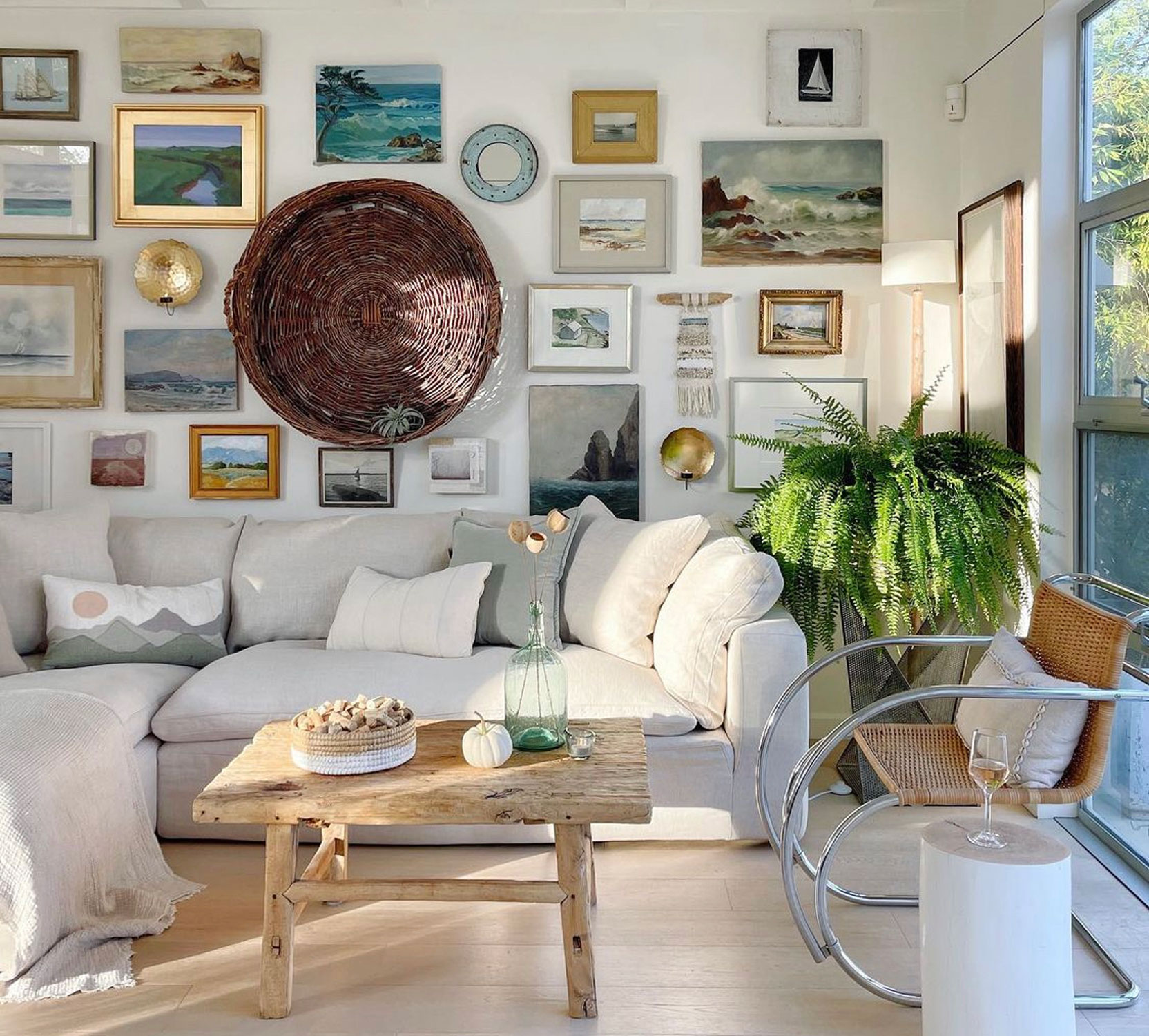 These bloggers (and personal friends of mine) show you why gallery walls work really well in a big space! Both Kim and Elizabeth live in California, so there is already something I love about their casual laid back vibe, but both show you how a gallery wall works when you have one big wall!
Back again this Sunday with Cindy and Mary Ann with Sunday favorites. Gallery walls have always been on the top of my list and so today I am sharing two that I love.
A collected gallery wall by Elizabeth Burns
Elizabeth has a collected over time gallery wall at her home in Santa Barbra. I love how she keeps adding items like the Slightly Choppy beach flag.
Kim lives in the Bay area and has a lovely home that they have recently renovated. I love how she keeps adding to her gallery wall. Kim has more blank space and it just shows you how a gallery wall can be done in so many different ways. Kim included a pair black and white photographs of her boys. You must go visit Northern California Style to see how creative Kim got with this idea! It's something I would really love to try.
2. What to wear in Early Spring…which is right now!
Jeans / 2. Jacket / 3. Shirt / 4. Sunglasses / 5. Lipstick / 6. Sneakers / 7. Bag
Transitioning into spring is always slow in the northeast, but a new stripe shirt from Kule is the perfect staple to wear again and again. Almost every new item I buy has to be a workhorse in my closet. I don't buy a lot of new clothing, so when I do, It has to be something I'll reach for A LOT!
Start with a pair of white jeans
I wear white jeans all year long, so it was about time I bought a new pair. The perfect white jeans are a little tricky to find. I absolutely love this pair from Madewell. They come in petite, regular and tall. I buy tall so I can never find them in the store, but I always start by trying on the regular first, and then they will ship for free in the length you need. Right now Madewell is having a sale, 20% off everything!
A stripe shirt is a great layering piece for spring
This striped shirt replaces a J.Crew shirt that I had for many years that finally wore out. This is one that will last, it's midweight and a little over-sized. I actually returned it for a smaller size and then in the end went with the larger size for a more over-size fit. This particular one is called the boyfriend fit, so it's supposed to run a little oversize. I'll wear it with everything from regular denim to black denim, but for spring (when it's not raining) I love it with white.
A fun spring bag to wear and to hang on a hook
I love this bag that comes in three colors, but the blush color looked sort of like the pattern of a cane chair. It goes with everything! I use a large zipper pouch inside the bag when I use it as a purse. When I'm home, I love how it hangs on my hooks in the entryway.
I used to only wear Chanel lip stick, but I love this one from Glossier
Nothing says spring like a red lip! This one from Glossier stays on but is also very moisturizing. And I love that it was only $18!
Thank goodness sneakers are still the in thing to wear
Because if they weren't, then I would be out! I love wearing sneakers that I don't have to worry about getting caught in the rain. They are comfortable and stylish! I love these Veja™ V-10 Sneakers in Colorblock.
We love our Warby Parker sunglasses. They have so many options with or without prescription. I had mine made using my prescription for Progressives so that I can drive and read in the sun! I love how reasonably priced Warby Parker glasses are and yet they are so fashionable too!

3. Abraham Boyd – Infinity Song was performing at Bethesda Terrace in Central Park
On Friday it was 70 degrees and we decided to take a walk through Central Park to enjoy the first nice day. We were so lucky to be in the right place at the right time for the pop-up concert by Abraham of the sibling band, Infinity Song. It was at the Bethesda Terrace which is one of the iconic and most well-known features in Central Park. Have you ever happened upon a pop-up concert only to find out later that it was someone well known?
[mv_video doNotAutoplayNorOptimizePlacement="false" doNotOptimizePlacement="false" jsonLd="true" key="qjse5tigxv1e2n8m168d" ratio="16:9″ thumbnail="https://mediavine-res.cloudinary.com/video/upload/qjse5tigxv1e2n8m168d.jpg" title="Infinity Song in Central Park" volume="70″]
4. Planting your spring garden
I saw this on the Instagram of Gilberties Organic in Easton, CT @gilbertiesorganics
5. I make my own moisturizer
It's been a bit since I talked about using essential oils for skincare. I make my own bottle of Glow using oils that work for my skin type. Right away when I started using clean skincare I noticed that my face cleared up (I always had one blemish that I was using concealer to cover up). I also noticed a big difference in redness and overall skin tone. I've always preferred a pretty low-maintenance approach to skincare, but it never really worked no matter how much I spent on creams and moisturizers. This little bottle of Glow has made a big difference!
When we went to London I took my little bottle of Glow and nothing else except these in terms of skincare. I used it for the face, hands, and body! You don't need a lot. Even my cuticles are in better shape.
These are the oils that I use in my bottle of Glow
Geranium
Frankinsence
Carrot Seed
Blue Tansy
Rose
Lavender
I use Josie Maran 100% Pure Organic Argon oil and you can just add the oils to the bottle or divide it into two bottles and add oils to both. I like to use it on my hands throughout the day, so I keep one with me. The Argon oil gets great reviews on its own, but think if you added customized oils for just what your skin needs!

Since I love essential oils so much, I do sell Young Living. Why Young Living? Because they are the best. You can read more about their Seed to Seal right here! It's what sets them apart from other companies that sell essential oils. Email me or leave a comment if you would like me to help you find oils that would be best for your skin type! Or you can order here and I will send you a glass dropper bottle with a Glow Serum decal!
You can read more in this post.
Okay, those are my five favorite things this week! Let's go see what Mary Ann and Cindy have in store for us! They always find the best!