I have a really special house tour for you today!  I'm sharing the home of Janet of Gardener's Cottage who was my first blog friend.  We started our blogs about nine years ago and we connected by leaving comments.  Comments turned into emails and then the other day we actually spoke on the phone.  One day we will meet in real life.  I learned so much from Janet about living simply, but stylishly.  Those are her words!   She taught me about photography, cooking, thrifting and home decor.  Madeline and I were never into thrifting until we "met" Janet.  We loved flea markets, but not in the way Janet did.  She could put together an outfit for under $10 and she looked like a million bucks.  Janet calls Madeline "M" and we sorta love that.
Janet and her husband Larry purchased the home about 10 years ago.  The home was built in 1890 as the caretaker's cottage of a large estate.  When they purchased the home it was basically unlivable.  Other interested buyers looked at it as a tear-down. They brought the 970-square foot-cottage and gardens back to their glory with thoughtful decisions and a lot of hard work.  The exterior of the home was once red and Janet explains that no one ever needed their address.  It was just known as the little red cottage in the park.  Doesn't that sound charming?  But years later they made the heartfelt decision to paint it another color.  There was talk of painting it white with black accents and even Patrica or PVE as we know her, illustrated and  painted Janet's cottage in the most charming way with a striped awning.  But in the end, the little red cottage became the little black cottage.  The actual color is Benjamin Moore Black Bean Soup.  The cottage surrounded by roses looks as though it was always meant to be exactly as it stands today.
Inside the cottage they have slipcovered sofas and chairs and mostly things they thrifted for just a few dollars.  Janet loves to live fugally and has made it into an art form.  She has an incredible eye and sees potential in something many would never even notice.  For example, a mirror she found for only a few dollars because the frame was broken.  She took a few pinecones and twigs she found on her many nature walks and glued them to the broken spot making it even more beautiful.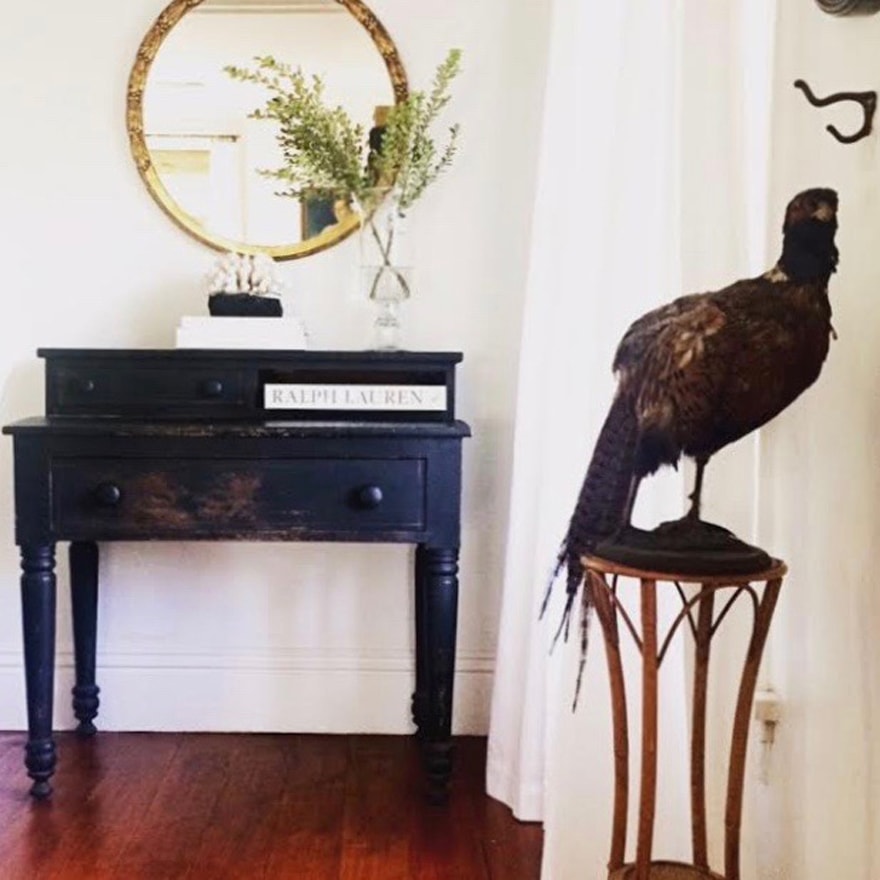 Even in a small home, Janet can host a dinner party for eight and make it look this glamourous.  Vintage silver candlesticks on the table and fall foliage in galvanized containers flanking the stove make for simple, but beautiful decor.
Janet's kitchen and pantry is one of my favorites.  There's no dishwasher and she's fine with that.  Her open shelving is both beautiful and functional.  The same goes for her pantry.  Narrow shelves hold glass jars and baskets hold things like bags of chips, vegetables and linens.  Isn't this the pantry of your dreams?
Recently Janet updated the master bedroom with beautiful new wallpaper.  I absolutely love it and it looks like this room was always meant to have this exact wallpaper.  She added a the little bedside table (that was free) and painted it black. I love the mix of the floral pillow and green velvet with the wallpaper.  Janet also updated her blog with the help of Shari from Little Blue Deer.  It suits her perfectly!  Timeless and elegant.  That's Janet, alright!  Thank you Janet for sharing your home.  Make sure you follow Janet on instagram too!
Have an amazing weekend!  We're going surfing…in Queens…New York!  And then tacos at Tacoway Beach!  Thanks Sheri Silver!  You always know the best places!
xo annie
SaveSave
SaveSave
SaveSave