This month's Project Design with Mary Ann and Cindy is all about refreshing the living room for spring! It's still very much winter here in the northeast, although it has been a mild winter for sure. Still, everyone is ready for a little refresh after the holidays. For me, that means a few new plants and something I have been debating about since moving into this house a year ago. The stone fireplace. We had wonderful results when we painted our stone fireplace in New Canaan, so I can't say for sure why I have been reluctant. It makes no sense! (You can read about that makeover here). We painted it black and we l-o-v-e it!
Toward the bottom of this post, you'll see links to the bloggers that have joined us for this late winter/spring living room refresh. Everyone has a different take on the subject which is what makes them fun!
Updating the fireplace with paint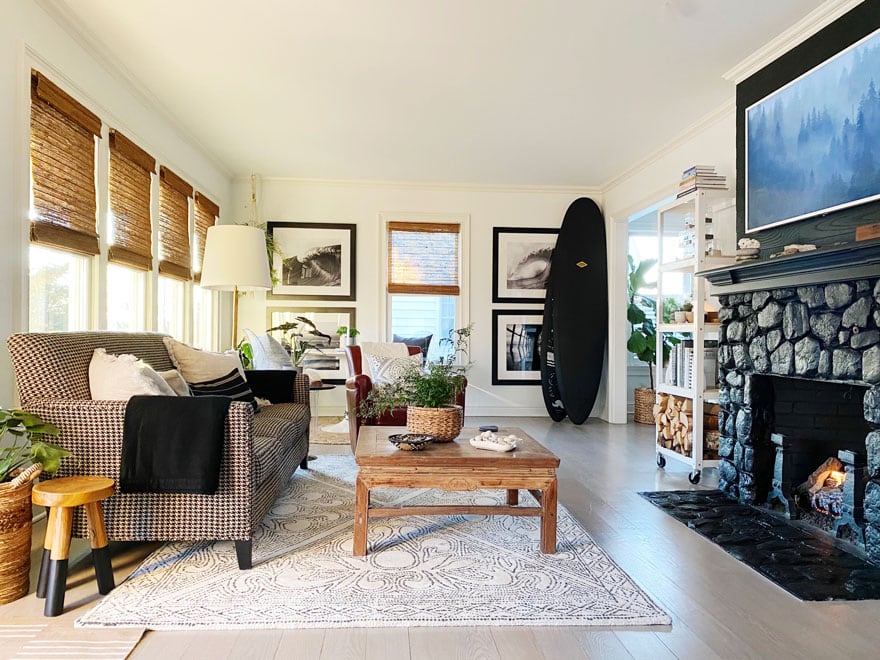 I know it's a tough decision to paint brick or stone because although it's just painted, it would be a total mess to remove it. So you want to be sure it's what you want. I'm never sure! But we did it and it looks so much better. My friend Mary in Southern California texted me last Saturday and said she saw my Instagram post and was inspired to paint hers as well. And she's so happy with the results!
We added simple plywood shelves to the industrial bookshelf
We have two of these simple white shelves that I bought for this post. We moved them to this house and use one in the living room and one in the kitchen. The size was perfect, but for the living room, I wanted to do something to change up the look ever so slightly. We cut 1/2″ plywood shelves to fit perfectly inside the existing metal shelves. Plywood is having a moment and I quite like it! The total cost was around $18 to update the shelf which was around $175. This one from Schoolhouse Electric is what inspired me to add the simple plywood shelves.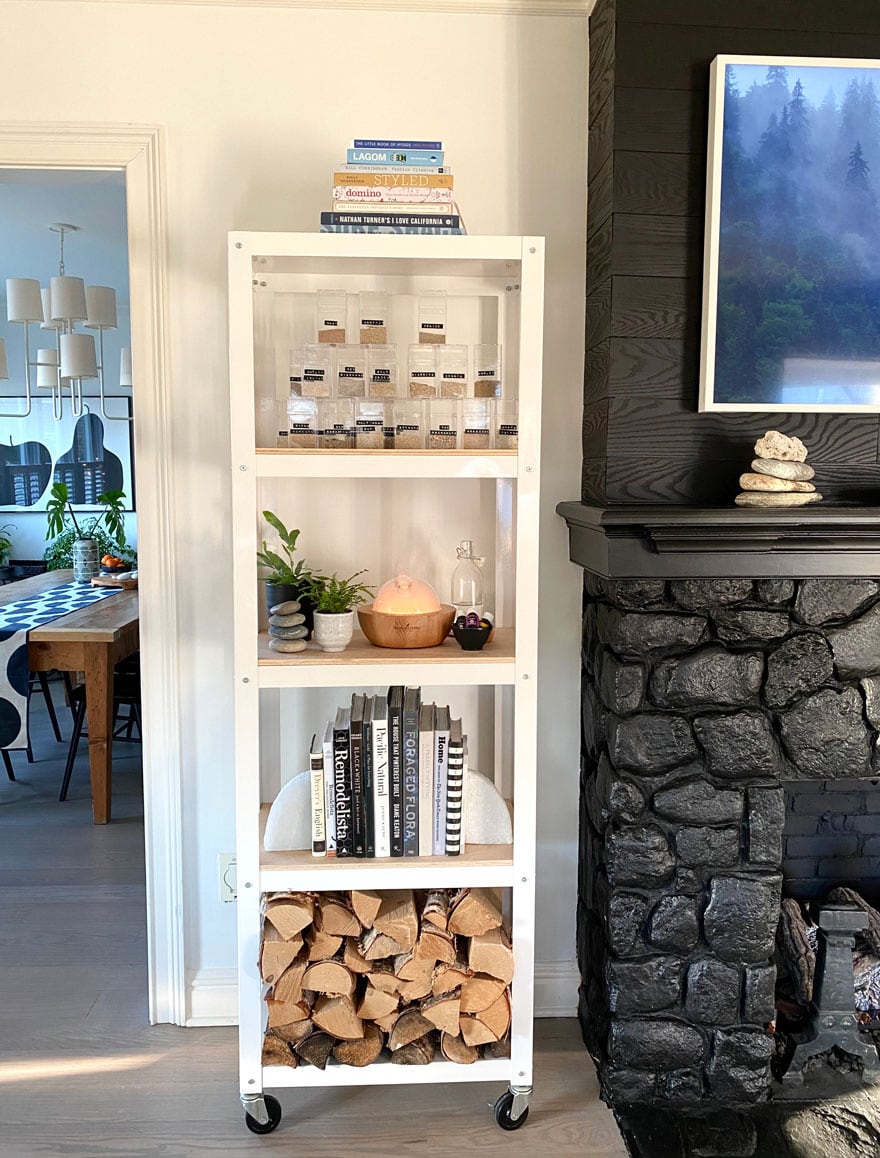 A few collections on the coffee table
I love this new book from Caitlin Flemming and Julie Goebel, Travel Home. It's a book that shows you how to take your favorite places and experiences and bring those feelings into our homes. Pretty much everything in my home has a story attached to it in some way. The Redwing pottery dish is from my friend Diane and it's filled with white rocks that were collected from our favorite beaches. The woven basket is an Etsy find and the beads are from flea market adventures with my friend Elizabeth. The simple gray felt coasters are from HAY in Copenhagen on a memorable trip with Madeline a couple of years ago. It's always the little things, isn't it?
This area of our living room was empty space because of where the tv is located. We decided to bring down the Saarinen table from the attic and now this space is perfect for working or having coffee with a friend after a beach walk. The terrazzo tile is new from CB2 and the small basket on the floor holds chargers so that when I want to work at this table, I don't have to move chargers from one space to another. The sheepskin throws are from Ikea and the linen pillow covers are from Garnet Hill.
Brass, concrete, wood & terrazzo
Collections of sand, stacked stones, and plants…the little things that bring us joy.
Make sure to check out these talented bloggers to see what they have come up with for a spring refresh!