Keeping gift wrap simple with bits & bobs and stuff on hand!
If there were ever a year to keep things simple, 2020 would be it! I am joining a talented group today to share our holiday gift wrap ideas. I have always kept it simple when it comes to gift wrap and this year it's no different, but that doesn't mean I didn't get creative. Keeping it simple and inexpensive does not mean that I didn't put a whole lot of love and creativity into each package. I just used everything I had on hand. I love using kraft paper from the hardware store, but I found this at Ikea last summer and it was on major sale, so I stocked up!
I used bits and bobs of ribbon, twine, and leather cord. Then added some fresh greens, clay diffuser tags and I made a few tags from pieces of wallpaper that I cut using a craft punch. I love craft punches. They make it a little more polished. Add a hole punch and you're all set. My theme this year was kraft, black & white paper, and then velvet ribbons that I used on our Thanksgiving table.
Black & white paper, velvet ribbon, leather cord, and a monogrammed diffuser tag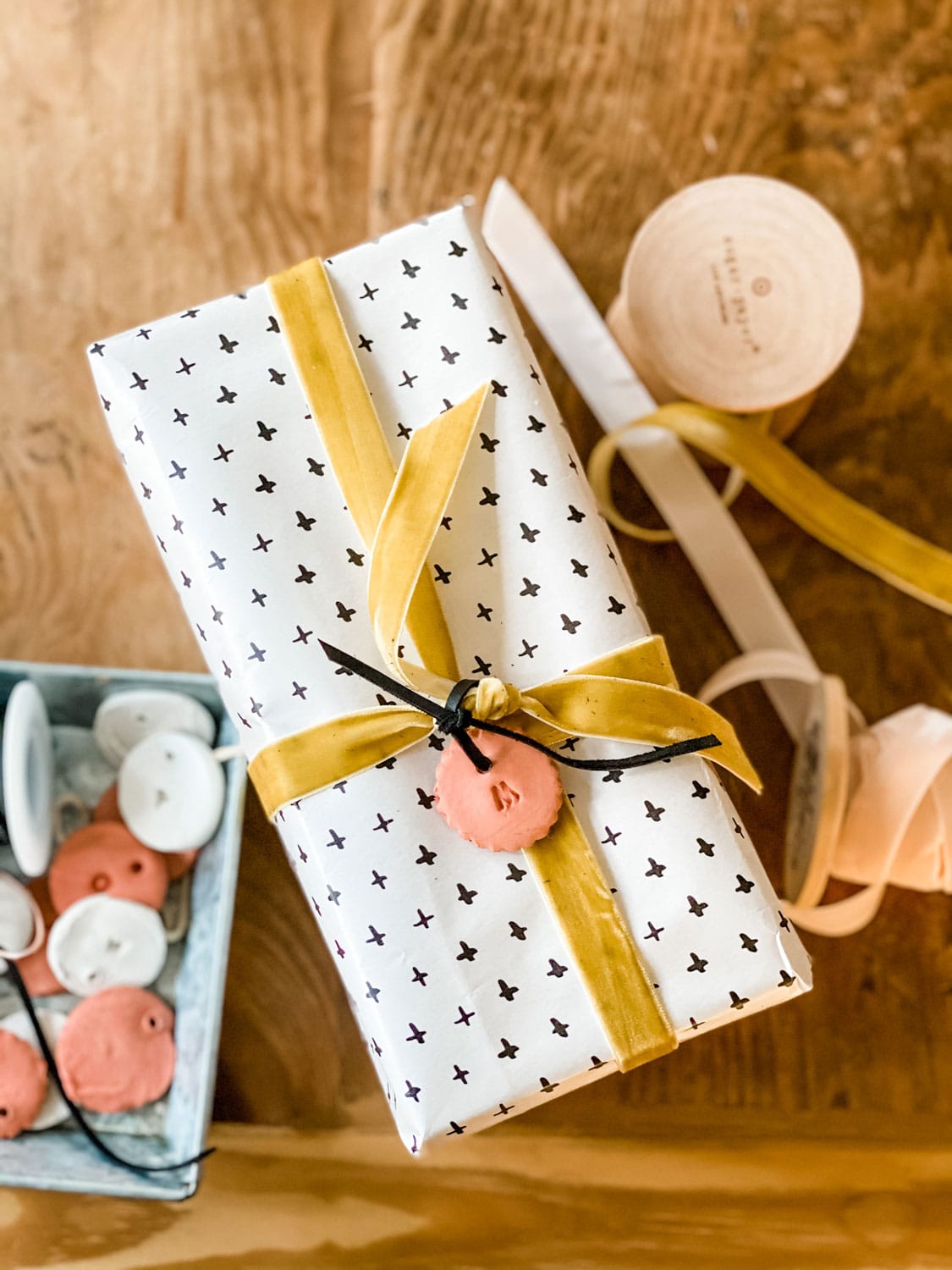 Black & white paper, plus twine, leather cord, and a sprig of fresh evergreen
Wrap odd shaped kitchen gifts using new tea towels, twine, and a sprig of fresh evergreen
Have you wondered about the history of the idea of gift wrap? As I was writing this post, I looked it up and found this article in The Atlantic. For me though, gift wrapping always reminds me of my childhood. I clearly remember my mom teaching me how to wrap a gift properly. She was quite a stickler for doing it well. It started with the gift box. She was firm on using the appropriate box with tissue paper (2 layers) neatly folded in the box holding the gift snug inside. She cut the paper perfectly with each end the exact same length and always folded the edges before taping them with Scotch brand tape. She used beautiful ribbons and that yarn type of twine that has become popular again. She hated those bags of what she called fake bows. Ahhh….it's funny how a simple afternoon of gift wrapping can bring up those childhood memories. Enough about me, what about you? Do you love gift wrapping or do you assign someone else in your family with the task? I would love to know!
All wrapped up and ready to go under the tree (now we just need to get that tree)!

Holiday Bloggers Best Series

Most Lovely Things | Christmas Gift Wrap Using What You Have
Sanctuary Home Decor | Unique Christmas Gift Wrapping on a Budget
Modern Glam | Natural Gift Wrapping

My 100 Year Old Home | Creative Ideas for Gift Wrapping
The Ginger Home | 3 Gingerbread Holiday Gift Wrap Ideas
Happy Happy Nester | Free Printable Gift Tags
Craftberry Bush | Christmas Nutcracker Cylinder Wrapping DIY

Satori Designs for Living | Simple Christmas Gift Wrap Supplies & Steps
My Sweet Savannah | 24 Free Holiday Printable Gift Tags
Twelve on Main | Christmas Gift Wrapping Ideas You Will Love
The Happy Housie | Natural Rustic Gift Wrap Ideas

Dreaming of Homemaking | Personalized Gift Wrap
Finding Lovely | Holiday Gift Wrap
Lemon Grove Lane | Holiday Gift Wrapping With a Natural Touch
Shop for the supplies to make your own gift wrap!

You might also like this post.
Or this one where I made denim house tags