Thank you!
A Simple Thanksgiving table with Eucalyptus, apples & velvet ribbon for an easy, stress free, but beautiful table.  I hope everyone has a beautiful Thanksgiving! I want to say thank you for reading MLT. I never take for granted that you take the time to read this blog!
xx annie
Thanksgiving Preparations for Four starts with the table
This week in Instagram stories I saw that my friend Amber was making a recipe for sweet potatoes that involved cornflakes for her family to take on their Thanksgiving camping trip to Zion National Park. I have never heard of using cornflakes but since we have only four of us and two out of four don't even like sweet potatoes, there is zero expectation to make my usual crispy sweet potato roast, so cornflake and pecans on sweet potatoes it is…with baby marshmallows, obviously. Recipe at the bottom.
Farm table set for Four at Thanksgiving 2020
I decided on the simple table decor after doing a little research on Pinterest. It's not that I don't want to go all out for just the four of us, but I also know that I have almost everything I need to make a beautiful table. I bought two bunches of eucalyptus at Trader Joe's and used the apples we had on hand. Our chairs are the Tucker chairs from Serena & Lily.
Apples, Eucalyptus & spools of velvet ribbon
I did use votives (it's thanksgiving) and two spools of velvet ribbon. I was about to cut it and then I thought…wait…the spools can be part of the decor and then I can easily reuse the ribbon since it was never cut. I know…so thrifty!
Simple decorations are always the best for Thanksgiving
I tried using avocado pits to naturally dye some vintage damask napkins. I won't go into that, because honestly, it looks like I washed a load of whites with a red sock. They are a nice soft blush, but I can't say if this is what I think they should look like. I used my clay tags with a single initial and then used copper wire I had for this project. The ends are sharp, so I wouldn't recommend it if you are having small children at the table. I used Ikea glassware and stoneware dishes from Garnet Hill.
Stoneware Dishes from Garnet Hill and vintage damask napkins dyed blush pink with avocado pits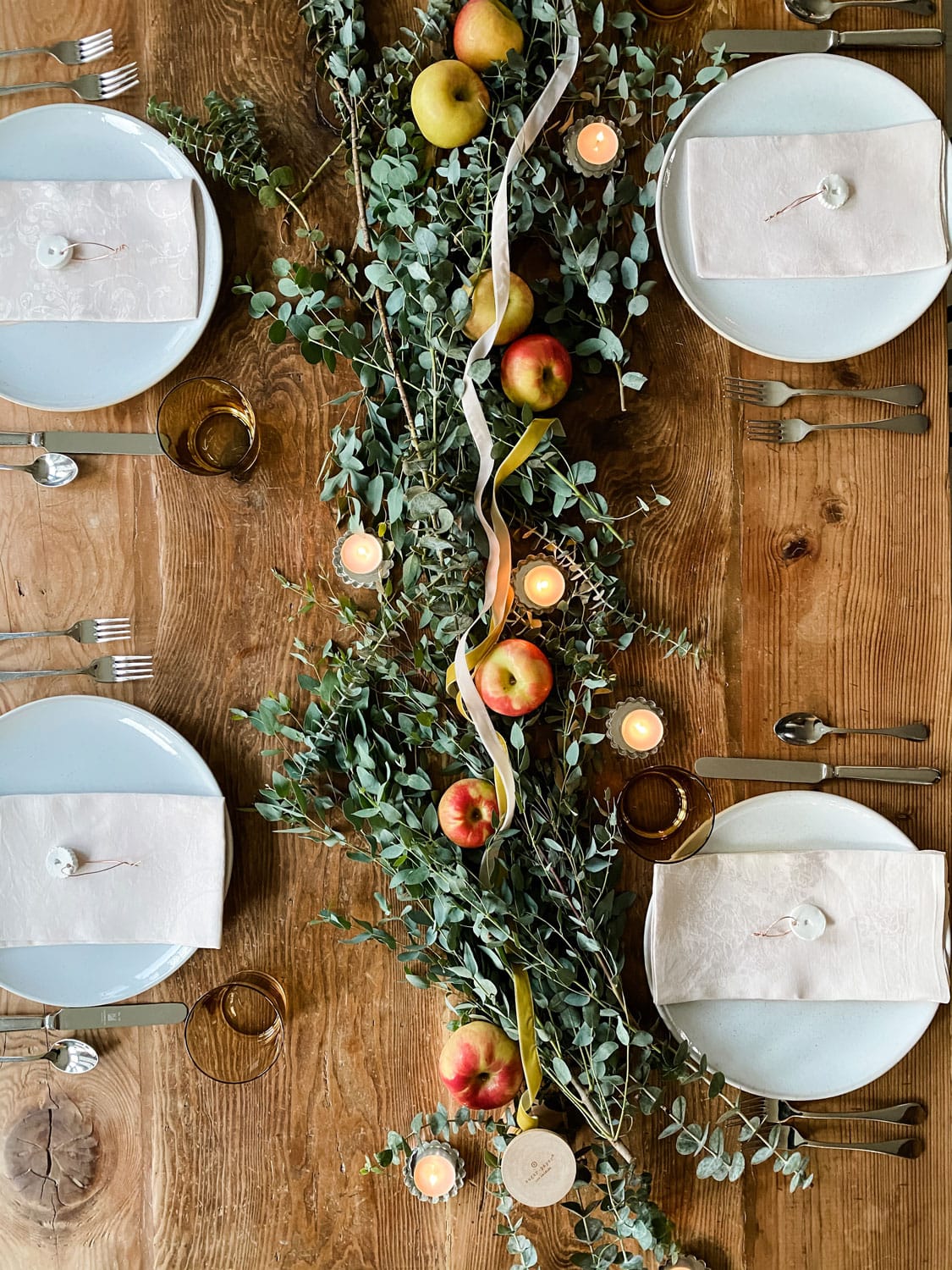 Make it cozy with touches of Hygge
Shop the Post

Make-ahead sweet potato casserole and assemble later
I always love a recipe that has the option of making ahead and then on the day of, you assemble and bake! This is that kind of recipe!
I add a generous amount of topping on half
You can make this in one large casserole dish, I love using my mini Lodge skillets and this lets me control the ratio of topping…more is better…remember it's Thanksgiving!
and then add the marshmallows . . .
Print
Amber's sweet potatoes
A sweet potato dish with a cornflake topping! Make sure to save the crushing of the cornflakes for someone that will appreciate the task.
Sweet Potato Filling
4

–

5

sweet potatoes, scrubbed

2 tablespoons

melted butter

1/2 cup

dark brown sugar

1/2 cup

milk

1

egg

1/2 teaspoon

salt

1/2 teaspoon

pure vanilla extract

4

–

6

drops Cinnamon Bark Essential Oil (optional)
Topping:
1 1/2 cups

cornflakes cereal, crushed

1/4 cup

pecans, chopped

1/4 cup

dark brown sugar

one tablespoon

melted butter

1 cup

mini marshmallows
Instructions
Preheat oven to 400º. Bake sweet potatoes for about one hour or until tender. Let potatoes cool and then remove the skin and mash. Reduce oven to 350º.
Beat the potatoes with a hand or stand mixer and add the butter, brown sugar, milk, egg, salt, vanilla, and Cinnamon Bark Essential Oil if using.
Prepare pans with cooking spray or melted butter and spoon mixture into individual lodge pans or ramekins.
Prepare topping: Stir together the crushed cornflakes, brown sugar, melted butter, and pecans and add to one half of each serving. Bake for 20 minutes at 350º.
Remove from the oven and add marshmallows to the other half and bake an additional 10 minutes or until marshmallows are golden brown.
Notes
What I love about this recipe is that the messy part can be made ahead and then all you have to do the day of, is assemble them. You can make it in one pan, but I love the idea of individual size servings and I'm always looking for excuses to use my mini Lodge skillets. Madeline added a drizzle of hot honey and that was a nice addition!