I'm teaming up with 4 other bloggers to share our ideas for holiday gift wrap.  I love to see how everyone approaches it with a totally different look. The results are everything from glamorous to rustic.  Guess where I fall?  When I started thinking about gift wrap and this post, I started with using my favorite, Kraft paper and twine from the hardware store. I thought I would mix the more rustic with tags made from left over wallpaper and a bit of velvet ribbon to make it a little more polished.
I set up a gift wrap station to make it easier to wrap as we go instead of waiting and doing it all at once.  The gift wrap station is on a small desk and has all the supplies neatly arranged in pretty dishes, jars and bins. I have pens, scissors, hole punches, Washi tape and regular tape right where I need it. And it's like an extra Christmas decoration in the house.  Plus, the next time I need to wrap a hostess gift as I'm about to leave the house, all my supplies are right where I need them!
I use this tag punch that cuts a perfect tag every time. You can turn the punch over and see what you are cutting by framing the piece of wallpaper.  It's especially helpful when you are cutting photos to use as tags like we did here.  I tied up the larger packages with twine and added velvet ribbon just for the tags.  For small packages I used a bit of grosgrain ribbon from M&J Trimming in NYC.  Have you been?  It's this amazing ribbon, button and trim store where you can buy as little or as much as you want.  All patches are 25% off!–How cute would it be to add a patch to your packages?  Each selected for the gift recipient!  You might not even need a tag.
I use a combination of Kraft paper that's extra thick and comes in a large size rolls that work well for big packages.  I've found that rolls of all-purpose masking paper from places like Home Depot work great for small packages,  It's thin so easier to work with than the traditional Kraft paper.  For a really rustic look you could even use the pink/red paper.  It's in the painting section of a large hardware store intended to mask windows and floors during renovations.  It's very inexpensive!  Mix it with grosgrain and velvet ribbons.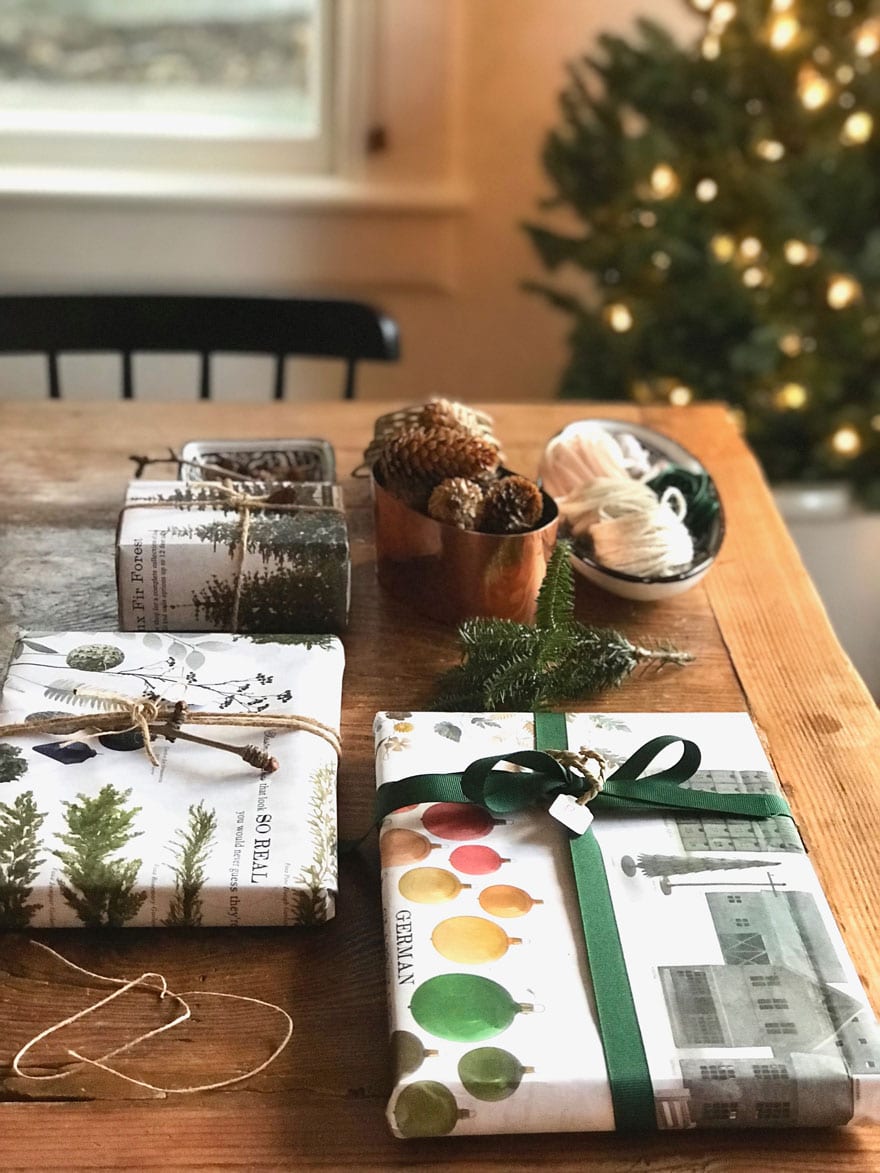 While I was writing this post I took a break and went to Terrain in Westport and took a a couple of their holiday flyers.  When I got home and got back to writing this post I realized that the Terrain newspaper or holiday flyer had the most beautiful images on them and wrapped up a few more gifts.  I always head to Terrain for inspiration, but this one surprised me!  These packages turned out to be my favorite.  I added a few twigs with tiny pinecones and a few sprigs from our mini tree that we brought home for a corner of our cozy living room.
Here's a few more ideas from years past. Like this one using tags made from an old book and this one that shows tags using old photos.
Make sure to check out these bloggers for their ideas on Holiday Wrapping!  We've got you covered from all luxury to a more rustic approach and a combination of both.
Cindy * Rough Luxe Lifestyle
Mary Ann * Classic Casual Home
Pam * The Good Life of Design
Kathysue * The Good Life of Design
Have a great weekend!
xo annie