We are empty nesters. Never thought it would be so much fun. While I miss the baseball games and having kids around all the time, I would say we are making the best of it. Every weekend we look at each other and say, "well, where should we go?" There's so much to see all within an a few hours of home. The last few weeks we've been going "upstate."
Scribner's Catskill Lodge
We had been wanting to check out Scribner's Catskill Lodge in Hunter, New York. The exterior is black, need I say more? The interior in many ways reminds me of so many homes I visited growing up in Denver, Colorado. It's very 1970s in the best possible way. I never appreciated the homes I visited with a similar vibe back in the 70s, but now, I just can't get enough of it. Madeline joined us and was equally smitten with the places we visited.
The library at Scribner's Lodge
We started our day with brunch at Prospect. We walked the grounds a bit and took in all the views. Apparently we were a week late in catching the peak colors, but it was still quite beautiful.
Kingston, New York is about 45 minutes from Scribner's Catskill Lodge. The drive was beautiful and it was basically on the way back to New York City. We stopped in Kingston to check out a book store and the beautiful Brunette Wine Bar.
33 Broadway Kingston, NY
I had been raving to my family about my visit to Brunette Wine Bar with Diane during the Field + Supply show. This is what I'll say about Brunette. It's like going back in time, only better. The interior and exterior have perfect details. So many that I may have to return just to see what I missed. The brick walls are painted bright white. Then there's this very vintagey looking wallpaper that just works. For whatever reason, it's perfect. They have small marble tables that make for an intimate dining experience. Each table has a simple votive and the glassware is tiny clear glasses. They reminded me of juice glasses when I was growing up…you know…before everyone thought they needed 8 ounces at every meal. Each glass rests on a coaster with a monogram B. The menu is very simple. The first time I went I ordered a jam sandwich. But this was not just any jam sandwich. It was made with their signature bread that is out of this world, a thick smear of chevré, cherry jam and rosemary butter, all sourced locally. It was so good!
The Jam Sandwich
A dish of bobby pins in the toilet room, naturally.
A vintage portrait of a lovely brunette & dahlias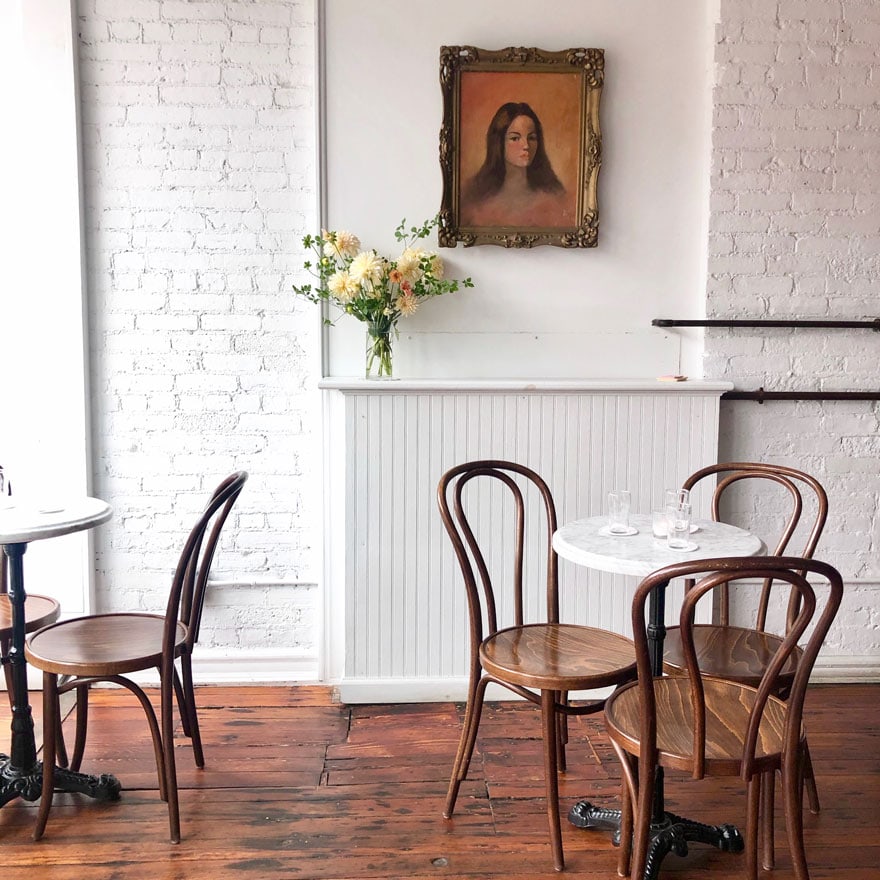 The next time we went we weren't really even hungry, but I wanted Madeline and Brent to experience Brunette. We ordered drinks, nuts and some Castelvetrano olives. As I was looking at the menu I noticed butter noodles. I mean…butter noodles! It's my favorite meal to make when we return from a vacation or when I'm hungry, but don't want to go to the store. I always have noodles, butter, pepper and cheese. Brunette's butter noodles takes it to a whole new level. The ingredients are still simple, but a few creative twists that make the perfect combination for a meal I will crave quite often. Luckily my husband loves to cook and was quite thrilled to come up with a recipe that makes it possible to have Brunette's Butter Noodles without driving to Kingston, New York.
All the lovely details at Brunette
My blonde Madeline at Brunette
Print
butter noodles
Butter noodles is one of my secret indulgences. It's what I make when my husband travels and I want something simple, but warm and cozy. It's also that dish we make when we return from vacation. We always have noodles, butter and cheese. But these butter noodles are something you'll dream about. They are out of this world and since you can't always go to Brunette in Kingston, New York … here's the recipe we came up with based on the ingredients listed on the menu.
Author:
Prep Time:

10 minutes

Cook Time:

10 minutes

Total Time:

20 minutes

Yield:

2

-

3

servings

1

x
Instructions
Cook ramen according to package directions, but shorten the cooking time by about a minute to make sure the noodles are al dente. Drain and return to the pot.
While the noodles are cooking, melt the butter in a pan on very low heat and add the soy sauce. Remove from heat, but keep warm.
Cook the capicola until crispy and remove to paper towels to drain. Chop into bite size pieces.
When the ramen is cooked, toss with the butter and soy sauce mixture and add in the capicola.
Serve in shallow bowls and top each dish with a small handful of fresh arugula.
Add grated piave cheese and freshly gorund black pepper.
Enjoy!
Notes
When I say good butter and good soy sauce, I'm not trying to be obnoxious. I think when you are using simple ingredients, it's important to use good quality ingredients, like imported butter and soy sauce.
Keywords: noodles, pasta, butter noodles, comfort food
Our version of Brunette's Butter Noodles
82 John Street Kingston, NY
Since we were traveling with Madeline, we can always count on her to find the coolest places. She would never miss the opportunity to visit a bookstore. Rough Draft is located in the historic four corners section of Kingston. Speaking of Madeline and books, have you singed up to receive Read Receipts Newsletter? if you are looking for book reviews and suggestions, look no further than Read Receipts.
Have an amazing weekend!
Shop the post

Mentions:
cafes, New York, recipe, upstate
Last Updated:
November 2, 2019