For my usual Sunday Five Favorites post with my friends Mary Ann and Cindy, I am sharing Madeline and her roommate Samantha's new apartment and how we stuck to five basic small space solutions to make this Brooklyn apartment look and feel bigger!
The girls moved from Manhattan to Brooklyn over the summer and while they still live small, it's considerably larger than their previous two NYC apartments and it made it a lot more fun to make it a home for them to love.
I had the chance to see the apartment with Madeline while it was listed for rent. We visited one day while the prior tenants were home (since everyone is home all the time right now), and the agent. All five of us in a small apartment meant we could barely move. They had huge furniture. The deepest, oversized sofa, a bench in the small entryway, a table with four large chairs, and a huge coffee table. One of the bedrooms had three dressers, a bed, and a desk. Trust me when I say that the amount and the style of furniture were all wrong for this apartment. I forgot to mention the cart in the kitchen. It made it almost impossible to even pass through the kitchen, much less enjoy cooking in the kitchen. But, all this aside, we knew that we could make it adorable. We couldn't wait to see it empty and clean so we begin imagining the space!
There are a few things that the girls wanted in this apartment that they didn't have in their last apartments. First, desks since they knew they would be working from home and a dining table for future dinner parties.
1. Small Scale Furniture
The most important thing to think about in a small space is the scale of the furniture. Everything from sofas, accent chairs, dining chairs, tables, and desks. We used a sofa from Ikea that Madeline had in her California suite and then her sunroom in our New Canaan House. And now it's on its third NYC apartment. We also used a small Ikea drop leaf table and folding chairs. We placed it against the wall for everyday use, but it can be easily moved away from the wall for a small dinner party. The bench can be used at the table but serves as the coffee table in front of the sofa for everyday use. This way when they need it at the table, they can easily move the table to the center of the room and add the bench, and chairs, and have a cozy dinner for 6. The accent chair is also another small piece that fits perfectly in the room without taking up much visual or actual space.
2. Large Scale Art & Accent Wall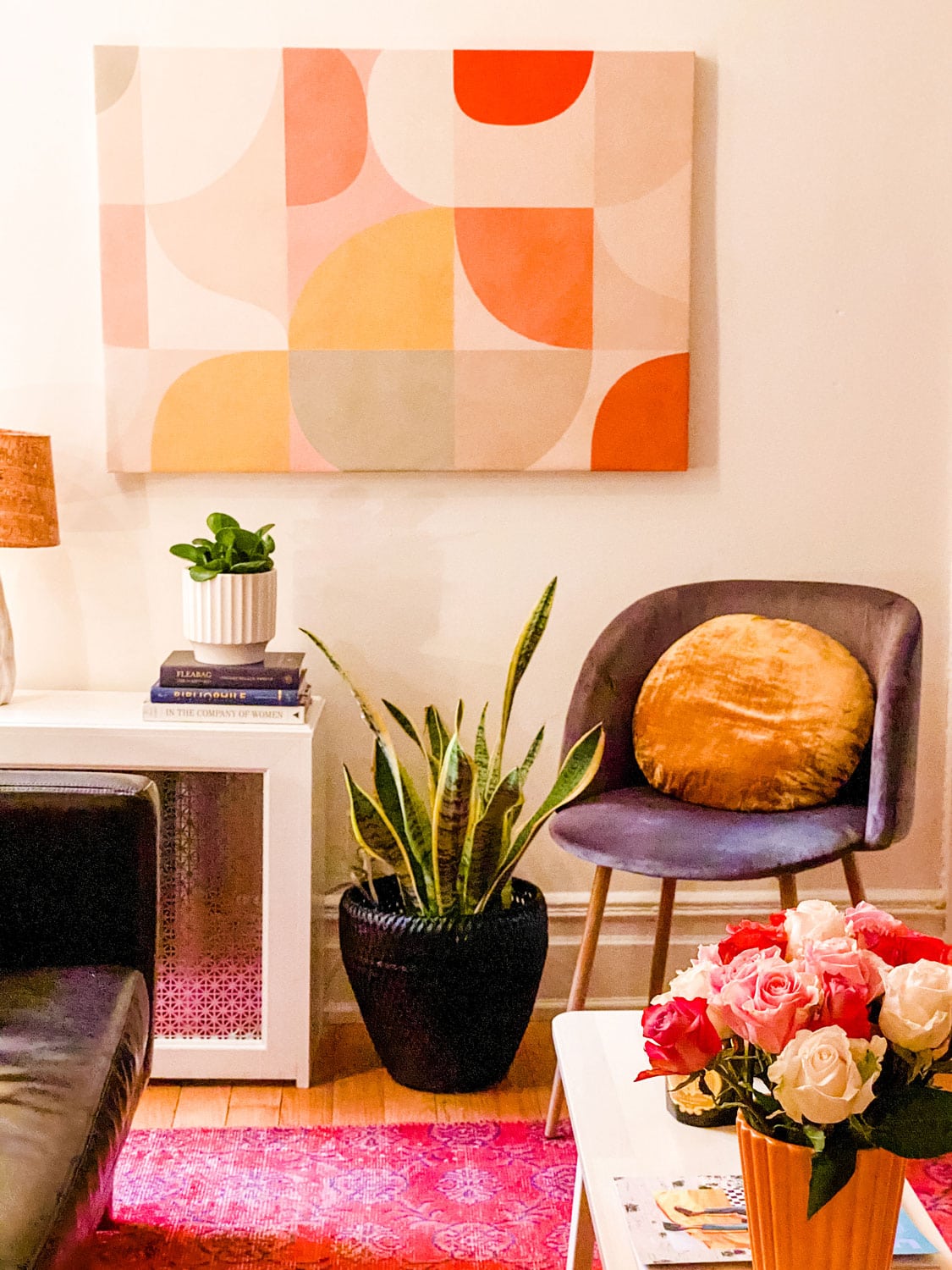 While the girls had a lot of small framed art pieces, we resisted using them in the living room and instead used Clare Paint in Pink Sky to create an accent wall on one side. Then on another large wall, we used a canvas poster (Mid Century Circle II) from Photowall. It comes in a box with the canvas rolled and the wood frame which was easy to assemble. Too many small frames create busyness in a small space. We did use the same three pieces from their prior apartment above the sofa. The colors we worked with all started from incorporating what they already had from their previous apartment. Velvet pillows from West Elm in gold and blush worked beautifully with the overdyed red rug from Ikea and the paint that we used in Madeline's bedroom at our house. It's amazing how versatile this paint is in two very different rooms. When you use colors from nature, like the pink sky, how could it not work?
Use the code mostlovelythings25 for 25% off at Photowall
3. Solid color bedding & Linens
In a small bedroom, using beautiful bedding in a solid color makes it look more pulled together and restful. She chose the heathered gray duvet and shams from Boll and Branch. Have you tried Boll and Branch Linens? They are handcrafted in Portugal using organic cotton to make a weave that's velvety soft and breathable for a comfortable night's sleep. In the small bathroom, we chose a white shower curtain from Hearth & Hand for Magnolia. It keeps it fresh and clean. They are fortunate to have a large closet in the bathroom! Rare for a small New York City apartment, but this means they can keep the sink area free of anything but a bottle for hand soap. For fun, they added a disco ball in the bathroom taking advantage of their high ceilings. Who doesn't love a surprise in a small space?
A white shower curtain in a tiny bathroom
4. Open Shelving
In the kitchen, there is very little cabinet space. We used this shelf from Ikea which offers four shelves but is quite small in scale and narrow in depth. It does not obstruct the walkway but offers much-needed storage for dishes and glassware. The girls chose stackable dishes from Our Place. They also have the Always Pan which is designed to replace 8 traditional pieces of cookware. Perfect for a small kitchen with limited storage!
One thing we really wanted to pay attention to was Madeline's workspace. We found a small desk that fits perfectly in her room under a window. For Zoom calls, it's best to face a window for the best lighting. We were mindful of positioning the desk so that her bed was not in the background for zoom calls. Opposite her desk is an exterior door that she does not use, but for safety, she needs to keep it clear. We decided to use removable Livette's Removable Wallpaper to cover the otherwise blank door. It makes the perfect background for Zoom calls. Removable wallpaper is a renters dream, but it's so beautiful and the application is so much easier than traditional wallpaper. The only hard part was deciding on which pattern. Livette's has so many to choose from, but they make it a little easier to narrow down the selection by being able to choose by design, room, collection, and color. Madeline chose the Pink Moroccan Tile Pattern.
Make sure to see what Mary Ann and Cindy found this week!

Shop the post