A cinnamon apple scone recipe that's a lot like apple pie but in the form of a scone! Making it the perfect breakfast treat! It may seem a little early for apple recipes, but I never mind ushering in the seasons ahead of schedule. And this scone is the perfect back-to-school treat or afternoon snack!
The flavor of these scones is tart, not too sweet, and oh-so-cozy with a drizzle of brown butter glaze. The brown butter and spice aroma make the entire house smell like early fall.
I've joined a few friends today; at the end of the post, you'll find four more apple recipes!
What's in apple scones…besides apples?
I use a teaspoon ground cinnamon with a little sugar on the apples before incorporating them into the dough, just as I do when making apple pie.
Flour
Sugar
Butter
Cinnamon
Salt
Baking powder
Egg
Vanilla
Heavy cream
Apple
What are the best apples to use when making cinnamon apple scones?
A lot of recipes using apples call for using Granny Smith apples. If I'm going to make a pie and I need 5-7 apples, I'll probably buy Granny Smith apples. This scone recipe uses only one apple, so I used what I had on hand.
Adding walnuts or pecans is an option, but I prefer to leave nuts out and let the other flavors shine! The scones with cinnamon apples with the brown butter glaze are like having a caramel apple!
What is the secret to a perfect scone?
Ahhhh, this one is easy! It's frozen grated butter! When I started using frozen grated butter, my scones were next level! I always keep a box of butter in the freezer just for scones. I sometimes grate the butter the night before and store it in the freezer. The next morning, all I have to do is mix the dry ingredients with the frozen butter to make the dough, add the wet ingredients, and mix it all together.
What is the secret to making scones rise?
According to this article in Food 52, the secret to getting your scones to rise is to place them close together. I have not found this to be the case, but I know many people have this concern when baking scones. This recipe makes eight average-size scones and contains two-and-a-half teaspoons of baking powder.
What's special about scones? Is a scone just a sweet biscuit?
Scones are a quick bread that originated in Scotland in the 1500s. Traditional scones do not have a lot of flavor on their own. But a scone is not a biscuit! Biscuits are light and flakey, whereas a scone is more crumbly. They have the same ingredients, but if you don't believe that a scone is not a biscuit, read this article in Bon Appétit!
Cut the scones into eight triangles, brush heavy cream on top, and sprinkle with turbinado sugar.
Print
Cinnamon Apple Scone Recipe
Author:
Prep Time:

20 minutes

Cook Time:

15 minutes

Total Time:

35 minutes

Yield:

8

1

x
2 cups

all purpose flour

1/2 cup

sugar, plus one tablespoon (divided)

1

stick butter, frozen and shredded

2

 1/2 teaspoons baking powder

1/2 teaspoon

salt

1/2 cup

cold heavy cream
One egg

One teaspoon

of ground cinnamon

One teaspoon

vanilla
One apple, peeled, diced small
Instructions
Combine the chopped apple, cinnamon, and one tablespoon of sugar in a small bowl. Stir to combine and set aside.
Preheat oven to 400º
Combine the flour, sugar, salt, and baking powder, then add the frozen butter. You can blend with a pastry cutter or an electric mixer set at the lowest speed. 
Combine the egg, heavy cream, and vanilla, beat together and then add to the dry mixture and combine.
Add the apple mixture and stir into the dough.
Put the dough onto a floured surface and shape it into a disc. Wrap in plastic and refrigerate for at least one hour or overnight.
Place the disc on a lightly floured surface, and cut it into eight equal triangles.
Place on a baking sheet lined with parchment paper.
Brush the top of each scone with a little heavy cream, and sprinkle with turbinado sugar.
Bake for 15-20 minutes until the bottom is golden brown. 
Notes
Total baking time depends on your oven. I like to rotate the pan halfway through the baking time. 
Keywords: scones, breakfast, brunch
Making the brown butter glaze
I melt butter in a copper pot (I started using copper pots last year, and now I see why people love them so much). Once the butter has been browned, I remove it from the heat and slowly add powdered sugar until I have the right consistency to drizzle over the slightly cooled scones. Just cool enough so that the glaze doesn't slide right off!
To store the scones, wait several hours at room temperature before covering them with plastic wrap or in an air-tight container. You could freeze them, but I doubt you'll have any left!
Special Equipment You Might Need to Make Scones
Large mixing bowl and a smaller mixing bowl for wet ingredients (Pyrex set of 3)
Note: I use affiliate links, so I may earn a small commission if you make a purchase. It does not affect your price at all. You can read more about my privacy policy.
Are you following me on Instagram and Pinterest?
More Apple Dessert Recipes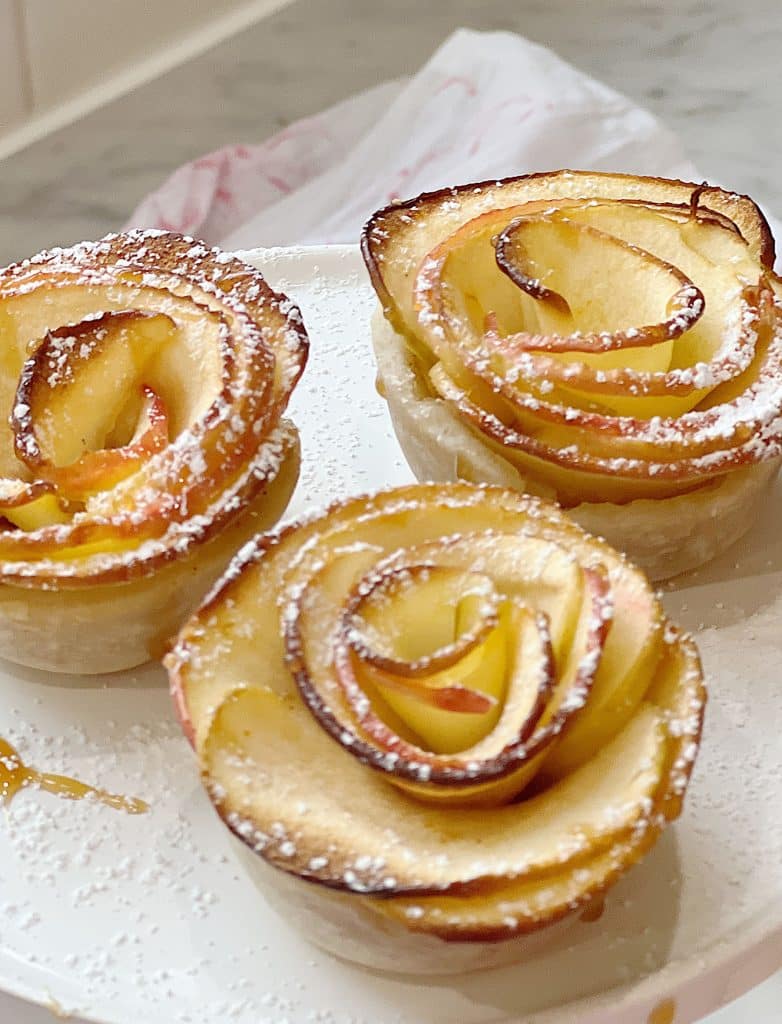 Caramel Apple Rose Tartlets | My 100 Year Old Home
These adorable individual caramel apple tartlets are the perfect indulgence for any dessert lover. They are so delicious!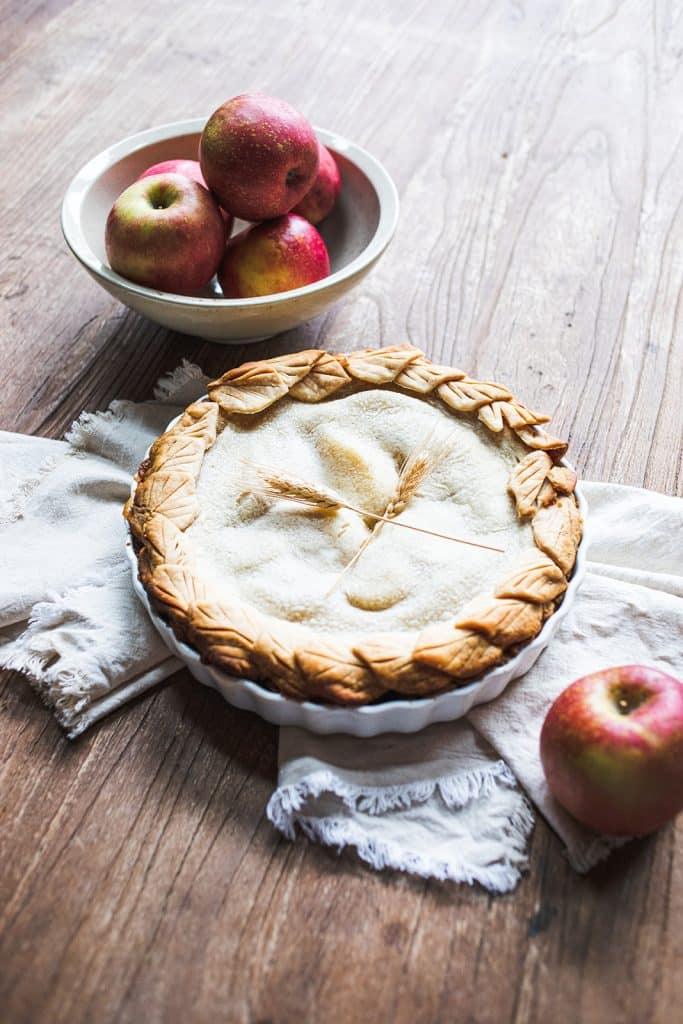 All American Apple Pie | My Sweet Savannah
Serve this delicious all American apple pie with a heaping scoop of vanilla ice cream for a yummy summer dessert. This is a recipe you'll be making all year round!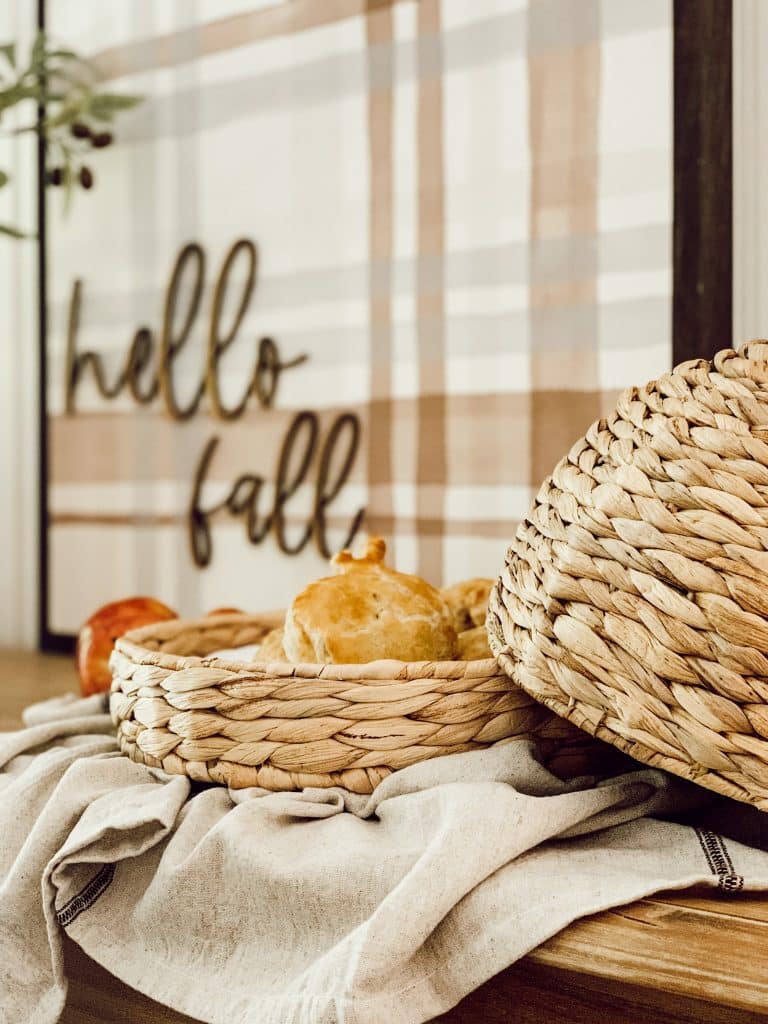 Easy Recipe for a Single Serving Apple Pie Dessert | Eleanor Rose Home
A delicious apple shaped handheld treat with a flaky, buttery puff pastry crust filled with warm, cinnamon apple pie filling. This will become a family favorite fall recipe!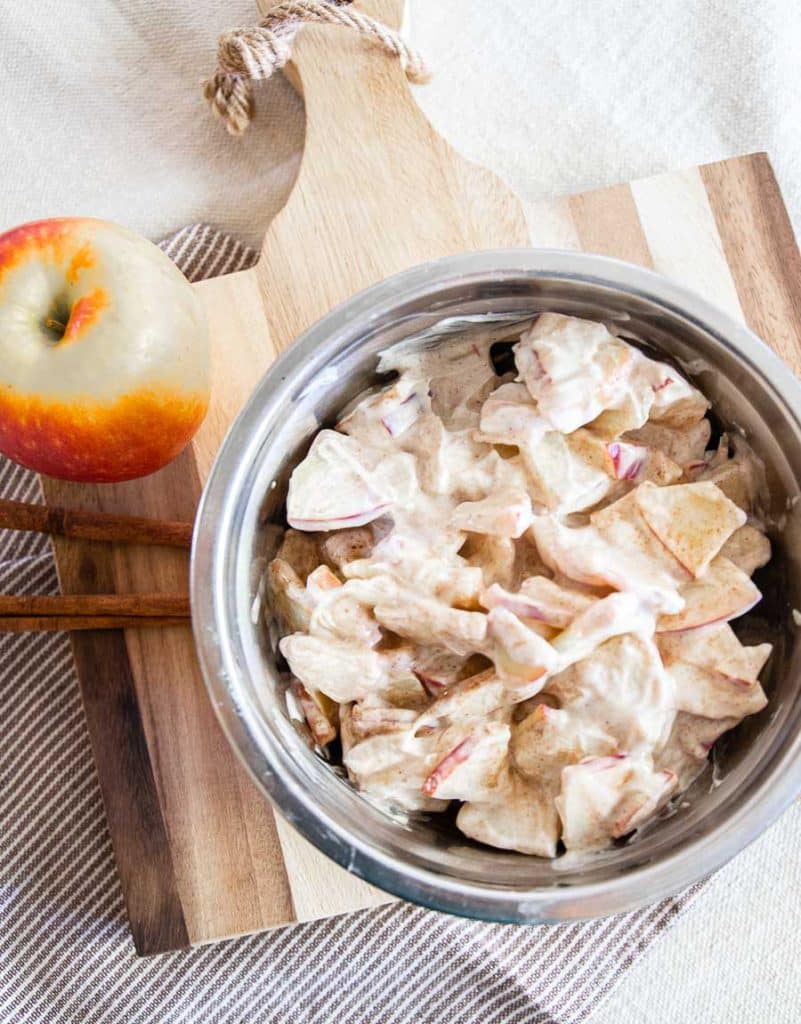 Easy Apple Salad | Twelve on Main
This is a simple light and refreshing apple salad that can be served as a dessert or side dish. Using greek yogurt and cinnamon this is sweet with the spicy hint of cinnamon. It is super easy to make and is a great daytime snack as well!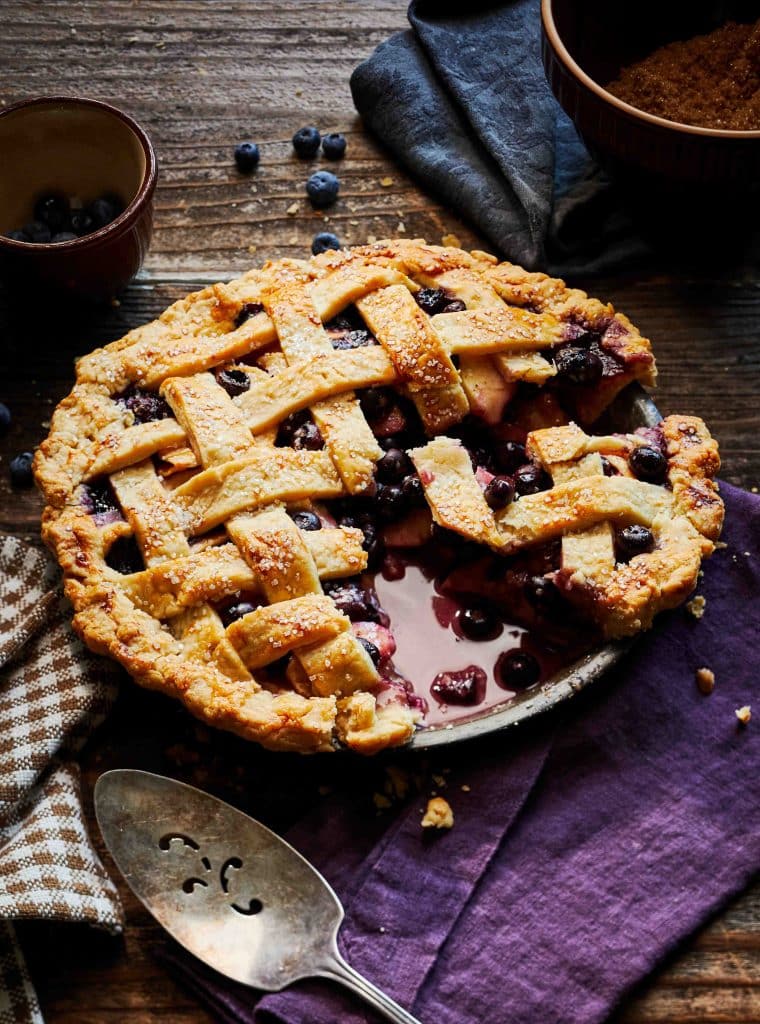 Apple Blueberry Pie Recipe | Happy Happy Nester
This Apple Blueberry Pie Recipe with caramel sauce offers a delightful blend of flavors and textures, making it a hit among dessert lovers. The surprise caramel adds a unique touch that elevates the traditional apple blueberry pie to a more indulgent and unforgettable treat.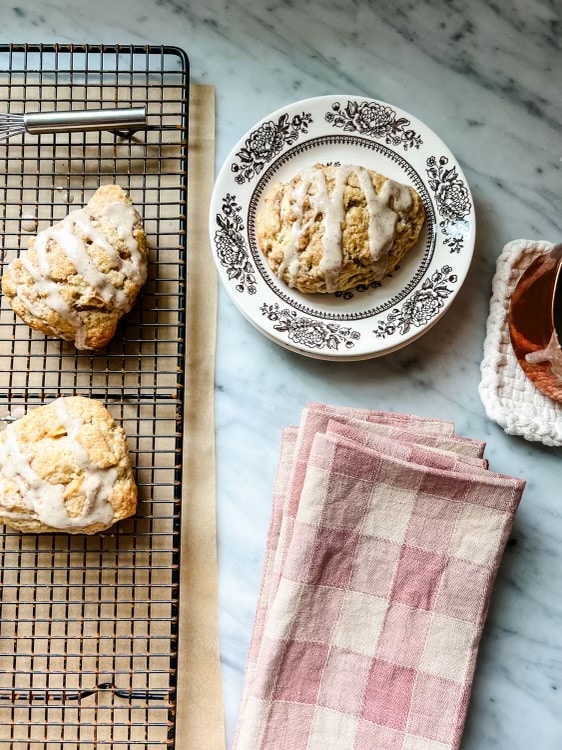 Cinnamon Apple Scones | Most Lovely Things
A cinnamon apple scone recipe that's a lot like apple pie but in the form of a scone! Making it the perfect breakfast treat!