How to make a Scandinavian-inspired wreath is almost too simple to post, but then again, we may look at it as an opportunity to discuss using what you have. That is exactly what I did for this wreath, and I think it's pretty cute.
I'm joining 10 other bloggers today for all kinds of holiday wreaths. Links below.
I think by now you know how much I love to forage. A branch, some sticks or twigs, leaves, and seed pods are all things I look for regularly. I'm mindful of taking only things on the ground or growing wild.
What will you need to make this Scandinavian-Inspired Wreath?
Some foraged pine branches
Pinecones
A small metal or ceramic house painted gray
Ribbon or frayed canvas
How to make this simple Scandi wreath
I foraged a few branches and, using florist wire, secured them on the bottom on both the right and left sides. Added a few pinecones on one side and a gray ceramic house in the bottom center. I was hoping to find a small galvanized metal house, but I couldn't find one. I remembered having several ceramic houses from Target's Dollar Spot stored away a few years ago. I painted them using a metal gray spray paint that was on the paint shelf in the basement.
I used the same little house and just one evergreen branch for the smaller wreath. I used ripped canvas that I use on all of my SHOP Most Lovely Things packages. Ripped canvas over the trendy but expensive frayed antique velvet ribbon might be my favorite hack!
I love using what I have. A little spray paint (that I had from another project), and it's pretty close to what I had in mind. If you have a few wreath forms and foraged branches, chances are you can find an ornament or something for the finishing touch on a simple Scandinavian-inspired wreath!
An ornament for smaller wreaths works well.
An ornament is a right size for smaller wreaths, or if you are going big, you can use a couple of houses. The metal ones are very lightweight. All seem to have a hole in the bottom, making it easy to insert a twig to secure it to the wreath. This one from Target has a battery-operated light!
I used the same grapevine wreaths from this project: How to Make a Minimalist Fall Wreath.
Foraging for Plants (non-edible)
When you begin to forage, you soon realize that you look at the world differently. When I go for a walk on our beach, I always look for these gorgeous seed pods that grow in clusters among the rocks along the shore.
When I go on hikes, I always stop to look at the moss in areas near the water. I walk through a wooded park and spot a juniper dripping in juniper berries. Before I foraged, I'm not sure I noticed some of the most beautiful plants and trees.
For example, only when I began collecting leaves did I realize that most Gingko trees don't even begin to change from green to golden until the second week of November in New York and Connecticut, and many hold onto their leaves into December.
What to bring with you when foraging
How can you make sure it's not poisonous?
When I was reading Erin French's memoir, Finding Freedom, she wrote about how she accidentally collected poison ivy that was growing wild to put into jars or vases. She said something about how she didn't recognize it as poison ivy because it was different from the kind that grew where she lived. Her friend knew instantly. Reading that has made me a little extra cautious. I often use my iPhone feature for Visual Look Up. You can read more in this post.
11 Holiday Wreath ideas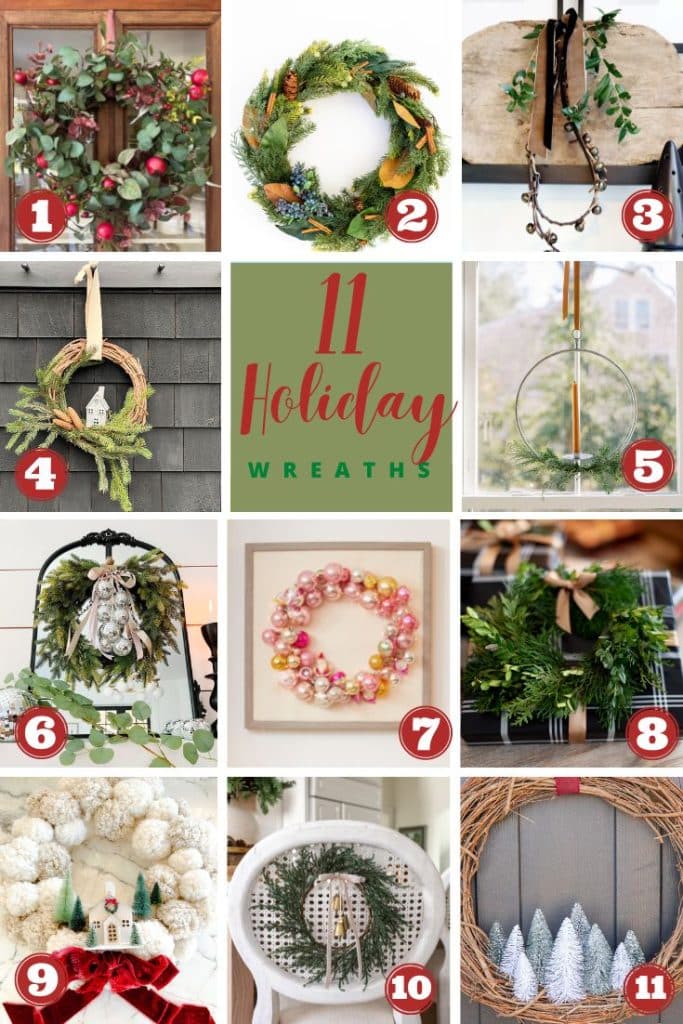 Blogger's Best Holiday Wreaths
Shop the Post