Madeline lives with two friends in a tiny but wonderful apartment in New York City.  When she was looking for apartments we saw a lot of really bad ones.  I only went on a few of the showings, but she assures me that they were all pretty terrible.  So when we saw this one, we were basically overjoyed!  It had just been renovated from top to bottom and for a small three bedroom, they used the space pretty brilliantly to create a common space and three small bedrooms.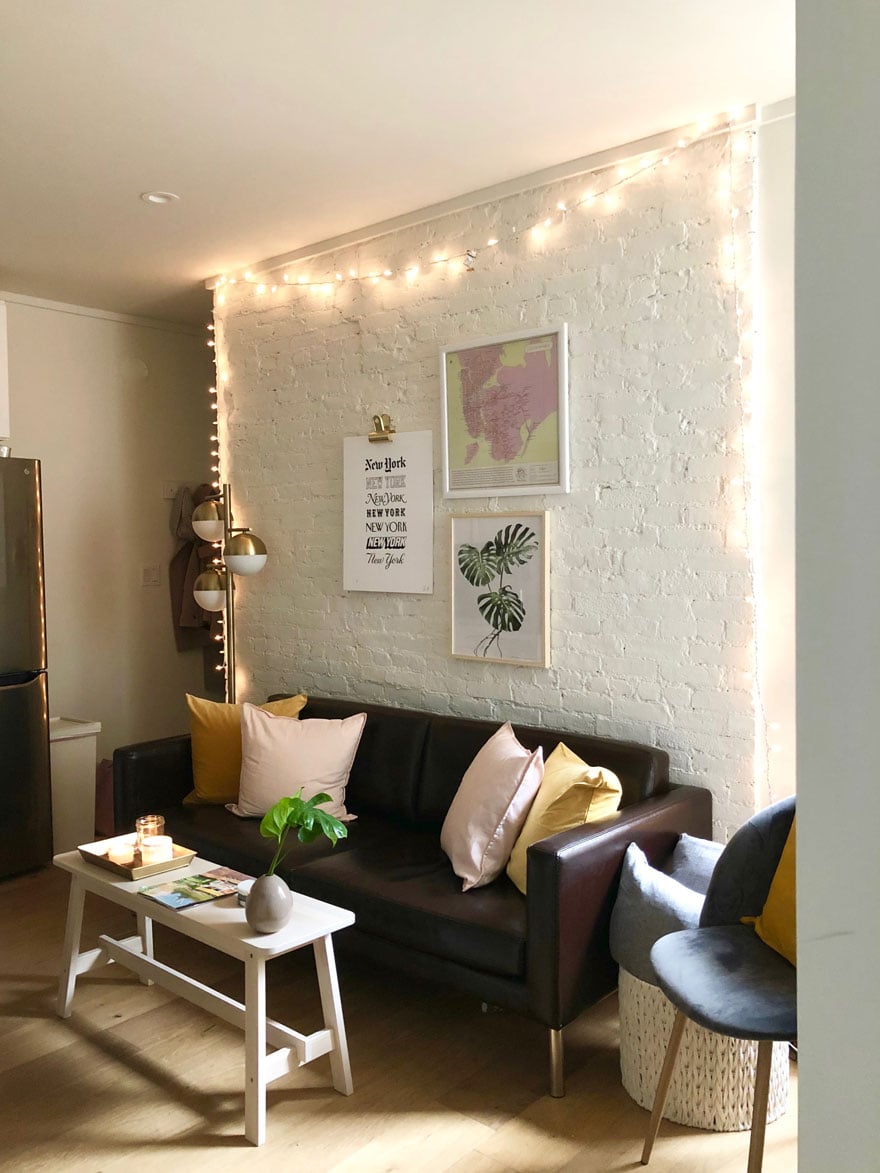 The exposed brick painted white makes for the perfect gallery wall. We started out with ideas that I showed here, but in a small space the girls decided on a less is more approach.  They all agreed that the New York poster by Knowlita was perfect!  We had no idea that it's a signed and numbered piece!  The Monstera leaf and frame are from Ikea.  The map is the "City of Women" poster from Rebecca Solnit and Joshua Jelly-Schapiro's Nonstop Metropolis: A New York City Atlas project.
Create a Gallery Wall featuring the print from Knowlita
The sofa is from Ikea and the scale is perfect for this small space.  Anything larger would take up too much of the actual living space which ultimately is a living room, kitchen, and hallway to two of the three bedrooms.  The bench can be moved to the wall (under the wall mounted television) to make more of an open space and as additional seating if necessary.  The small chair in the corner is a velvet Mid-Century accent chair the girls found on Amazon.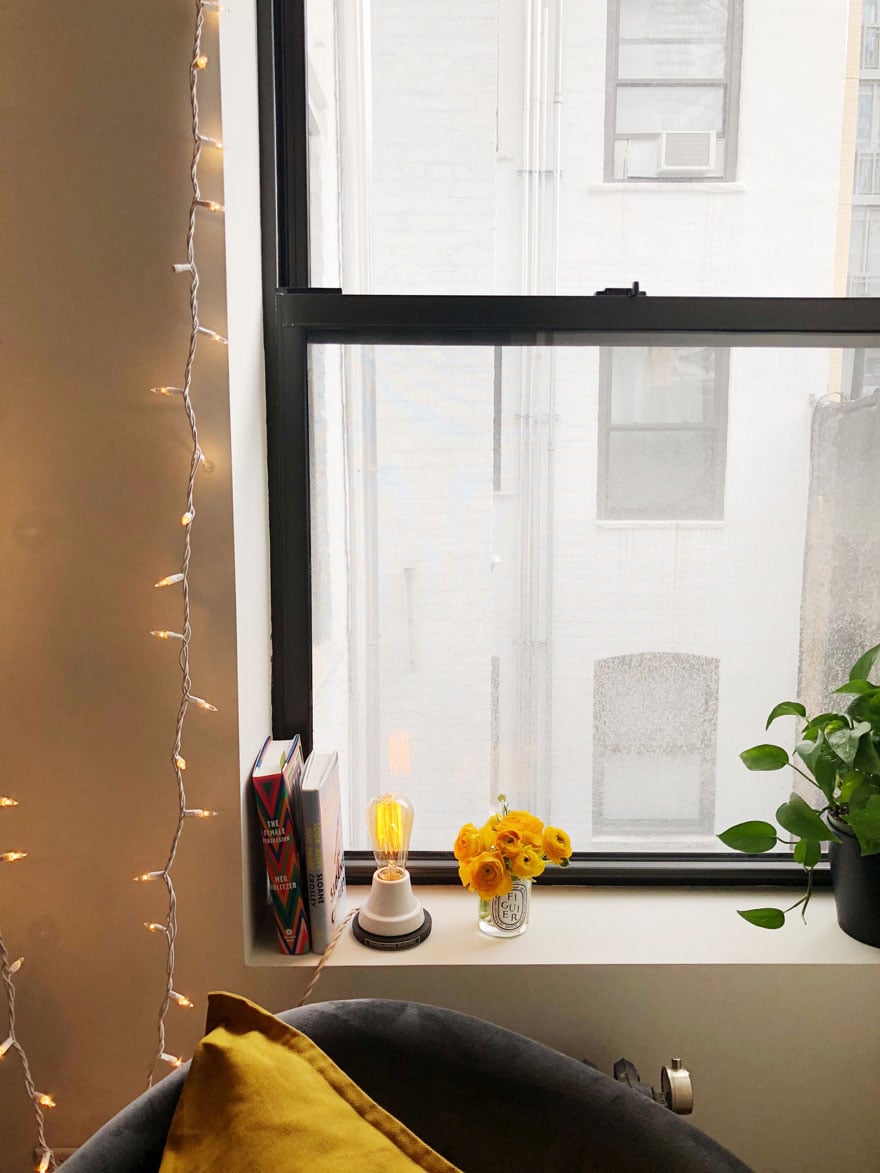 For lighting we chose the Project 62 lamp from Target.  What they love about it is that you can choose to use one, two, or all three lights.  On the window sill they have a SchoolHouse Electric lamp.  It's the Ion Lamp Box Set in white with a khaki cord.  And of course a couple of strands of twinkle lights!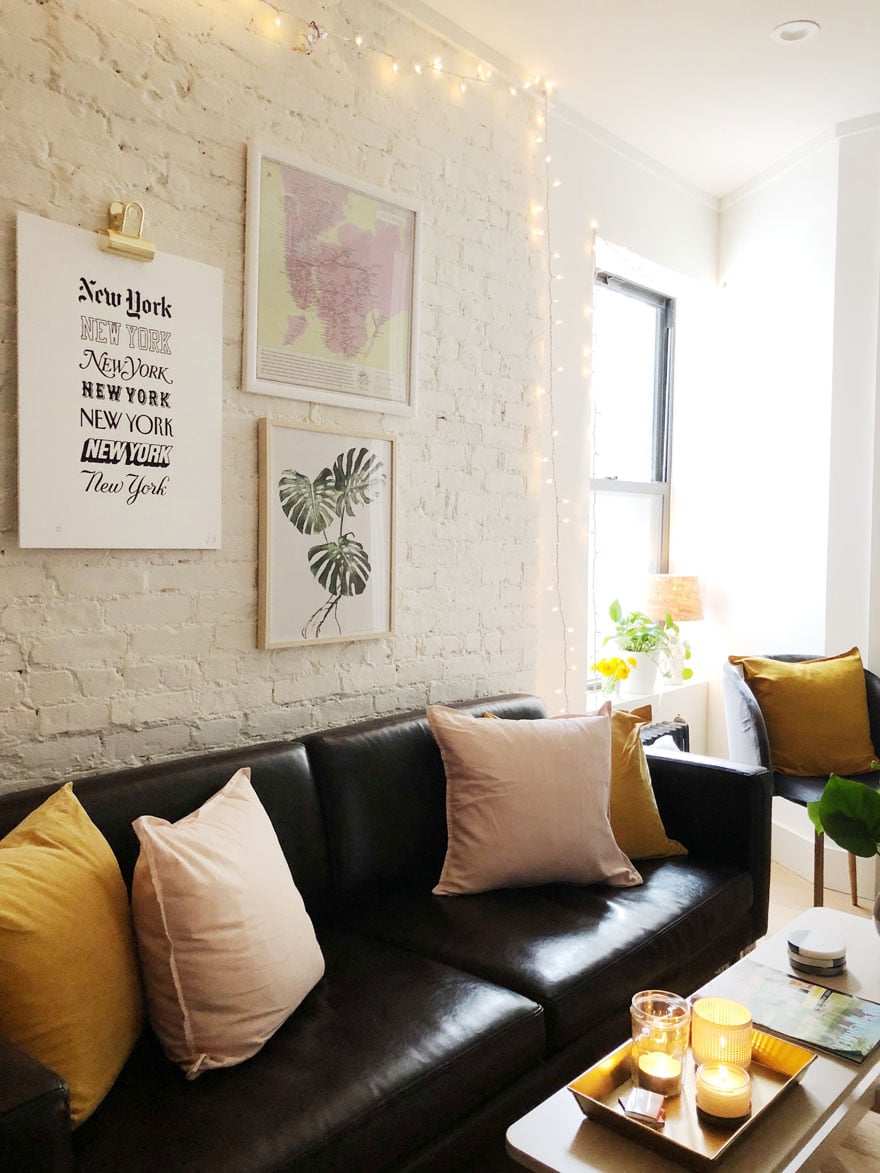 Open Pantry Storage
There's very little storage in the kitchen so we used a $15 galvanized shelf from Ikea.  We did secure it to the wall since they store some heavier items, like glass jars and appliances.  It takes up very little space, but provides open storage as a pantry.

They have a long hallway as you enter the apartment and so we hung two long coat racks since naturally there's no coat closet.  In fact, Madeline's room does not even have a closet.  I'll be sharing her tiny bedroom and storage solutions soon.
SaveSave
SaveSave
SaveSave
SaveSave