So how small is small for a New York City Apartment?
In case you were ever wondering if all the talk about how expensive it is to live in New York City and what you get for you money is true…well, keep reading and take a look at Madeline's second NYC apartment. You can see her first apartment here.
What does 400 Square feet look like?
Madeline shares her apartment with two roommates that are friends from her hometown. They have a wonderful situation where they make small space living work, but it is indeed small. At about 400 square feet for a three bedroom, there's really no exaggeration here. In fact when her brother saw her new space his first comment was, "So your kitchen is still in your living room?' That would be a yes. At the end of their prior lease, the girls moved up one floor in a 5 story walk-up because for about the same price, they could have a little more natural light. The actual living space might be just a bit smaller. They no longer have space for an additional chair in the main living area. Madeline's Ikea sofa is quite compact and perfect for a small space. While three people technically "fit" on the sofa, it's not ideal for relaxing. When she first showed me the apartment empty, I immediately saw potential in the window ledge as extra seating. It's 15″ deep and 56.75″ long. Patio Lane made a custom cushion and now it's a built-in window seat. When they have company, two people can sit providing that much needed extra seating. But most days it's just one and they all love it! It's Madeline's favorite spot for reading. And, if you look closely there's a view of the top of the Chrysler Building and The Empire State Building. Here's a link to the Empire State Building Tower Lights Calendar.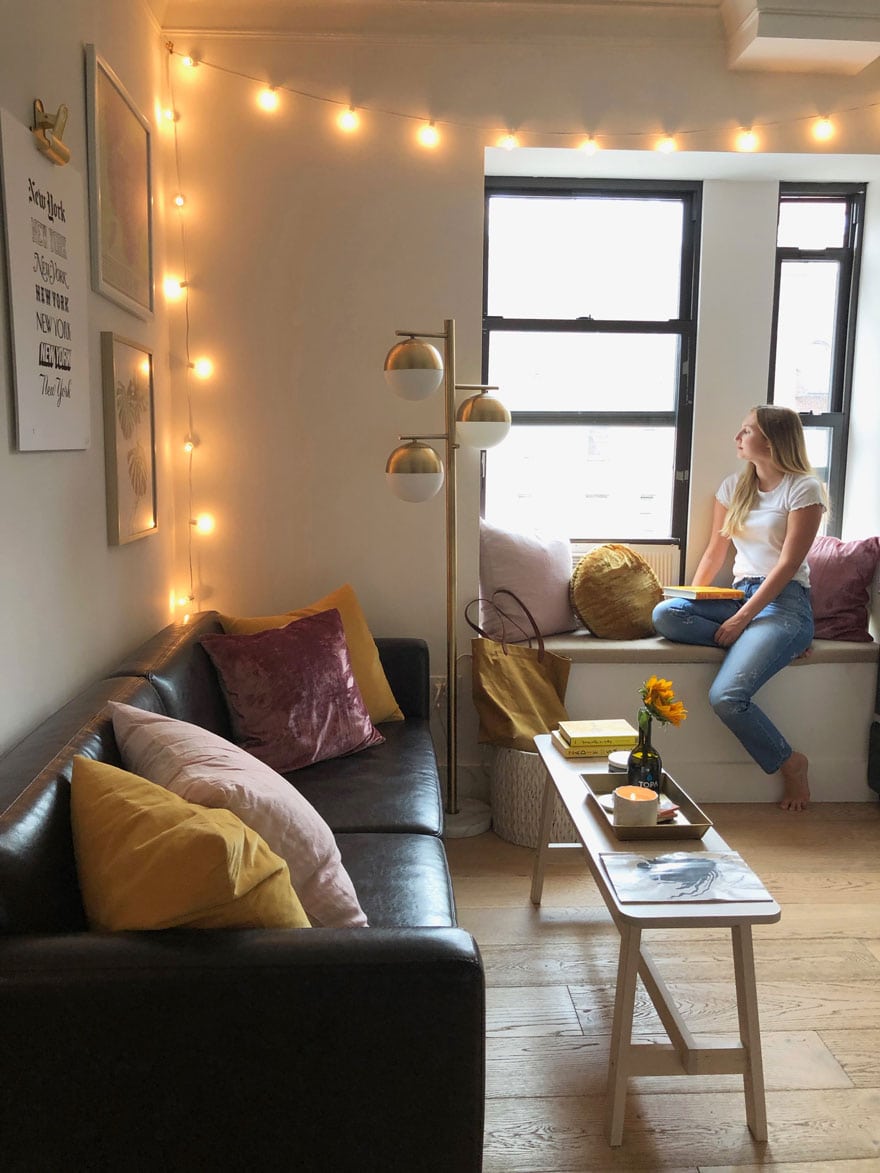 Patio Lane Custom cushion makes for extra seating in a small apartment
Patio Lane makes it easy to get the right size cushion for every space. Using their easy Cushion Builder Tool, you first select the type of cushion and the insert for your project. Then you add it in your dimensions for width, depth, and thickness. Decide if you want squared or rounded corners. We went with all squared. Then you get to select your Sunbrella fabric. They have so many to choose from and if you are at all unsure of what you want, they will send you up to ten fabric samples. Sunbrella fabric is a great choice for cushions because it is fade resistant and easy to clean. This is our second time using Patio Lane and we couldn't be happier with the ease of ordering, customer service and the product. You can see our attic project here.
Adding a few small plants from Plant Shed on Prince Street
Look for space saving solutions
In small spaces it's important to not overlook every possibility for space saving solutions. The bench from Ikea can also be moved to a wall opposite the window which is technically the hallway, but would also be extra seating. When it's just the girls, they use it as their coffee table and since there's no space for actual table, it is a much needed surface. Another space saving solution…in Madeline's bedroom we hung a lamp shade using a pendant cord to save space on her bedside table.
All white or off-white in a small space
A New York City View…
The Top of the Chrysler Building
&
The Empire State Building
Overall, it's expensive to live in NYC and you don't get a lot of space, but these girls are living the dream of making it in New York! You know the lyrics of the Frank Sinatra song…
"If I can make it there, I'll make it anywhere
It's up to you, New York, New York"
Shop the look