The best low-carb carrot cake recipe with cream cheese frosting that my sister has been telling me about for months. I finally made it. It's so good, plus it uses almond flour instead of all-purpose flour and there's half a cup of chopped nuts in this recipe too. I think it makes the perfect breakfast with a cup of coffee. I make it in a quarter sheet pan and cut it into squares and store it in the refrigerator. It's a perfect quick breakfast or I can take it on the go.  
Chill this carrot cake and it's like a bar
When chilled–it's almost like a bar. It's pretty dense but in a good way. Let me just say I'm sorry this carrot cake is not prettier than this. If you google carrot cake and it comes up with something very orange–I have to wonder if they added some artificial coloring?  As you can see my ingredients are very colorful! Next time I will save a few of the chopped nuts and sprinkle them on top for a few extra pretty points! 
Low-carb carrot cake with an easy decoration
Shred the carrots with a food processor saves time
This time when I made this recipe, I shredded so many carrots that I have enough to make at least two more cakes. I wanted to "decorate" the cake, but all I could think of was piped orange frosting carrots like at Costco. Two pieces from a shredded carrot make the perfect decoration. 
Skip the cream cheese frosting for an even healthier version…still so good!
Update: With the original recipe I used a zester to get the carrot very small. It took too much time. I used my food processor and after peeling about 10 medium-sized carrots, it shredded them in about a minute. I don't mind the texture it gives the cake, in fact, I think I prefer it. I used almond meal rather than almond flour this time and I think I prefer that as well.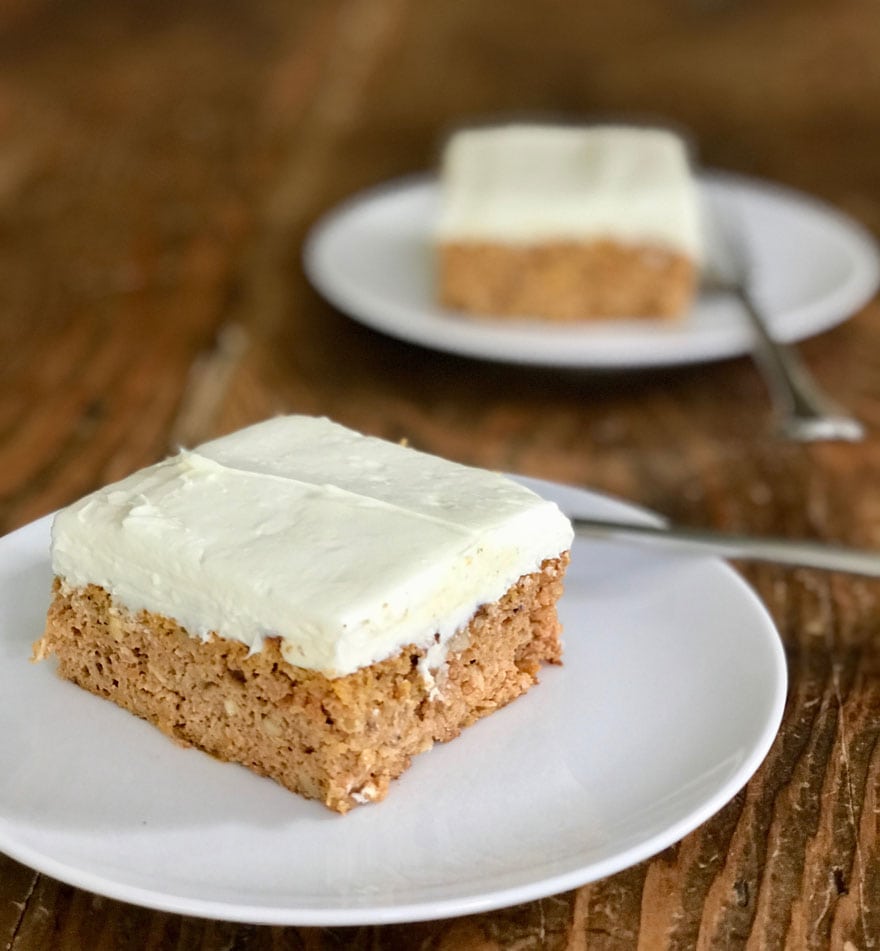 The ingredients: What's in it?
Print
Low-carb Carrot Cake
An easy and low-carb carrot cake.
Prep Time:

15 minutes

Cook Time:

30 minutes

Total Time:

45 minutes
3 cups grated carrot. I used a zester for a fine shred, but my sister said she has even used the bag of shredded carrots from Trader Joe's. That would save time!
5 eggs
1 cup butter melted
3 tablespoons Truvia Baking Blend
1 1/2 cups Almond Flour
2 teaspoons baking powder
1 teaspoon cinnamon
1/4 teaspoon of each of the following:  allspice, nutmeg, ground cloves, ginger.
1/2 cup finely Chopped walnuts
2 teaspoons vanilla
1/2 cup coconut
Instructions
Beat eggs, melted butter, Truvia Baking Blend, and vanilla. Add grated carrot, coconut, chopped walnuts, and mix with a rubber spatula.  Mix in the spices, almond flour, and baking powder and stir to combine.  Bake in a quarter sheet pan in a 350º pre-heated oven for about 30 minutes or until a cake tester comes out clean.  Let cool and then mix two 8-ounce packages of cream cheese with a few teaspoons of Truvia Baking Blend and whip using an electric mixer or a whisk.  Spread on cake and sprinkle on a few reserved chopped walnuts.  Refrigerate and cut into squares.
Keywords: cake, carrot cake, snack cake
Recipe adapted from Ditch the Carbs and Julia McPhee.
Now for our Friday Favorites–I mean, besides this carrot cake!
My new favorite restaurant was where I shared a wonderful breakfast with Mary Ann of Classic Casual Home and Kris of Driven by Decor – Le Coucou.  It's not to be missed for breakfast lunch or dinner if you're in New York City.
It's right across the street from Glossier. We love their lip balms.
Continuing with our all things French in New York theme, we loved the little shop I wrote about here next to their coffee shop Maman with the prettiest cups in all blue and white patterns.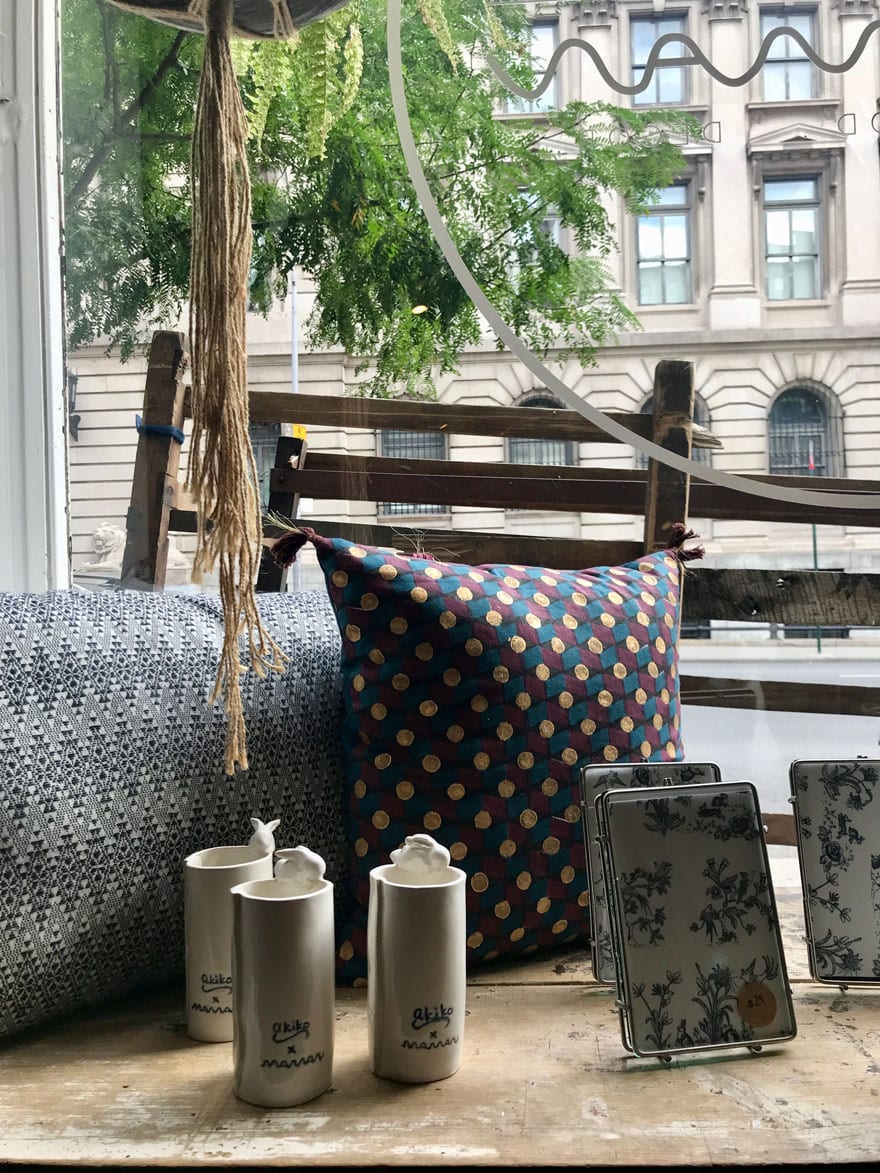 Have you seen Sèzane? It's part clothing and shoe shop, café and lovely little gifts and books. Each time I have been this month, the sun has been streaming in and filling the shop with beautiful light making it impossible to leave. So we stayed and had another cappuccino. Coffee and treats are from Maman!
Sèzane in NYC
Have a lovely weekend!
xo annie