How to make a simple foraged wreath for around $7. I saw something on TikTok or maybe it was a reel on Instagram, but instantly I thought…I should make that!
The Supplies you'll need to make a foraged wreath
Make sure to forage enough, you don't want to go back for more!
The wreath uses a basic wreath form, florist wire, and foraged Pampas Grass. Grasses like this grow all over our neighborhood, so it took no time to take my clippers to gather an armful. Once I got home and put them on the potting bench, I realized there are at least two varieties. When I forage in public, I work so fast that I would not notice a detail like this. I don't know why I feel like I'm going to get "caught" – I mean it's not like I'm cutting them from someone's personal property. And Pampas Grass grows like weeds, so I'm pretty sure it's okay! I make sure to get plenty because I do not want to go back for more!
Sort the Pampas Grass by color and texture
Divide the grasses into two types by color/texture for your foraged wreath
Once I got home, I divided the grasses into two types. One was a darker brown and the other more fluffy. Then I made equal size bunches, trimming the leaves from the stems and then cutting them a little shorter so they are easier to work with. Once secured to the frame or form, then I trimmed the stems again.
Make six bunches to create a symmetrical wreath
I started at the top of the wreath form with one bunch and secured it with copper florist wire. I used copper because that's what I had on hand. Then I worked from side to side making sure it was symmetrical. After I was done securing a total of six bunches, I went back and filled in with a few extra as needed. But it went pretty fast and I like the way it turned out. Very little effort and I actually had everything I needed, but if you were to buy a wreath form this size it would cost around $5. This one is 18″.
Make every space beautiful
I hung the foraged wreath on our side door. I like to decorate this area even though it's actually the door to the pantry and basement because it's visible from the front of the house. When we purchased the house, this area was a mess and since it's so visible, I like to make it beautiful with a few simple seasonal changes that are easy and inexpensive. A new door mat always helps freshen up a space. When expecting guests, I light a candle in a lantern or two. The hydrangeas were clipped from our limelight tree in back. I love the fall colors of the hydrangeas.
A foraged Christmas Wreath with Sandy of The Collected Garden
Last Christmas I made a foraged wreath with my friend Sandy of The Collected Garden. I love the idea of using foraged things from nature for an earthy and beautiful wreath. I'm not sure why it took me so long to start making my own wreaths! Sandy brought all kinds of interesting things to use on our wreath and so I will definitely be making a foraged wreath this Christmas, what about you?
Read that post right here and here is plenty more inspiration from 10 talented bloggers!
9 Festive Holiday Wreath DIY Ideas
Silver Christmas Wreath DIY // Happy Happy Nester
How To Make A Simple Foraged Wreath // Most Lovely Things
Beechnut Husk Holiday Wreath // Finding Lovely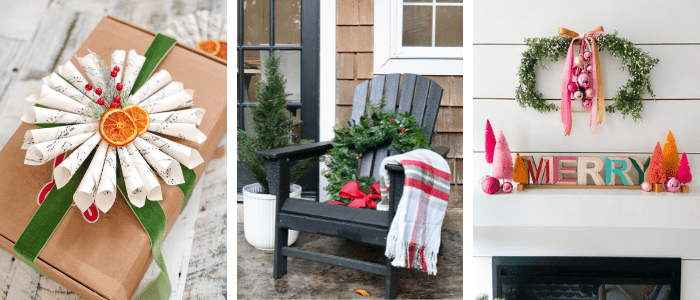 Mini Christmas Wreath From Thrifted Sheet Music // The DIY Mommy
Holiday Wreath Hack // My Sweet Savannah
Embroidery Hoop Hanging Ornament Wreath // Tatertots & Jello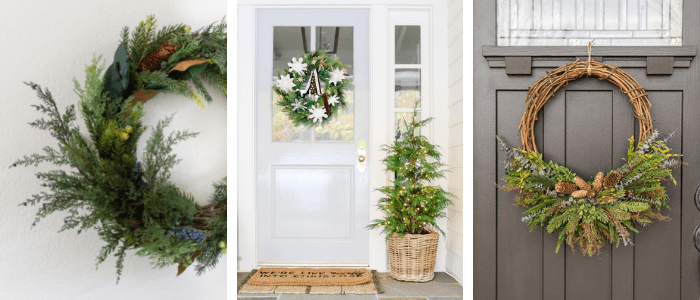 DIY Asymmetrical Christmas Wreath // Zevy Joy
Scandinavian Christmas Wreath With Paper Snowflakes // Modern Glam
A Gorgeous Winter Wreath Tutorial // Twelve On Main