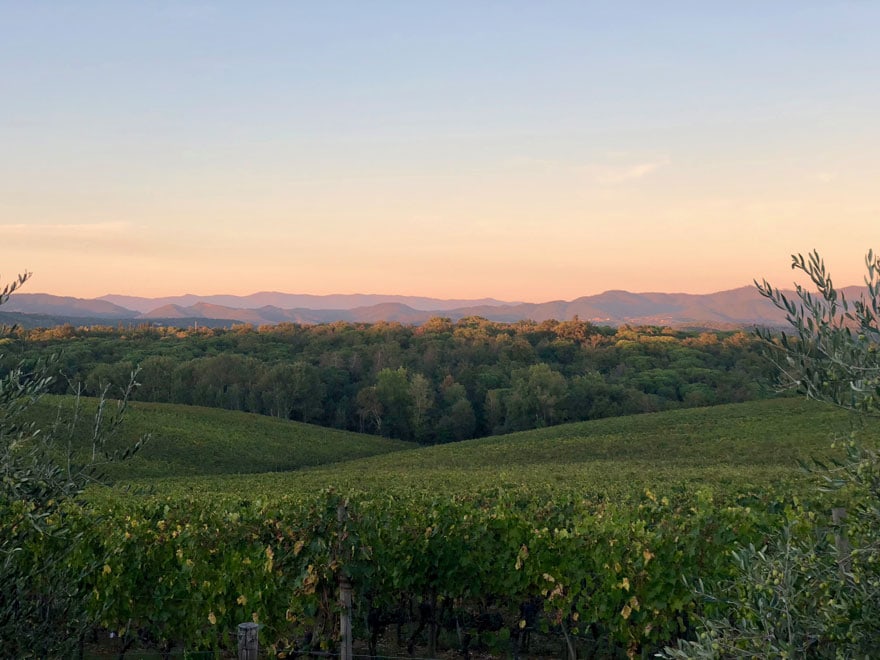 When we unexpectedly sold our house, we had about six weeks where we would need to live temporarily before our new home was ready. We had renters for the last two years and the timing was close, but not perfect. And since even a Marriott Residence Inn does not come cheap in these parts (greater NYC area), we thought why not take at least a couple of weeks and go on vacation. So we went to one of our favorite places– Tuscany. Part relaxation and part exploration.  What could be better? And since it was off season, the rates were (slightly) lower and we never needed a dinner reservation.  The weather was perfect. As I write this it is currently 74º in Siena. The nights get a little cool making it perfect for a sweater and dining outdoors, which we did every night.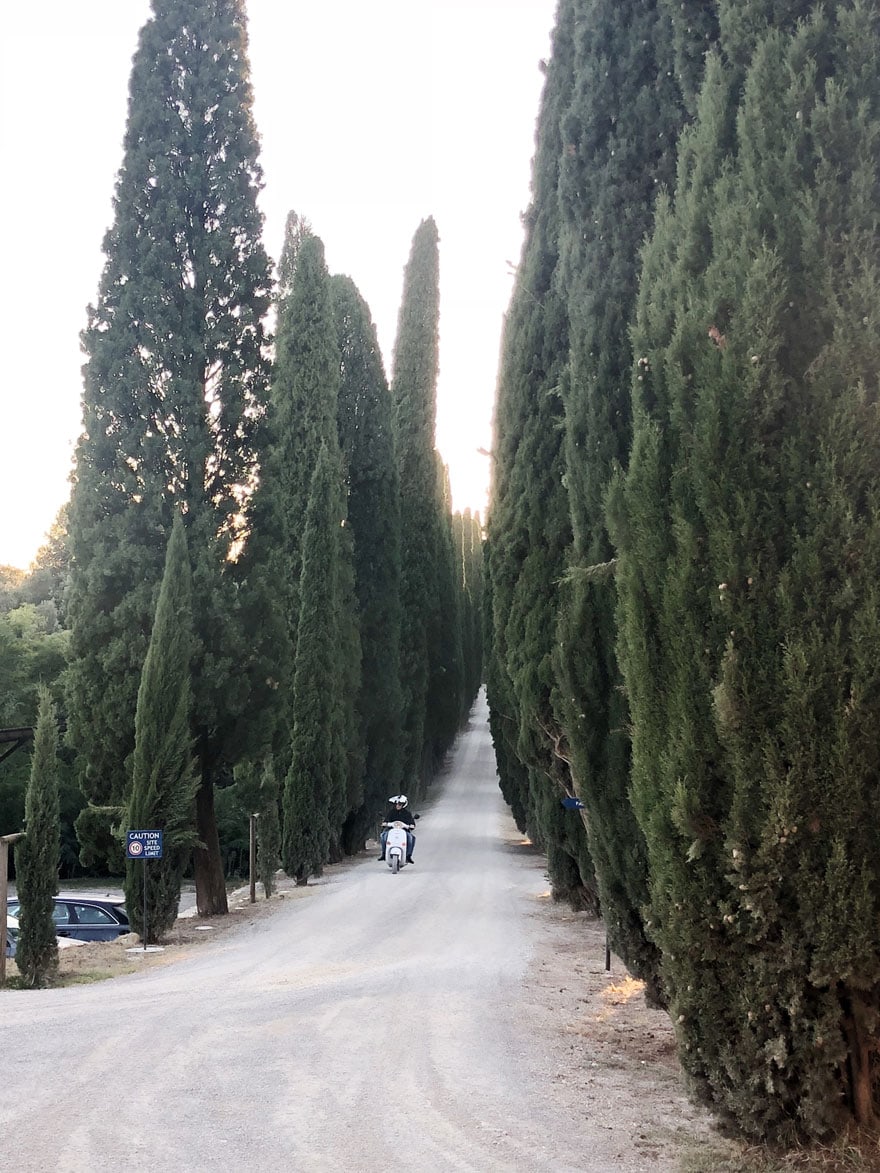 We stayed at our favorite place, Borgo Scopeto Relais. We've stayed before and yet every time I think I love it even more.  After selling our house, we wanted something familiar and Borgo provided the perfect get away with that level of comfort that comes from familiarity.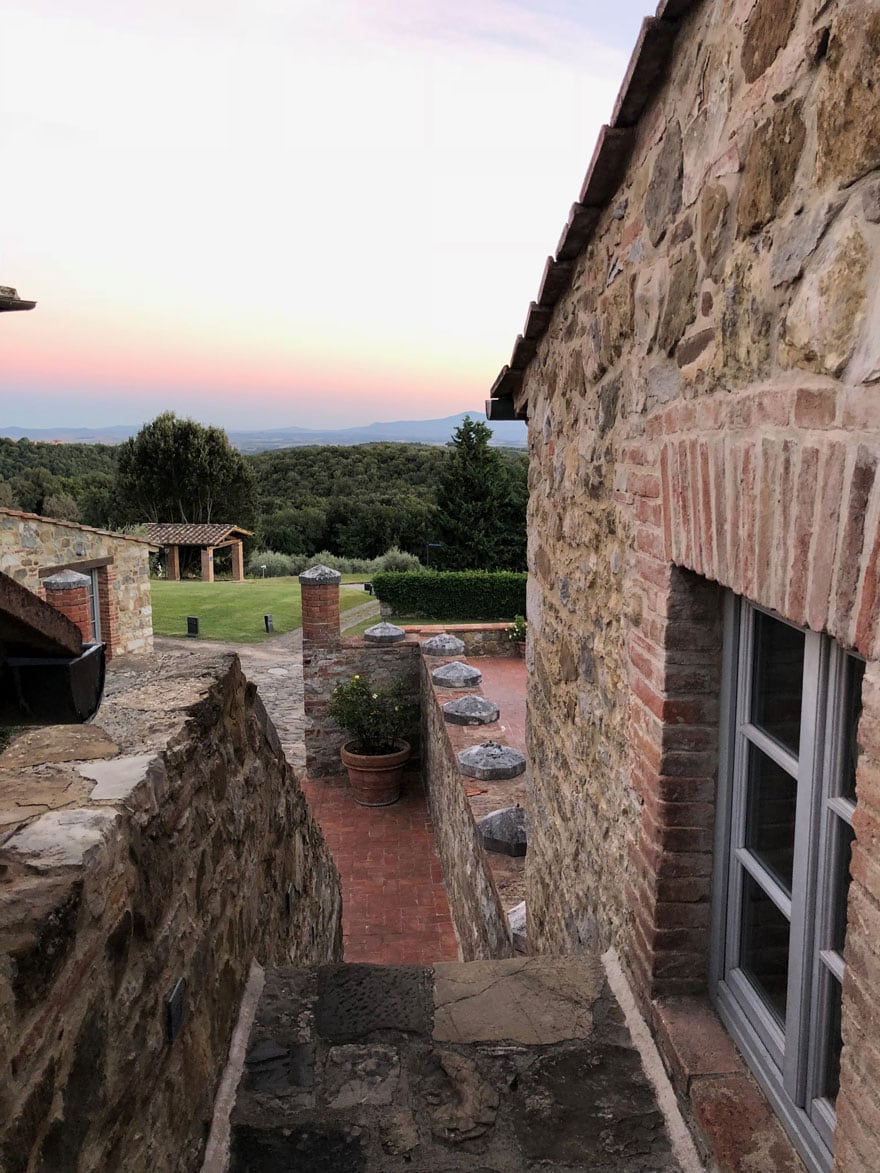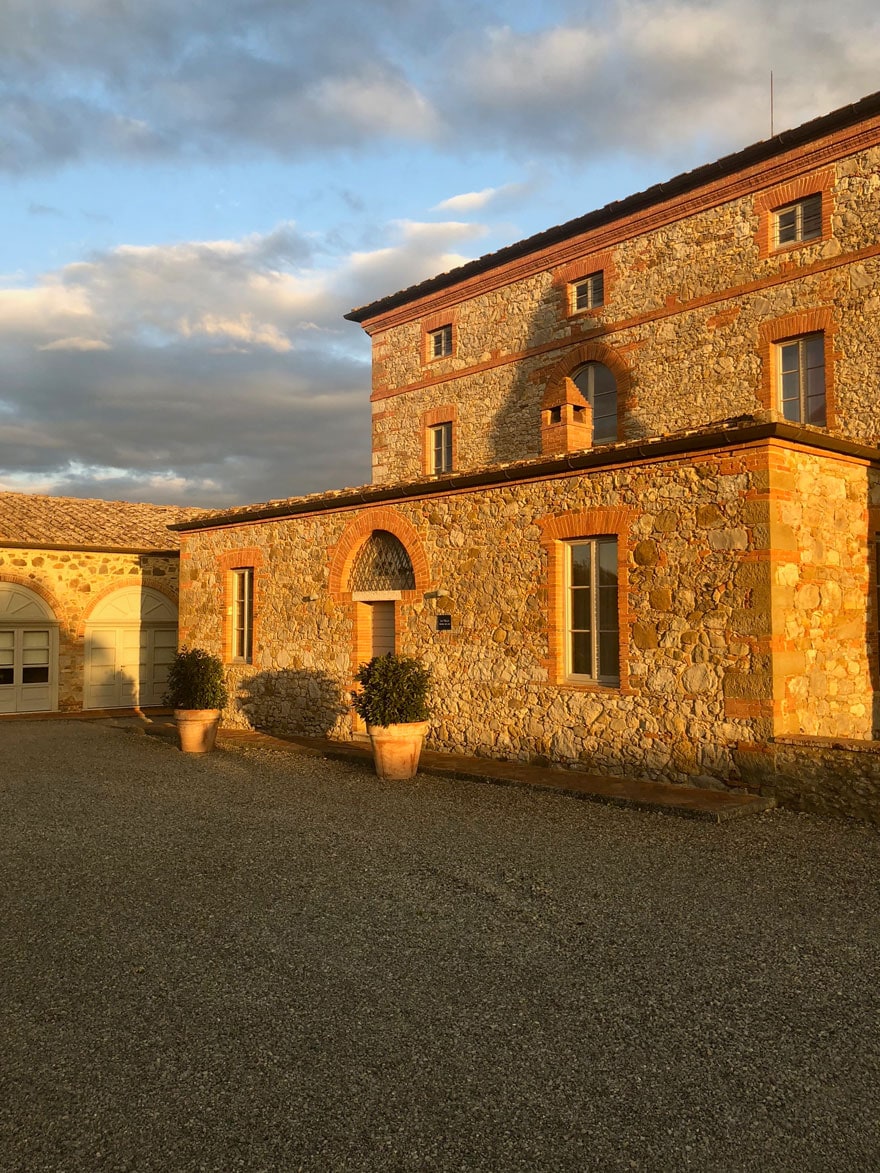 We originally found the resort by doing a Google search after seeing the charming movie, Letters to Juliet. The hotel rooms are more modern than depicted in the movie, but the property itself is exactly as you see it in the movie. This time the grapes looked ready to be harvested. We loved walking in the vineyards at sunset. The light is magical at every turn.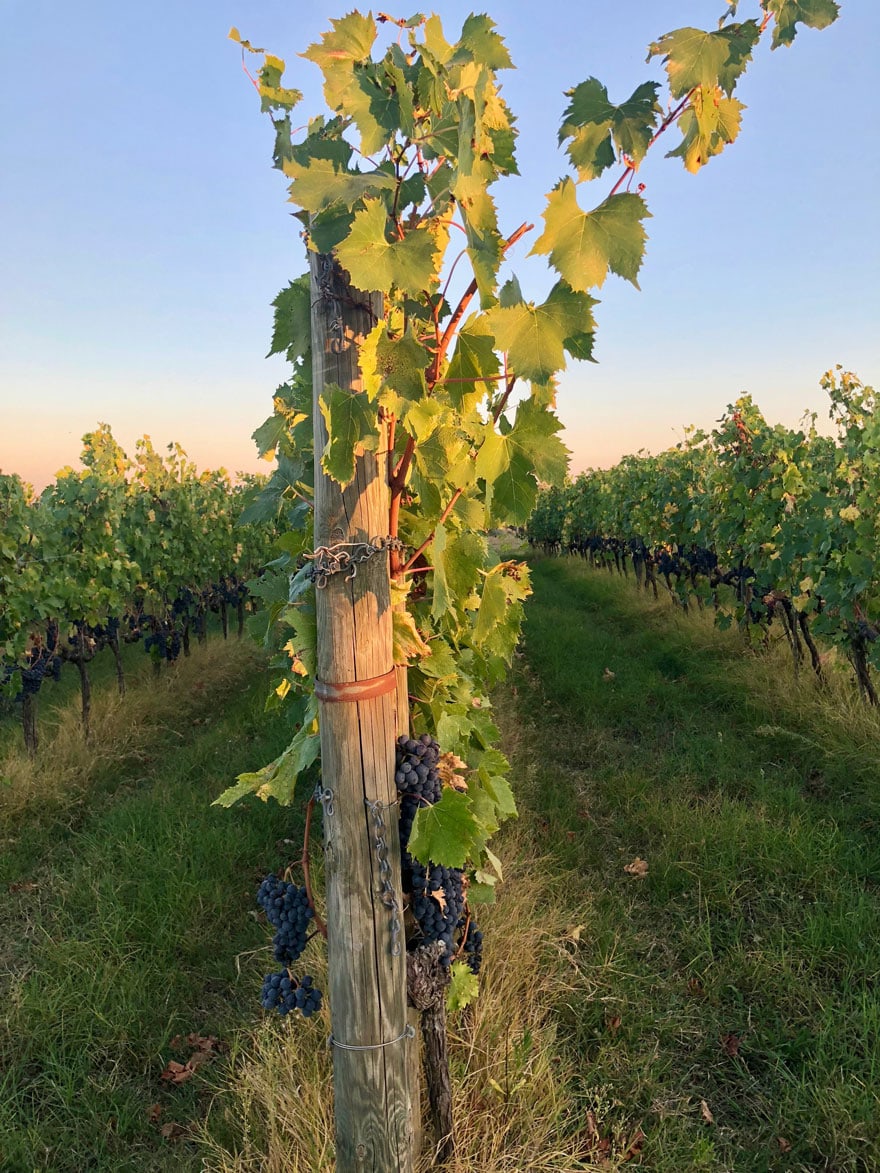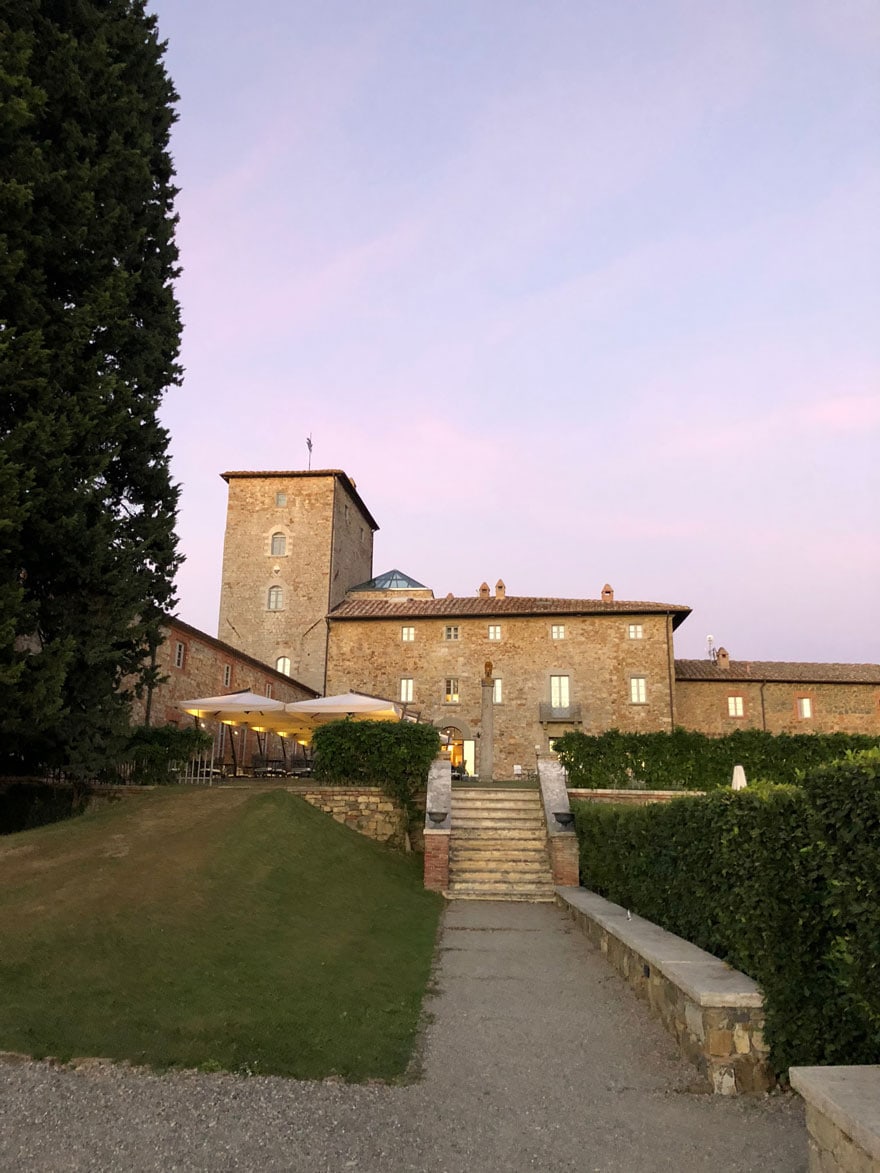 The rest of our trip we stayed at Borgo Scopeto Relais and explored the towns and villages within an hour or two of Siena in every direction, but only after spending several hours reading by the pool and soaking up the sun.
If you are looking for a place to unwind, relax with as much or as little sight seeing and exploration as you want, we could not recommend Borgo Scopeto Relais more for your next holiday, adventure or getaway. It's only a 15 minute drive down the hill to the city of Siena where we found it much quieter during the week this time of year than during the summer months. By Thursday evening it was getting a little busier and then by Friday and Saturday, it appeared everyone was in town. We were still able to find street parking and I think managed to avoid the "restricted zones" that are for locals only. They will track you down through your rental car agency and send you several tickets if you do drive through the restricted zones…so I highly recommend avoiding them!  I would also avoid market day in Siena. It's really more of what we could call a swap meet and the traffic is horrible. Instead, check out what days the local towns have their markets and you'll feel more like a local…well, almost! We found one where we picked up meat, cheese, bread and olives for lunch and a painting for 10 euros. Radda in Chianti is about 30 minutes from Borgo and the trip there will take you through backroads with some pretty spectacular views with a small village. We found a few pretty shops and of course gelato and a cappuccino.
We spent one night in Livorno. On our way from the coast to Siena, we made our way through Pisa. We did not see the Leaning Tower, but we did manage to see the bridge of trees. The location: Parco Naturale Migliarino San Rossore Massaciuccoli. We never inquired about a tour, but managed to find what we were looking for by driving around and asking a few locals. Livorno is about a two hour drive to Siena and well worth the diversion. You get to see just a bit more and visit a few coastal towns before spending time in the countryside. Surprisingly, our best meal happened to be at a little place called the Tennis Club Castiglioncello. We ordered a pasta dish with octopus. Of course we had no idea and we were both a bit surprised when they placed the dish on the table. It was Sunday and so many restaurants were closed. So hungry, jet lagged and a bowl of pasta with fresh octopus was absolutely delicious. And since we are huge tennis fans, the setting, an outdoor cafe next to a red clay tennis court on a beautiful evening could not have been more perfect.
Tennis Club Castiglioncello
Pizza & Seafood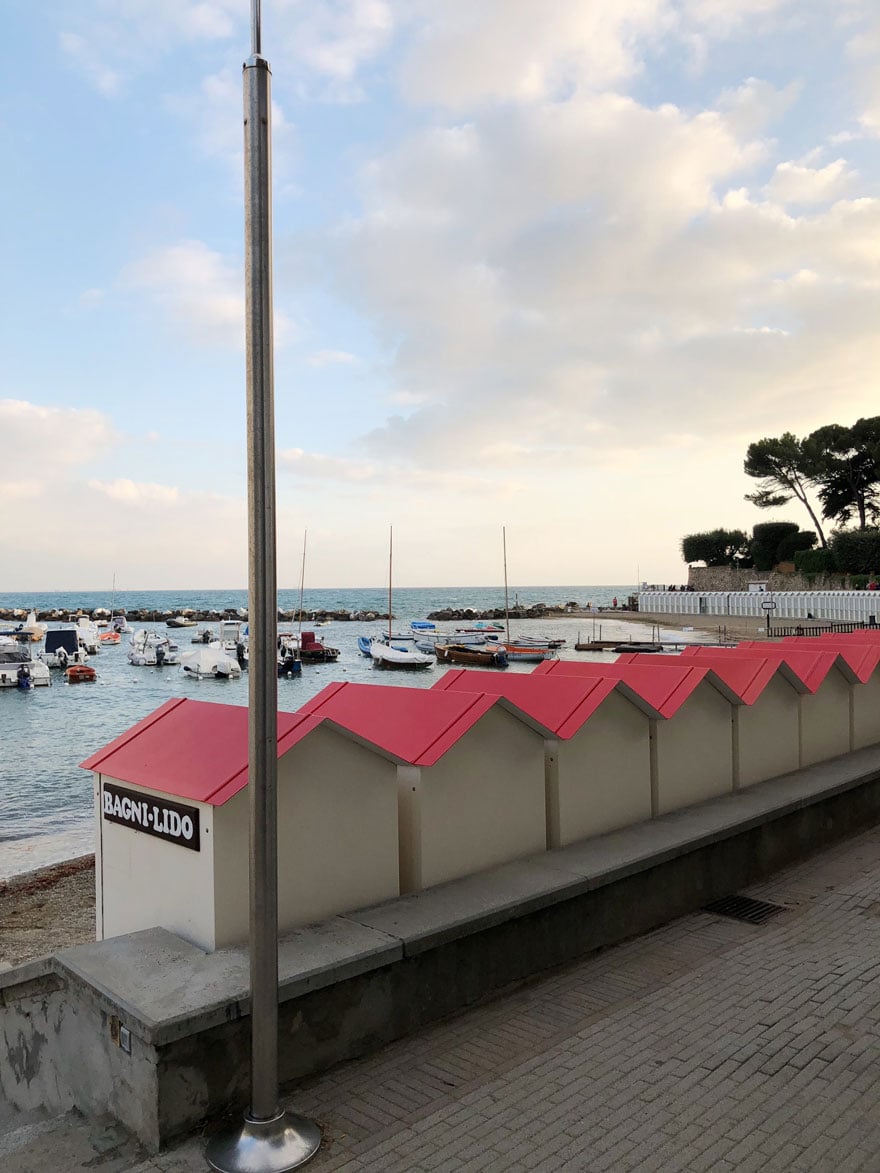 So what does all of this have to do with home decor?  Traveling inspires everything.  This trip really made me want to incorporate some warmer earth tones into our home.  We love neutrals. I think my new favorite colors are butterscotch and rust!  What about you?  Have you been inspired to change or add in a few earth tones lately?
1// Lizzy Love Art  2// baskets  3//cook book  4//steel waste basket  5// ceramic pot  6// brass hardware  7// Uashmam bag  8// Garnet Hill Flannel Sheets  9// Grain Sack Pillow  10// Schoolhouse Sconce  11/ Mud Cloth Pillow  12// Handloomed Pillow from Serena & Lily

SaveSave
SaveSave