This week Mary Ann and I had brunch at La Mercerie at Roman and Williams Guild in SoHo and I left feeling so inspired by everything we saw!  Mary Ann and I always have fun and between the two of us, I don't think we missed a single detail. It's so much fun to explore with a friend! One thing we noticed was the use of very simple natural elements.  Like little sprigs of dried grasses in simple black vases. The layers of beautiful things combined with simple elements from nature made for a perfect table.
New York
I love to see how they bring in the outdoors every season at Roman and Williams.  You can see what they had in February in this post.
Thanksgiving tables inspired by nature from the archives:
For this simple fall table I used a combination of vintage glassware, silver trays as chargers and fresh herbs as a centerpiece.  Since it's fall the herbs are mostly sage and rosemary.  I love how everything looked on black so skipped a table cloth.  
Simple water color place cards inspired by the leaf.  You can see all the supplies I use to make them here.
I have a ton of these birch tree place card holders.  On the reverse we drilled a hole to hold a tiny evergreen branch. You can see that post here.
A simple stem with red leaves inspired these easy place cards for last years Thanksgiving table.
This table was inspired by a visit to Terrain in Westport. I found the birch branch and used fishing line to suspend it in the window. I wrapped a strand of white lights and it ended up staying all winter. Note: Birch trees lose branches in the wind, so every time we have a windy night, I'm always thinking I should go scoop up a few in the park before the maintenance crews pick them up.
Tiny clay pots painted with chalkboard paint and succulents I found at Walmart make cute place cards/party favors.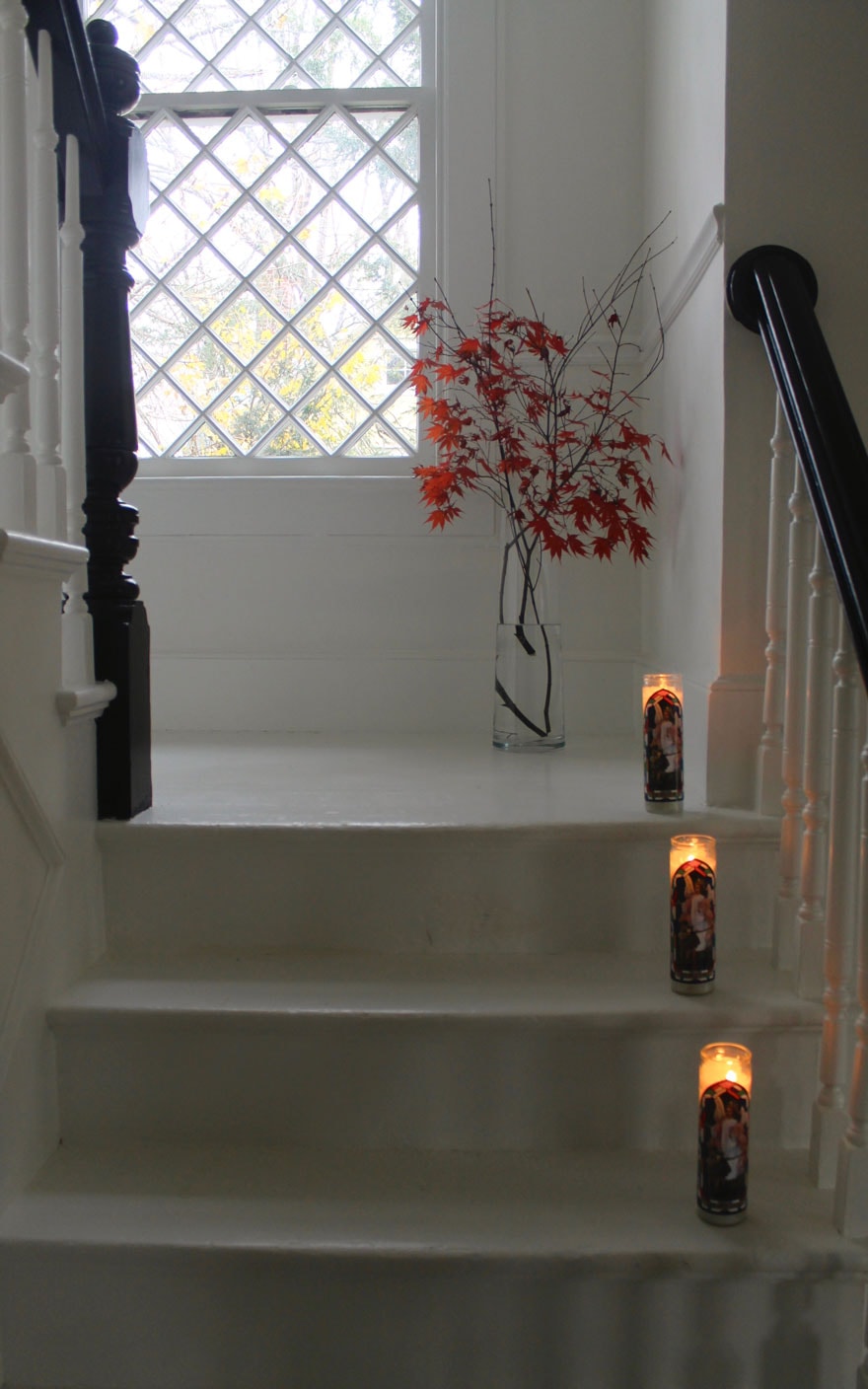 I love using branches to decorate every corner of the house.  It's simple and free! And a religious candle on every step lights up the entry.
So what will you be using to decorate your Thanksgiving table?  I'm meeting Driven by Decor tonight at Terrain in Westport to celebrate the launch of their first book which I'm sure will be very inspiring for all things fall and holiday!