We are sharing tips for seeing the Cherry Blossoms in New York City. We love every season in New York, but it's magical in springtime when the daffodils pop up and the cherry blossoms bloom. Maybe it's because we are tired of winter, but even on a rainy, misty day in April, we had the best time checking out the cherry blossoms all over Manhattan.
When is the best time to see the cherry blossoms?
A bit of research will tell you that the cherry blossoms begin to bloom in late March and reach their peak sometime in April and May. But each year is a little different depending on the weather and the type of cherry tree. With the weather being somewhat warmer this year, many of New York's cherry trees are beginning to peak now. And there is still time to see them.
Where are the best places to see cherry blossoms in New York City?
We planned our visit to see the cherry blossoms the first week of April, and it happened to be a cold, misty, and rainy day. However, the blossoms were in full bloom, and the normal crowds of people were nonexistent, which made for a very serene escape from the normal hustle and bustle of the streets.
We started at Flushing Meadows Corona Park, home to and most famous for hosting the World's Fair twice; 1939-40 and again in 1964-65. Next door is the USTA Billie Jean King National Tennis Center. On this misty, drizzly morning, it was surreal to stand among all the blossoming cherry trees and see the old structures of the World's Fair and the tennis center in the background.
From there, we made our way into Manhattan and drove straight to Washington Square Park, one of our favorite places for a walk in the city – no matter what time of year. Again, the crowds were sparse, and the cherry blossoms were in full bloom.
Next on our agenda was Gramercy Park – a private park in the Gramercy neighborhood of Manhattan. Only people living in the buildings that face the four sides of the 2-acre park get a key. The rest of us have to peer through the fence to get a view. Even then, it's well worth seeing.
And if you want to get inside the park, it is open to the public for one hour on Christmas Eve for Caroling. It's usually between 6 and 7 pm.
Caffè Panna at Gramercy Park Neighborhood
Since you can't get into the park, we walked a little more than a block to Caffè Panna for a quick treat. It's open Wednesday through Sunday.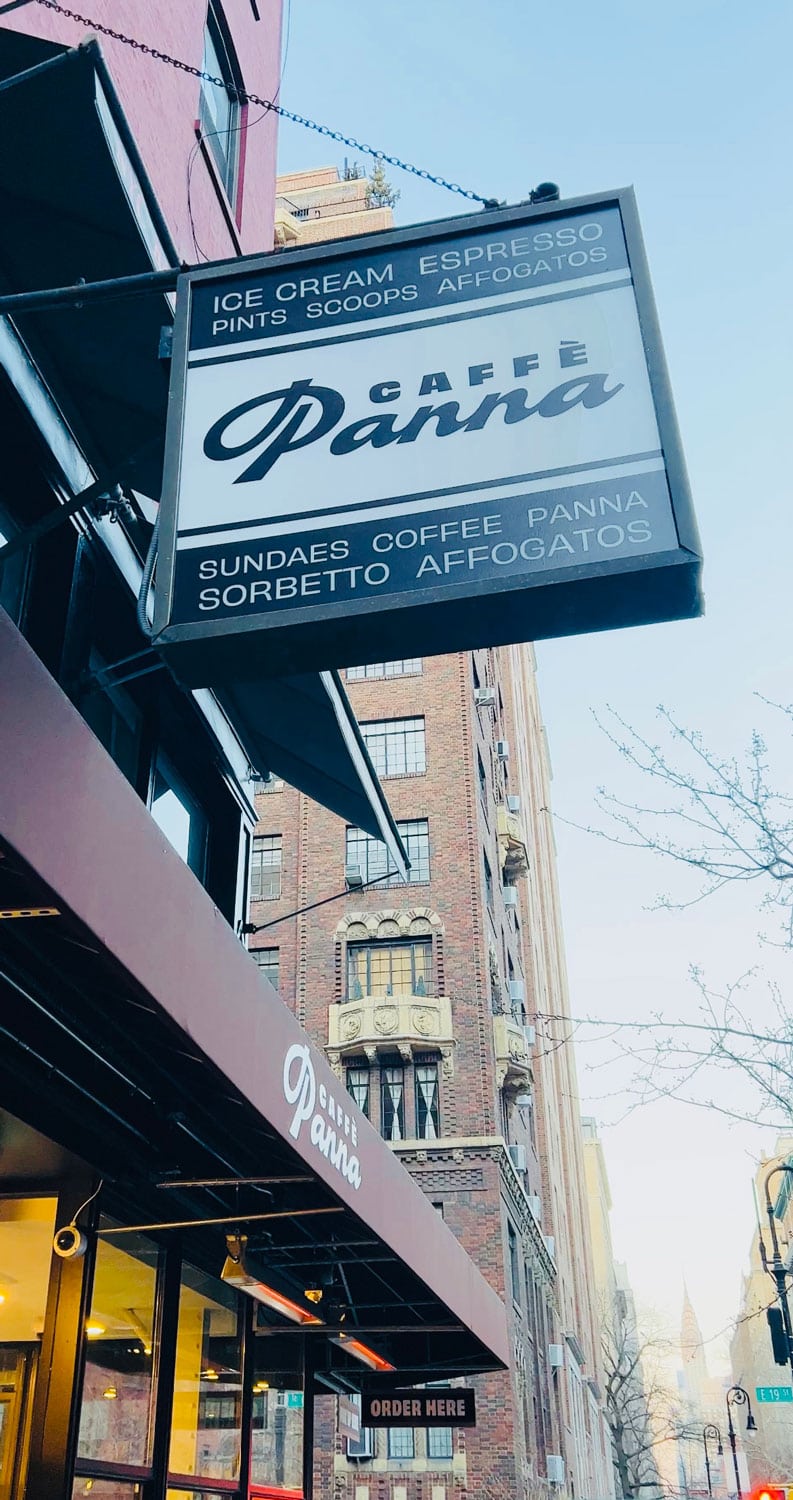 Caffè Panna is fashioned after the traditional Italian gelateria, but different. It takes it to a new level. Created and owned by Hallie Meyer (daughter of famed restaurateur Danny Meyer), they churn their own ice cream on the premises and change the menu daily. But what makes it really different is that most dishes feature a big pillowy dollop of slightly sweetened whip cream on top – but not just any whip cream. They import their cream from Piemonte, Italy, and source most of their ingredients from the local Union Square Greenmarket.
There are so many different places to see the cherry blossoms in Central Park that it's hard to name a favorite. But if we had to, it would be the picturesque setting of Bow Bridge when the blossoms are in full bloom. Or maybe Bethesda Fountain, but since they are about two minutes apart, you'll be able to see both on the same walk.
Initially, we planned on stopping by Grace Church, but we were running short on time and just about didn't stop. But we're so glad we did. It ended up being one of our favorite stops. The church has been called one of New York's greatest treasures, designated as a National Historic Landmark, and built between 1846 and 1847. And the cherry blossoms were magnificent against a background like that.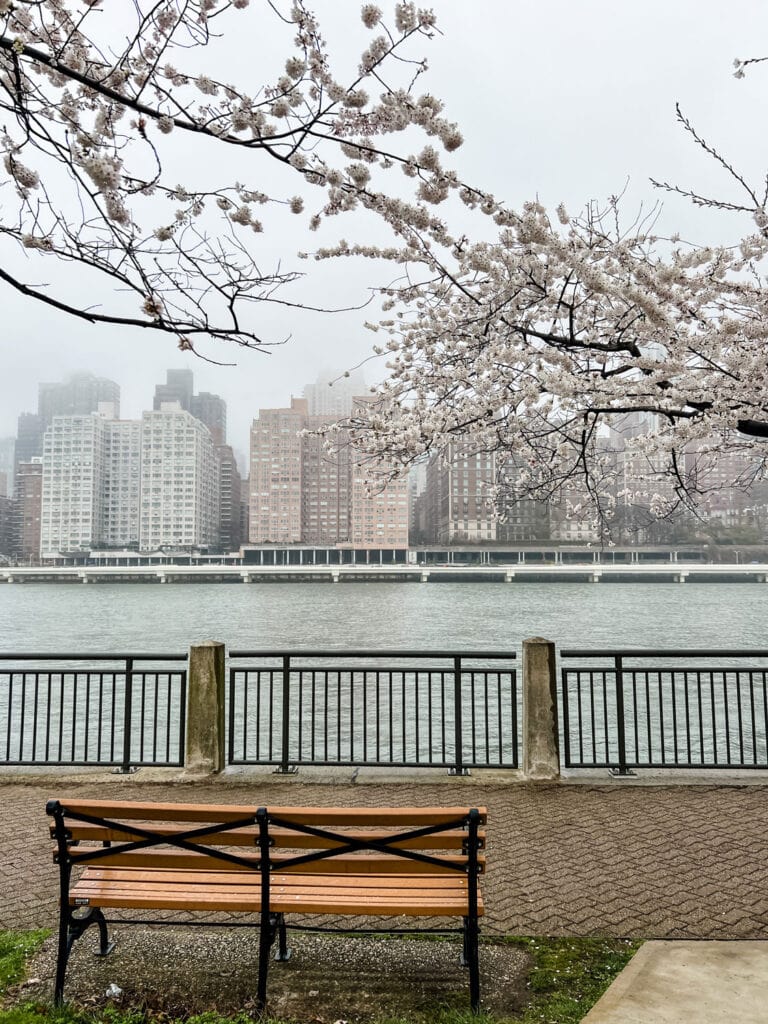 We ended our day of cherry blossom hunting on Roosevelt Island, a small strip of land that sits in the East River between the boroughs of Manhattan and Queens that are often overlooked and sometimes even forgotten. It feels like a small town with many open public spaces inside a major city. From Manhattan, you can get there by tram (a fun four-minute ride that parallels the Queensborough Bridge 250 feet over the east river), by car, or by bus.
A stretch of cherry trees lines the walking/biking path along the East River on one side, with a beautiful view of the Manhattan skyline in the background. Along the other side is the spectacular new Cornell Tech campus worth seeing on its own.
There is a lot of open public space perfect for a picnic, or you can stop in the Graduate Hotel for a coffee or drink.
Roosevelt Island was a great way to end a beautiful day by seeing the New York City cherry blossoms in different settings.
PIN FOR LATER!
If you liked: Tips for Seeing the Cherry Blossoms in New York City, You may also like these posts on NYC: