12 best desserts in NYC you need to experience! If you're a foodie, even a semi-foodie, it's easy to eat your way through New York City, or any other city for that matter. And you can do it on so many different levels. It's one of our favorite things to do, but finding the best places can be challenging – even if you know your way around New York. After all, according to various different sources, there are conservatively almost 24,000 restaurants in NYC. If you do the math, it would take you 22.7 years to dine in every restaurant. With that in mind, we tend to keep lists; the best restaurants in Chinatown, the best Italian, the best French Bistros, the best whatever fusion, the best fries, and, of course, the best desserts. So this is our first shot at capturing some of the best New York City desserts that are sure to have something for everyone. And we'll keep going until we run out of great finds – which will probably never happen.
So if you are looking for a sweet treat and a great place to chill for a few minutes, here are some of our go-to spots for our favorite desserts. The only thing you'll need is a sweet tooth and an adventurous spirit.
These are in no particular order, so let's get started…
Caffè Panna is fashioned after the traditional Italian gelateria, but a little bit different. It takes it to a new level. Created and owned by Hallie Meyer (daughter of famed restaurateur Danny Meyer), they churn their own ice cream on the premises and change the menu daily. But what makes it really different is that most dishes feature a big pillowy dollop of slightly sweetened whip cream on top – but not just any whip cream. They import their cream from Piemonte, Italy, and source most of their ingredients from the local Union Square Greenmarket.
We usually get the Afagto. You can choose from their daily list of ice cream flavors. They pour over a nice shot of expresso and top each one with a scoop of their delicious cream.
On this particular visit, we ordered one with stracciatella ice cream and the other with oreo infused ice cream, and both were delicious.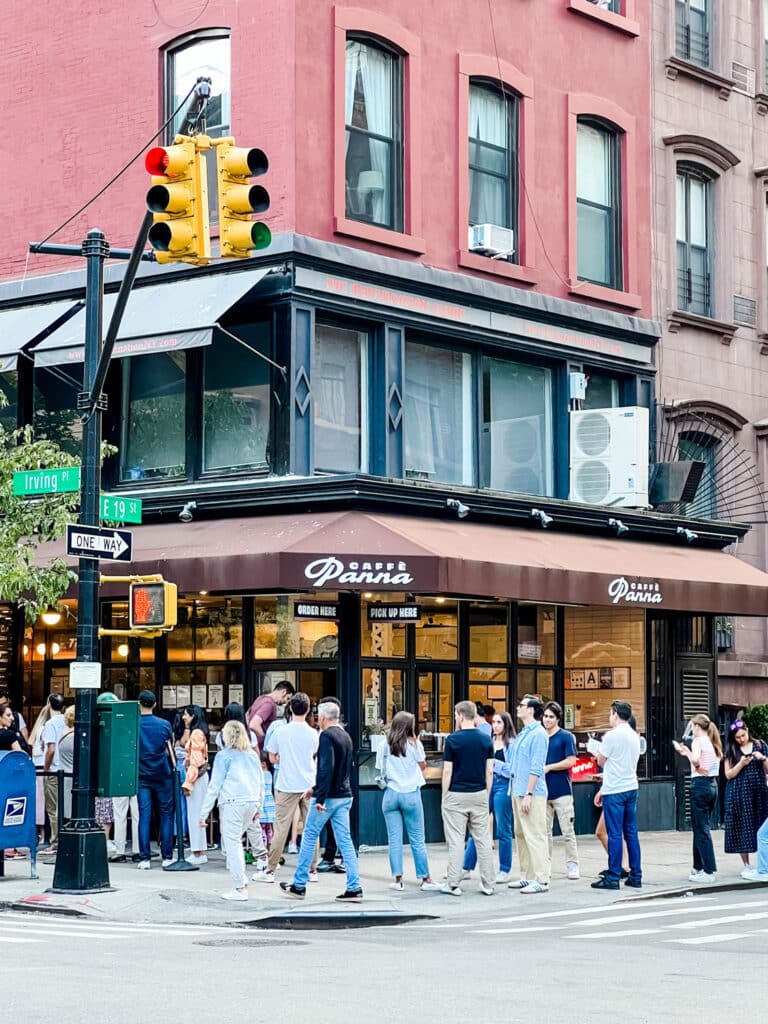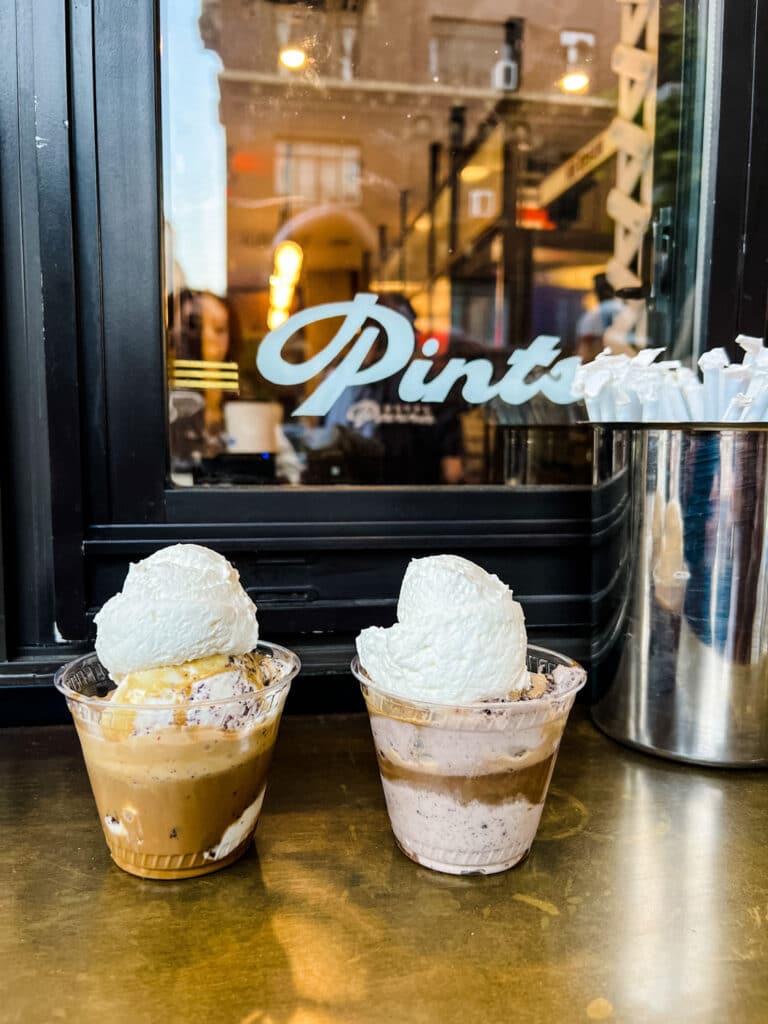 Caffè Panna – 77 Irving Place – Gramercy
If we could only have one dessert from all the different places we've tried in New York, our choice and maybe our all-time favorite dessert (and no, we are not exaggerating), Dominique Ansel's famous Cronut® would be at the very top of the list. While they have a wide variety of baked goods and pastries, this one takes the cake (pun intended). Their Cronut is a combination of the classic croissant and donut. They have different specials every day, and on the day we were there, it was a Cronut with apricot icing and an extra creamy custard filling. Maybe the best dessert we've ever had. Do yourself a favor and pay them a visit. You won't regret it! A new fall cronut coming on September 1st! Fig & almond Cronut® – filled with homemade fig jam and creamy toasted almond ganache.
There is often a long line, but I promise you it's worth the wait.
Dominque Ansel Bakery – 189 Spring St. – Soho
Set in the middle of all the happenings of the east village is Super Moon Bakehouse. It's one of our absolute favorite go-to spots.
Don't judge us here as during a recent visit we couldn't make up our minds on what to have so we opted for four different items which seemed, given the circumstances, like the only logical thing to do when confronted with such a tempting decision. First up was the Milk Chocolate Salted Caramel Croissant, which was arguably as decedent as it gets. Next was a Cherry Pistachio Cruffin. The third choice was a Snickers cream-filled donut (right up there with the Dominique and Ansel cronut). And last on the list, but maybe the best, was the Matcha Lime Curd Choux Bomb. The pastry chef changes the selection all the time, and I don't think we've ever had the same thing twice.
Supermoon Bakehouse is only open Thursday through Sunday, so you'll probably find a line on most days, but it's so worth it! We promise! And if you show up near closing time, just be aware that the selections are often limited, and once they sell out, they close – regardless of the time.
Supermoon Bakehouse – 120 Rivington Street – East Village
Rice to Riches – 37 Spring Street – SoHo
Say rice pudding, and it conjures up memories of your mother's or grandmother's version, hardly edible and certainly not pleasing to the eye or tastebuds. But give this a try, and you'll never think of rice pudding the same again. It's like an ice cream shop or gelato stand with all the different flavors, only substitute rice pudding for ice cream or gelato.
We started going to Rice to Riches in SoHo when our kids were little. Not only did they love rice pudding, but on hot days during the summer, there was a big water fountain/playground directly across the street where they could splash around and cool down while we enjoyed our dessert.
On this visit, we did a half-and-half – Category 5 Caramel and Chocolate Hazelnut with graham crumbs topping. Have one of the Solo servings here, and you will definitely not need lunch. But you will need a long walk!
Nestled on the outskirts of Soho, Vesuvio is best known for its variety and quality of bread. And their loaves of bread are fantastic. However, on one trip to buy fresh bread for a dinner party we were hosting that evening, we found two delightful treats. The first was a hazelnut chocolate bombolini, and the second was soft-serve gelato. We love gelato as a fun, light dessert. But we've only had it served in scoops. We found a great twist on an otherwise ubiquitous dessert – soft serve vanilla gelato with a drizzle of olive oil on top. It was the perfect balance of sweet and savory. Simply delicious and a very welcomed change from the usual. It was served with a dark chocolate biscotti.
I posted about Vesuvio Bakery back in 2014. It has gone through a few changes in ownership over the years, and currently, the building has scaffolding, but it is back to being a wonderful bakery and coffee shop and worth the trip! Go to this post to see it!
Vesuvio Bakery – 160 Prince Street – Soho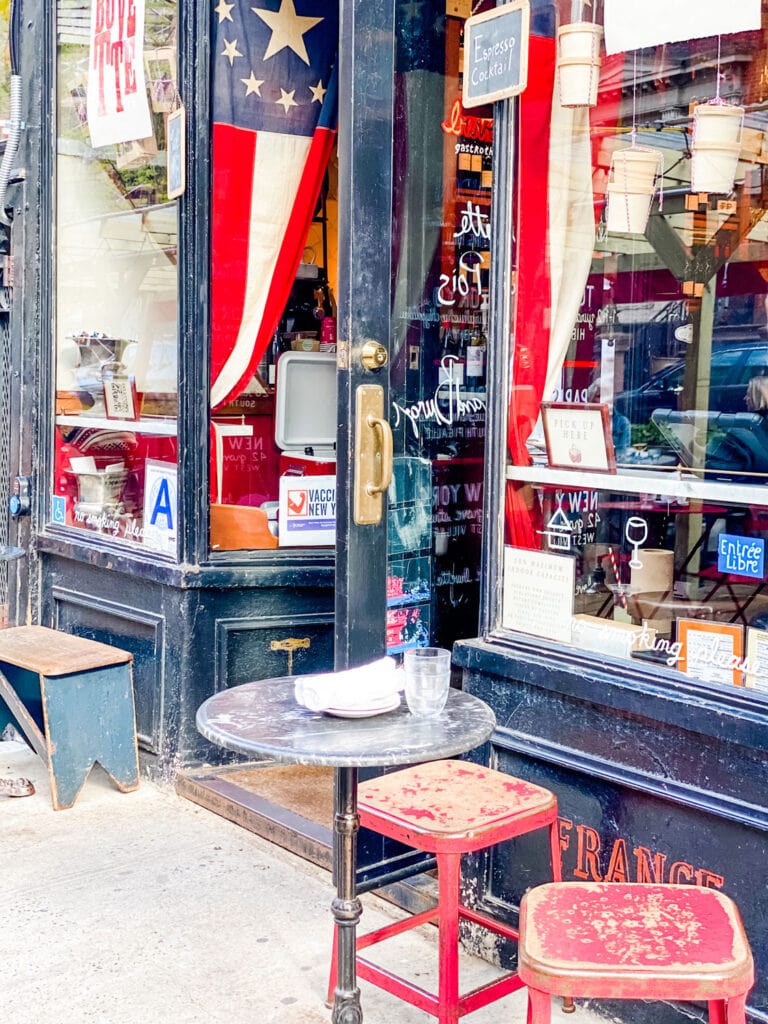 Buvette – 42 Grove Street – West Village
Buvette has always been one of our favorite breakfast and lunch stops. It's consistent, small, and cozy. They have indoor and sidewalk seating. One late-spring afternoon we stopped in for coffee and dessert. We had the traditional French Tarte Tatin and it rivaled any that we've had on any of our visits to France. A must-stop place when you find yourself in New York and in need of a savory or sweet snack. Buvette never disappoints. We wrote about it in this post too. The neighborhood has great shopping on Bleecker Street, and it's a wonderful neighborhood to walk around any time of day. We often walk over to Washington Square Park (less than a half-mile away) after a visit to Buvette or their sister restaurants, Via Carota and Bar Pisellino.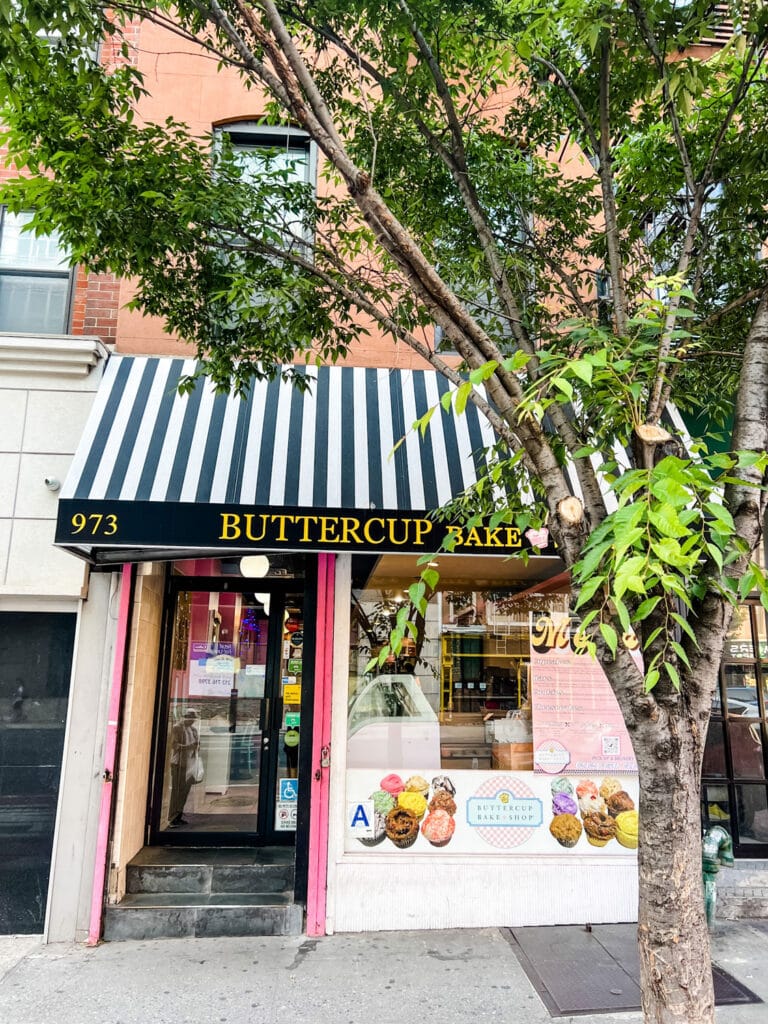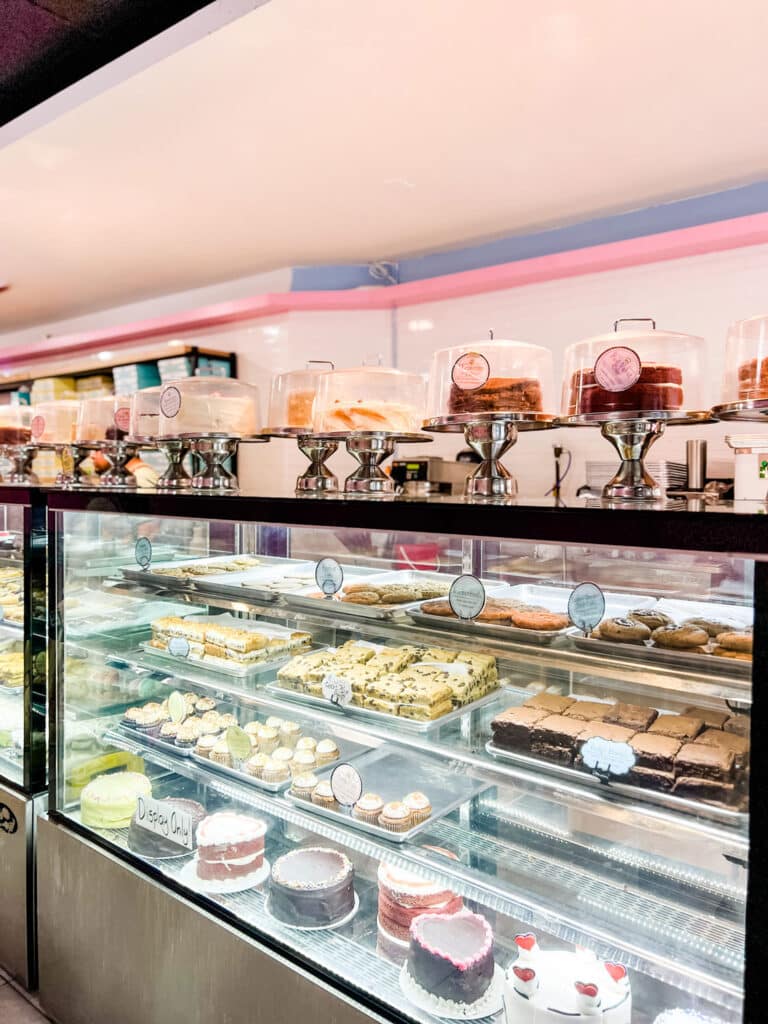 Although Butter Cup is best known for its cupcakes and cakes (all made with 100% buttercream, and no wonder they are so good), we like the place for its butter cake bars. They are simple melt-in-your-mouth delicious decadence. With all the rage around butter biscuits, made famous by the TV series Ted Lasso, you have to try the butter cake bars. It's one of our top desserts, for sure.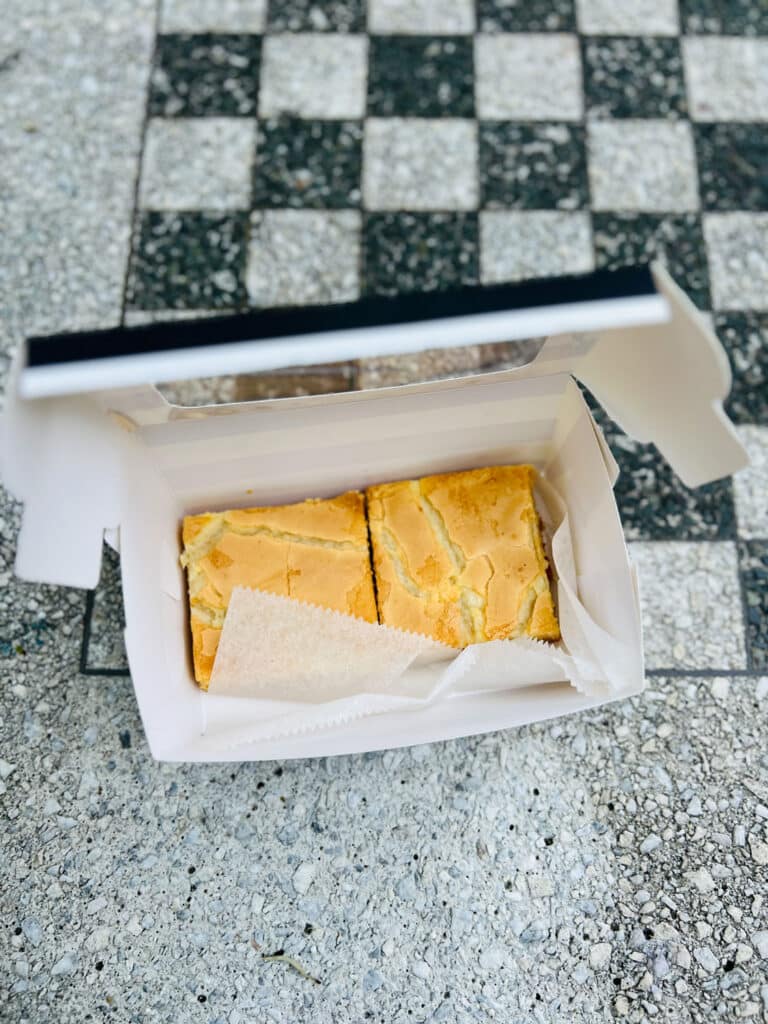 Buttercup Bake Shop – 973 2nd Ave – Midtown East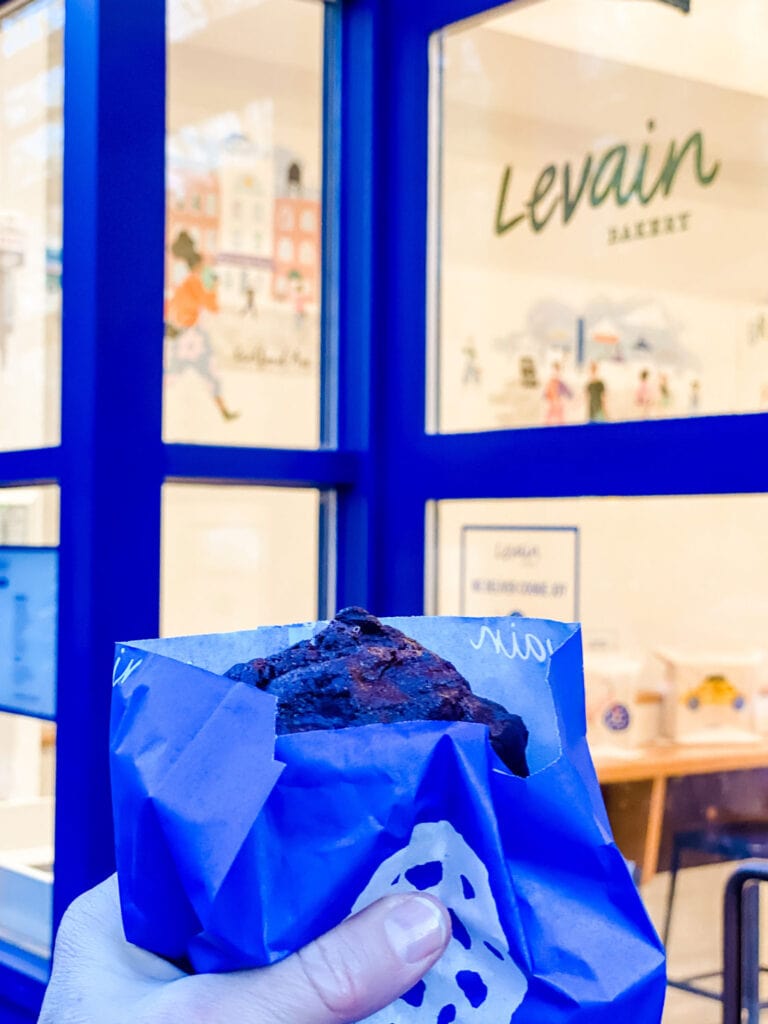 New York (multiple locations) and Washington D.C.
With multiple locations scattered throughout New York and Washington D.C. (we like the upper west side location), chains often have slogans that usually don't live up to expectations. Levain Bakery is one of the few exceptions – "World Famous, Deliciously Decadent Cookies." I think they are literally the best cookies I've ever had. There are many different flavors to choose from, but our two favorites are the dark chocolate peanut butter chip and two-chip chocolate chip cookies. But be warned, with the size and richness of the cookies, they can certainly suffice for lunch and maybe dinner, too, for that matter. The best way to consume these treats is on a shady park bench in central park with a large cappuccino. You'll be certain to walk away buzzing with caffeine and sugar. A few years ago, Madeline found the recipe and made Levain cookies at home, and her friends ask for them for every birthday!! Read that post and get the recipe right here!
164 Graham Avenue – Brooklyn
We discovered Win Son Bakery for its delicious take on classic Taiwanese street food. But in the process, we also discovered some unique twists on desserts that we've never had anywhere else. And in our book, that's always a great find. We tried the fermented red rice donut and really enjoyed the unusual flavors. We also tried the Chocolate Bolo Bao, which is shaped like a muffin, only it's like a shell with soft chocolate cream inside. It's always fun to try new and different – especially when they're really good!
Taiyaki – 119 Baxter Street -Chinatown
Located in the heart of Chinatown, their mission is to unlock the magical exploration of the palette one Taiyaki creation at a time. And they certainly lived up to that. They are best known for their fish-shaped cones, which are much softer (almost bread-like) than traditional cones and have a yummy custard filling in the bottom of each. It's kind of like an extra special treat at the end of a great dessert. We tried the matcha green tea soft-serve and a more traditional chocolate/vanilla swirl with chocolate sprinkles. This is a must-stop when you find yourself in and around Chinatown. They have a few other locations in New York as well.
Alimama Tea – 89A Bayard Street – Chinatown
Another great Chinatown find is Alimama Tea. They are best known for their mochi desserts and cold brew teas, and they use all-natural ingredients. If natural ingredients are always this good, sign us up. Our choices for this spot were one of their classic mochi donuts with raspberry icing and a Brown Sugar Boba cream puff. Need I say more? And as long as we were there, we decided to try one of their cold brew teas and opted for their classic Cold Brew Milk Tea with Mini Boba. This was definitely a unique find and not a typical go-to kind of place. We visited after a trip to Nom Wah which is the first dim sum parlor in New York's China Town.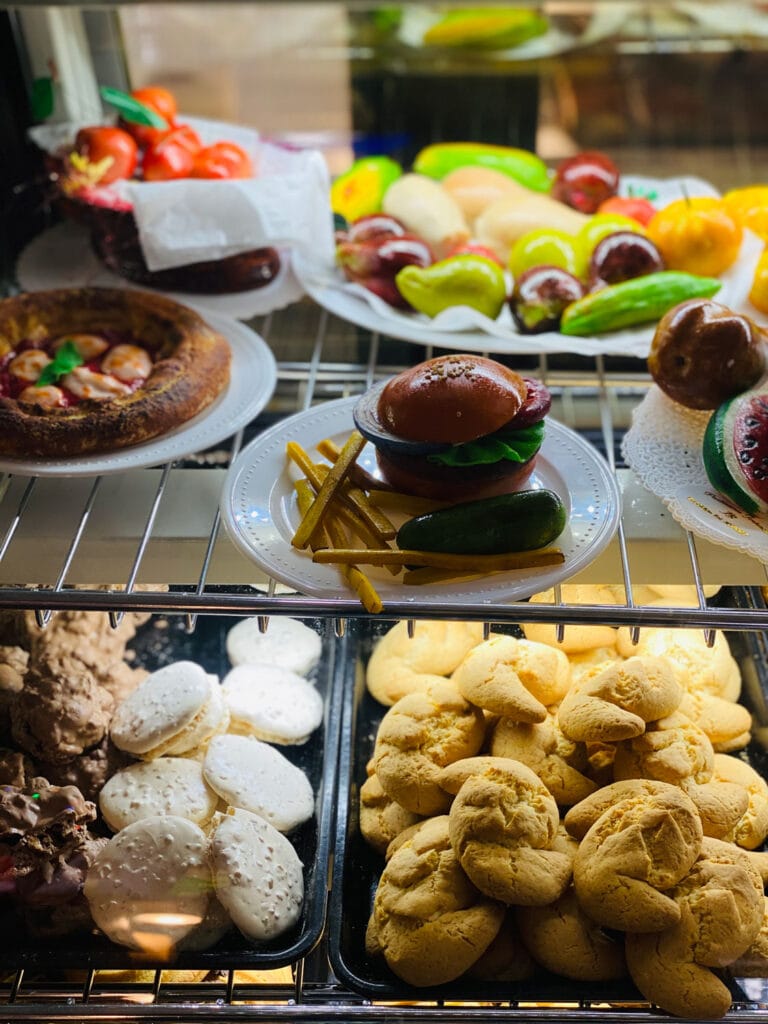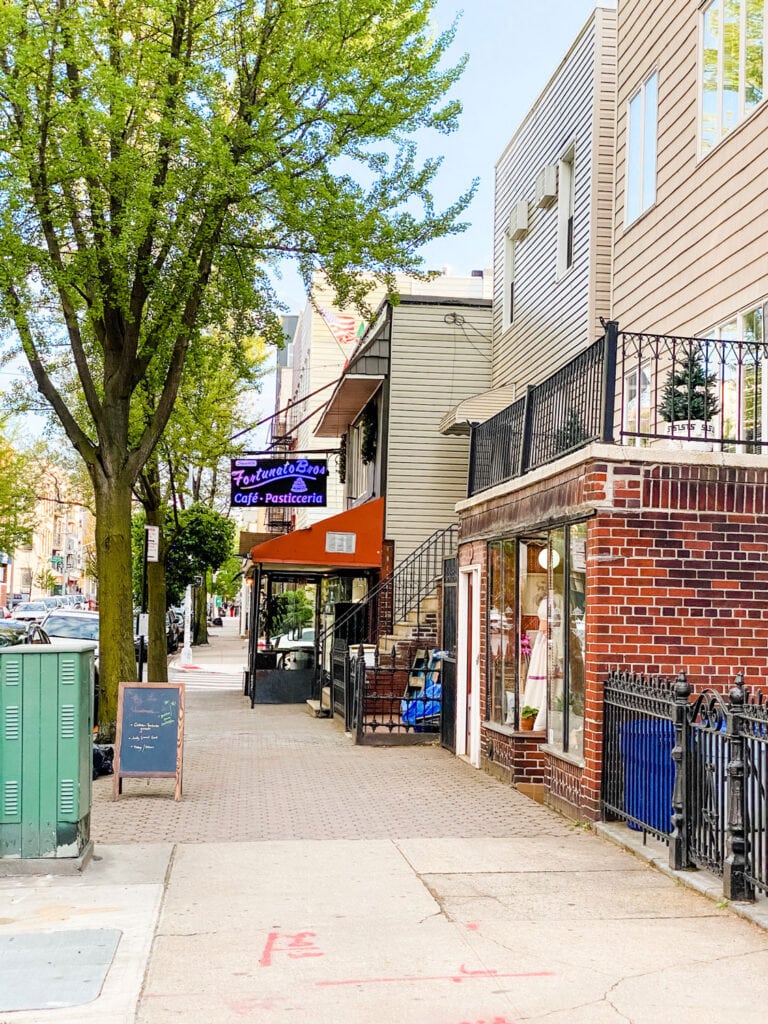 Fortunato Brothers – 289 Manhattan Avenue – Brooklyn
If you find yourself in Brooklyn and looking for something fun and tasty, or if you need an array of fun treats for a dinner party, Fortunato Brothers is a stop worth making.
Set in the Italian section of Williamsburg, Brooklyn, this gem is as old-school New York as it gets and has become a regular stop-in for us. It helped that it was just around the corner from our daughter's former apartment. Although she now lives in another section of Brooklyn, we find ourselves going out of our way to stop in for the best cannoli we've found in New York. And yes, we did say the "best." Aside from the many Italian pastries and gelato (which are all worth the calories and an extra few miles of trekking around the city to burn them off), they are known for their marzipan. They have marzipan everything, and worth a stop just to see it. While you are in the neighborhood, stop in at Savino's for the best fresh pasta and sauces. Pasta and a box of cannoli for dessert, and you are set for dinner!
So next time you're in the mood for a delicious dessert, try one of these spots. You won't be disappointed.
🍰🥐🧁🍮