Styling my console table started with new art and a DIY wood frame…because one thing always leads to another.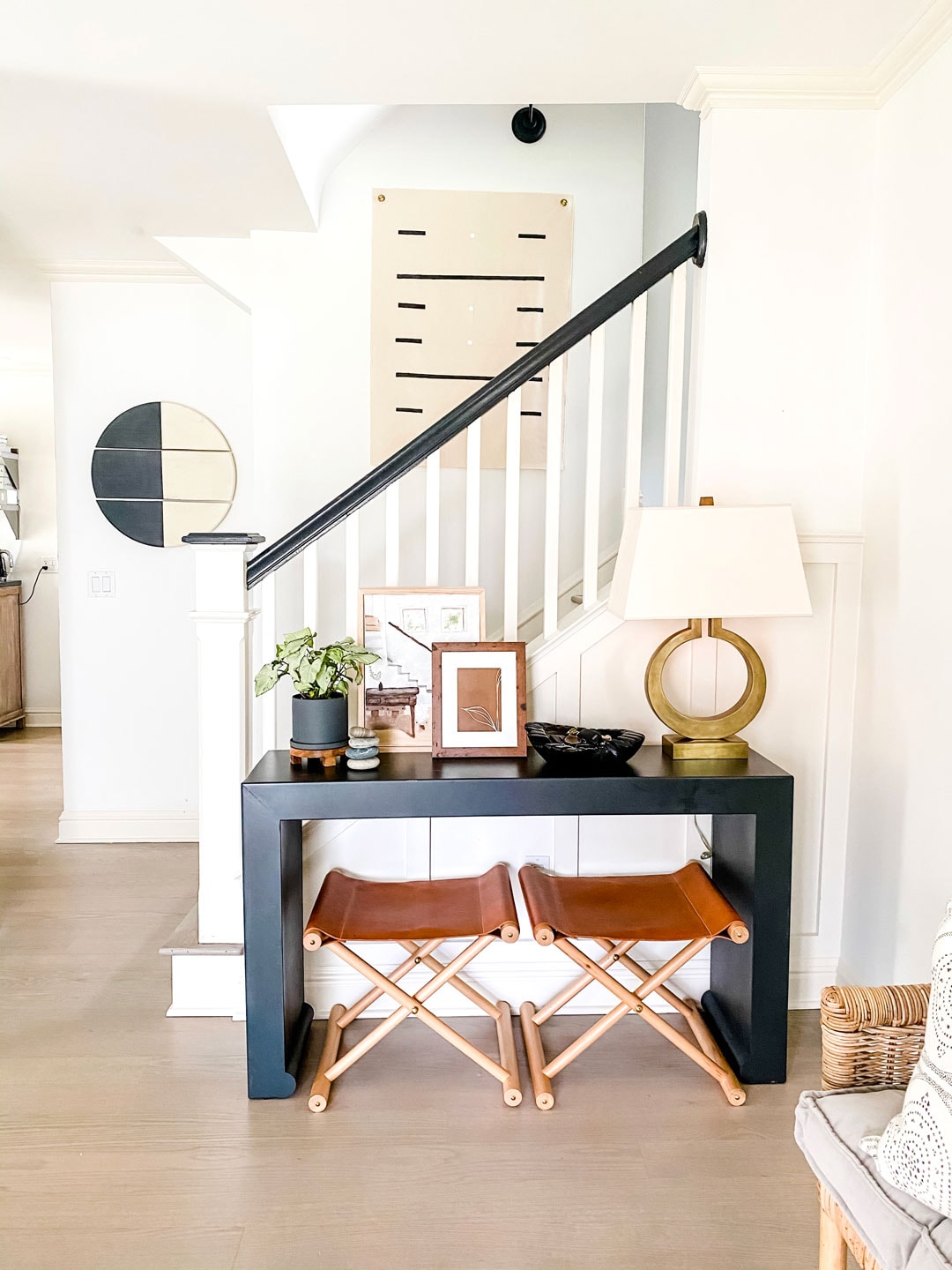 Console tables can be a very versatile piece of furniture. They can substitute as a desk or an entryway table or live happily behind a sofa. They need only a few things to make them the center of attention and it depends on its use. So if it's an entryway piece, a mirror, a lamp and a catchall for keys is a good place to start. If it's behind a sofa, a lamp, and some books and a plant if there's adequate light. You get it…
A console table with straight, clean lines fits in any room
Since we can't add a mirror, we used art, a plant, some collected rocks, a lamp and a catchall for keys and masks. The mirror is on the wall to the right of the door, you can read that post here.
Add art, a plant, and something from nature, like rocks, shells, driftwood, or seed pods
The art was two recent purchases and it's hard to say if they will always live here on the console table, but I love them and will use them somewhere in the house. I asked Brent to make me a frame for the painting and so on Sunday in a matter of a couple of hours he built a beautiful frame for around $10. I love that my husband is so willing and talented. I wrote about the young artist and the "stairway" painting in this post and then on Sunday I introduced a new Etsy shop Avenue Print Studio for affordable art that you can download and print at home or send out to print.
My favorite console tables have clean, straight lines. This style can work with transitional, modern, or traditional, and depending on the lamp, and a few other pieces, it can really have many different looks. The tables above range in price from $1,500 to $169. I want to share the lowest price console that I recently saw on my friend Caitlin's Instagram. Caitlin has the best style and mixes high and low and has the most lovely home. Caitlin has three young children and says, we are at that phase where you say, "This is why we can't have nice things" – Go see how she made over this lamp! She took a $2 thrift store lamp and now it looks beautiful with her rattan console. Follow along on her Instagram @thepicketfenceprojects for lots of fun ideas and inspiring projects!
Six bloggers Share Creative Console Styling Tips
Make sure to check out how my friends style a console in their homes. We have a mix of styles so it's fun to see what everyone comes up with one common idea to start: how to style a console table.
Shop the post