When Madeline moved to a studio apartment she couldn't wait to host her first dinner party. Sure the apartment is small, even by New York standards, but it's still possible to host a dinner party in a small apartment. Here are a few of her ideas!
First, Set the scene
The smartest purchase Madeline made was a small drop-leaf table for her first Brooklyn apartment. In her studio, she uses a table with two folding chairs across from the kitchen work area. Since the apartment is a studio, it was necessary to sort of divide it into three zones. Kitchen, living, and sleep area. When hosting friends, she can easily rearrange her room slightly to make room for six!
Drop-leaf tables are great for small spaces. Madeline found hers at Ikea, but there are many to choose from.
Here's how she did it and what the room looked like before rearranging
She pushed the sofa up and used the coffee table bench behind the sofa as seating for two opposite two small stools. Then the two folding chairs at each end of the table. Just by moving the bench and sofa, the room opens up and it still looks intact.
Use a white or solid color tablecloth
By using a plain or solid color tablecloth, you are not adding to the busyness of the room. In a small apartment, there's a lot going on. Madeline has tons of books and "things" that are out in the open since in a small New York apartment, there's very little storage. She used a casual linen tablecloth in a color that compliments the colors in the apartment.
Have a signature drink to get the party started
In the summer, a signature drink is a strawberry basil lemonade. It can be made as a cocktail or a mocktail. As guests arrive, they can immediately pour a drink.
Set up a Bar Area
Madeline has a small alcove dressing area just off the tiny entryway. She cleared the top of her dresser and put down a white tablecloth and made it into a bar area. Candles flickering in the reflection of the mirror just added to the ambiance.
It's okay to use paper products when hosting a dinner party in a small studio apartment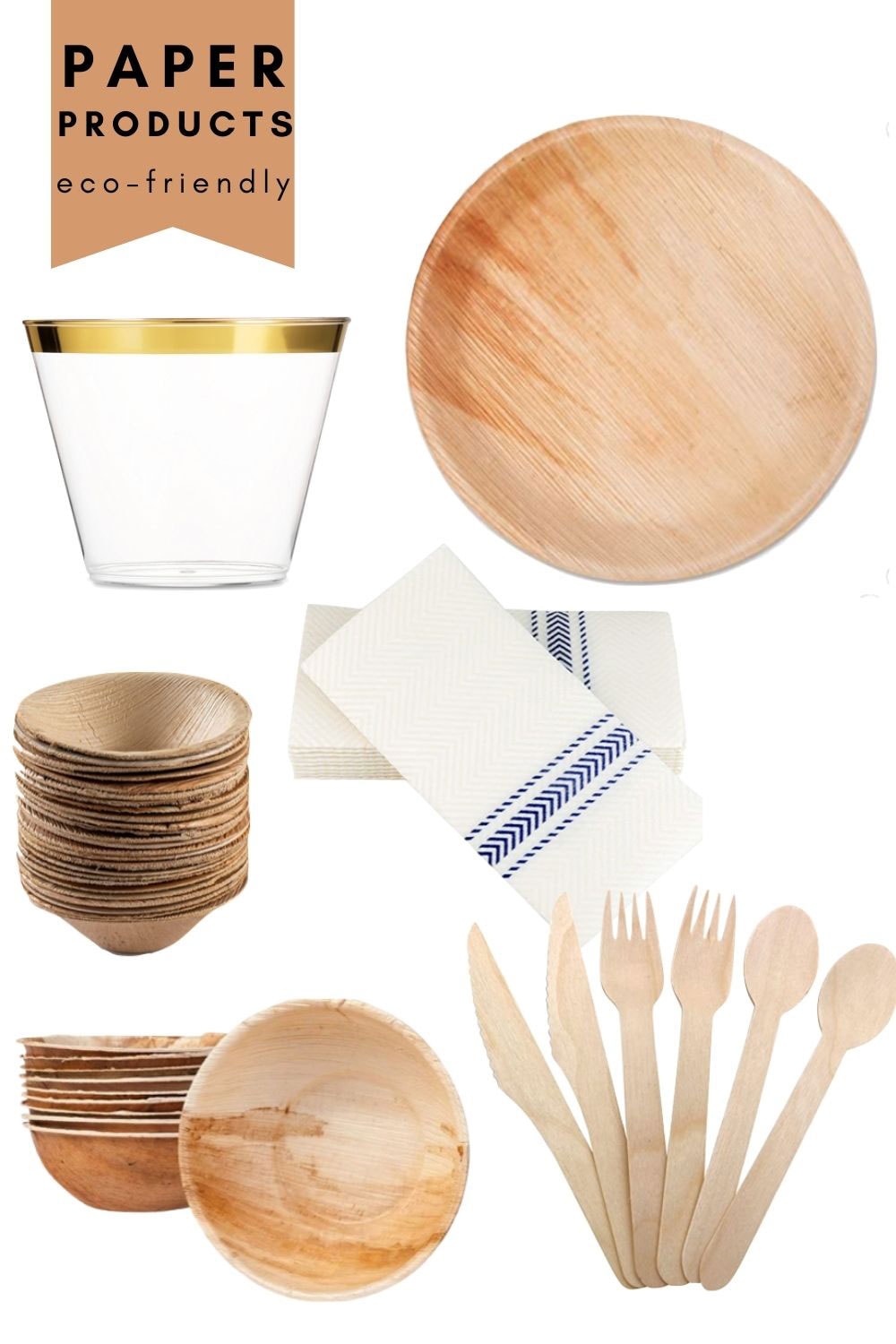 Gold-rimmed cups // Dinner Plates // Small 6″ Bowls // Bistro Paper Napkins // Salad Bowls // Utensils
As I said, Madeline's apartment is very small and there is no dishwasher. And actually no space for drying dishes. It's fine for one or two people, but dishes for 4-6 people in this small space can get quickly overwhelming. We have decided that it's okay to use eco-friendly paper products when hosting a dinner party in a tiny apartment.
Have two double paper grocery bags ready to go for trash and bottles
This will make cleaning up a breeze and why stress about stacking up dirty dishes when you can find pretty plates like these and wooden cutlery.
Simplify the menu
Brunch or Lunch
When hosting a dinner party in a tiny space, it's important to plan ahead and simplify! If it's a brunch, quiche that can be made ahead and warmed up the morning of the party is perfect. Make a salad and have it ready in the refrigerator. Make the dressing, but keep it separate and then toss it as you are ready to sit down at the table.
Dinner
Make something ahead that can be served at room temperature. Or order pizza and have fresh basil and freshly grated parmesan to add to the pizza. Make a delicious salad. New York is not short on takeout, so order part of the meal and make part of it (ahead of time).
Something like a stew or chili in the winter is perfect because it can be made the day before. Just heat and add bread from the bakery, with French butter and a salad.
Dessert
For an easy dessert, scoop ice cream or gelato in cupcake liners all ready to be served in a container in the freezer. So that all you need to do is take it out and place it in a cup or small bowl. Have a plate of cookies from a local bakery. Or buy a cake, tart, pie, cookies, or cannoli.
Candles and flowers
Yes! of course, she had candles and flowers but she kept them low and minimal. She used votive candles in tin tartlet pans and small bottles to hold a few Chamomile flowers.
Coats?
It wouldn't be the first time that company put their coats on the bed. When I was doing research for this post, some articles mentioned clearing out a closet or adding a coat rack. Clearly, these people don't actually live in tiny apartments. Madeline has lived in four NYC apartments and really knows how to live in a small space. In her first apartment, her bed touched three walls and she had no closet! None. And yet she made it work beautifully!
Reflecting on the end of the evening…
Mini ghost mirror is by artist Lorien Stern.
The trash is taken out. The tablecloths were rolled up and put with the laundry. The table and chairs go back by the window. The stools were put back in their places and the sofa moved back a little and the bench becomes the coffee table again! It's amazing what a little planning ahead, a drop-leaf table, and functional furniture like a coffee table bench and stools can become seating for six.
You might also like these posts on living in small spaces:
Title:
How to host a dinner party in a small apartment
Keywords:
How to host a dinner party in a small apartment
Last Updated:
June 6, 2022