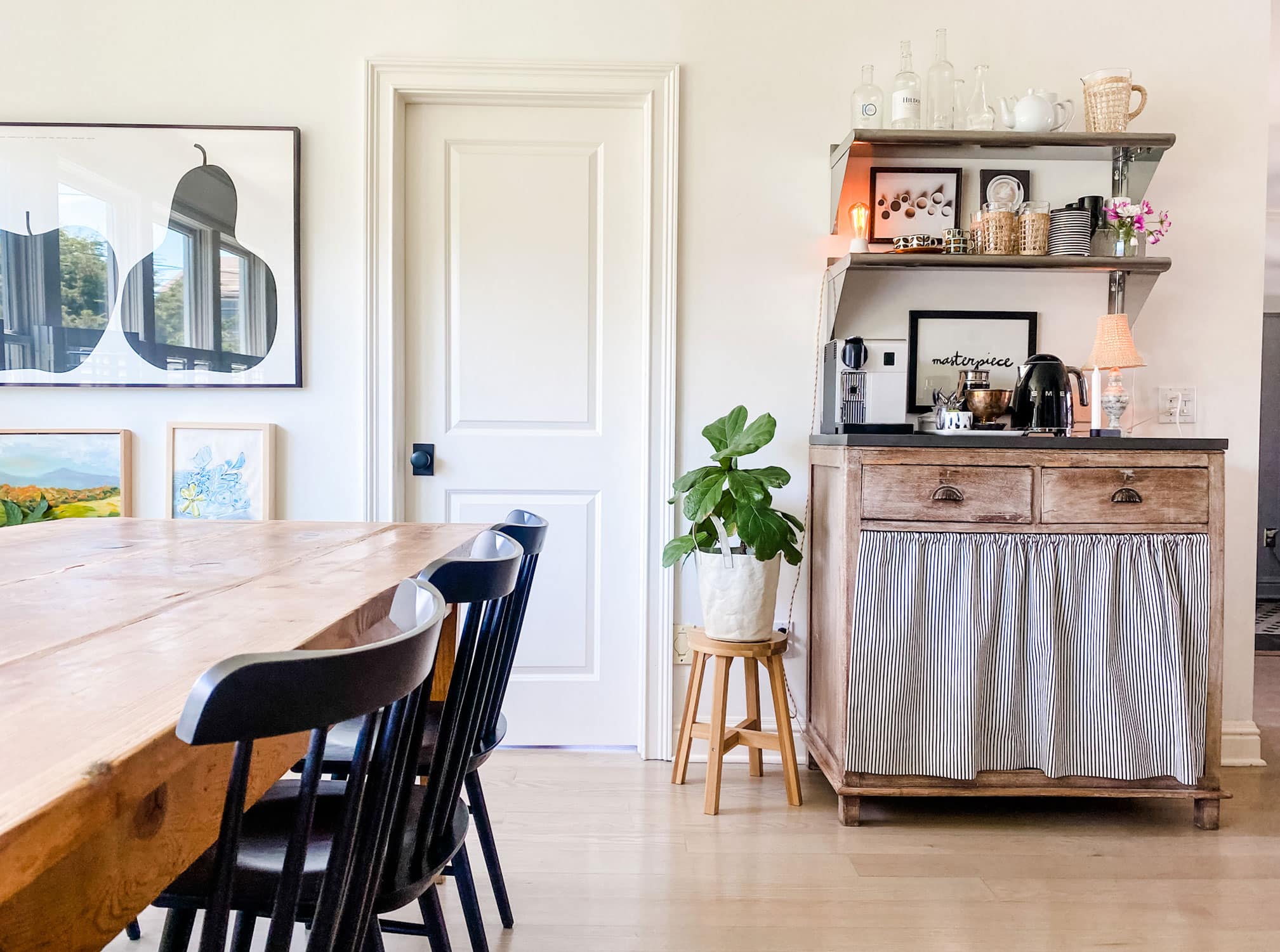 Updated Post:
A simple brass rail with S hooks added to the coffee bar is just what it needed. Once we added the same rack above the range to hang copper pots, I quickly ordered another for the coffee bar.

How to create the best coffee station at home using an existing piece of furniture. If you don't have a piece of furniture that would work, look at thrift stores or consignment shops. Basically, you are looking for something that suits the size of the area where it will be using it. We had this piece from when we lived in California, and it was in our dining room in New Canaan. If you are new to MLT, I join my friends Cindy and Mary Ann to share our favorite finds of the week every Sunday. Today, I'll share how we decided to make a coffee station.
The area is in the middle of the kitchen and dining room. We removed a built-in counter so that we could add this piece of furniture. I knew it was a perfect size (or close enough).
What are the basic elements of a home coffee station?
Let's start with the furniture and shelving. We used an existing piece of furniture that we bought in California years ago. It wasn't until this house that I even considered putting a piece of stone on top.
Stone Top, Shelves & Cafe Curtain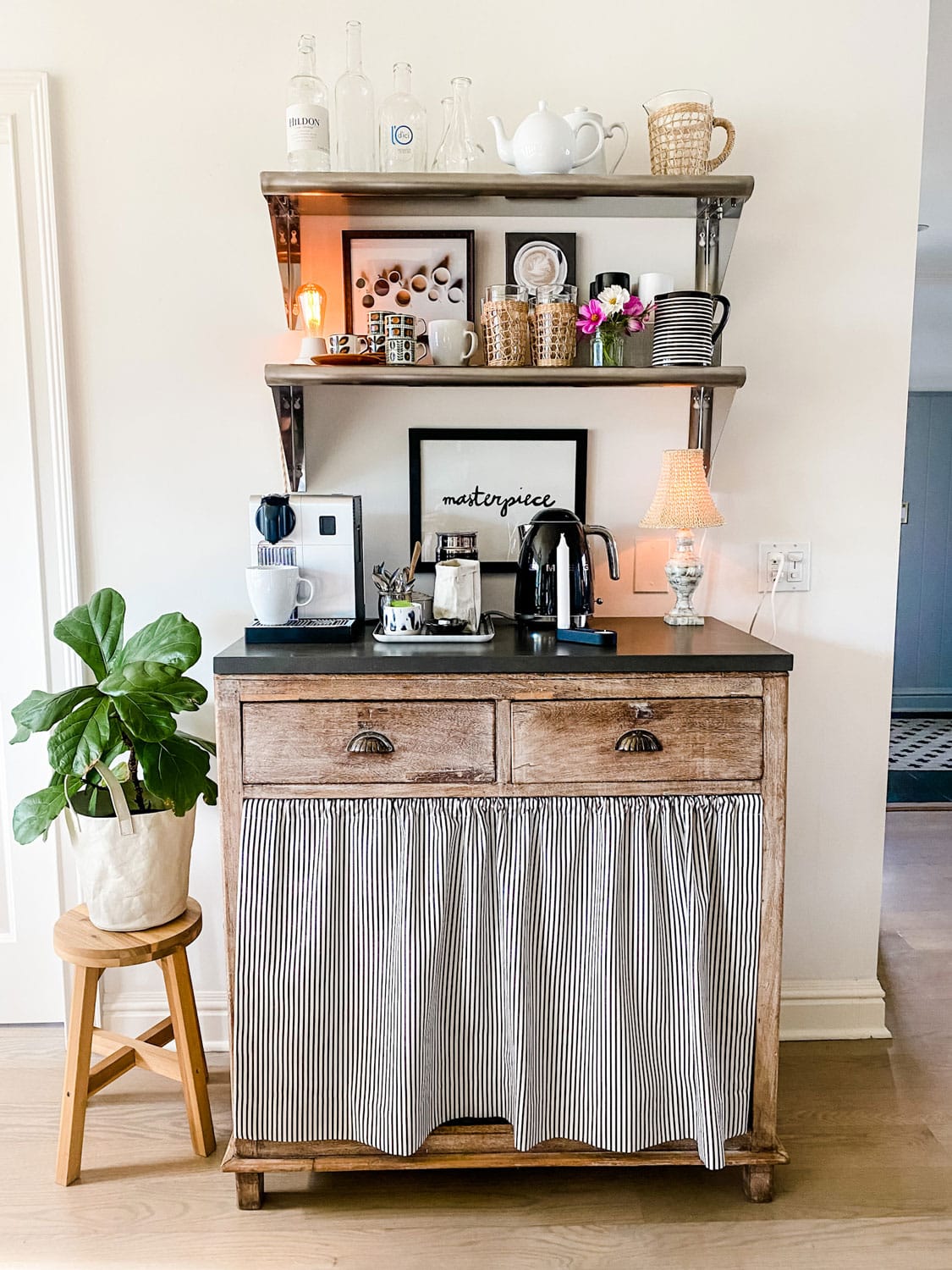 Adding the stone top is what really made it into a more substantial piece. We bought a remnant from a local stone shop, and it was $300 delivered. If you are in the NYC area, try La Pietra Tile & Stone.
The shelves are similar to those that I used in my office. These are 36″ stainless steel shelves from a kitchen supply warehouse. They are very inexpensive for how substantial they are, and we love the look.
We added the cafe curtain to hide the storage underneath. At first, I was comfortable with it being open storage for more dishes and baskets of table linens, but it was a little busy looking. Plus, the great thing about a cafe curtain is that everything stays dust free. It's both pretty and practical!
The details of what goes on in the coffee bar and shelves
I like to think of this area as the place to make all drinks. Coffee, tea, hot chocolate. It changes quite a bit depending on the season and if it's for guests or us.
coffee maker, espresso, French press
sugars
simple syrup
coffee pods, ground coffee, tea bags
mugs, cups of various sizes
tall glasses for iced coffee
Decisions on coffee makers
I like to have a few options. We prefer to use our Nespresso machine but have a drip coffee pot (stored underneath the counter behind the cafe curtain) and a French Press. We are very particular about our coffee and assume our guests are also. So we have lots of options for the type of coffee and machines.
I use small UASHMAMA® paper bags for storing coffee pods and our favorite tea bags. The two drawers below hold more tea options, napkins, etc. The fig plant on the stool is in a Paniere Bucket from UASHMAMA®.
Types of Coffee Makers
What else do you need for a home coffee station?
I like to keep tall glasses like these for iced coffee in the summer. In the winter months, I will store more mugs on the shelf.
Adding a lamp or two
I started with this lamp from Schoolhouse. Then I was about to replace it with the stone lamp with the raffia shade when I realized I could use both. This little lamp has been in storage for the last 10+ years, but I could never part with it! I first used it in our California house (shown above right), where I designed a specific corner shelf and left it day and night. And now I do the same at the coffee bar. It's in the middle of the house, and it's nice to have a small light on in case someone gets up in the middle of the night or comes home late. It has a very low-wattage bulb.
Adding some art to the coffee station
When choosing a few pieces of art for this area, I started with the "masterpiece" lettered art that I love by Kate Lewis. Then I added a Coffee and Milk print from Wright Kitchen. I commissioned the small painting from a photo I took at my favorite NYC coffee shop, Buvette. It's by Aiden Ezekiel Paez @throughaidenseyes.
You might also like this post: Creating a festive coffee station at Christmas.
It's never too early to start thinking about holiday entertainment. I know I'll be doing this holiday coffee station again this year! Read more about last year's here.
Now let's go see what Mary Ann and Cindy found this week!
Cindy shared her new outdoor spaces' beautiful and collected look in this post. And Mary Ann shared the lovely shower for her daughter Alie in this post! I loved the flowers in vintage bottles and the cake decorated with chamomile.