This is a question that a lot of people have asked themselves, especially in the last couple of years: How to make a home office inspiring.
First, determine the needs of the home office
Who will be using the space? Will it be a shared space? Or is it a room that has more than one function?
I am always inspired by Leanne Ford and she once had a home office that also doubled as a guest room. She hung a curtain around the bed that had been moved to a corner and then added a communal table in the middle of the space. Check out her Home Office Guide right here for some major inspiration.
Or maybe this space is a room for kids doing their homework and it needs to be for studying and projects. We had a "homework room" when my kids were young and it was great to have one place where everything could be stored for projects as well as everyday school supplies.
Small Office Layout Ideas
Once we determine who is going to use the space and how we will use it, we can begin designing it based on things like a comfortable place to work and lots of storage.
desk or table?
Will you use a desk or a table? If the space is large enough, it's nice to have a communal table in the center. This allows a few people to work from this space. If it's just for one, then maybe it's a desk. It took me several tries before I found the best spot.
Storage Solutions
We used a wide console that we've had since we lived in California. The office was really the only room where it would fit and it works beautifully! I love the storage behind doors and the top is great for plants and my Aria diffuser.
Open Shelving in an office
For additional storage, we added two 4′ stainless steel shelves as we used above the coffee bar. They are so reasonably priced. We added Sunwashed Riviera Baskets from Serena & Lily. They are actually more expensive than the shelves, but they add so much to the space. I've had two since I did this project and just added four more when we installed the shelves. They are great for hidden storage and are easily accessible.
Additional Shelving from Ikea for open storage
We added one utility shelf from IKEA for a little more storage. Originally we bought it to use partly as a television stand. But here's the thing…if I am in my office, I don't need more distractions, like having a TV on!
To make this new shelf look a little more like it fits into the space, we used the same baskets as on the stainless steel shelves. On top, we have an industrial card catalog that's perfect for even more organized storage and then a few books/magazines, etc. We found it here.
Baskets are ideal for Storage
I use a large La Jolla basket to hold yoga mats, blocks, bands, and a few light hand weights. It fits perfectly and again…easily accessible. Because if it's not, that will be my excuse.
I have another basket under my desk to hold chargers. Having a place for everything makes life so much simpler. We even keep our travel adapters in this basket so that everything is in one place.
Desk and Chair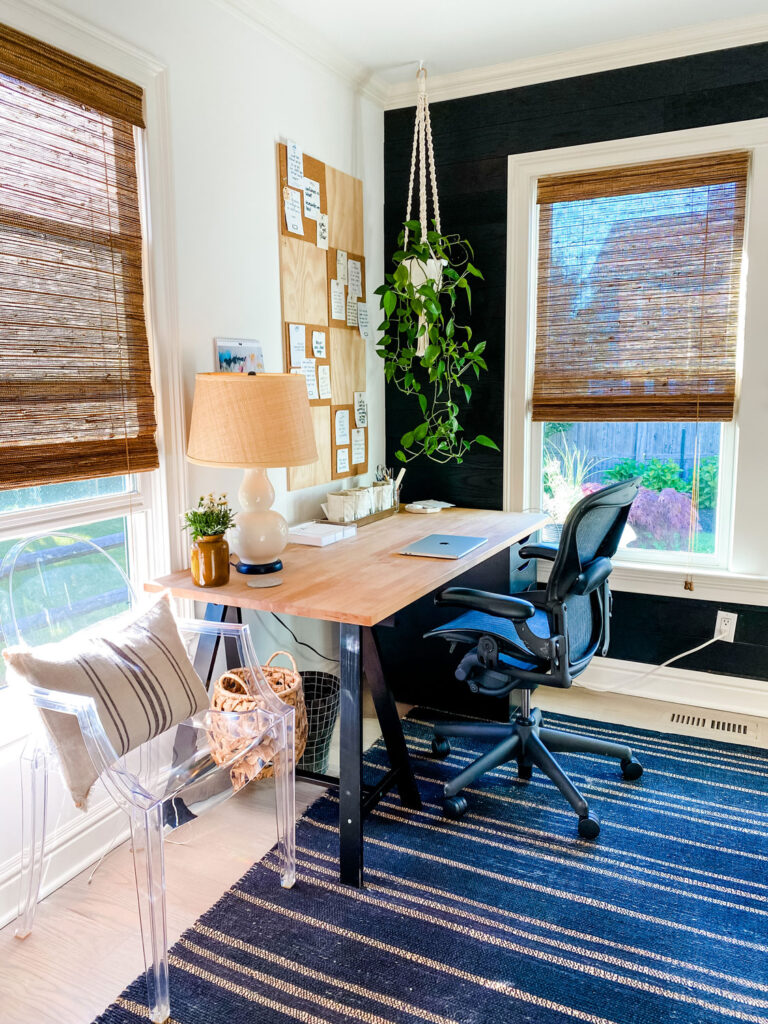 We repurposed an IKEA table top and used the ALEX 5-drawer unit on one side and the trestle leg on the other. I love having so many drawers. It helps me keep my desktop pretty clear which helps clear my mind! ha
I have a HermanMiller Aeron Chair that I've had for years. I can't say enough good things about it! It's an investment, but worth it!
Desktop Organization with UASHMAMA®
I wanted to try and keep my desktop pretty clear so that it feels less cluttered. I do need a few things handy and the UASHMAMA® paper bags were the perfect solution. I wanted to set them in a tray, so I measured and the small size paper bag was just perfect. UASHMAMA® offers nine sizes in 33 colors in these bags and they can be used for multiple purposes. I'm using the small bags for desktop storage today, but next week they may find their way to my table with a cup of fresh flowers or herbs from the garden. Did I mention that these bags are washable?
DIY Inspiration Board
My favorite thing in my office (aside from having my very own office) is the inspiration board that Brent made. When he first made it, I added everything little thing I had been holding onto. Cards, notes, all sorts of cool things. But here's the thing…as much as I loved the idea of it, the busyness of it drove me mad. It was just a lot of stuff that's still important to me, but that doesn't mean it has to be on my wall.
What to put on an inspiration board
I've been pinning quotes to a Pinterest Board I call Words & Quotes for years. I finally decided that it was time to do something with a few of those inspiring words.
I have also been collecting note pads from hotels ever since I've been married. So I have a lot of notepads from hotels all over the world. I'm still searching for my main stash, but I found several and got to work. I used this pen (which has two tips) to write some of my favorite quotes on the hotel note papers and pinned them up. I can add, take away whenever the mood strikes!
How to make the Inspiration board
We used a piece of plywood that's 1/4″ thick (you could even go thicker) and cut it to size the width of two cork squares wide and four cork squares tall. You could make this a perfect square or even a skinny rectangle, one square wide and alternate plywood and cork tiles.
We glued the cork tiles to the plywood with a hot glue gun. The cork pieces come with little stickers, so you could just attach them that way.
Tip: If you are patient, Home Depot will cut the plywood to the exact size you need. Just purchase your cork tiles first so you have the exact dimensions. Most are 12″ x 12″.
What is the most important thing in a home office?
Lighting! Lighting is the MOST important thing in an office and in every room. It sets the mood, the tone. And the thing about lighting is that it doesn't have to be expensive. More important than the lamp is the light bulb. Warm, soft lighting is critical in getting it just right. People will often come into our house and say, it's so cozy or I love how warm it feels in your home. And this is not to say it's cold outside. not at all.
Lamp shades and light bulbs for an inspiring home office
You can tell me all day long that raffia lamp shades are out and I'll ignore you. The reason is that the light from a shade like this one will always offer up the coziest lighting that will make you feel calm. We often walk the streets of New York City at dusk and point out which homes have a beautiful warm glow from the lighting and the ones that make us shudder. It's a little game we play because we simply can't help ourselves. If people only knew that changing their light bulbs could make their homes so much cozier and inviting!
It's the same with restaurants. We can't even eat at a restaurant that's too bright at night. It just makes me sad. We are always in search of a restaurant with hyggelig lighting. Light is the first chapter in The Little Book of Hygge for good reason! These are the light bulbs we prefer, on a dimmer, of course.
You can read more about lighting in this post.
One more thing you're office might need
A rug! Even if your room isn't that large, it may need a rug. It helps make it look and feel cozy, but it also helps with the acoustics when you have phone calls!
So that's it for my little office organization, let's go see Mary Ann and Cindy's! They both have new homes and that means a new office!
Shop the post