How to create a simple garden party that will be a memorable night for everyone! Today I'm joining Mary Ann, Cindy, and Julie to share ideas on outdoor entertaining.
With a little inspiration and help from my favorite store, Terrain, I created a small, intimate garden party that made my guests feel special. And the truth is, I only moved my table from the patio to the garden.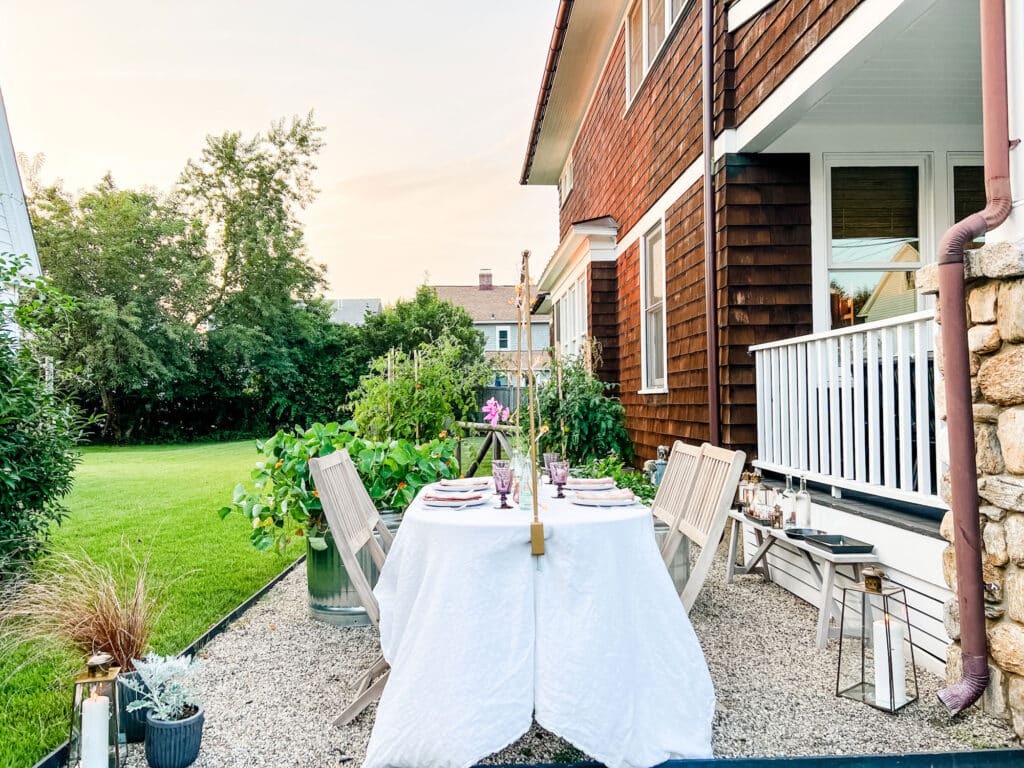 Garden Party Ideas to Get You Started
Outdoor Lights -Candles, lanterns, tea lights in votives, and string lights set the ambiance. Lighting is probably the most important feature in creating your garden wonderland for the evening. We used these lights on an over-the-table rod. It is so easy to attach to the table. Use lights, votives, or flowers in jars to add another dimension to the table decor. Read this post to see how I made jar slings to hang votives from the over-the-table rod in jars.
Garden Party Theme – My theme is always simply seasonal. I like to use only things that are growing in my garden. While I love the idea of using lemons, since we don't grow lemons in coastal Connecticut, I'll save lemons for the lemonade rather than the decor.
Color Scheme for Your Outdoor Space – I let the season dictate the colors. Since I'm using cosmos growing in the garden, I chose glassware and linens that complement the many colors of pink cosmos.
Garden Party Decorations – I let the seasonal blooms in simple glass repurposed bottles, beautiful linens, the fresh herbs growing, and the edible flowers become the focal point on the garden party table. Jars and bottles are perfect to use as vases, and they add different heights to the table.
A Bar Cart or a Bench – I often bring our bar cart out when entertaining on the porch, but this time, our teak bench seemed perfect beside the table to hold trays of drinks, glassware, food, etc.
The Dining Table & Chairs – We used our new Terrace Teak Dining Table and Folding Teak Side Chairs from Terrain. We love the natural rustic vibe so much that we added it to the porch. For our garden party, we moved it just for the night.
Table Linens – Beautiful napkins can set the stage for the entire table. Look for vintage and dye them like we did here, or use beautiful plaid napkins like these. They are made in France and in the prettiest shade of rose that will look as pretty in summer as they will in the fall with faded flowers. They come in several colors, and they are all gorgeous.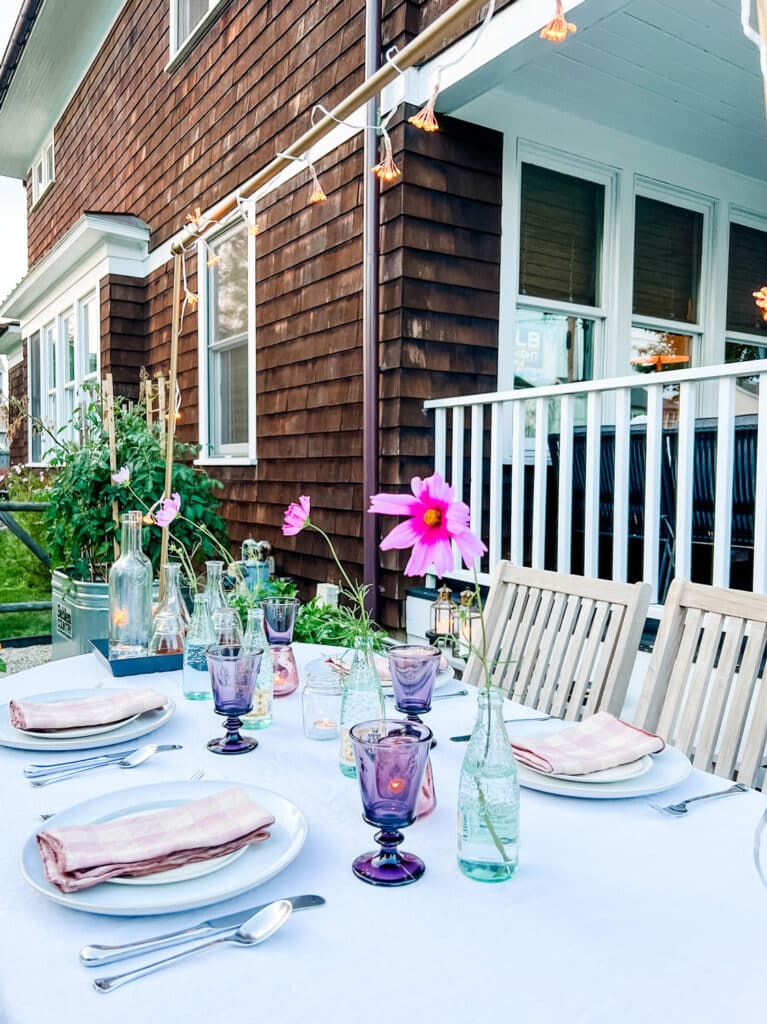 Things to Consider for a Larger Backyard Party
For birthday parties or anniversary parties, I love the idea of using a rug outdoors on the lawn or on the pea gravel to set the stage. It creates a magical setting with accessories like floor cushions, blankets, and cushions for different textures.
You will want plenty of extra seating in small conversation areas.
A drink table with ice buckets to hold drinks. Maybe consider serving signature cocktails with a fun garnish. There are some cocktails that come in pretty cans now that are very on-trend. This helps the host so they don't feel like they are making drinks all night.
A dessert table with cake stands at different heights with bite-size desserts. You can diy your own cake stand just by placing a plate on top of a bowl or cup.
Entertainment like lawn games and outdoor games are fun to get the party started! If you have the space, croquet is a blast or Bocce ball.
If you enjoyed reading: How to Create a Simple Garden Party, you might also enjoy these posts that relate to gardening.
Now let's see how Mary Ann, Cindy & Julie entertain outdoors!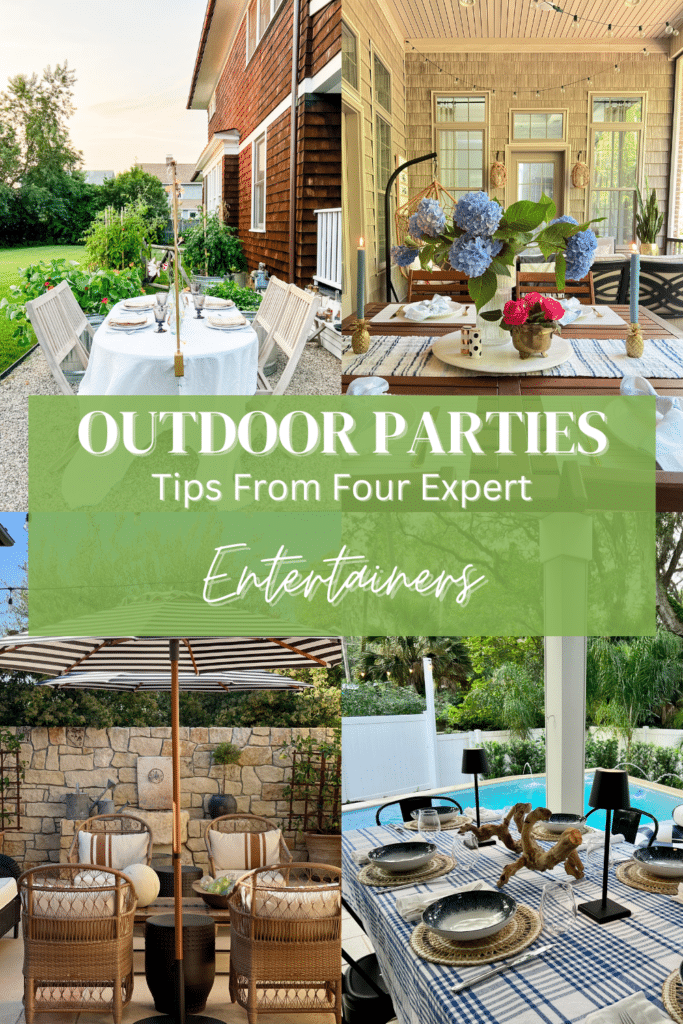 Shop my Terrain Favorites: