I shared our outdoor space in this post last year and it has not changed all that much, but we did work with Sherwin-Williams again this year! Last year we used Sherwin-Williams porch and floor enamel on a cement pad and the improvement was huge. We were so impressed with the quality of the floor paint, it was an easy decision to use Sherwin-Williams stain and paint for this project. We chose Tricorn Black SW 6258 paint and stain to transform the garage. It was quite an eyesore with a white metal door. Painting the door and trim Tricorn Black SW paint and the cedar shake shingles with black stain, just made it look so much better. I was pretty confident that we would love it since we painted our garage in New Canaan black as well. It wasn't a huge job since it's a small garage, but it makes a big difference as the backdrop for our small backyard.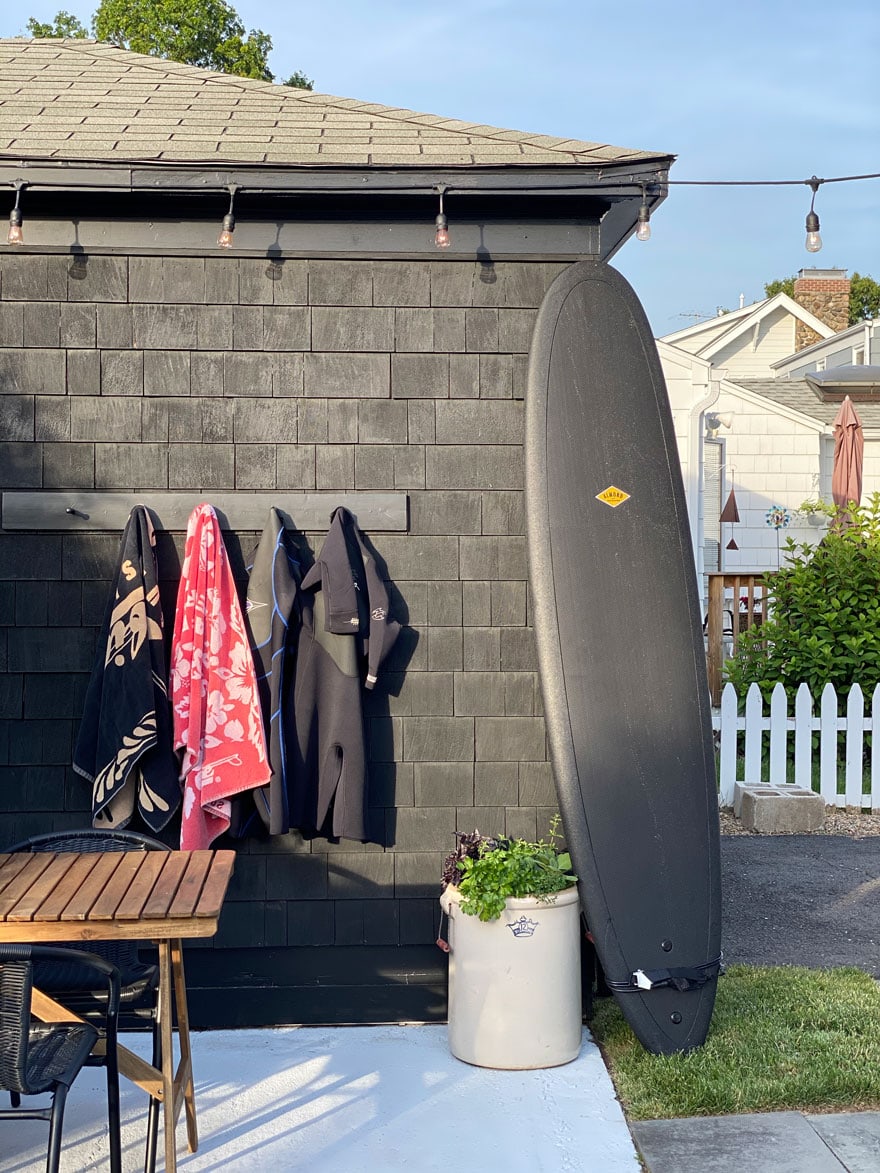 Older homes often have a garage that was most likely added in later years and they often end up being detached buildings in the rear of the property. Backyards are now where we entertain and so making these structures look less like a garage has been the goal both with our current home and our former home in New Canaan.
The View of the Long Island Sound
When we entertain, we usually start the evening with drinks on the porch or by the water, but we usually end up having dinner in the backyard. It's a little more private and since we don't have a table on the porch, it makes sense to move the party to the backyard. When we purchased our home, it was in terrible shape. A cement pad once had some sort of spa. We thought about covering it with pea gravel, but in the end, we decided to paint it in a checkerboard pattern. It kind of reminds me of our chalkboard wall. Making our tiny outdoor space livable took some paint, major cleanup, and a few new plantings. Oh…and some string lights, because the right lighting makes everything magical!
String Lights make everything magical
Painting the garage Sherwin-Williams Tricorn Black creates a dramatic backdrop in a small space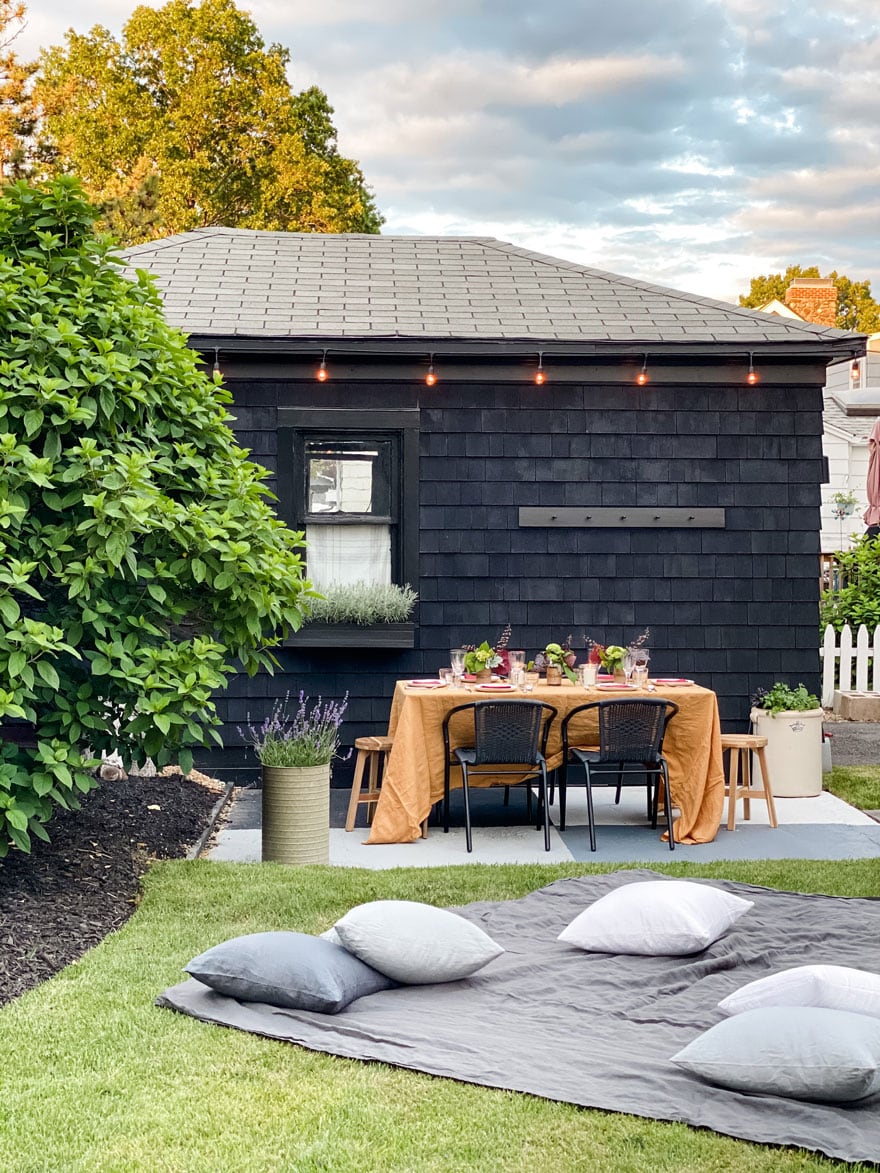 Our Almond Surf Board against our newly painted black garage with new modern lights for less than $100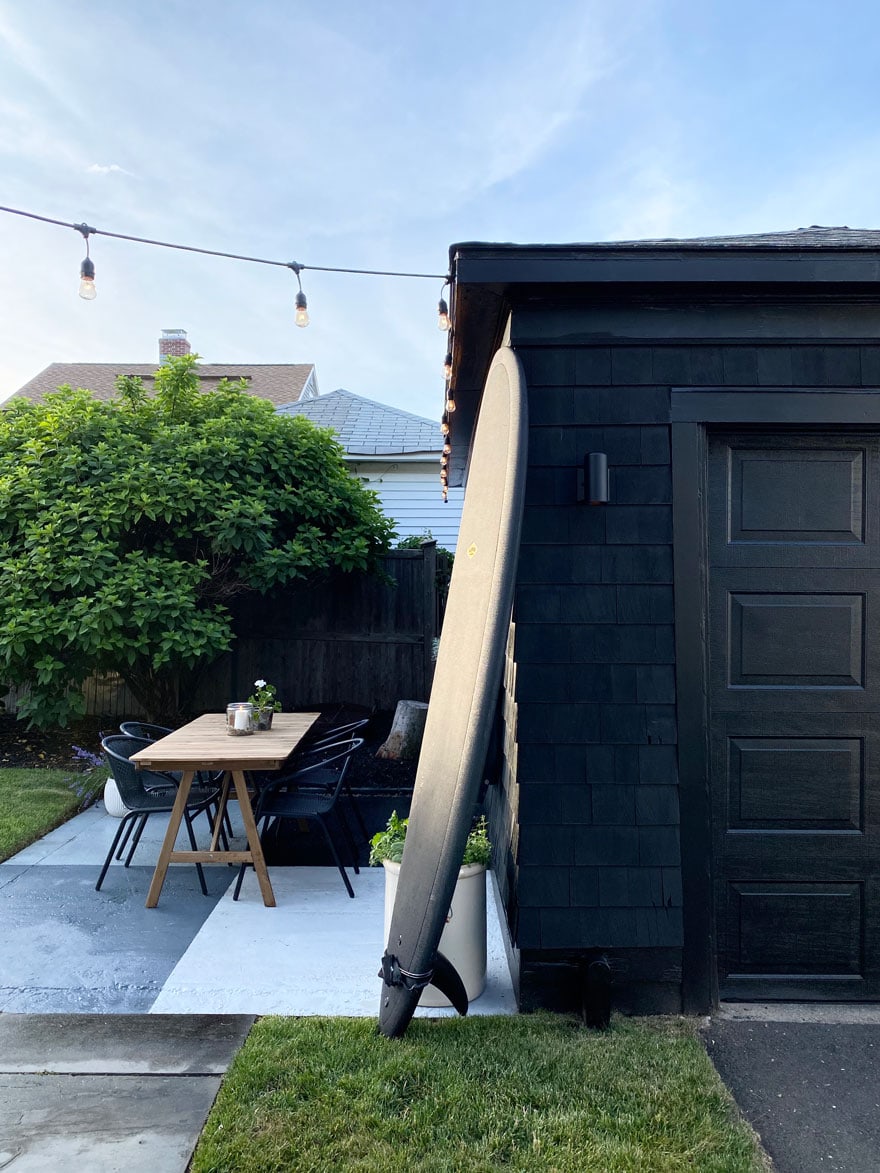 By painting and staining the entire garage black, we sort of glossed over the fact that it's slightly leaning, the garage door is cheap…paitning it all one color made those flaws slightly less obvious! We added small modern lights on each side, also in black.
We have the Standish Patio Furniture from target on the back patio and front porch
We love Coors Edge Non-Alcoholic Beer!



So would you paint your garage, shed, or even your house black?
Giveaway!
To enter the giveaway, follow me on Instagram @most_lovely_things to win a copy of Patina Living and for a chance to win one of the other books by Brooke Gianetti, make sure to follow @Cindyhattersley and @classiccasualhome
shop the post

Title:
Nine Bloggers Share their outdoor spaces
Mentions:
black garage, outdoor, outdoor lighting, project design
Last Updated:
June 18, 2020