Today I'm joining my friends Mary Ann and Cindy and our guests Karen of Garden Home & Party, Kerry of Graham Hill Design, and Marie of Marie's Home and Garden to share our ideas about outdoor spaces. I love how these challenges make me finish a project.
Outdoor Spaces
Our new house is close to the water and so we like to say, "we don't need a yard, we have the water as our backyard," but that's not entirely true. We like to entertain and especially outdoors in the summer, so we used the space we do have and made the most of it with a pretty simple fix. Paint.
Painting the trim white made a big difference…never underestimate what paint can do!
The house once had dark green trim. Just having the trim painted white made the house look completely different. We replaced the lattice skirt around the bottom with horizontal boards, making it more modern. We replaced both back and front doors, which were in terrible condition, and used Emtek Hardware in matte black. We used similar Emtek hardware on our New Canaan house and once again went with matte black. We used the contemporary key in knob with a rectangular rosette. You can see options on the Emtek website and it will give you the opportunity to find a dealer in your area.
Door Hardware from Emtek
We added a new mailbox, lights and planters from Rejuvenation. The house numbers are from Schoolhouse Electric.
Making the most of a basement door along the driveway…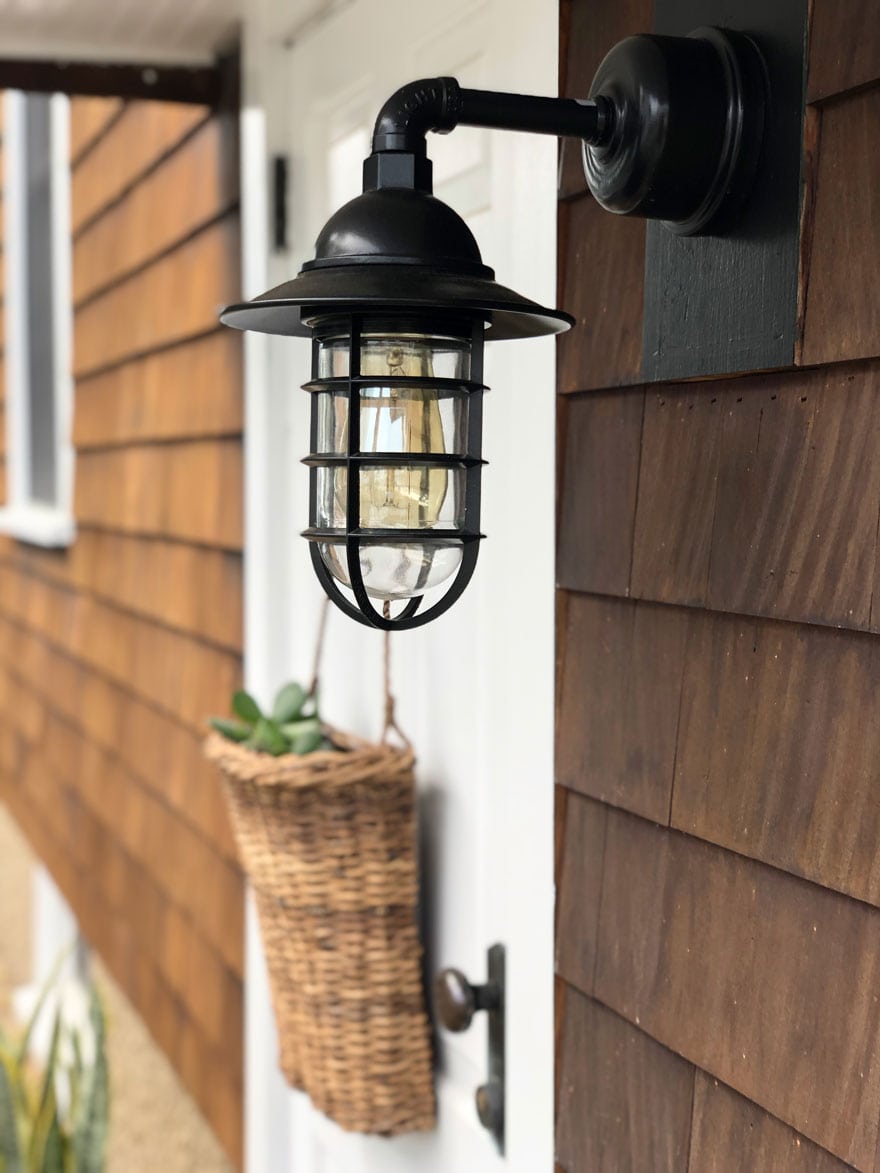 The side of the house is one area that people see as soon as they walk up to the house. It cannot be overlooked, but again…no one really ever addressed this area and it's a shame, because with a little work, it's pretty cute! Painting the trim and door white really improved this area of the house. As much as I wanted to paint the trim black and stain the house black…I just had to go with white to try to lighten it up, and I think it worked. Next, we added the Industrial-guard sconces from Barn Light Electric on the back and side of the house. We made a bench from a pine board that's actually meant for making stairs. I talked about this in this post. A couple of plants, a door basket with jade in the summer and probably evergreens come winter and it looks waaaayyyy better.
Barn Light Electric Sconce with Dawn-to-dusk technology.
And now onto the backyard
We updated the backyard with Sherwin-Williams Porch & Floor Enamel. One area that was in disrepair was the backyard and mostly because it just did not make sense. There was a small cement pad adjacent to the detached garage where the previous owners once had some sort of spa or jacuzzi. We thought of several options which included removing it, putting down pea gravel. All good ideas, but then I saw Brooke's patio and it inspired us to do something similar. We chose four colors of black and gray and used Sherwin-Williams Porch & Floor Enamel. This was our first experience using Sherwin-Williams for this type of project and we could not be more impressed with the quality. We have painted wood floors, basement floors, stone fireplaces, garage floors…all using various kinds of porch/floor/patio paint and we could not be happier with the look, application, and how the Sherwin-Williams paint is holding up. We use the space for a fire-pit area and dining table area. It is completely exposed to the elements and it is not showing any signs of wear and tear. Chairs and tree stumps are moved around and nothing shows. We love it and it's by far the most fun aspect of this tiny backyard.
A patio updated with paint takes center stage in a small backyard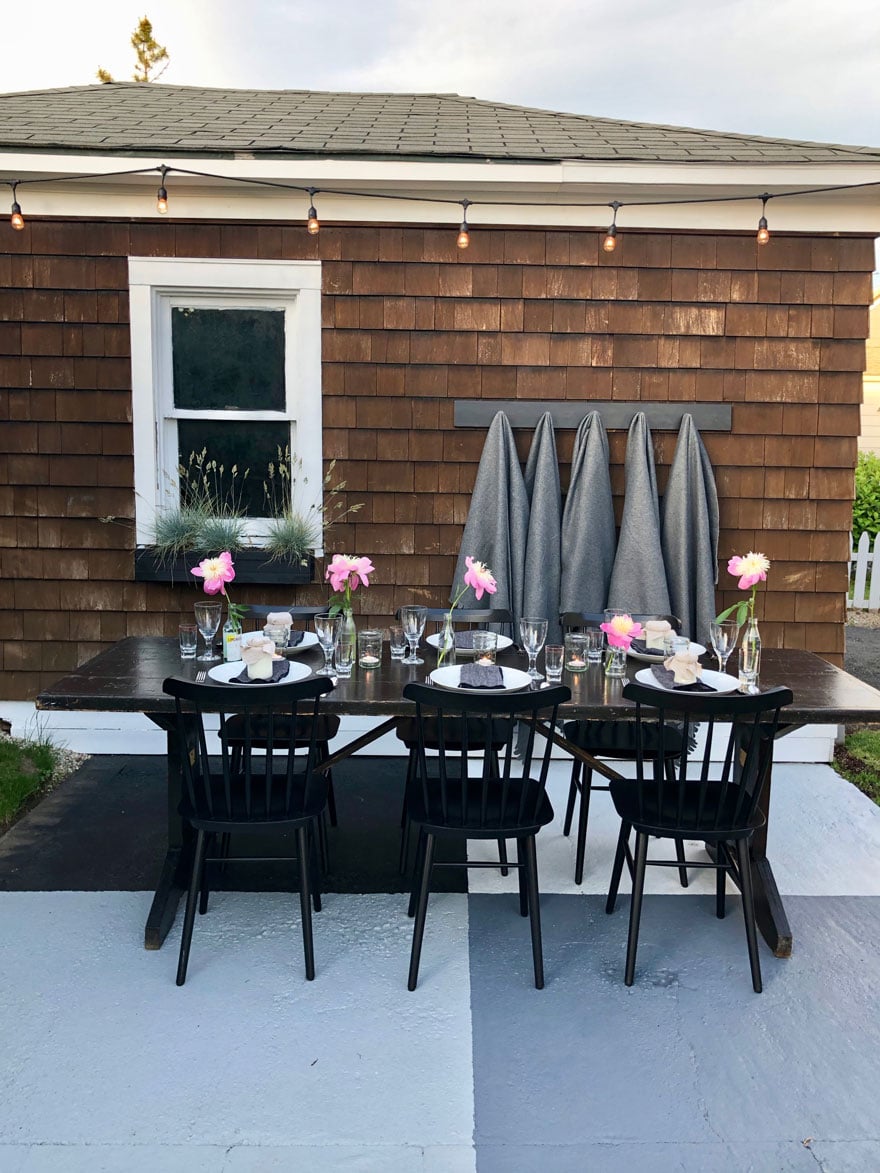 As you can see this space has become an area that we use for dinner parties, a cozy spot for a small group, and a home for our fire-pit. It's easy to change it up for whatever we need. This space was once the biggest eyesore in the backyard and with a little clean-up and Porch & Floor Enamel Paint specifically for cement, it's now the area we use most.
Now make sure to check out the outdoor spaces of my friends! It's always fun to see what people have to work with and how they use it. And check out my Outdoor Spaces Pinterest board!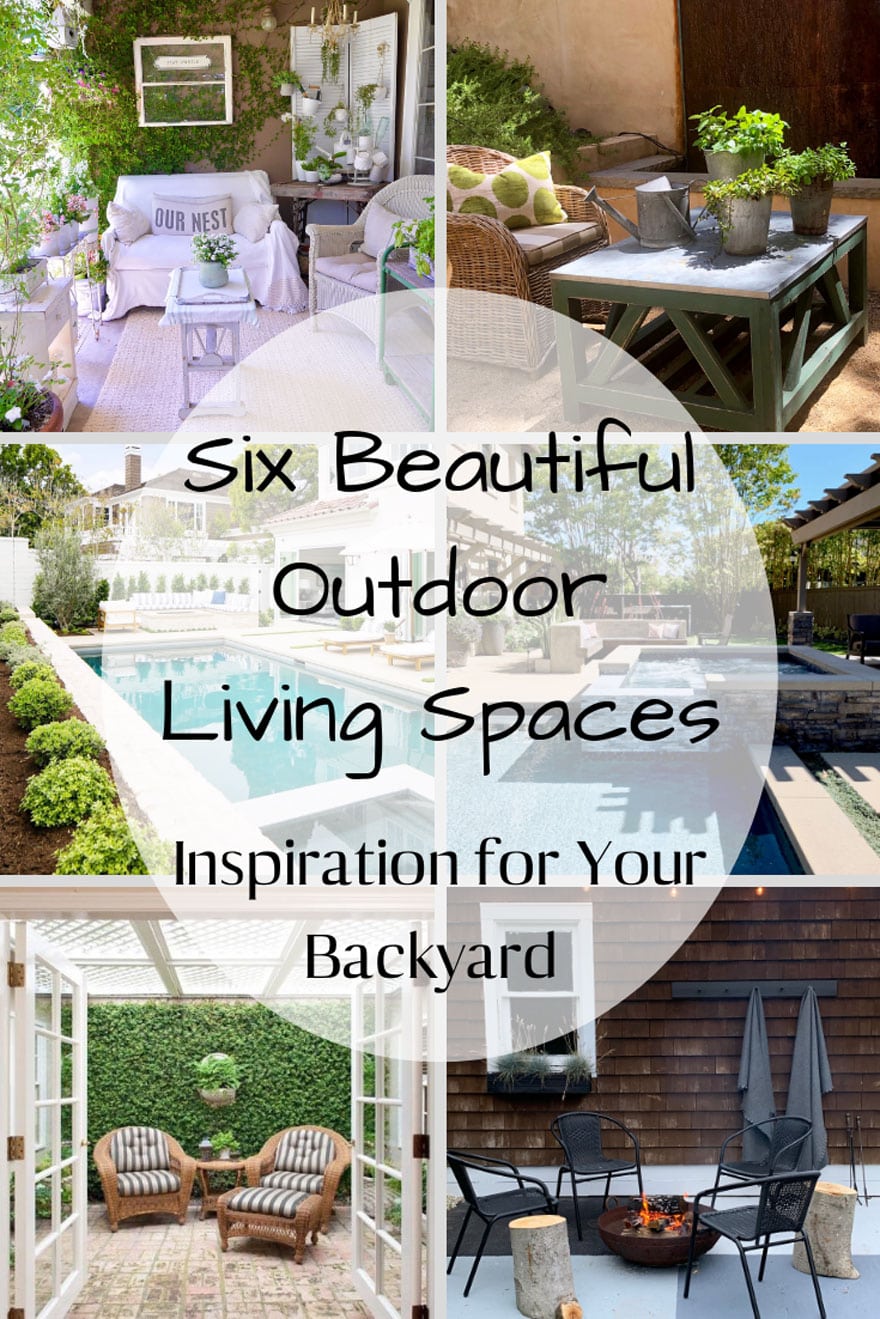 Shop the post

https://mostlovelythings.com/exterior-lighting-light-fixtures/