When I was asked if I would like to join bloggers Pam – Simple Details, Kris – Driven by Decor, Lisa – Shine Your Light and Jennifer – Dimples & Tangles to guest host on their "My Five Favorites" series, of course I said YES!  This month the theme is "Home Basics that you can't (or wouldn't want to) live without." I came up with my list pretty quickly…because they are my most favorite things.  They are what bring me peace and joy in our home every day.
~ Five Home Basics ~
Here's my list. As you can see, #1 and #2 are together, because you almost can't have one without the other.  I mean you can, but wouldn't want to, right?
#1 Candles & #2 Fresh Flowers
I really can't imagine a day that I would not light at least a few candles.  I light a scented candle or sometimes just a votive in a glass jar all day.  I often sit at my kitchen table to work and I love having the glow of a flickering candle to keep me company.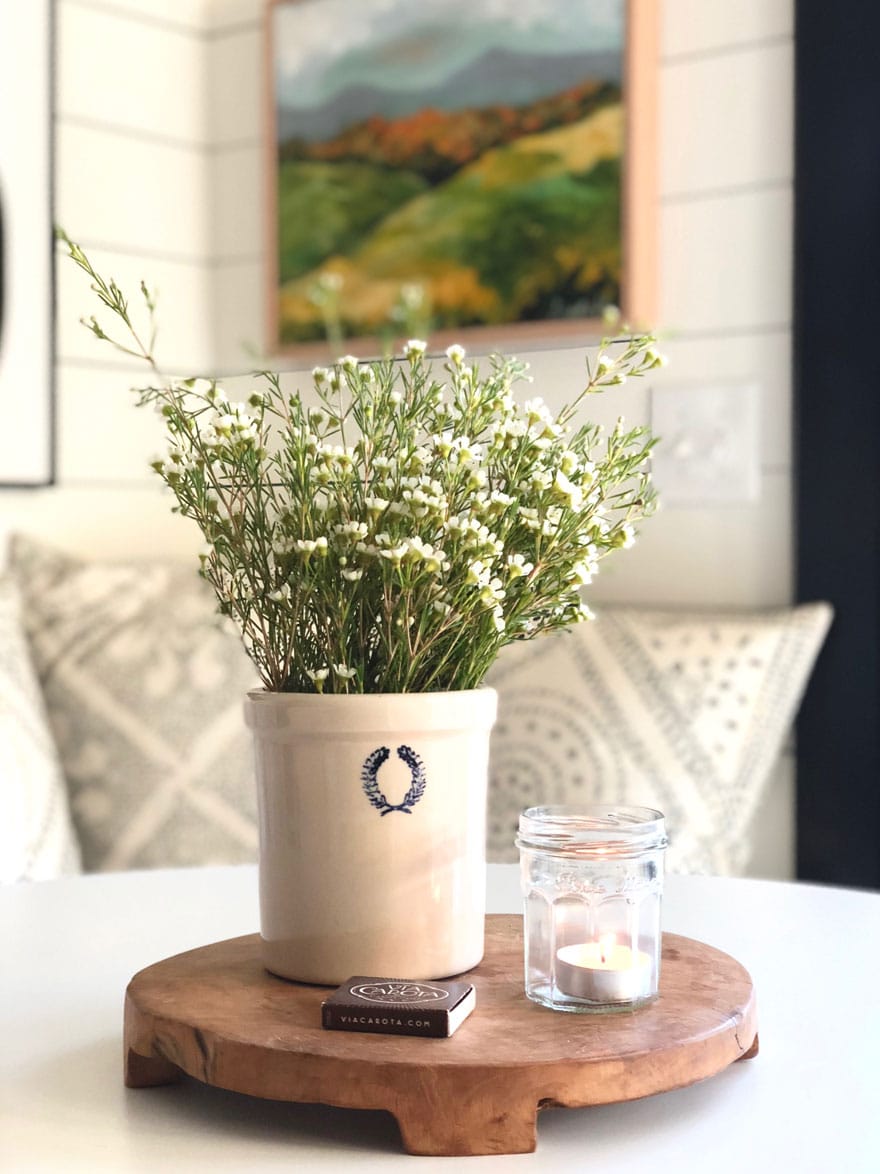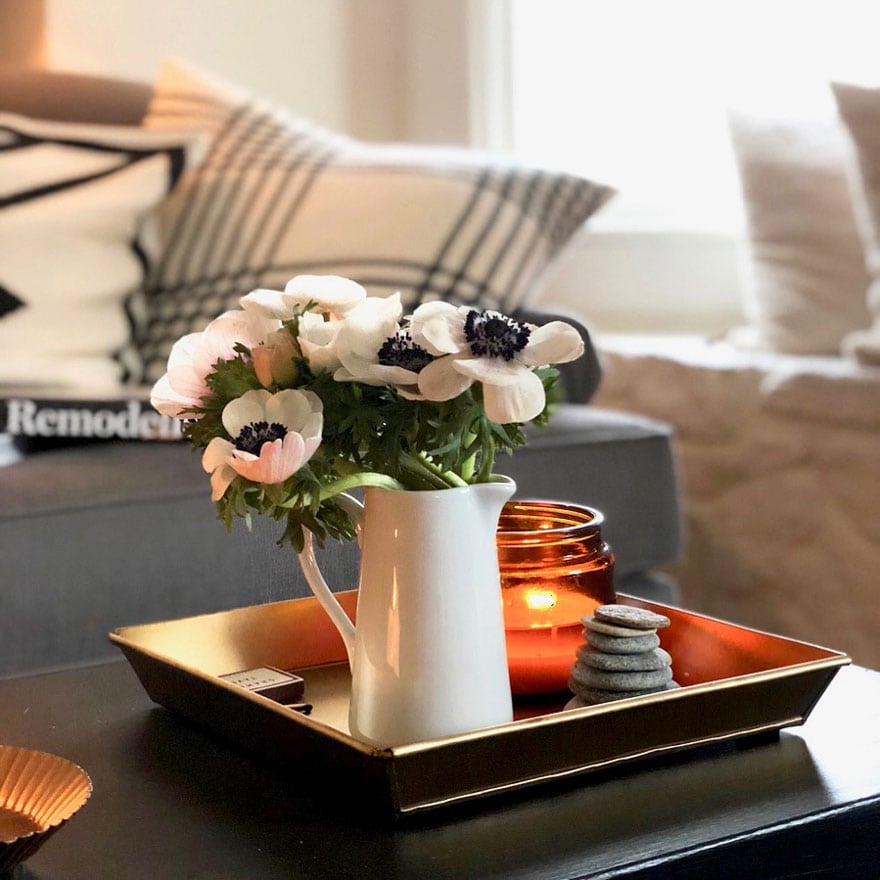 Once it starts to get dark, I light several more candles.  By dusk on most evenings, we have at least eight candles lit and everything looks a little magical.  Our kids are grown, but always lighting candles has made them love candlelight and soft lighting too.  It's an appreciation for warm, cozy spaces that has definitely rubbed off on our kids.  No one in our family likes a restaurant that's too bright.  If we are traveling and looking for place for dinner, it's funny, but everyone will just keep walking if a restaurant is too bright.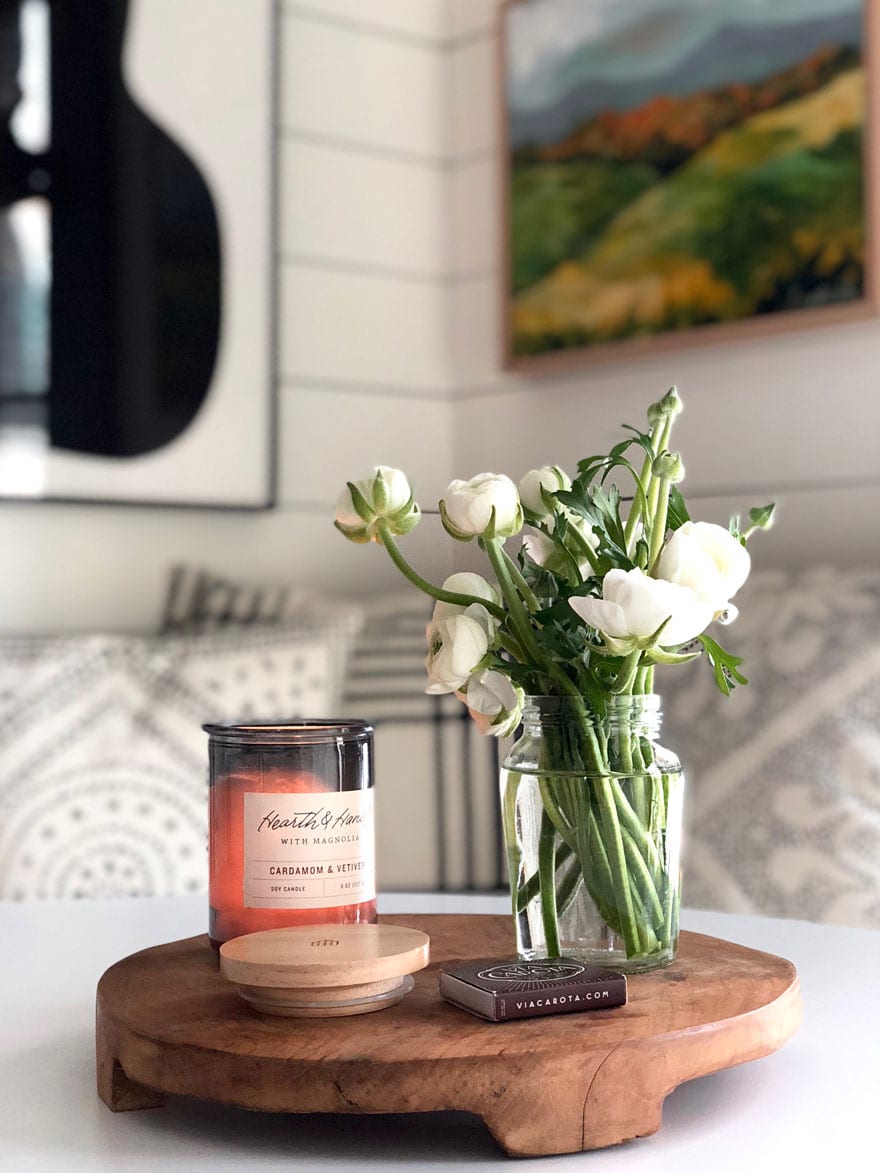 I adore fresh flowers or branches.  Simple is best, so a stem from a bush or tree is perfect.  When a season is in bloom, you can bet I'll try to find a cutting and bring it inside.  I always travel with a pair of these in my car, just in case.  (This used to drive my kids crazy!  I'm pretty sure they thought I would be arrested at some point during their childhood for taking a stem or a bloom).
#3 An Eat-in-Kitchen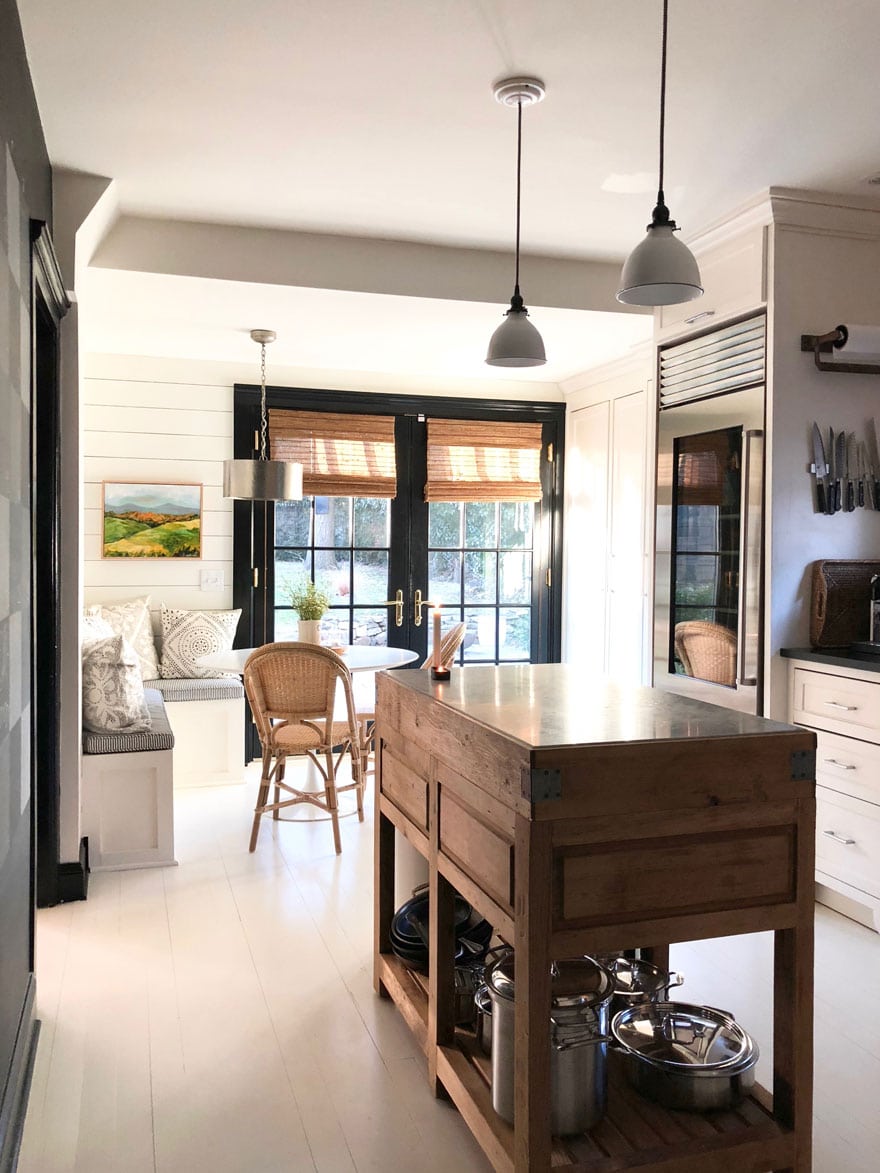 I would prefer to have an open floor plan, but for now an eat-in-kitchen is the next best thing.  I love when family or friends are around and hang out in the kitchen while we prepare a meal.  Last year when Patrick was still in high school, I cherished these moments knowing that soon our youngest would be off to college.  When he would get home from a game I would already be home uploading the photos and videos that I took during the game.  It was moments like these that made me realize I don't need a huge kitchen, just one that has space for everyone to hang out.  A built-in banquet has made a big difference.  It's more comfortable and you can always squeeze in one or two more.
#4  Music and Podcasts
This is my favorite playlist.
Lately I've been using our Alexa to play music when I'm home.  "Alexa, play John Mayer."  It's so easy to move from room to room and I can keep it on the dock so it's always charged.
These are a few of my favorite podcasts.
Food Blogger Pro – Not just for food bloggers.  It's great information for entrepreneurs and small business owners too.
I love when my kids or friends send me a text with a new podcast.  Diane Karmen  who I recently featured her kitchen sent me this one on Ina Garten. Typically I listen to it the next time I'm in the car. I'm almost looking forward to driving to Syracuse next week!  What are your favorites?
#5 A Welcoming Entryway in any Season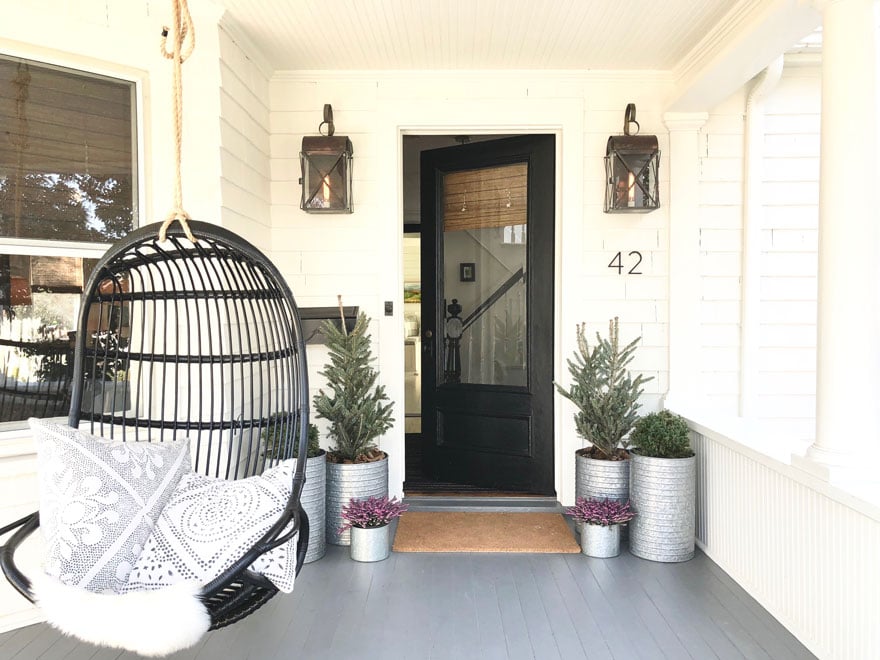 While I absolutely love having a front porch, it's really just having a pretty entry that is one of my Five Home Basics.  Keeping the porch and entry pretty is a bit of a challenge during the winter months, but I try, and even adding few spring plants makes a big difference.  I update my planters each season, making sure that the winter plantings are something that will look nice until late spring. In the winter, I cover the top of the soil with pinecones to help keep it looking fresh.  You can see my fall porch here, summer porch here, and Christmas porch, right here.
So head over to to see what Pam, Kris, Lisa and Jennifer are listing as their five home basics they can't live without.  And for fun entertaining tips , checkout this post from prior guest host Kelley Nan. Currently I'm in LA and my flight to JFK has been cancelled due to weather.  Luckily I came prepared with a candle and yesterday while visiting my friend that lives in the heart of LA I brought back a clipping from her citrus tree in her front yard.  So keep snowing New York!

SaveSave
SaveSave
SaveSave
SaveSave
SaveSave
SaveSaveSaveSave
SaveSaveSaveSave
SaveSaveSaveSaveSaveSave
SaveSave
SaveSave
SaveSaveSaveSave
SaveSaveSaveSave
SaveSave