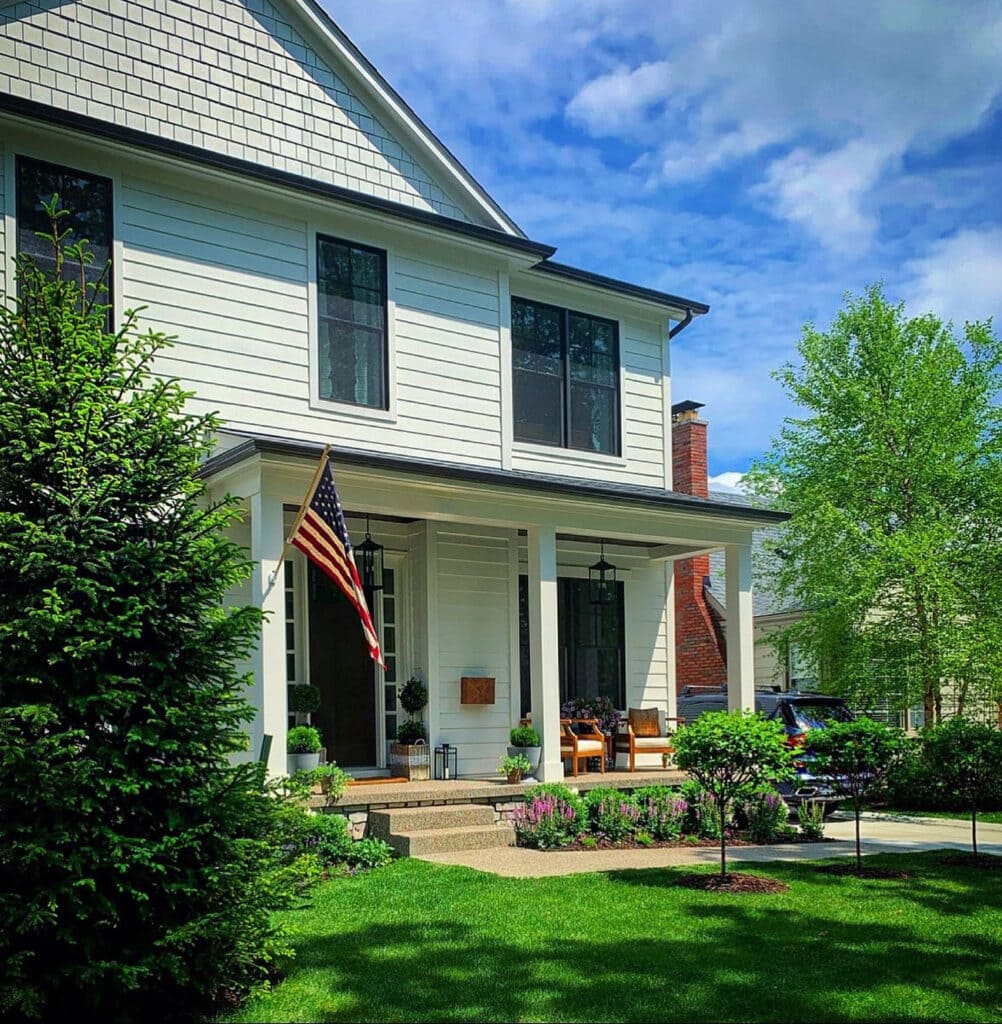 Tips on creating a beautiful cozy home for fall both inside and out with my friend Terri Stewart. Terri is inviting us in for a cozy home tour as we share our ideas for making your home cozy for fall and winter! Today, Cindy, Mary Ann, and I are joined by a few friends to share ideas and I could not be more excited to share Terri's new home in Birmingham, Michigan.
Follow Terri on Instagram for more inspiration as she shares her home throughout the seasons.
I first met Terri when we both lived in New Canann. If I am remembering correctly, Terri saw our home on Design Sponge and then realized we lived in the same New England Town. We both had kids at the New Canaan schools and we soon realized we both loved moving to new homes. Not everyone agrees with this idea, or they wouldn't have coined the phrase "our forever home." Terri has lived in 16 homes in 28 years. I think if I counted correctly, it's 16 for us as well, but in 34 years! Some would say we are crazy, but I know others feel like we do. There's a fun challenge in finding a home and making it beautiful and cozy for our families! Terri has done just that in less than nine months from the day they moved into their new home….let's go!
Finding the right home…It's a feeling. A cozy home feeling!
I'm so excited to be sharing Terri's new home today that they purchased last January. It was a new build and overall they love the home as-is, but of course, there are a few things that they would like to change. Looking a the photos, you would find it hard to believe that Terri has only lived in the home for less than a year. Terri says she's more of a "feeling type buyer." I can see that…when you have created the lovely homes that Terri has created for her family of five, you just know when you walk into a home if it feels right and if you can make it into a home that you love!
Even the outdoors has fall cozy home vibes
When moving to Michigan, they were technically empty nesters, so they considered downsizing, but in the end wanted to have space for kids to return home and for family and friends to visit and stay comfortably. They did however downsize in acreage. They went from having over seven acres in Connecticut to just over a quarter acre. She has raised garden beds with vegetable and herbs and planted apple trees. They took out the grass and added a pebble patio. She says it now takes her 20 minutes, twice a week to pick weeds and before, she said the work never felt done.
I asked Terri if when she buys a house if she likes to set a budget and she agreed that it makes sense to do that with re-sale in mind. She makes smart choices that work for her and potential home buyers.
"Being in our 16th home, I'm sure there will be a 17, 18, 19…we do live to move."
Lighting is most important for beautiful fall cozy home
Lighting makes all the difference and Terri's home is spot on when it comes to cozy, warm lighting throughout. Here's what she had to say on the subject of lighting.
"I'm not one to spend a fortune on lighting. I like a mix of new & old. Lamps are my favorite because I just love the light they give off. A good warm vintage bulb changes everything."
Terri said she has overhead lighting in every room in her house and has never turned it on! OMG, I can totally relate to that! Give us all the lamps with Edison-style vintage light bulbs and please, put them on a dimmer!
Favorite Sources for everything from lighting to textiles for Cozy bedrooms
Terri says that her home is a mixture of 30 years of finds. She has things she loves from ABC Carpet & Home from back in the '90s to more recent purchases from Target, Pottery Barn and Home Goods. Originally from Santa Barbara, she has a few treasured pieces from Rooms and Gardens. She buys what she likes and that could mean that it's from a flea market in Maine to Sonoma or in an antique store in Connecticut to a more modern home store in NYC. Her home really reflects that collected over time feel throughout.
Adding in nature and organic things make it instant cozy
Terri takes this one step further using old pots, Spanish Moss, Preserved Reindeer Moss, or rocks to cover the soil in the pot or basket. For small plants, she may place them on a vintage breadboard adding that extra layer that brings a sense of history along with it. It's a small detail, but when you do this throughout your home as Terri does, it really does add so much warmth.
A Gallery Wall with Family Photos in the Stairway
Small Details make a big difference
Terri's home is filled with just the right amount of small details throughout the home that make it feel special and that it was collected with treasures. Her bathroom is no exception. I love the vintage pharmacy cabinet for pretty storage and the curtains with the black tassels are a little unexpected, but work beautifully.
A cozy home always has something freshly baked!
Terri makes everything beautiful, even her coffee cake muffins in parchment paper squares sitting on a breadboard in her kitchen is a lovely touch. Thank you Terri for sharing your beautiful home with us!
You may remember this post where I featured Terri's sister, Tara where she shared how to make DIY Shibori textiles.
Now make sure to stop by these blogs today to see how they get ready for a cozy fall indoors and out!
Tips on creating a beautiful cozy home for fall both inside and out!
Shop the Post
Balboa Counter Stool // 2. Mendocino Linen Throw // 3. Brighton Table Lamp // 4. Palms Rattan Chair // 5. Willowmere Hand-Knotted Rug // 6. Santa Barbara Pendant // 7. Cambria Rattan Lamp // 8. Priano Napkins // 9. Millbrook Dining Chair // 10. Mendocino Stoneware // 11. Pillow // 12. Pillow // 13. Pillow // 14. Side Table // 15. Jean Handwoven Indoor/Outdoor Pouf // 16. Vintage Bread Board // 17. Earth Fired Clay Pots