How to cozy up your patio for fall + Sunday Favorites with Cindy and Mary Ann! The calendar flipped to October and you could instantly feel the shift from summer to fall, especially in the evening on the porch and patio. Living in Connecticut, we are not giving up spending time outdoors just yet, but we did want to make it a little cozier.
Three things your patio needs this fall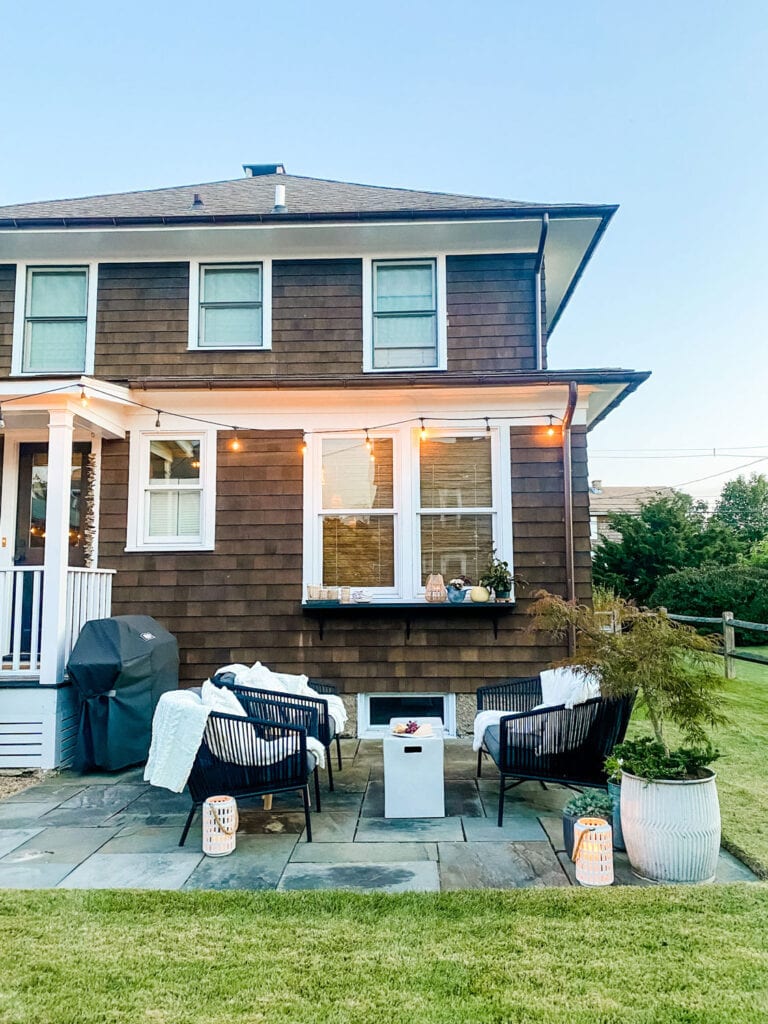 Outdoor Pillows – We have the Montecito pillows from Serena & Lily both on our front porch and on the patio. The patio is exposed to rain, so I try and remeber to bring them in, but they have been drenched and dry out in no time. The covers caxn be removed and washed makng them so durable.
Throws – I found a few throws at Target and they remind me of the throws from years ago from a company called 525. I'm not sure if they still make throws, but these from Target look and feel exaclty the same. Like wrapping yourself in a chenile knit sweater. Soft, not at all scrachty, because no one wants that!
Hurricanes, fire pit and string lights – Lighting is everything. It sets the mood indoors as well as outdoors and candles flickering in hurricanes is a must. If it's a still night, it's always cozy to have a cracking fire, Incandescent string lights help provide light without making it too bright, but on a dimmer, just to be sure!
Add a shelf instead of a window box
This is the third shelf we've made this summer for patio spaces. We loved when we made one for our friend that you can see in this post and then we made one for Patrick for his outdoor space in NYC. Shelves are so versatile. You can use it to display plants like a window box, then use it for serving or for a bar set up when entertaining.
How to make an outdoor shelf
Materials and Tools Needed to make an outdoor shelf
2x12x8 piece of wood for shelf (or longer than 8′ according to your space).
brackets (We used these which are very inexpensive. We wanted these black steel brackets, but they were out of stock). The brackets we ended up using made the entire project cost around $25.
Power Drill
Screws
Level
sand paper
hand sander
Wood Stain
Shop the Look

More Sunday Favorites
I mentioned these market bags last week and I just got one! They come in three sizes. Mine is the large bag and I chose this bag because it looks like fall. And the added pom poms…so cute!! It looks great with all my fall clothes!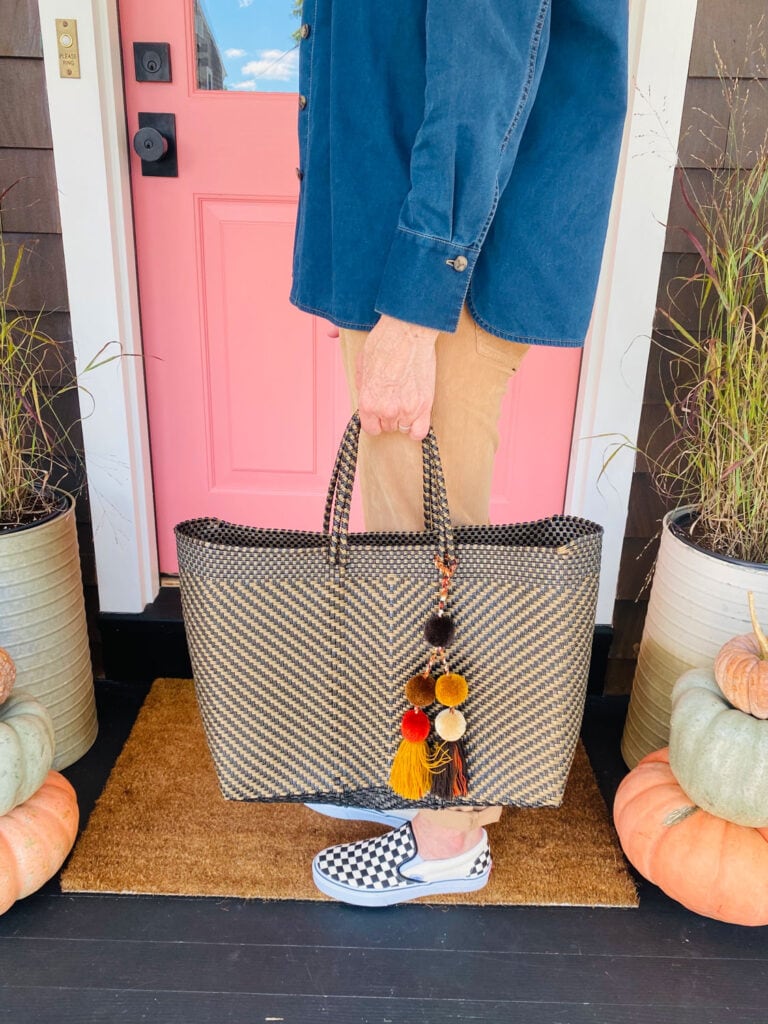 If you are near Kingston, NY October 8-10th, don't miss Field + Supply, a modern makers craft fair at the Hutton Brickyards, I've been a couple of times and have never been disappointed. You'll find exquisite items for the home, plus clothing and jewelry. My friend Karen of A Handmade House Studio will be exhibiting this year with her beautiful trivets/pot holders and strong cloths. I shared more about Karen in this post. It's a great place to spend a day! You can get tickets here.
Madeline and her friends have a newsletter where they talk about books. These girls read a lot and I love reading their reviews. This month it seemed to be all about Sally Rooney's new book, Beautiful Word, Where are You? Follow Read Receipts on Instagram and sign up for the newsletter. They are also hosting a virtual book club this week to discuss the new Sally Rooney book. @read_receipts_
I was talking to my friend Sheri and somehow Alec Baldwin's podcast was mentioned and this particular episode with Philip Galanes. I have always been a fan of Philip Galanes's advice column, Social Q's in the New York Times, so when Sheri mentioned that Alec Baldwin had him on his podcast, of course, I had to drop everything and go for a walk so I could listen!
Now let's go see what Mary Ann and Cindy found this week!