Let's make a DIY canvas wrap vase!
Today I'm joining a very talented group of bloggers to share a DIY involving fabric. I said yes and then panicked because I don't sew. I used to always tell my kids that the good scissors are only to be used on fabric. I remember when they said, "ok, but you don't sew, so I'm going to use these on paper!" That's true, but I still need a good pair of scissors at all times because you never know when you'll need them! Like this project!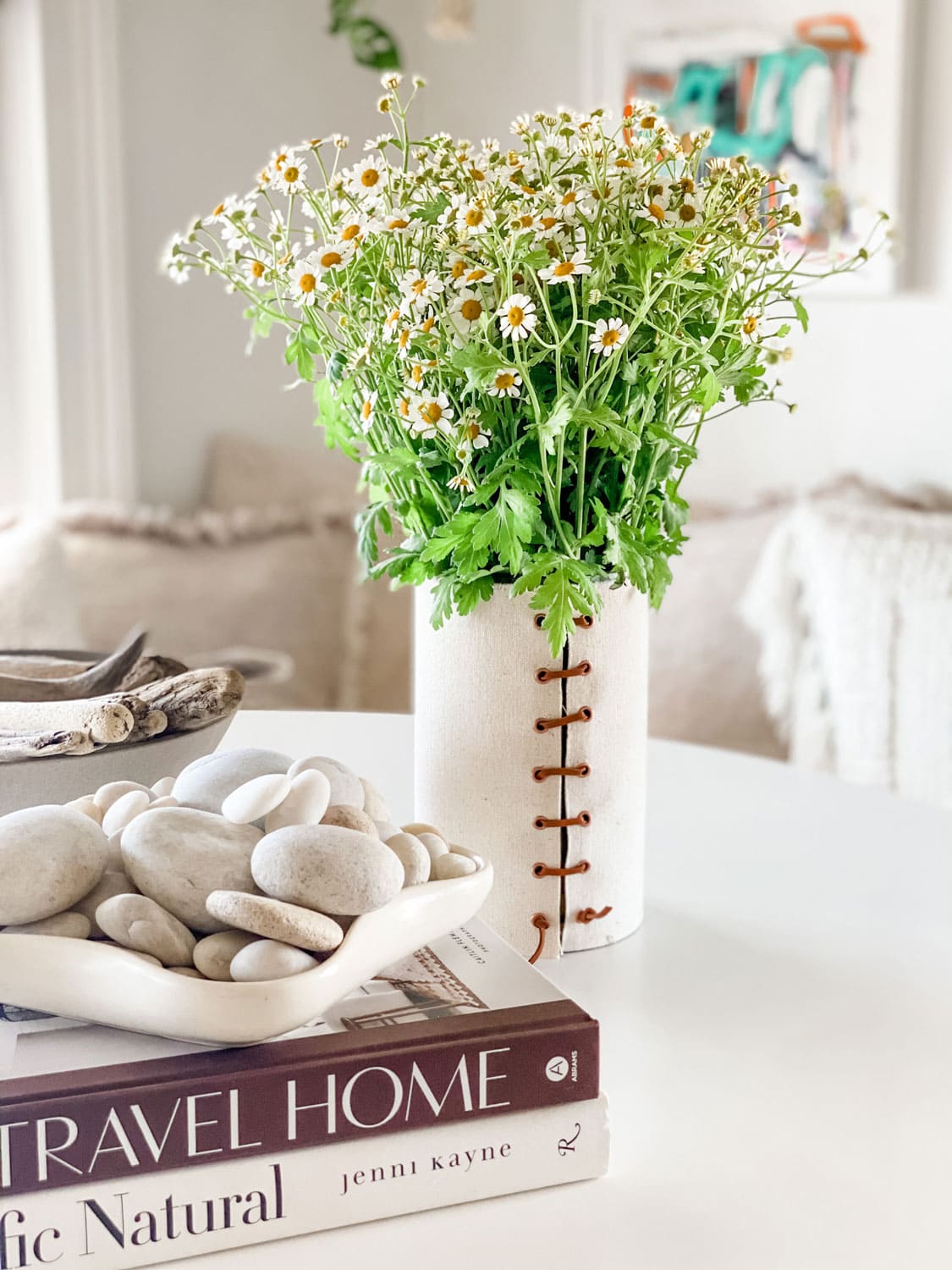 I have been seeing these leather wrap vases all over Etsy and Pinterest. Last year I got my friend Diane one from Jenni Kayne. I have been slightly obsessed with these trendy wrap vases, but I didn't have any leather on hand so I used canvas that was leftover from this project. It was a pretty quick project and you probably have a few of those cylinder vases from the florist. We can never give them away and now you have a good reason to use them! With just a few supplies from the hardware store and craft or art supply store, you'll have enough supplies to make several.
1. The Supplies
a glass cylinder vase
heavy cloth or leather
eyelet Pliers & eyelets
a good pair of scissors
leather cord
You'll need a glass cylinder vase. The kind that you get from the florist. Any size will do, but it does need to be straight up and down, not tapered. I used #10-ounce natural canvas. You need something sturdy like canvas or leather. The eyelet pliers from Home Depot came with the eyelets in three finishes. I chose the copper-looking ones. You'll need a good pair of fabric or cloth scissors and a straight edge like a metal ruler.
2. Step by step instructions
Measure the height and the circumference of the vase.
Mark the canvas with a pencil and using a good pair of scissors cut the piece to size. I used the original top of the fabric with the slightly fringed edge as my top of the vase, but that is my personal preference.
Once you have your piece of fabric, determine how many eyelets you'll need on each side at the seam. Measure and it's okay if the top or bottom is a little wider. It's hard to get it perfect. The most important thing is that each side is identical.
Begin at the top and lace the two pieces together. When you get to the bottom, tie each side on a knot and trim.
So easy, right!? Now find some flowers or branches for your new vase and add in a few other natural elements like driftwood and rocks. Add in a few books like Travel Home, Pacific Natural, Simple Home, or Down to Earth.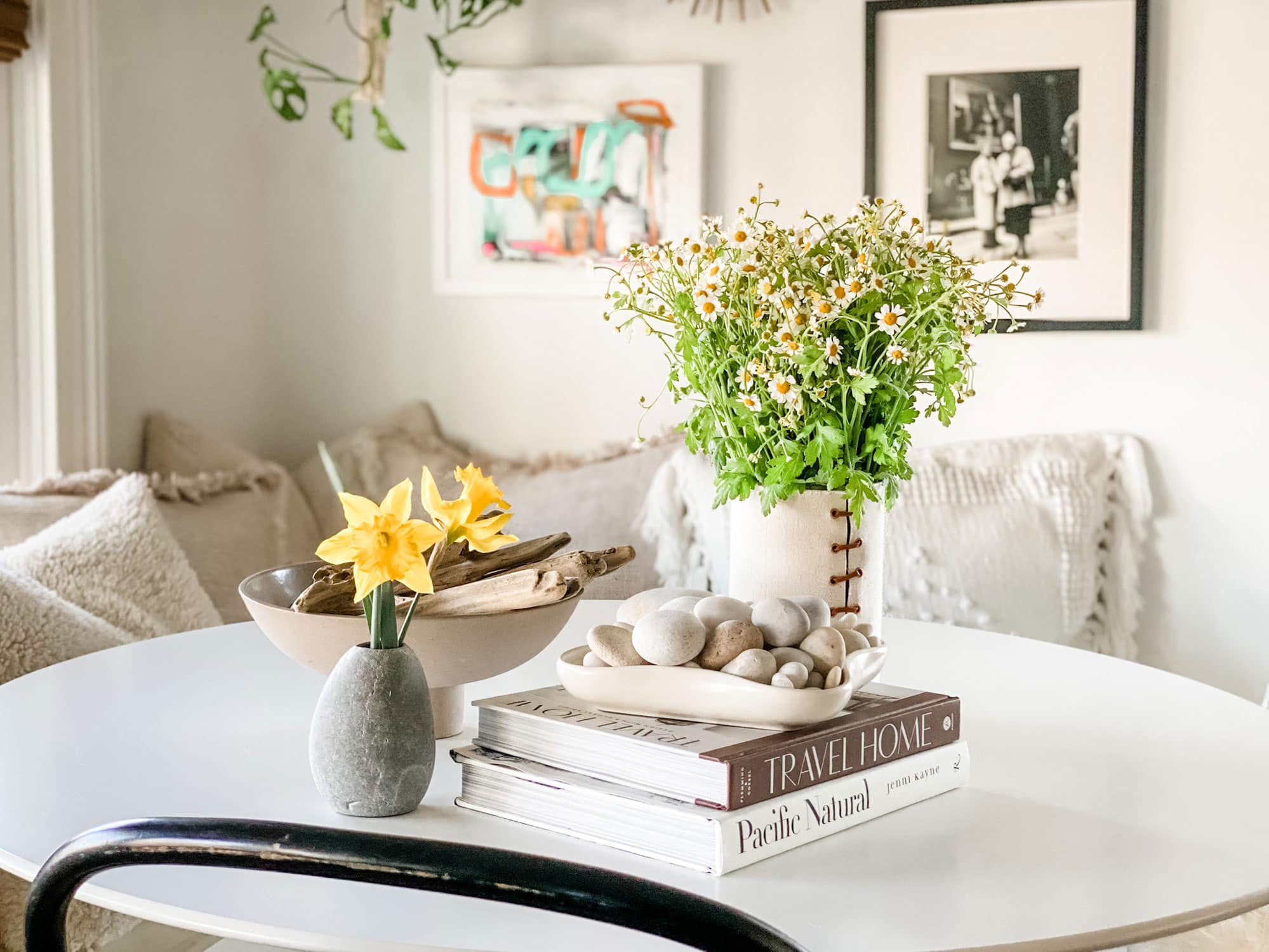 Shop for supplies


My 100 Year Old Home | DIY Craft Easy Vegetable Printing
Twelve on Main | Easy DIY Embroidered Tea Towels
Happy Happy Nester | How to Make Felt Flowers
Tattertots and Jello | Pillow Cover with DIY Macrame Fringe Trim

Most Lovely Things | DIY Canvas Wrap Vase
The DIY Mommy | No Sew Ruffled Tea Towel from Scrap Fabric
Zevy Joy | How To Sew An Apron From A Kitchen Towel
My Sweet Savannah | DIY Shibori Flag
Satori Design for Living | DIY Tea Towel Flatware Holder