*****GIVEAWAY CLOSED*****
Winner has been contacted, thank you for entering!
Does your front door say: welcome, I'm glad you're here . . . come on in?
I've always been big on curb appeal. The minute we buy a house, I'm planning ways to improve the first impression the house makes on a person. I want it to look beautiful and evoke that feeling of welcome. I want that first impression to say, "come on in…this house is cozy." Some changes were needed to get that welcome feel. We changed out the lights for these, added a new doorbell, a mailbox and used our same planters all from Rejuvenation. Then there's the door and hardware. Emtek has always been our choice of hardware for everything in our house from cabinet knobs and handles, door knobs to the front and back door hardware. My style has changed over the years and Emtek has always had the perfect selection. This is our fourth house where we have used Emtek hardware. You can find it at your local builder supply by using the Where to Buy search tool. keep reading for the giveaway!
Emtek Door Hardware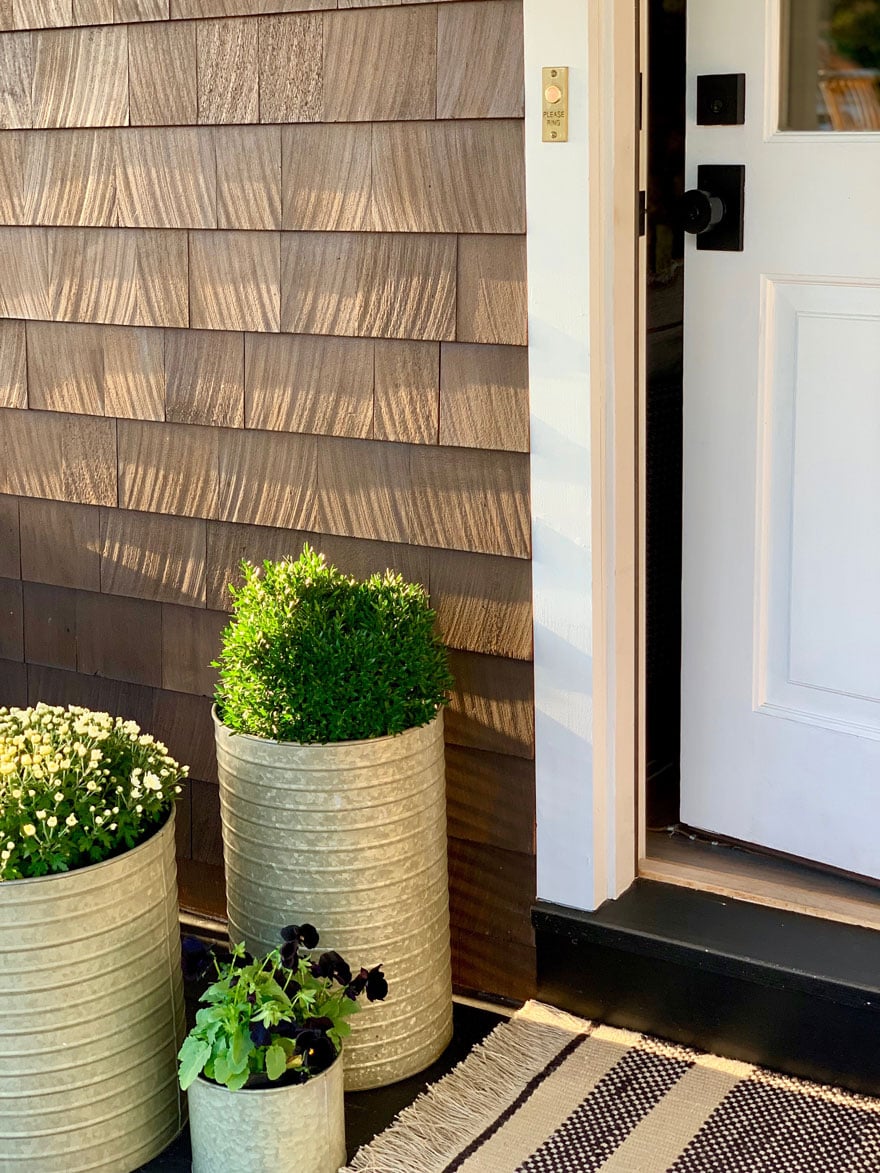 The original door (shown in before photo below) was in terrible shape. I loved that it was 3/4 glass like our New Canaan home, but this house sits street level and isn't as private. Since the door needed to be replaced, I decided on a one-lite clear glass over raised panels. We also used the same door, (slightly smaller) on the back door with the same Emtek hardware. We purchased the Brosco doors through Rings End in Darien, CT.
Shop the Post
Follow my Pinterest boards Entryways & Inspiring Entryway Door & More

Shop My Look
My favorite jeans are from Everlane along with the 90s loafer in white and the silky cotton over-sized shirt that's perfect for wearing on its own or layered under a sweater. My sweater is from Crimson in Paris. Madeline and I had the chance to visit the shop last summer. I adore Linda's style and you'll see a lot of it on my Pinterest board called Street Style.

The Before – (Real Estate Listing photo)
We could see potential when we bought our current home, but it sure needed some love. The dark green trim made it look more like a home you would see in the Adirondack's rather than a beach community. We knew right away that we wanted to lean into the natural shingles and go for more of an East Hampton cottage look. The original sconces on the home were placed too far away from the door and were more of a craftsman style. We replaced them with the Carson Wall Sconces from Rejuvenation. Brent was able to move the wiring so the new sconces were positioned closer to the door. We matched the stain by mixing a few together…and surprisingly you can hardly tell.
And After – (today)
The ceiling and porch floor were stained dark almost to match the house and it just seemed like too much dark stain. We painted the ceiling white like the trim and then stained the porch floor black for contrast. It's a little harder to keep clean because it shows dust, but nothing a leaf blower can't take care of in about 3 minutes! During the summer months we hose off the porch every weekend and a few times a year we power wash it to keep things looking fresh.
Giveaway with Emtek
Here's the exciting part..I've teamed up with Emtek to give one reader a chance to win an entry door lock set. Emtek will help you determine what kind of lock you need. (Value not to exceed $500 for one lock set, excludes electronic and smart locks). There's a lot to consider, that's why you want a quality company like Emtek. We have used Emtek on existing doors and on new doors. All you need to do to enter is the following:
Make sure you are following Most Lovely Things on instagram and tag 2 friends in separate comments.
Follow Emtek on Instagram
Leave a comment on the blog and for an extra chance, sign up to receive posts via email.
That's it…all you have to do is start looking at all the choices for beautiful entry lock sets from Emtek! Good luck!
Giveaway ends Friday, November 1st at midnight EST with winner announced Saturday, November 2nd.