From our porch to patio to a new potting shed area
At our last house, we really had the outdoor spaces figured out after six summers. We had the patio where we had a large enough space for a seating area and a dining area. Back behind the garage we had a planting area of sorts. It was an overlooked area that we brought back to life by clearing out the weeds and putting down pea gravel to define the planting bench area. The back of the garage made for a perfect backdrop and we had plenty of storage. The only problem was that it was a little out of the way. I would have to carry my plants, pots and soil back to the area and then bring them around once I planted. Not a deal breaker, but something I wanted to address at the new (old) house. We have a small backyard with a detached garage (that's just begging to be painted black). Below the back door stairs, there's a space that is in serious need of some attention. All winter I kept thinking that it might be a perfect spot for a potting bench. Close to the driveway, the garage and centrally located on the small property. I ordered this potting bench from Target and can't wait to get to work to create a beautiful and inspiring place to start making this yard as pretty as the last one. Spring is for new beginnings!
Porch furniture and a potting bench for the backyard
We loved our Standish outdoor furniture from Target and this year they have a sectional. For our new porch we really needed something that would suit a long narrow porch and this sectional is perfect!
We love the Standish outdoor furniture from target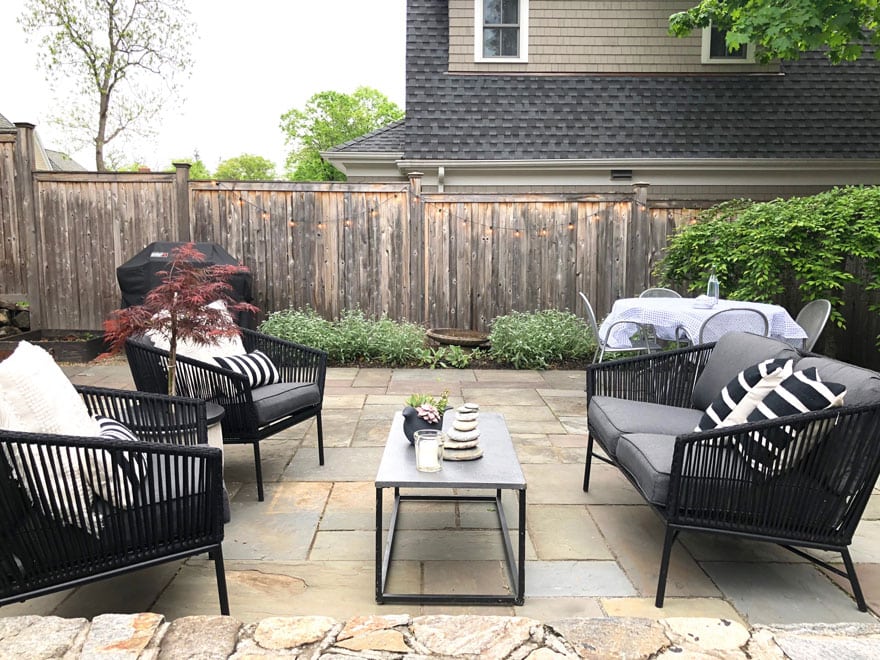 The Standish chairs, loveseat and this table, all from Target will go on our small patio in the backyard at the new house. The table is available again this year. We didn't like the color, so nothing a little spray paint couldn't fix. We used flat black on the base and a spray paint that looks like galvanized metal for the top. It needs a little touch up, but worth it for the price!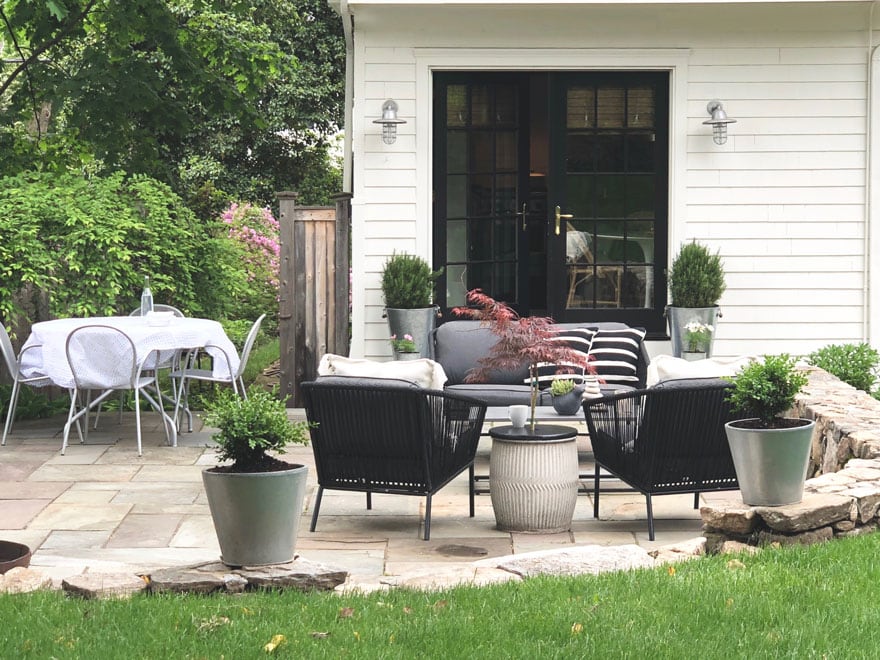 Accessorizing the outdoor spaces
In addition to the new sectional, we'll add in a few accessories. The table we used for the backyard works with the chairs and loveseat arrangement, but these stools from Serena & Lily are a better option to use with the sectional. What we love about the Sebastopol stools is that they can be used anywhere. We can use them paired in front of the sectional or on each side. They also can be used for extra seating. Now we just need the weather to warm up a bit so we can get to work!
Shop the post

You may also like this post on making a planter into a drink table for $5!
Or this post on our backyard potting bench/drink station.