You are going to want to make these easy ice cream sandwiches today! It's not a recipe, but I learned a few tricks along the way that you may find helpful!
[mv_video doNotAutoplayNorOptimizePlacement="false" doNotOptimizePlacement="false" jsonLd="true" key="qogfoy2ouetio6hatdmu" ratio="16:9″ thumbnail="https://mediavine-res.cloudinary.com/v1661018365/nxfft9cpd0saq7xsmfyj.jpg" title="Ice Cream Cookie Sandwich" volume="70″]
Here's what you will need for These ice cream sandwiches
A package of soft-baked cookies – I used Pepperidge Farm Montauk chocolate chip cookies. They are a pretty good size and soft. Why soft? You don't want them to crumble. The soft cookies freeze well; surprisingly, they stay soft and don't need to thaw to eat. You can take a bite right out of the freezer.
Ice cream
Toffee bits, nuts, or sprinkles
Here's how to make them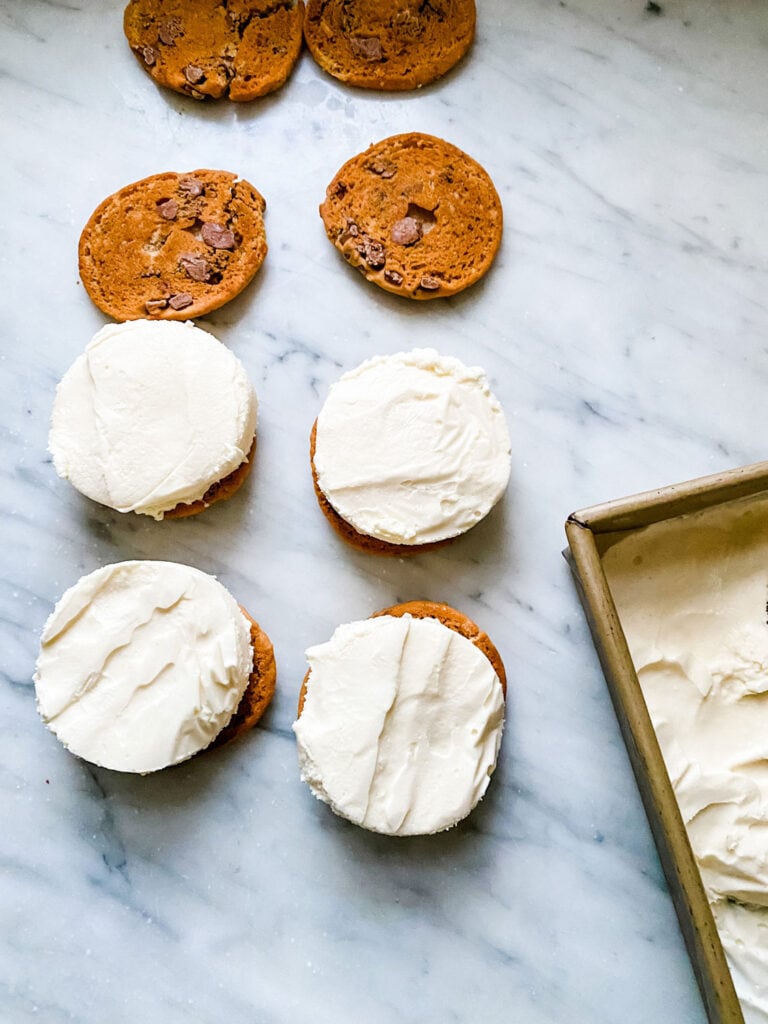 Put the ice cream on the counter to let it melt. Not all the way, but enough that you can spread it out in a cake pan.
Once it has melted, place it in a cake pan and spread it out as evenly as possible. Spread like frosting.
Then cover the surface with plastic wrap and place in the freezer. The plastic wrap helps prevent freezer burn.
Once the ice cream has frozen again, take a biscuit cutter the same (or close) size as the cookie and cut out discs like a biscuit.
Place each round disc on top of a cookie (on the counter bottom-up) and then place a cookie on top.
Roll the sides in toffee bits, crushed nuts, or sprinkles.
Wrap in plastic and store in a freezer bag in the freezer.
Special tools:
3″ biscuit cutter (one with a handle like this one would work well)
cake pan
plastic wrap and freezer bags

Note:
Work fast! If you are making several, try making two or four at a time. After each small batch, cover and refreeze the ice cream and then start again.
Have the plastic wrap squares on a counter ready to wrap once you are done. They will lose their shape if they start to melt, and we don't want that!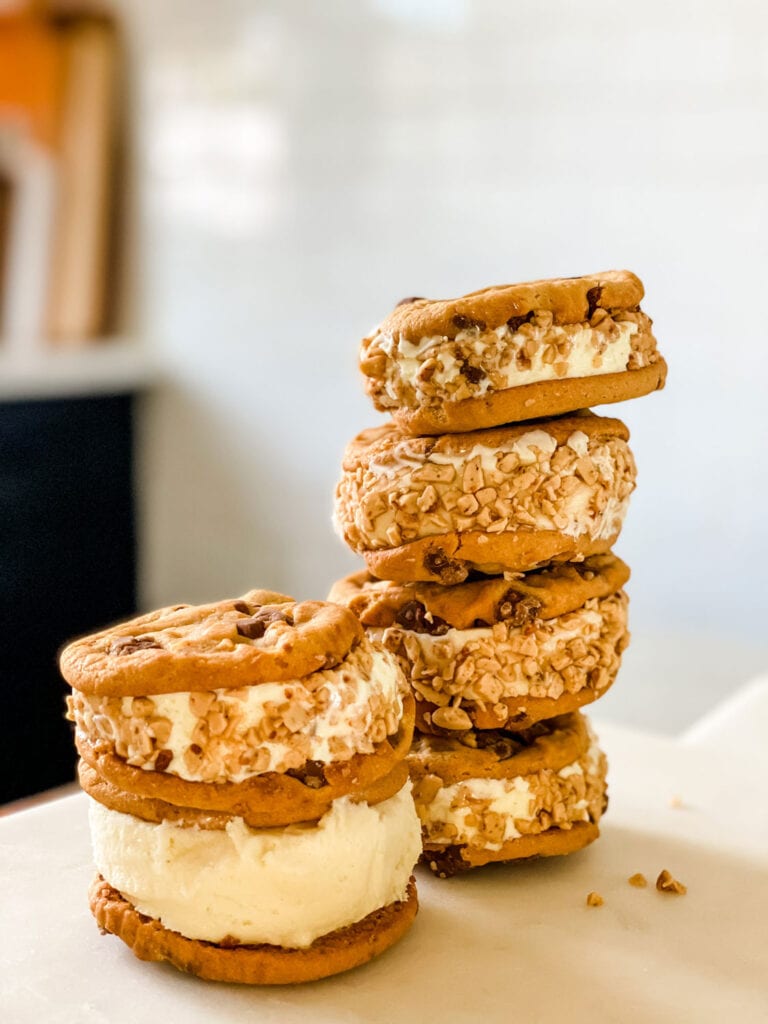 Substitutions:
So many possibilities here! I made vanilla with chocolate chip cookies. But I love the idea of cinnamon ice cream with a molasses cookie. This recipe would be perfect!
Or maybe a lemon crinkle cookie with vanilla or strawberry ice cream. The pink from the strawberry ice cream and the yellow cookies would be so pretty!
Another fun topping to roll them in would be graham cracker crumbs or Biscoff Cookie crumbs! Who knew that was even a thing? You could crumble a few Biscoff cookies, but I'm intrigued that they make Lotus Biscoff Crumble!
If you like this easy summer dessert idea, you might also like these:
More Sunday Favorites from the week
My friends Cindy, Mary Ann, and I share our favorite finds of the week every Sunday. It's like our little weekly chat.
2. Mary Ann and I discovered that we both love the same pair of jeans from Loft. I'm 5'10," and Mary Ann is 5'1″, yet we both love them. I would say that's a heck of a great pair of jeans.

3. I read this in the New Yorker yesterday: The Nora Ephron We Forget.
4. Madeline wrote this article in Travel & Leisure, reminding me of what I truly love about travel. Read it and let me know if you can relate! Why I always Visit Local Supermarkets When I Travel
5. I'll join a bloggers' group next Thursday to share ideas on fall decorating. Since it's still August, I refrained from pumpkins and mums, even though they are everywhere right now. However, I found these lovely hand-loomed pillow covers from Pottery Barn that are just the refresh I needed to get me to fall!

Let's pop over and see what Cindy and Mary Ann found this week!