With Easter just a few days away, I thought I would share a roundup of our favorites for spring from recent years. A few crafty things (I can't help myself) and a few ideas for spring tables using mostly what you have on hand!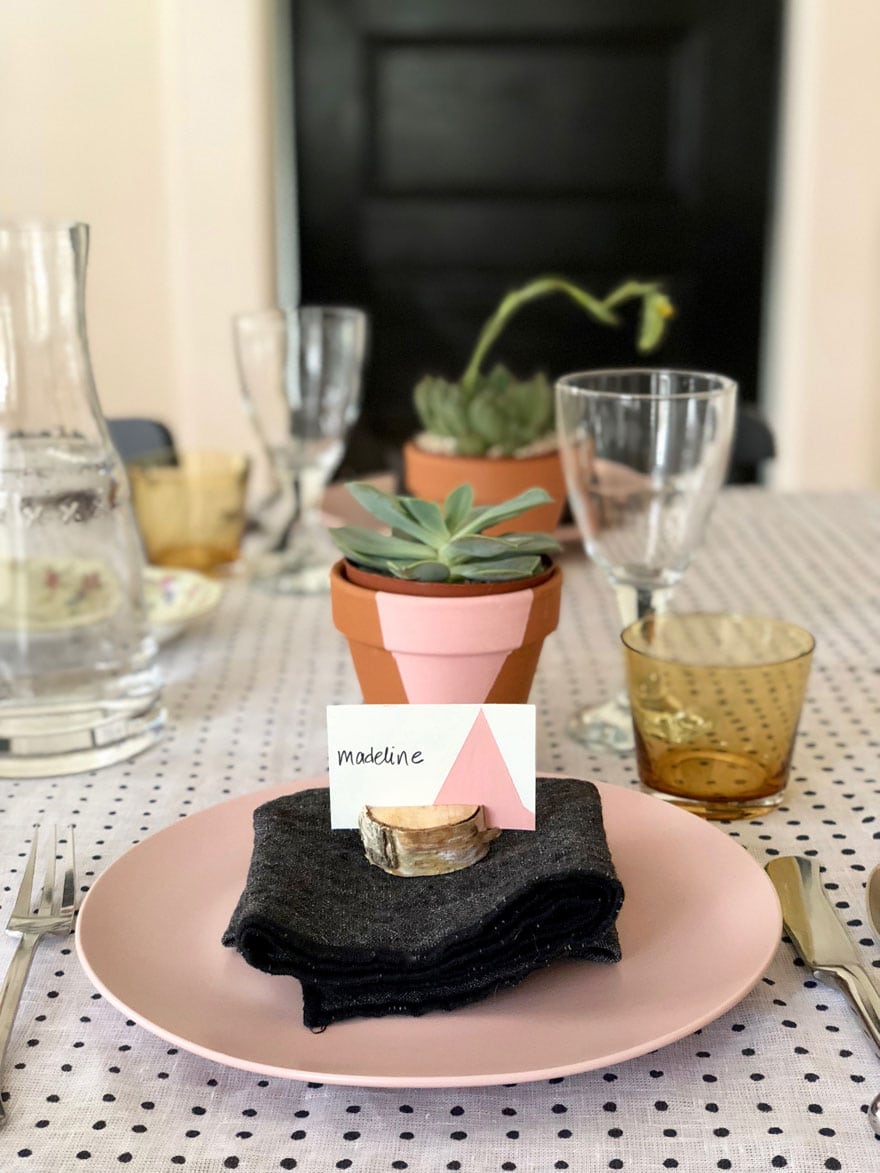 Simple DIY Painted Pots with Succulents
We used pink paint in simple shapes to create place cards and then continued the design on pots of succulents for a simple Easter table.
How to put together a simple spring brunch for the girls
How to put together a simple spring brunch for the girls that even includes a little parting gift of flowers and seed packets.
How to make a paper bag bunny
How to make a paper bag bunny that you could use instead of an Easter basket or on the table as part of the decor. They are so sweet and yet so simple to make.
Mini Easter Basket Treat Cups
I set out to make some mini Easter basket treat cups, but naturally, I wanted to use things I had on hand. Isn't that the most fun when you can make something fun, beautiful, or useful using things you already have? I decided to use inexpensive seed pots.
Easter Place Card Nests for a Natural Table
I made Easter place cards that are mini nests using all foraged elements, plus little quail eggs that I purchased a few years ago at Terrain. You could also use chocolate eggs!
Easy Birch Twig Spring Wreath
Make an easy birch twig spring wreath. I used foraged birch twigs and moss and hung it using frayed canvas ribbon.
How to Make A Simple Spring Flower Wall
I used three or four of those little bundles of daffodils you find at all the markets this time of year and my propagation wall. You could also use cups or bottles on a shelf.
How to set a nature-inspired spring table
This lovely iron garland from Terrain is the perfect starting point for a nature-inspired spring table.
Let's make easy easter cookies with lemon curd yolks
A shortbread cookie cut out in egg shapes, then add lemon curd; a round cookie cutter creates the yolk for an Easter lemony sandwich cookie!
Make this easy, fun centerpiece for easter.
Chocolate bunnies unwrapped, some moss, and a few spring plants like daffodils in a candelabra from Anthropologie creates this unique Easter centerpiece.