5 easy ways to refresh your home for spring because we are all more than ready! Today I'm joining Mary Ann, Cindy, and a few friends to bring you loads of simple ways to turn your home over from winter to spring.
1. The first way is to bring in some spring plants
I started forcing forsythia this year in late January, even before it was available at the flower shops. I clipped the long branches and within a few days in the warm house, we started to see little yellow flowers.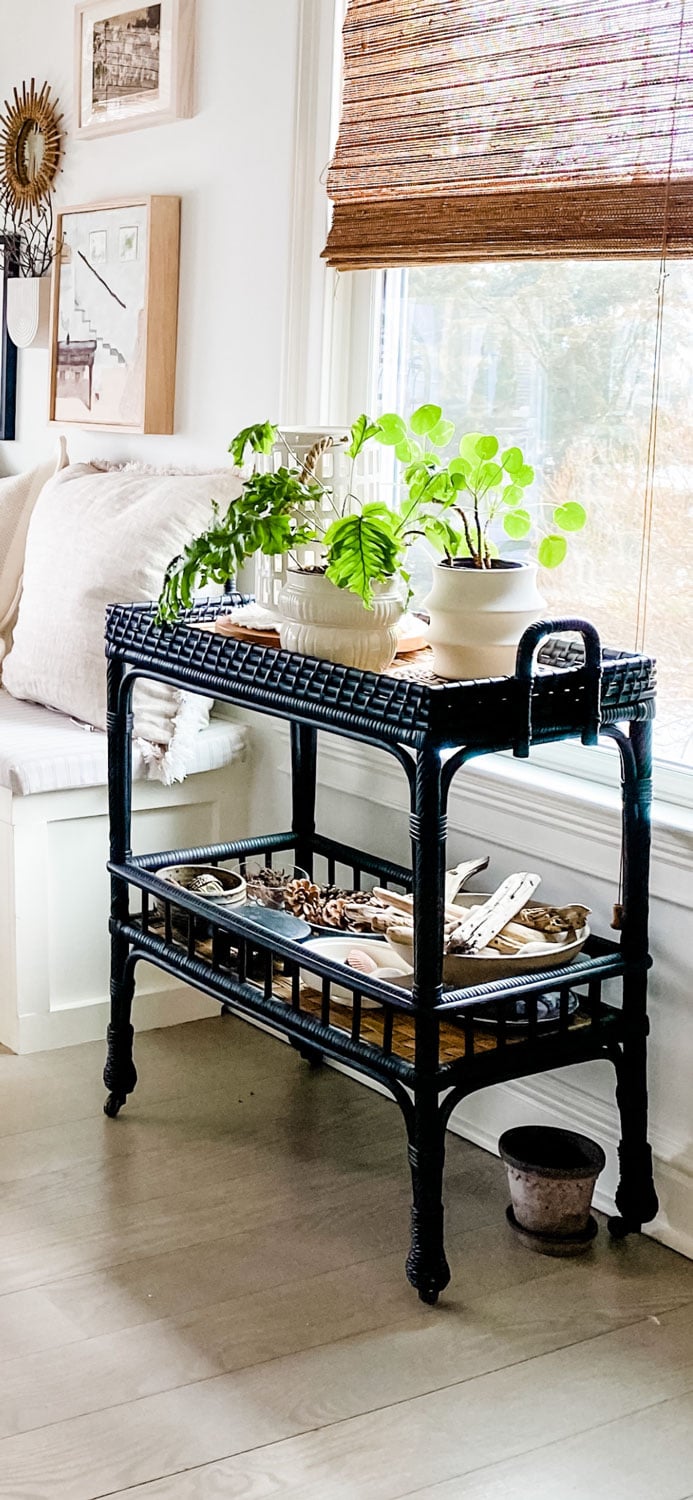 A few potted plants like lavender, jasmine, and a few bulbs make everything feel fresh. I made the planter for the jasmine using twigs and a torn piece of canvas. (See it on my Instagram here). On the Saarinen table in the corner banquette, I have a new wicker vase and a few blooming branches. The South Seas Side Cart from Serena & Lily is currently on sale! This is a piece that moves from room to room and we use it on the porch all summer. Perfect for holding spring plants and it's great for entertaining.
2. Easy DIY St. Patrick's Day Centerpiece
Make a causal centerpiece using glass jars with shamrock plants and a candle that you can use all spring
I bought two plants from the grocery store and then used everything I had on hand to make two lovely glass jar planters with candles for a simple centerpiece. They have the look of a terrarium with the stones, moss, and plants all within a glass jar, but it's so easy to make. You only need a few supplies and they will last for weeks with just a mist of water every few days.
The Supplies for easy DIY St. Patrick's Day Centerpieces:
[mv_video doNotAutoplayNorOptimizePlacement="false" doNotOptimizePlacement="false" jsonLd="true" key="jsogq7jtoobou5fz0lcz" ratio="16:9″ thumbnail="https://mediavine-res.cloudinary.com/v1646865563/xwtgtgxy3efbnzfqynsn.jpg" title="Saint Patrick's Day Centerpiece" volume="70″]
2 clear glass cylinder vases or jars with a wide enough opening to accommodate a 4″ potted plant with a little space
small stones, slate pea gravel
2 – 4″ spring plants like Oxalis (watered)
copper or any kind of sturdy, but bendable wire ( I used 18 guage wire)

How to make the glass jar centerpieces perfect for spring and St. patrick's day
Get your supplies from the list above organized and spread out a sheet of kraft paper or a brown paper bag to protect your work surface and to keep things clean if you are working indoors. (And since it's March, that most likely the case).
Mist the moss on both sides with a little water using the spray bottle.
Pour a 1/4 to 1/2″ layer of small stones or slate pea gravel in the bottom of your jar or vase
Carefully wrap plant in the orignal nursery pot with the moss sheeting. You can secure it or just carefully place it into the jar like I did.
Take about 15″ of wire and wrap it around a taper candle leaving about 2″ on each side. These will be the "stakes" that go into the plant to hold the candle in place.
Carefully place the candle into the soil of the plant deep enough to be secure.
Light and enjoy!
3. Change out pillows, throws & rugs to refresh the house for spring
A room filled with plants always feels fresh
I'm not quite ready to store away all the cozy items, but a few new pillow covers in linen makes it feel fresh while still being cozy. We love a hygge home in the spring as much as the winter.
These pillows are from Pottery Barn. The charcoal gray covers are made of Libeco linen and they are quite lovely! The Faye Linen textured pillow covers are on sale!
A new rug in the kitchen, mudroom, or at the front door (inside and out) can make a world of difference especially if you live where you have four seasons. Our entryway rugs can really take a beating during the winter months. A new runner in the kitchen feels fresh too! I have this rug in my living room too! They are so well priced!
4. Nothing says spring more than a pretty bowl of citrus
Nothing says spring like a big bowl of citrus on the counter. When my husband and were first married we lived in Phoenix and we had several fruit trees in our yard. I remember in the springtime waking up to the smell of orange blossoms. I was attending Arizona State University and walking through the campus with the scent of orange blossoms is something I'll never forget. To this day, I love having a bowl of oranges on the counter or table in the springtime. I love this marble bowl that shows them off so beautifully!
5. Change out your bed sheets for floral for a spring refresh
I love these floral sheets from Anthropologie, but then I remembered that I had some floral sheets. They are so old, but I could never part with them. For years they seem outdated, but now it's like having a new set of sheets! And just like everything, what was out is in again!
So what will you do to bring in a little spring into your home? Let's go see what these lovely ladies have done for a little spring refresh at home!

Most Lovely Things
Cindy Hattersley Design
Classic Casual Home
Northern California Style
Dimple and Tangles
5th and State
Shop the Spring Refresh Post!