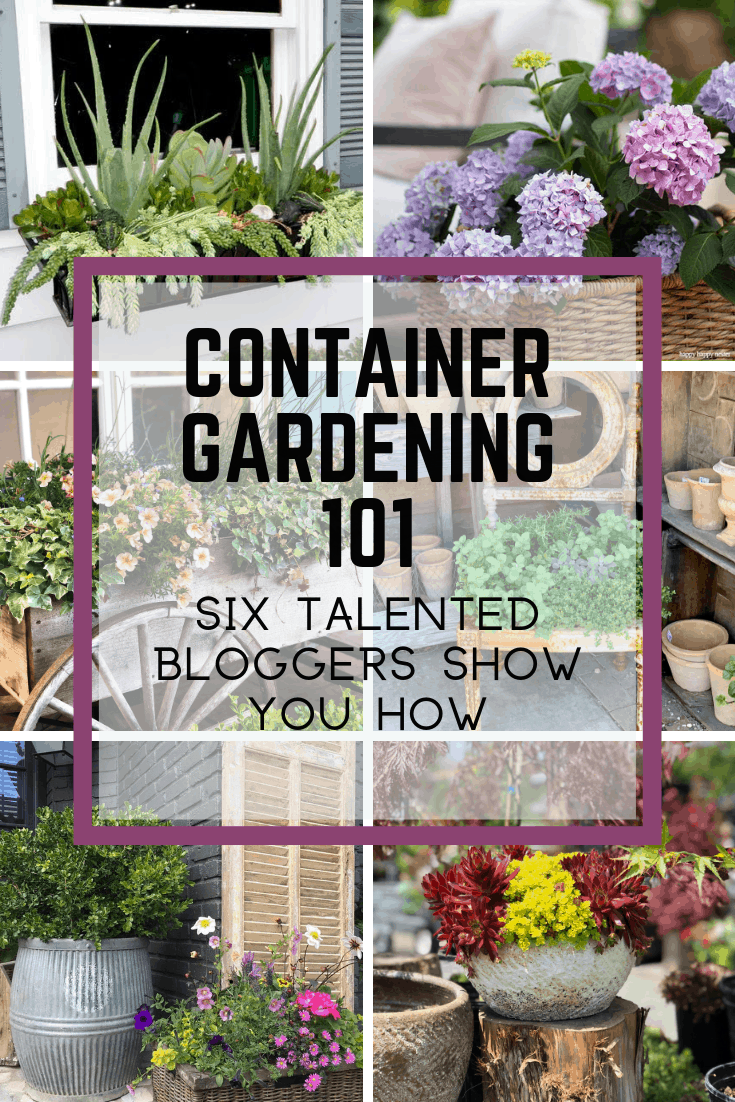 I'm joining some lovely and very talented ladies to talk about container gardens. I do love a container garden because they are so manageable. Spring has come very late here in the New York/Connecticut area so I took a day and visited two of my favorite nurseries to get some inspiration. The day I decided to visit the nurseries turned out to be a beautiful day and would have actually been a perfect day to plant, but that was not the plan. I did manage to make a small indoor or outdoor succulent garden for about $10 using succulents from Home Depot in one of those already made up planters (but a great buy and a lot of variety for $10) and everything else I had on hand. I also made a wonderful gardener's hand cream using essential oils. So keep reading, but then make sure to check out posts from Cindy, Mary Ann, Debra, Kelley and Janine! You'll get so much inspiration!
Cindy Rough Luxe Lifestyle
Mary Ann Classic Casual Home
Debra 5th and State
Kelley Kelley & Company
Janine Happy Happy Nester
Terrain
Westport, CT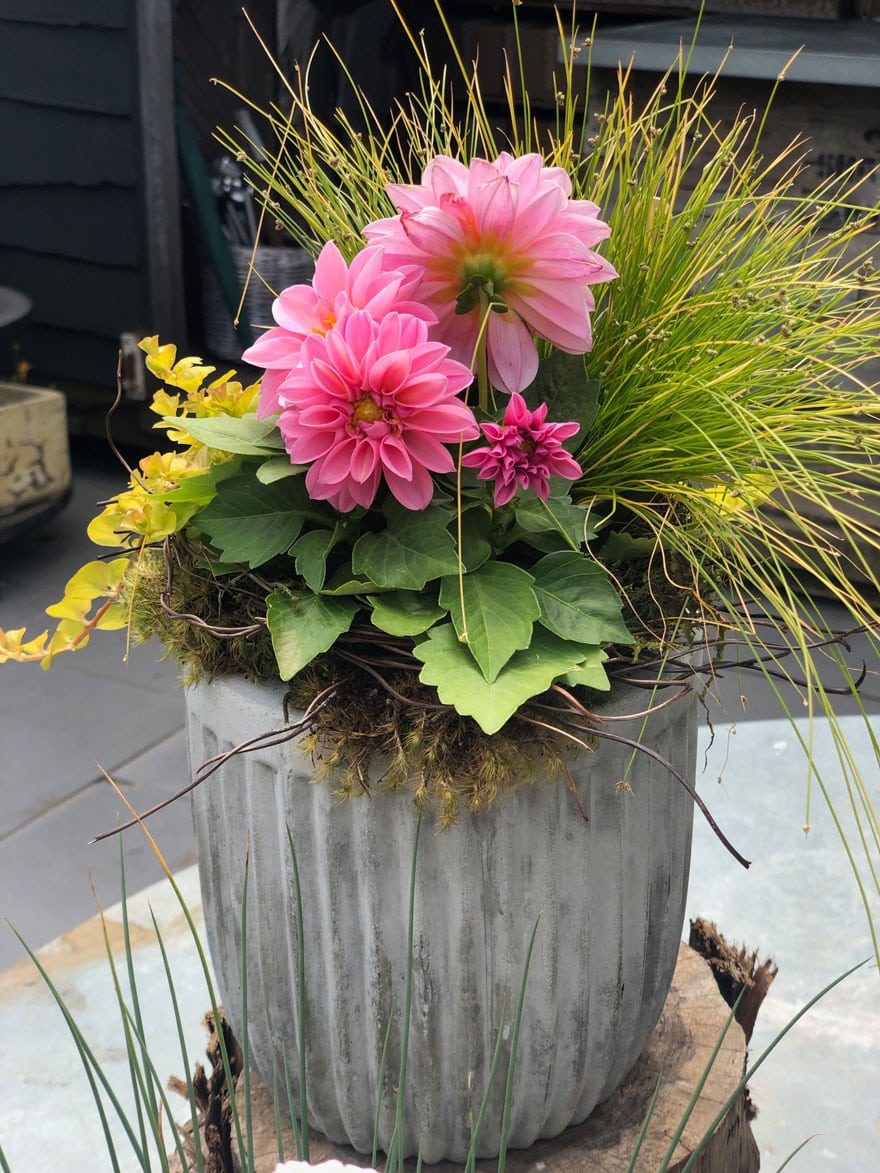 I love visiting Terrain any time of the year, but spring is my favorite. They are so creative with the way they mix plants, pots and they way they display them…atop a tree stump.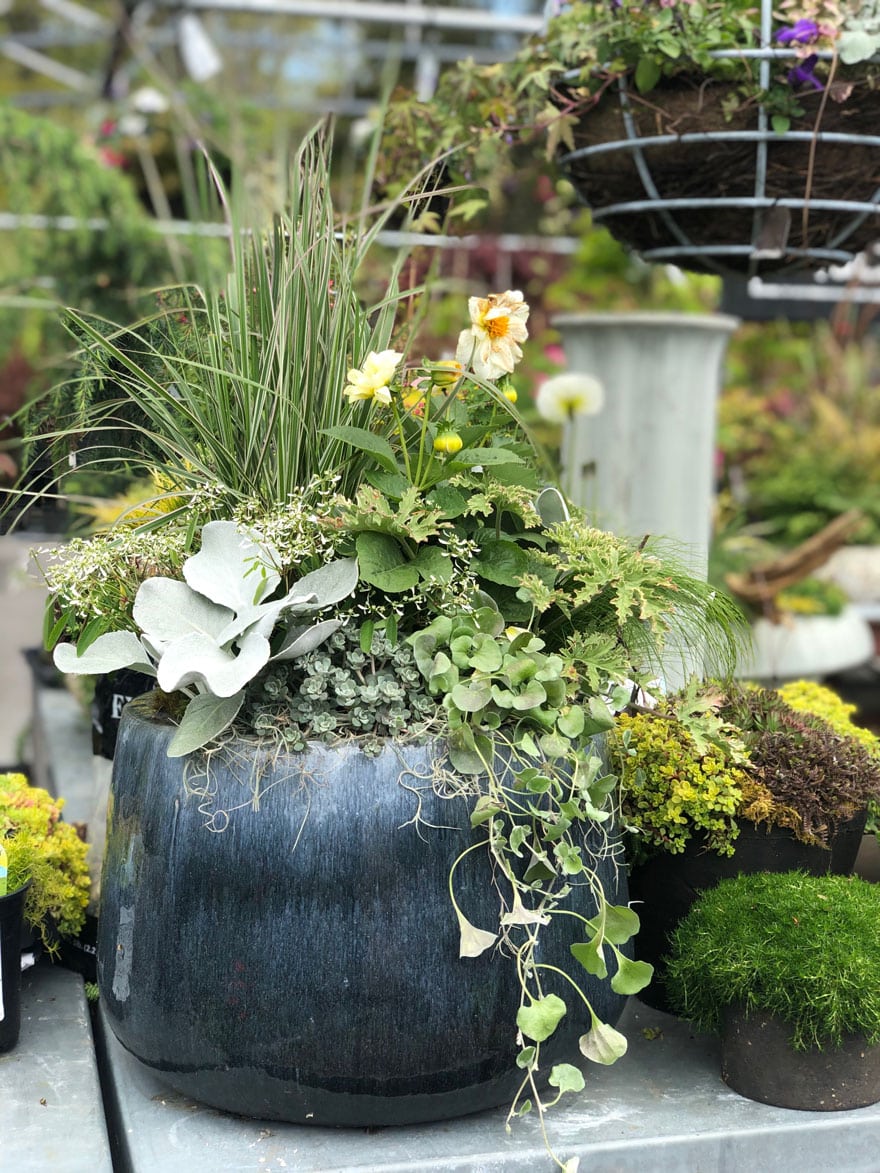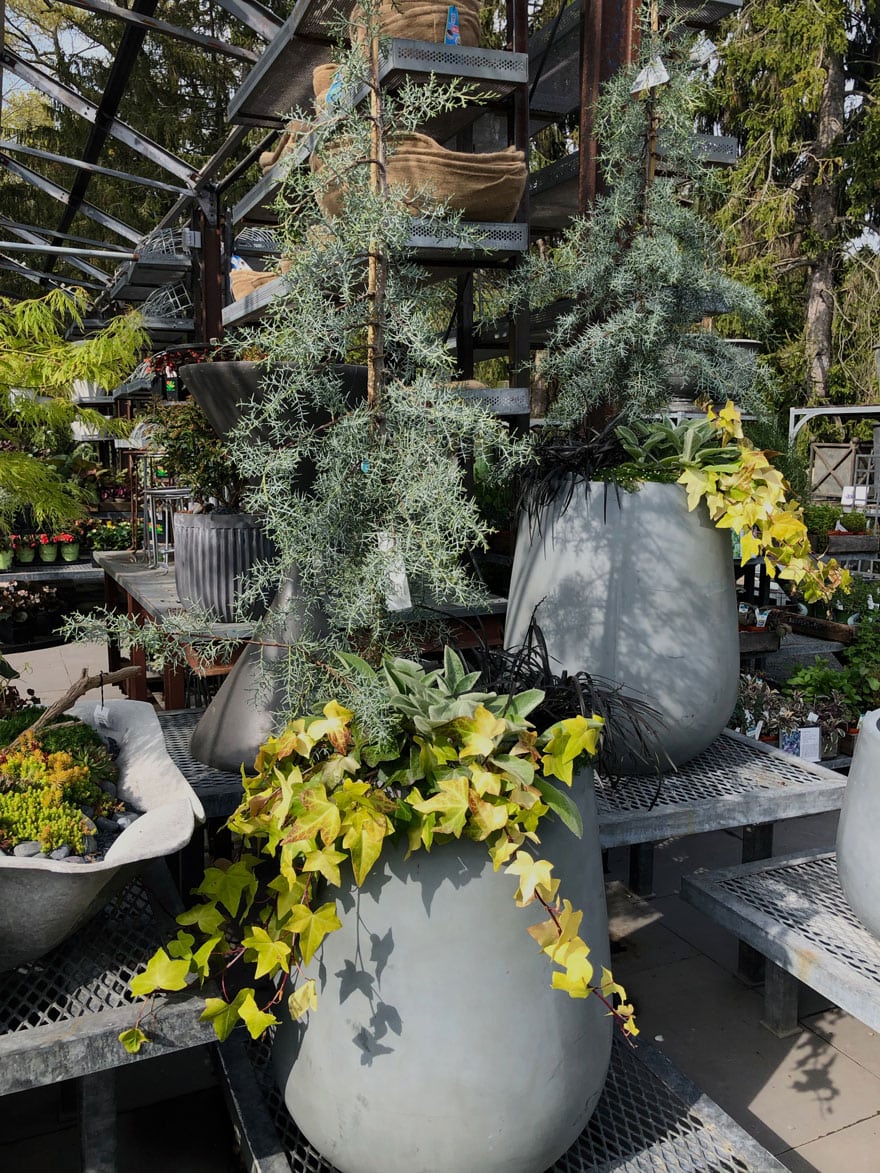 I love the mix of a blue type evergreen with the bright green potato vine in a cement pot at Terrain.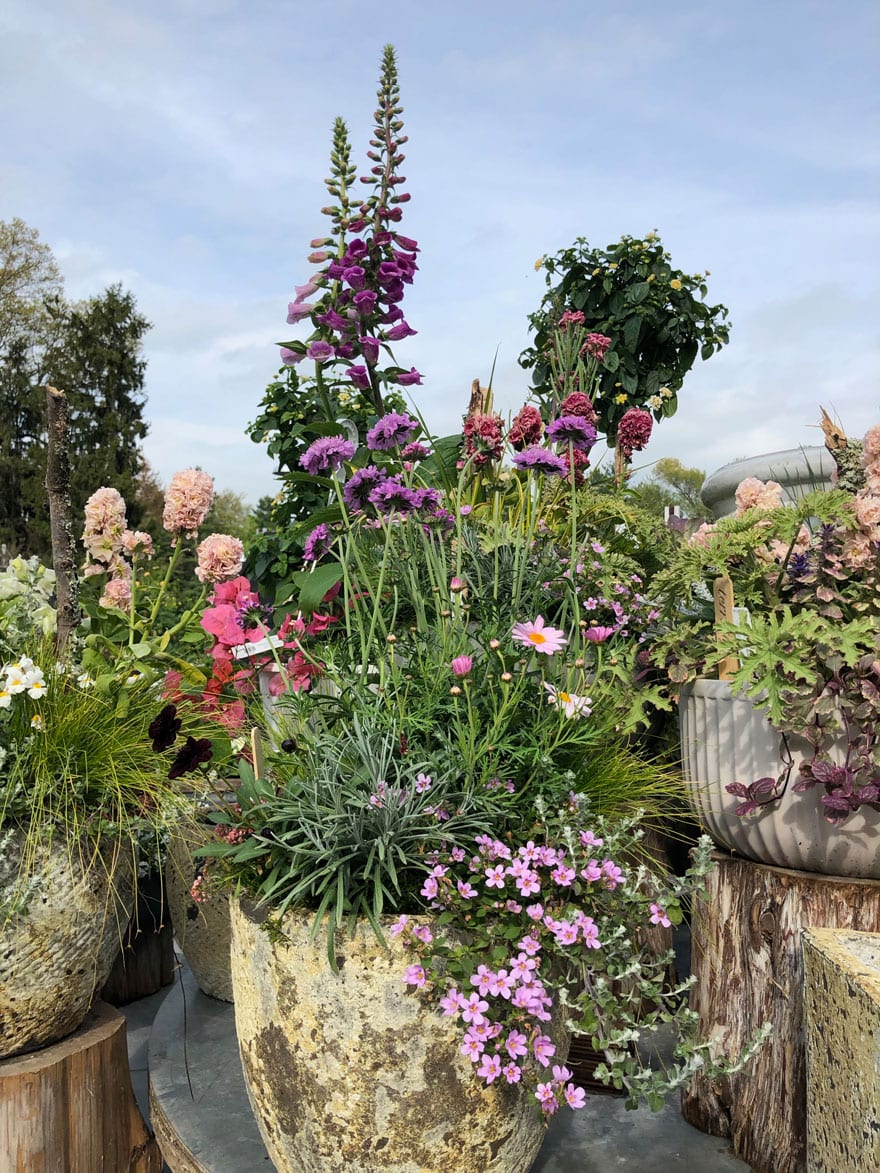 The rustic planters and wild flower look worked beautifully. Each had a birch branch nested in amongst the flowers. It was almost lost with all the flowers, but a nice touch and easy to replicate.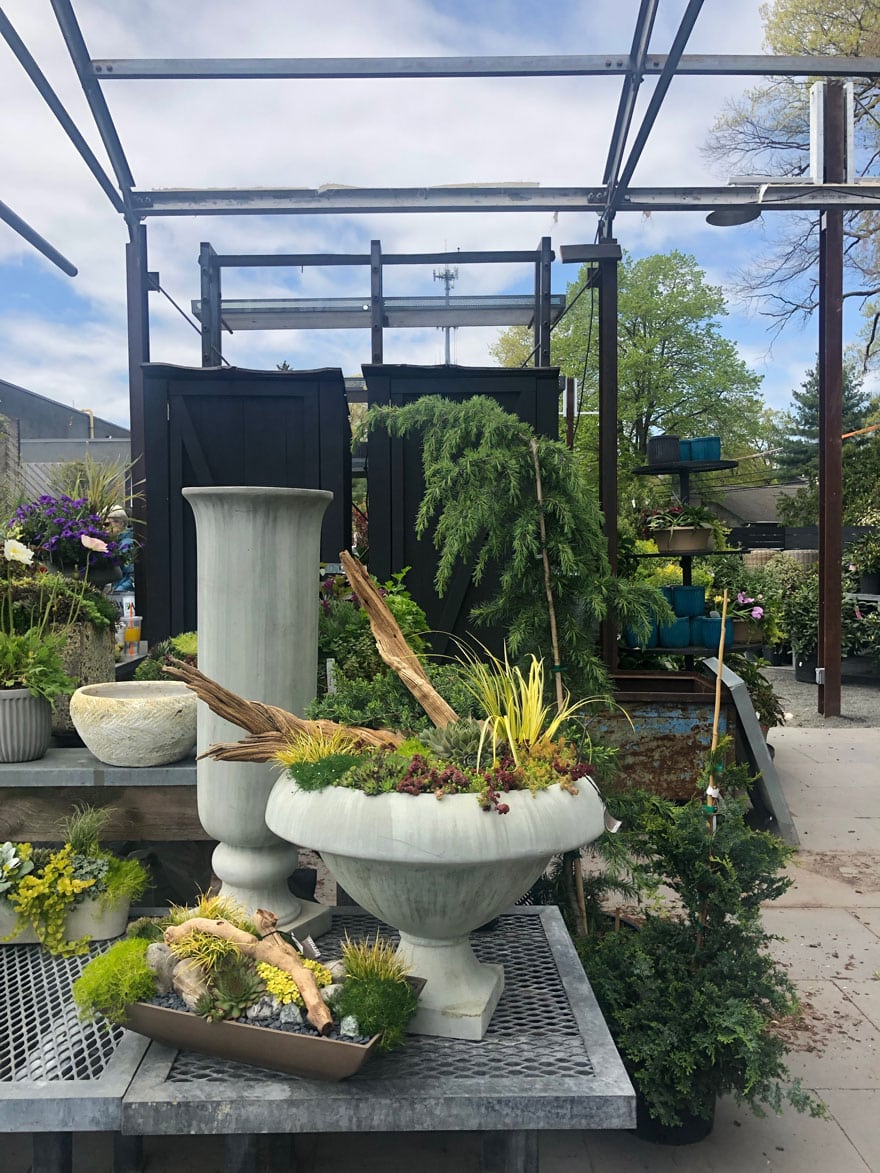 Seeing these flat moss and succulent garden with pebbles, rocks and driftwood got me thinking…especially since the price in the one above was $178.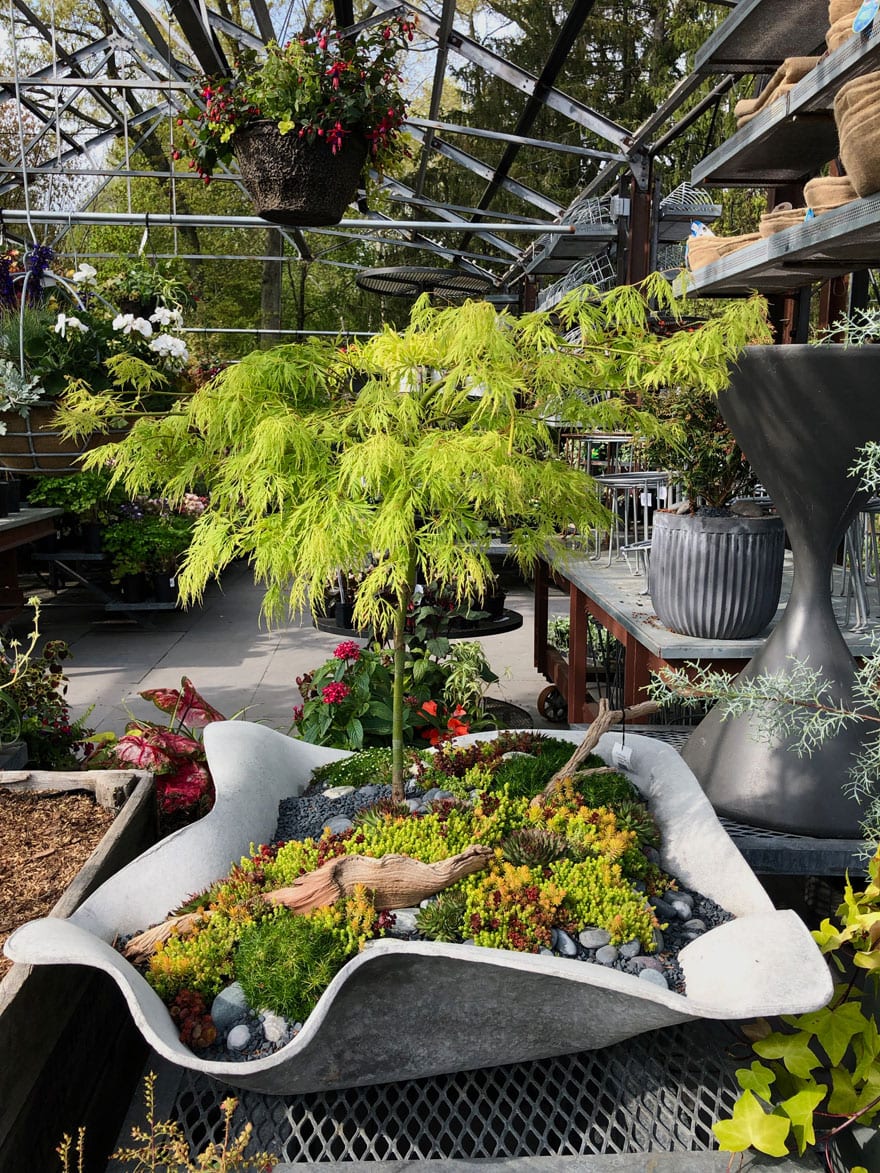 I love this Japanese Maple in what I'm calling a wave planter.
Fairfield, CT
My friend Diane Karmen introduced me to Oliver Nurseries. It is one of the most beautiful nurseries I've ever visited. We went the first time in early Spring and I could not wait to go back.
This planter has a mix of plants including the Hellebores and pansies that could easily be swapped out for more mid-summer flowering plants like a geranium.
I love the variety of coleus (top photo) in planters. The colors are intense and the texture and patterns mix with anything.
A $10 Succulent garden
I Gathered an assortment of moss at a local park with hiking trails. I had some stones and driftwood that we collected at the beach and jars of purchased small gravel that I had from another project. I think this was from Terrain, but I have found it at Petsmart where they have aquarium supplies. I layered the shallow copper tray with a little pea gravel from the driveway for drainage and layered in potting soil, the succulents, moss, gravel, beach stones and a piece of driftwood. All for $10!
Gardener's Hand Cream
With Essential Oils
Print
diy gardener's hand cream
This is a hand cream that is perfect to use after a day outdoors especially after working in the garden. 
Author:
Prep Time:

5 minutes

Cook Time:

10 minutes

Total Time:

15 minutes

Yield:

3

small jars

1

x
1/2 cup

unrefined shea butter

2 tablespoons

beeswax pastilles

4 tablespoons

sweet almond oil

20

drops Royal Hawaiian  Sandalwood essential oil

20

drops Frankincense 
Instructions
Set a small glass bowl that fits above a sauce pan filled with about an inch of water and bering to a simmer.
Add the shea butter, beeswax, and sweet almond oil to the bowl and melt slowly over low heat, continually stirring.
Once everything is melted, let cool for 5 minutes
Add in the essential oils and stir to combine
Pour into individual jars and let it harden completely. 
Notes
This hand cream really nourishes your hands, but is a bit too greasy to use everyday.
Keywords: hand cream, diy hand cream, essential oils
At first it seems that the beeswax pastilles will not melt, but just as the Shea butter is completely melted, it all comes together and is smooth.
This little jar of hand cream really feels good on my hands and arms after a day working outside. Frankincense is a powerful astringent and helps protect skin cells and is even good for age spots. Royal Hawaiian Sandalwood has a scent that is woody and honey-like. It has many benefits that include repairing the skin. If you want to know more about essential oils, you can read this post.
I hope you have some fun plans for the long weekend! Mine will include a little gardening for sure! Make sure to check out the container gardens of these bloggers: Cindy, Mary Ann, Debra, Kelley and Janine.
xo annie
Shop the post