To enroll with me, ORDER HERE and make sure the number 18171093 appears in both the "Enroller" and "Sponsor ID" fields. Signing up as a member does not mean you have to sell oils. It just means you are getting a starter kit and therefore you'll get, 24% off retail prices. Next you can choose to set up your Essential Rewards monthly autoship. We recommend this as a way to order those oils you wish to have outside the kit and begin to cut toxins from your home with the YL cleaning products, personal care products, and the healthy & fit products to name a few.
Essential oils have replaced scented candles at our house!
We started using essential oils mainly in our diffuser and the more we used it the more we loved it. I started replacing my scented candles with essential oils after reading about how harmful candles, especially scented candles can be for the indoor air quality. I admit, in the beginning I didn't think anything could ever replace a wonderful candle…for the earthy scent, the glow and just the all around hygge it provides. I'm home quite a bit and during the day I would have a candle lit almost all the time. I'm careful to trim the wick, but still I would notice the soot that scented candles would give off. You can read more about the dangers of scented candles here and here.
What I love about this diffuser is that it can be used with or without sound and light. While the sound is lovely and very spa like, I always turn it off and also set it so the golden light stays on. The Aria diffuser covers about 450 square feet. I showed a photo of where we put it so you can see how in our home I really get the benefits of it in the main floor living areas. Below are some of my new favorite blends…for just about anything. We're just getting started…
When you have a cold: peppermint, citrus fresh & Thieves
My husband had a cold so I used a combination of peppermint, citrus fresh and Thieves which is a powerful combination of rosemary, eucalyptus and cinnamon bark.
On a snowy night: clove, cinnamon bark, grapefruit
We drove home from the city in a snow storm and I wanted the house to smell warm and cozy so I used a blend of clove, cinnamon bark and grapefruit.
In the morning: orange, lavender, peppermint
My favorite for mornings usually include something citrus like the citrus fresh, orange, lemon or grapefruit combined with lavender and a drop of peppermint.
Better sleep: Stress Away
We just added a small diffuser in our bedroom for more restful sleep. We've been using Stress Away and I have to say…it seems to be working. We may try a few different blends or just stay with what works.
Chamomile Tea with Peppermint essential oil
Now that I have two diffusers and I just ordered this one for the office, I've started using essential oils in small ways all around the house. We made chamomile tea with fresh flowers from the plant and added a drop of peppermint. It is so soothing and the one drop of peppermint really clears your sinuses when you breathe in the steam from the hot cup of tea.
As I read more and more about the benefits of essential oils, I've begun to add more ways of using them each week. I just started adding a drop of lemon essential oil to an 8 ounce glass of sparkling water each morning. It's amazing how one drop can add so much freshness and lemon has numerous health benefits.
While I can't say we are anywhere close to having a chemical-free home, we are taking small steps and each step just feels right.
I'm curious if you are using essential oils in your home and if you are using them, I would love to hear how. Over the next few months, I am going to talk more about this and would love to get your input. You can always email me at annie@mostlovelythings.com, anniediamondlivingwell@gmail.com or just leave a comment. Read below for ordering information and FAQ's.
How you can order Young Living Oils –
Sign up as a member which does not mean you have to sell! What it does mean is that you are ordering a starter kit and that you save 24% on every order.
Order here and enter my number 18171093 for both "Enroller" and "Sponsor ID" fields.
Why Young Living?
Young Living has an unmatched Seed to Seal process that guarantees the purity of every oil. Young Living sets the standards for planting, growing, harvesting, distilling and producing essential oils. Young Living invited you to visit the farms and participate in the harvest/distillation process to get a first hand look.
How do we use essential oils?
When I first received my kit I started using the oils in my diffuser right away. We loved it and then quickly I was looking for ways to use oils in many ways from safer cleaning products around the house to skin care.
How will I learn to use my essential oils kit?
You'll get a lot of material with your kit that explains each oil and every product. As a member, you'll also be invited to a private facebook group.
What should I order?
I highly recommend starting with a premium starter kit. The kit will include 12 of the most commonly used essential oils and your diffuser. It's the best value and provides you with everything you need to get started using oils. You will receive over $300 worth of product for $160.
What else will I need?
Below are a few things I ordered to use with my essential oils. At first I just used the oils with the diffuser so I didn't need anything else, but as I started using them around the house, I needed things like carrier oils, a small tray to hold all my oils in one place and a few roller and spray bottles. I also just ordered these labels that go on tops of the bottles so that if you're storing on a tray, you can find exactly the oil you are looking for at first glance.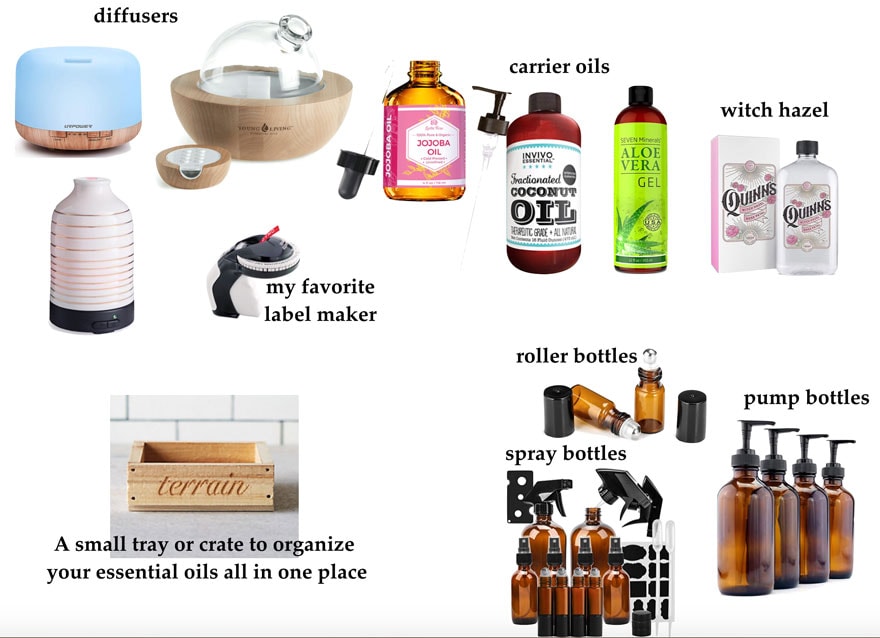 Small tray to hold essential oils