We have reached the final post for One Room Challenge and our attic space is done. Coincidently, (or maybe not) this is perfect timing for ORC and because we wanted this space to look and function at its best for our son.  Patrick just finished his first year at Syracuse and is home for four months!  How is that possible?  I digress…  This space was one of the reasons we knew this house would work when we were house hunting from California.  We knew we would need a space for our then 13-year-old to have friends over.  In our old house in Connecticut it was a walk-out basement, in Dana Point, California, it was a garage that was sort of converted to a hang out space, and now in an old house back in Connecticut, it's an attic.  We make it work!
Stikwood transformed this space!
The biggest change to this space was adding Stikwood to the end wall.  We have been wanting to do something to break up all the white slanted walls, ceiling, and floors.  Once we discovered Stikwood, we knew we had found the perfect product. It was easy to install; the only difficult part was that it required a lot of up and down the stairs for each cut.  Stikwood has easy tools and instructions to make measuring and ordering simple.  They call it Workbench and here you'll find tips and videos to help you with your project. You can read more about our experience with Stikwood on this post.
We used our existing black leather sectional sofa.  I would have never spent the money for this space, and using it just makes sense.  If we move and want to use it again In a family room, we can get new inserts for the cushions and it will be like new (sort of).  We removed yucky wall to wall carpeting and painted the floors white.  We used a black shag rug that we had and it does warm up the space and makes it comfortable.  Would I like it better without the big black shag rug?…YES, but comfort was a top priority.  Somehow my family does not think my blog/instagram feed should win over comfort!
We also used a square coffee table that we had from RJ Imports in California.  It is solid and perfect size for the space and sectional.  It was originally painted a yellow-ey off white and I can't say why it took me forever to decide to re-paint it using Decorative Chalk Paint by Annie Sloan.  I used Graphite and Pure White to create a blue gray.  On top I used a big round basket/tray from Serena & Lily.  The locker night table that we are using as an end table is from Target and the black marble lamp on top is also from Target.
This space also serves as guest quarters for college friends visiting.  I used sheets and extra cases from Serena & Lily and the totes from S&L hold toiletries, water bottles, and snacks for our guests.  They can take the bag when they leave if they want or leave it and I'll re-stock. The little eyeball sconces are perfect for individual lighting for each bed.  We used this table between the beds. When purchasing something new I always think of ways I'll be able to use in other areas if the house and the Bamileke Round Side Table would work in almost any room.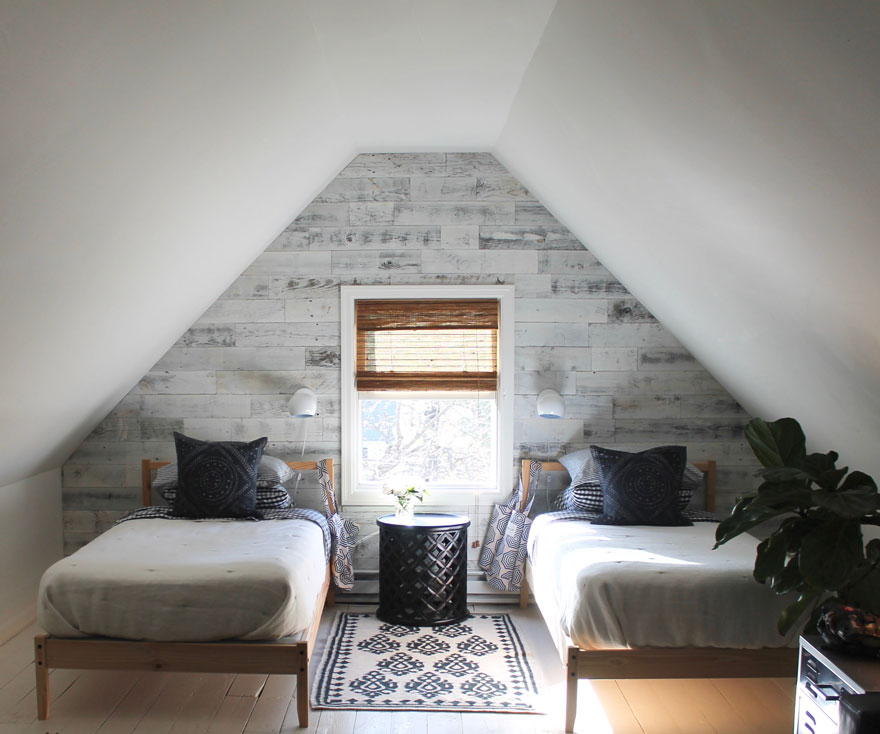 The opposite end of the attic from the wall with Stikwood we have two desks from Ikea.  In the corner we have a locker cabinet, also from Ikea and a small refrigerator.  I couldn't quite justify the mini black Smeg refrigerator for $1,000, but I did find this glass Igloo refrigerator at Walmart for $170 and it shipped free.

I now know why I never showed the attic before on my blog or even on instagram…it's difficult to photograph!  But thanks to ORC, it's done! Check out what all the featured designers' projects here and over 180 Guest Participants right here.
Featured Designer: Natasha Habermann
My favorite is the home of Natash Habermann.  A designer that lives in North Salem, NY and has an old home.  Her ORC was to transform her already beautiful living room and foyer into a "Modern Swedish Living Room and a 1920's Inspired Foyer."  She did just that!  It's gorgeous and inspiring! I mean just look at her stairway!
SaveSave