Make this 5-ingredient miso pasta for a quick meal and everyone will be happy. You may not even have to run to the store. Don't you love that when you can make a delicious meal with everything you have on hand? This is one of those pasta dishes that's great to make when you get home from a trip. You are hungry, you want comfort food, but you've been eating out, so this is the dish to make at home!
If you are new here, every Sunday I join my friends Cindy and Mary Ann and we share our favorite finds of the week, like this delicious pasta!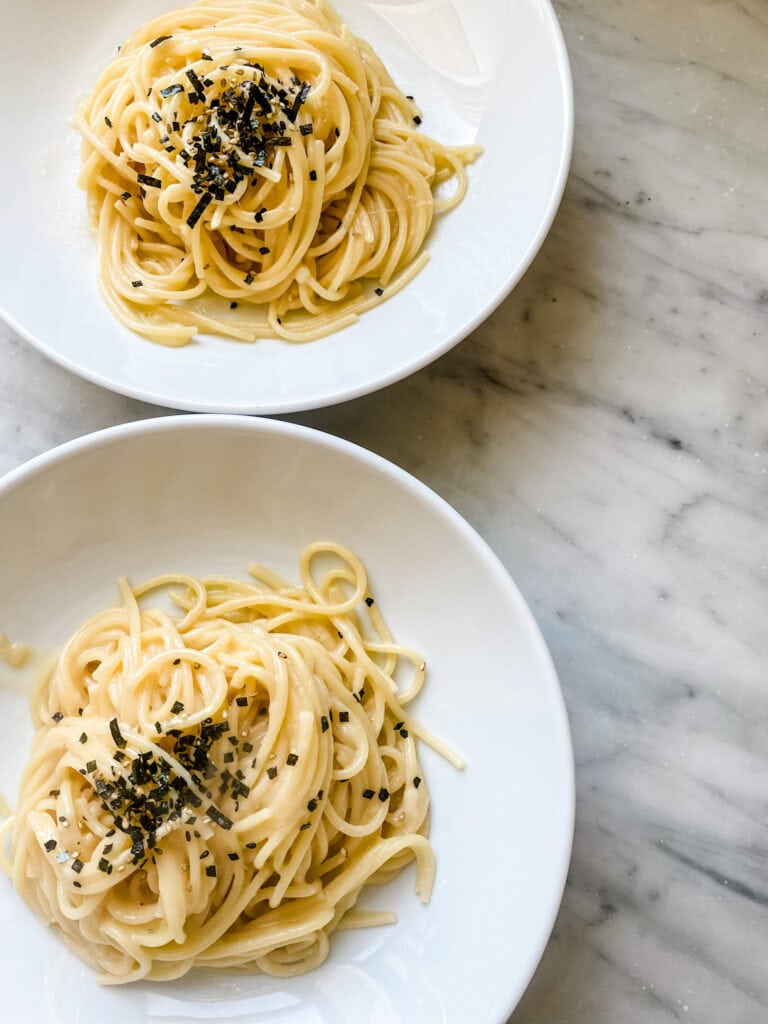 What will you need to have on hand for this pasta?
You only need 5 things and you might have three of them on hand already. You can find Furikake seasoning at Trader Joe's! I forgot to check to see if they have miso-paste. We buy ours at H Mart which is fast becoming my favorite market.
Miso paste
butter
pasta
parmesan cheese
Furikake Seasoning
What is miso?
Miso is a traditional Japanese seasoning. It's made by fermenting soy beans with salt and köji. You can read more in this article from The Spruce Eats and this one in Bon Appétit.
Is miso healthy?
Yes! Miso is good for you! In fact, it's incredibly healthy. It's rich in probiotics and contains many vitamins and minerals. Read more here!
How long does miso keep?
You can keep miso in the refrigerator or freezer for up to a year. We keep it in the freezer and it does not have to be thawed. You can take out a scoop when you need it. I store it in a freezer bag.
This sounds a lot like cacio e Pepe
You're not wrong if you are thinking that. In fact, after looking at a few recipes, most did make the comparison. Of course, the main difference is the miso paste. The technique of making it is very similar to cacio e Pepe.
Print
Easy 5-Ingredient Miso pasta
This is the pasta dish you want in your back pocket for those nights when you want a quick, but a delicious home-cooked meal.
Prep Time:

5 minutes

Cook Time:

20 minutes

Total Time:

25 minutes

Yield:

4

1

x
One

16

-ounce package of long pasta like spaghetti or bucatini

6 ounces

of good butter

3 tablespoons

miso

1 cup

freshly grated parmesan 

1

to

1

-1/2 cups reserved pasta water
Furikake seasoning 
Instructions
Prepare the pasta. Boil pasta in salted water making sure to reserve at least one cup of pasta water. Cook pasta until al dente.
While the pasta is cooking, melt the butter and add the miso paste.
Add one cup of the pasta water and whisk until the miso breaks down and is combined with the butter and water. You are looking for a silky smooth texture.
Add the cheese and the pasta to the sauce and combine with tongs until the cheese has melted. 
Twist into pasta bowls and sprinkle with Furikake. 
PIN THIS AND SAVE FOR LATER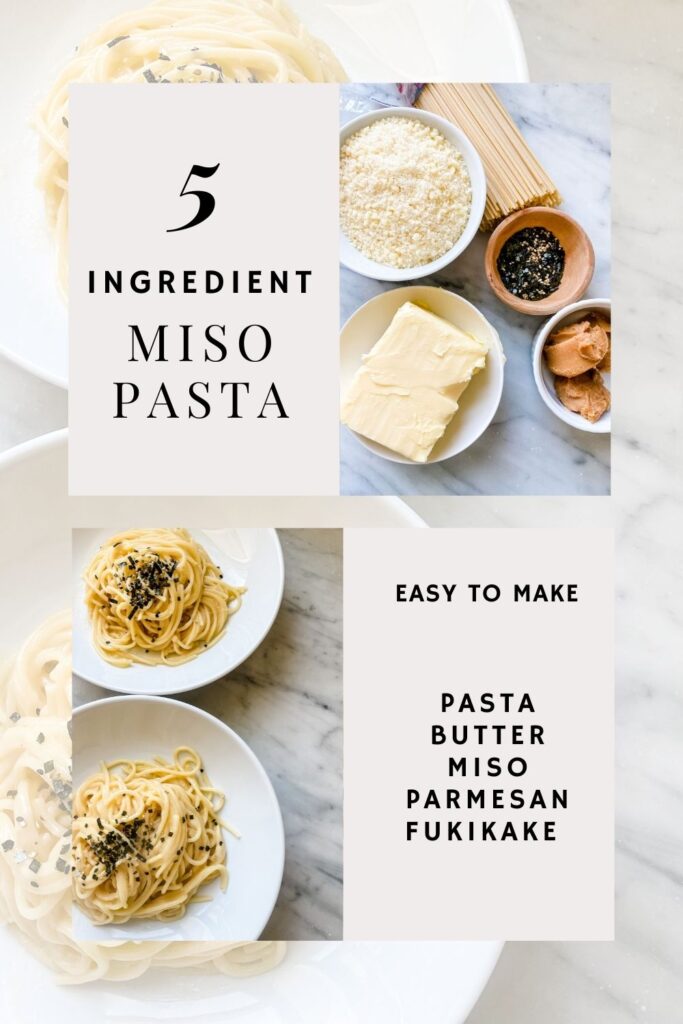 2. Off-white jeans
I just bought a pair of Topshop white jeans. Trying to find the right pair of white jeans can be tricky. Sometimes they are just too white, or too thin or too tight… I ordered these from my local Nordstrom and opted to pick them up in person, thinking that I would try on and probably return them on the spot. But they are just right. Thick, off-white with tan stitching, a raw hem, and $75.
3. Ice-Dying
I am so intrigued by this tie-dye technique using ice cubes and powdered dye. I saw it recently on Schoolhouse Electric's Instagram. After a little research, I see that Food52 featured this technique in July of 2016! You can see it here. Has anyone tried it? This seems like the perfect summer project for when Madeline is home visiting later this month.
4. Mary Ann's new porch swing
Mary Ann has a new coastal home in Florida. She updated a day bed porch swing with custom cushions by Patio Lane and it looks beautiful! You can read more here!
I used Patio Lane cushions on our long window seat in our attic.
Madeline's small wIndow seat in her former Manhattan apartment.
We also used Patio Lane for our DIY corner bench with our Saarinen table.
5. Wearing all white
I love the idea of wearing all white in the summer, except when I'm in the city. Cindy has an excellent post on how to wear all white and look so elegant! A must-read, right here!