1. A weight watchers parfait that tastes as good as it looks!
Here we are again with Sunday favorites and my friends Mary Ann and Cindy, who have been talking so much about weight watchers that I decided to join them! My husband has been doing most of the cooking these days, and I love every Weight Watchers recipe he's tried. Last night he made the best salmon with vegetables and the night before it was lasagne using hearts of palm pasta. This one had me questioning the idea altogether, but it was delicious, and we will make it again this week. This recipe I'm sharing today is a simple dessert, but it could be breakfast too! It took only 10 minutes to put it together, and it looks like such a treat, right?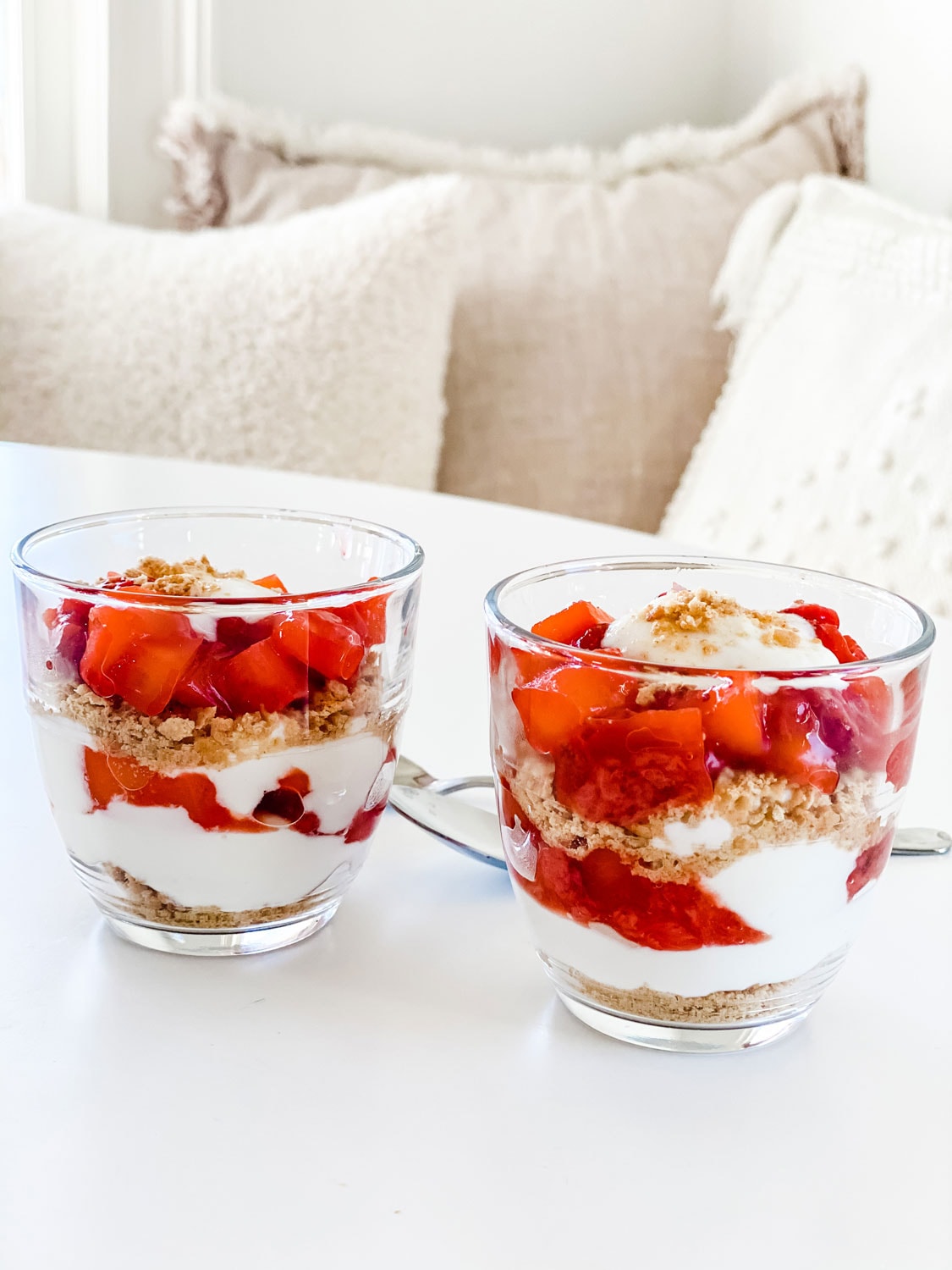 The great thing about this recipe is that you might have all the ingredients on hand. We used frozen mango and strawberries and had a box of graham crackers leftover from when we made S'mores last summer!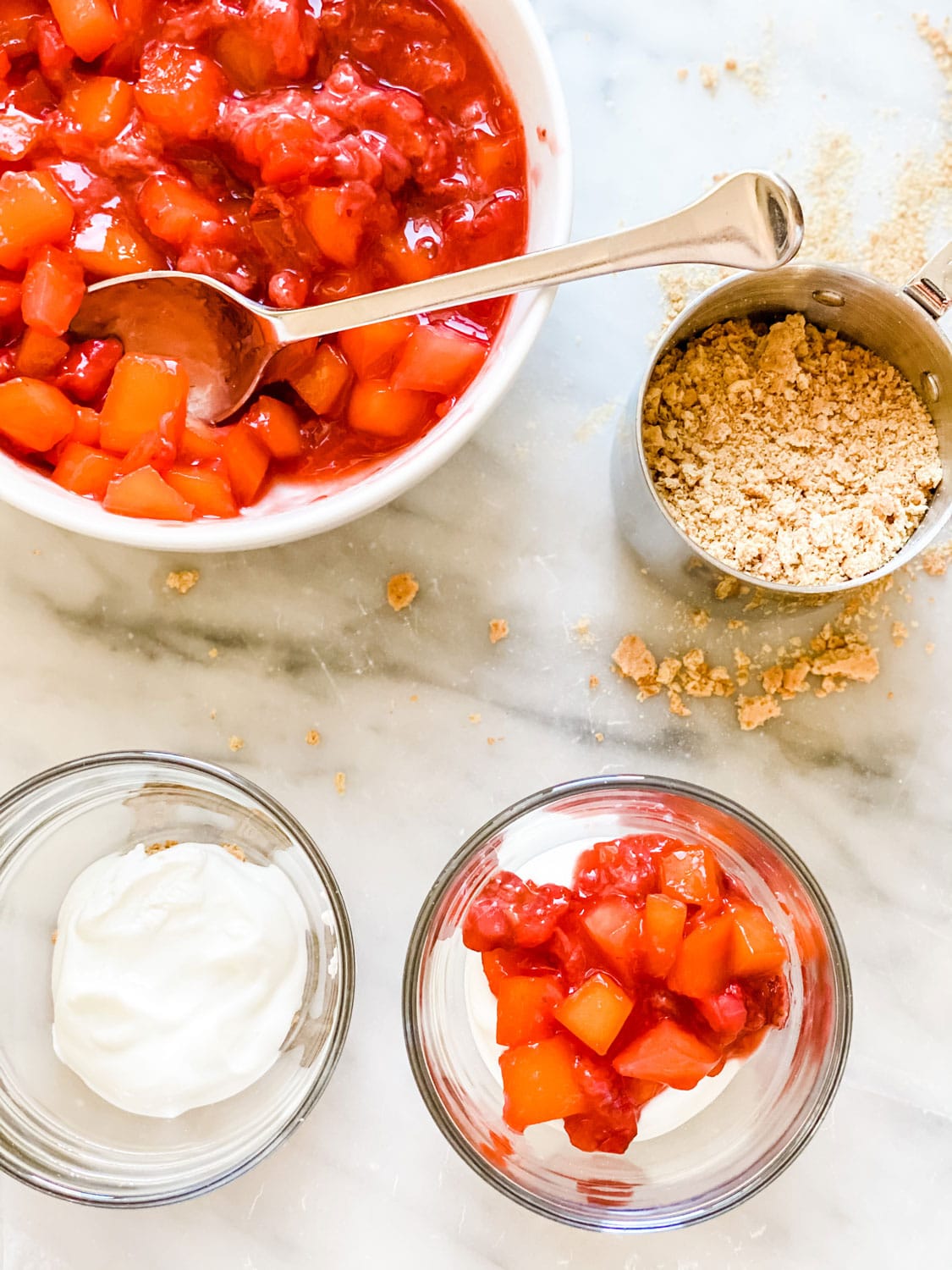 Print
Weight Watchers Parfaits
1 cup

frozen mangos, diced

1 cup

frozen strawberries, cut into small pieces

1 teaspoon

honey

3

–

4

drops Lemon Vitality Essential Oil

3

drops Cinnamon Bark Vitality Essential Oil

1/2

package graham crackers, crushed
Instructions
Place mangos and strawberries in a small saucepan and heat slowly on medium heat until the fruit breaks down, continue to stir.
Add the honey and the Lemon and Cinnamon Bark Vitality Oils and continue to cook until it's sort of like a jam consistency.
Allow to cool and then prepare your parfaits.
Using small clear glasses, begin layering with the crushed graham crackers. Then add a layer of the fruit jam, yogurt and then repeat.

 
Notes
We use the scan app to check WW points when buying things like yogurt. This recipe was based on combining a few weight watcher parfait recipes, so it would be difficult to guess the exact number of points for this recipe.
2. hand warmers
We are in the depths of the coldest part of winter here in the northeast and when you can't go inside a coffee shop or cafe to warm up while walking around NYC, you need a few things that will help you stay cozy. I used to buy hand warmers for my kids to use on the school bus and I would buy big boxes for the baseball team. Spring baseball can be brutally cold with the windchill. I remember asking my kids why they always came home with only one in their pocket and they said they would always give the other to a friend. If that doesn't warm a mommas heart, nothing will! Next time you go for a walk with a friend, bring an extra pack of hand warmers. They also have lap warmers, which I wouldn't want to get in the habit of using, but to take to a restaurant or use in a stroller on the coldest of days, I might be worth having one on hand.
3. Masks with Filter Pocket
Leave a comment and I'll pick 2 winners at random to send one mask, 2 filters, and a mask spray which makes mask-wearing so much better!
Just as I placed an order for more masks I hear that we should be using a filter inside our mask. Okay…order filters. But then you need a mask that can accommodate the filter, so now we need masks with filter pockets. Oh my…and to think last year we were all going on about our business not even think about wearing masks. Here are a few that Madeline and I have tried!
I really like this set from Baggu. It has a filter pocket, and also an adjustable nose wire that helps when wearing glasses! $32 for a set of three and they are machine washable.
If you're not sure and want to try the filters, GAP has a few that have filter pockets for $5 that I've been wearing and washing all week. These are the filters I found on Amazon.
4. Cute Pajamas
I ordered a set of these Salvage Print Pajamas from Nordstrom for myself and a pair for Madeline when she visits. I love to have a nice pair of pajamas when I travel. Not that we are doing much of that lately, but we are going to spend a few days at the Deer Mountain Inn in a few weeks and I'm pretty excited about a little change of scenery.
This is something I posted a long time ago and I think it's worth a reminder, just how easy it is to make your own taco seasoning mix. Especially now that we are doing Weight Watchers, we want to know every ingredient and of course, the best way to do that is, make your own! You can see more in this post!
Now let's go see what Mary Ann and Cindy found this week!
Shop the post