Le's make this twice-baked shortbread that's like biscotti, but better! Why twice-baked shortbread? Well, it's a long story, but first, let's start with the recipe.
Print
twice-baked shortbread
Twice-baked is just that. But there's quite a bit of rotating the pan in between bakes so they turn a nutty golden brown, without even a hint of being overbaked (or gasp…burned).
Prep Time:

10 minutes

Cook Time:

48 minutes

Total Time:

58 minutes

Yield:

1

2

1

x
Category:

cookie, dessert
1 3/4 cup

all-purpose flour

1/3 cup

corn starch

1/4 cup

white rice flour (I use Bob's Red Mill)

1 cup

unsalted butter (at room temperature)

1/3 cup

plus 1 tablespoon sugar

1 teaspoon

salt
powdered sugar for dusting
lemon zest and cacao nibs 
Instructions
Whisk the flour, cornstarch, and rice flour in a medium bowl.
In the bowl of a stand mixer with the paddle attachment, add the butter, sugar, and salt and mix until combined. 
Add the dry ingredients and mix until a rough dough starts to form. Turn out onto a clean work surface and mold into a disc. I made it sort of rectangular in shape since I was using a rectangle tart pan. Wrap and refrigerate for about 30 minutes.
Roll out into a rectangle between 2 sheets of parchment paper and place into your tart pan, pushing the dough to the edges and the sides until fairly even. 
Bake in a 325º oven for 12 minutes, rotate bake another 10-12 minutes. 
Remove from the oven and allow to cool for a few minutes. 
Then cut into 3/4″ bars and place on a baking sheet lined with parchment paper. 
Bake for another 12 minutes, rotate, and bake for an additional 12 minutes. Check to make sure the edges are not burning, and rotate the pan as necessary.
Let cool and then right before serving, dust the bars with the powdered sugar and top with the cacao nibs and lemon zest. 
Keywords: cookie, shortbread, biscotti
What's in twice-baked shortbread?
Basically the same ingredients as in most shortbread recipes, but with a few minor tweaks.
butter
all-purpose flour
rice flour
corn starch
sugar
salt
Why make twice-baked shortbread?
Here is where the story comes in. I have never even considered twice-baked shortbread until we went to London last month. While we were in London, we had the most amazing dessert. Humble Crumble. If you know, you know. But if you don't, let me explain. It's an apple or apple-rhubarb pie filling, topped with warm vanilla custard. Then this amazing concoction gets only better when sprinkled with…twice-baked shortbread!
When you bake them twice, this cookie really does take on a warm nutty flavor, unlike the traditional shortbread cookie. If you stopped baking this recipe at 25 minutes, you would have a delicious buttery shortbread cookie. Baking it for an additional 25 minutes is where the flavors get more interesting.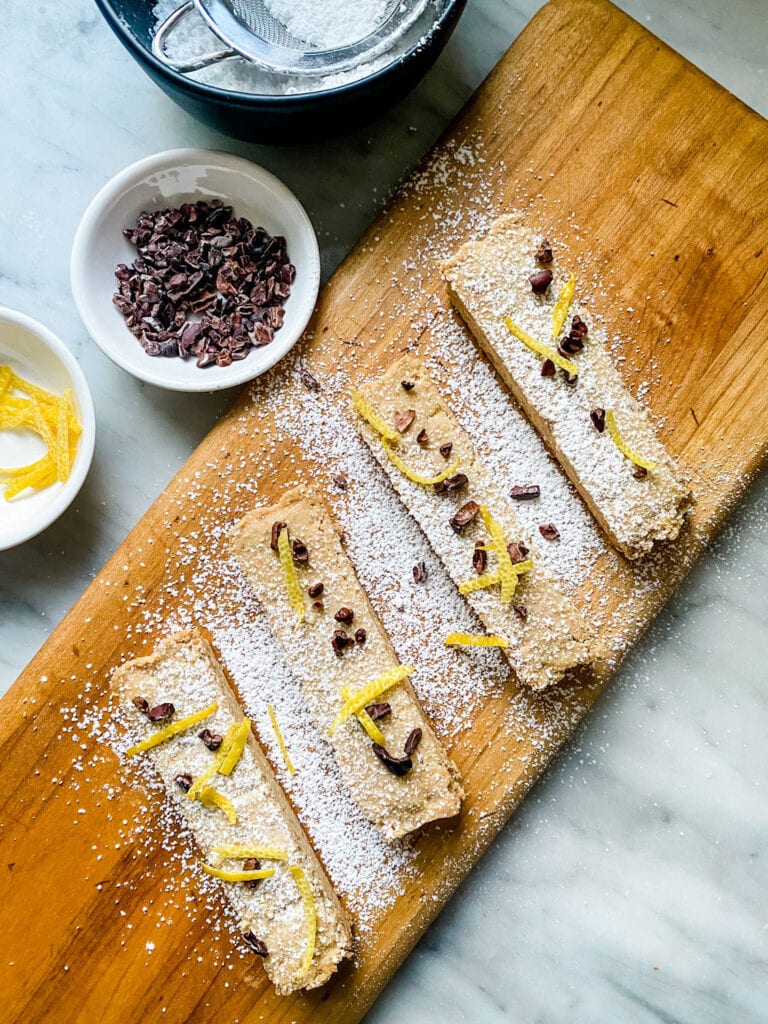 At first, I thought, okay, I could just buy shortbread cookies and crumble them up for the topping. Easy! But then when I went back and read the description more closely, it's twice-baked shortbread that's crumbled on top. So that's the reason for making twice-baked shortbread. I have to say, it is very good and the perfect little bite with a cup of coffee! Stay tuned for the Humble Crumble copycat recipe!
2. Loafers for Spring
Last week I joined Cindy, Mary Ann, and Jennifer for spring shoes. If you know me, you know that spring shoes mean loafers. Here in the northeast, spring is very slow to arrive. Since that post, I have discovered these from J.McLaughlin. My friend @suzanne.in.darien sent me the link. She is the store manager of Darien J.McLaughlin and she said everyone she knows has this pair of loafers for spring. A cream suede loafer!

3. Making postcards + Lost Kitchen
Last fall we had the opportunity to stay at The Lost Kitchen Cabins. You can read about it in this post. It was an amazing experience. Every year when the Lost Kitchen restaurant is getting ready to open for the season, they take reservations. The way they do it is by having anyone interested in securing a reservation, send in a postcard, and then it is the luck-of-the-draw. You can read more about it on The Lost Kitchen website right here.
Make your own postcards
Of course, you could buy a postcard and send it, or you could make one! I made a stack while I was at it, just to have a few on hand. I have three ideas on how to make postcards.
I made a few using the January, February and March calendar pages from my friend Nancy Sharpe. Once the month has passed, it seems a shame not to repurspose the art from the previous month! I'll bet you have a calendar that you could use!
I used bits of wrapping paper and these postcards. Self-stick wallpaper would work even better I have to say! (But, I'm just thinking of this now).
I painted a few inspired by the Sarah Midda's South of France Sketchbook cover using watercolor postcards and an inexpensive watercolor set, a ruler and a paint brush.

We made three-ingredient focaccia bread for a going away get together
On Saturday, our little neighborhood had a going-away get-together for a family from France. The neighborhood won't be the same without this outdoor, water-loving family. No matter what the weather, this family is out and about enjoying the community. So on a brisk April Saturday, everyone brought a dish, and some drinks at met at the beach to say au revoir.
Serve focaccia hot or at room temperature
I made my three-ingredient focaccia because it is great warm out of the oven or at room temperature. And since it's April, it was very much room temperature by the time we walked half a block to the beach.
You can get the recipe in this post, but what's great about this dish is that you can really use whatever you have on hand. Olives, herbs, cheese, or even Italian sausage like we used today.
How to serve focaccia bread
You can always use a cutting board or breadboard. We use these trays lined with parchment paper when we take things to potlucks. They are lightweight and stackable. I use them for organizing things in the kitchen, and just "borrow" them for serving, and then will put them back when we are done!
5. Flodesk
I recently made the switch to using Flodesk to send out my weekly newsletters. Flodesk is so easy to use, very reasonable and it makes you feel like a graphic designer! If you are a blogger, a shop owner, or a business owner of any kind and you send out emails…check out Flodesk! My friend Nancy got me to make the switch and I could not be happier. I struggled using Mailchimp for years and I have no idea why I waited! Flodesk is so much better! I actually look forward to designing it (in a matter of minutes) each week!
If you're not receiving my monthly newsletter, look for the STAY UPDATED box. If you think you want to try Flodesk, use code: ANNIEDIAMOND for a 50% off discount.
Let's go see what Mary Ann & Cindy found this week!