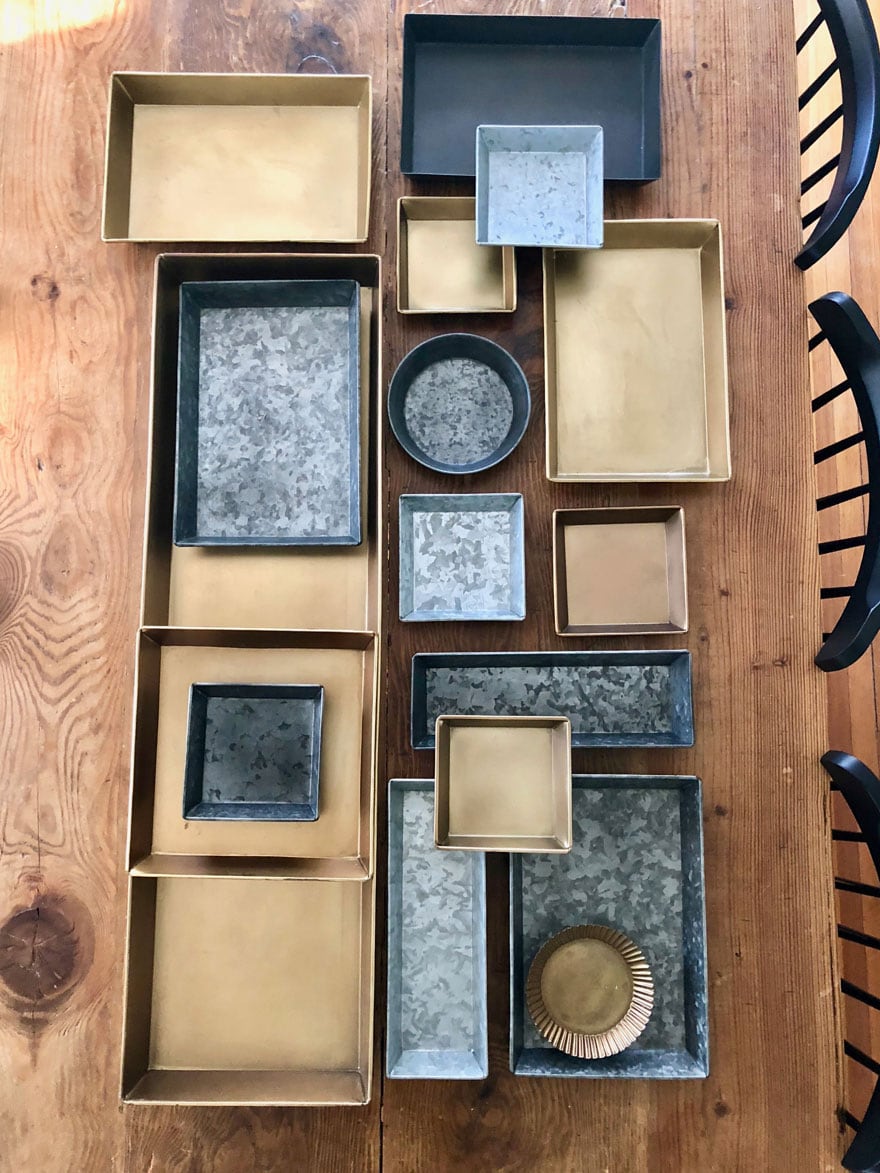 An organized home is something I almost crave.  Does that sound crazy?  I don't know…when our house is organized I'm just a happier and more relaxed person.  An organized home takes some time to get it there, but once you do, you'll have more time for the things you enjoy.  I took some cues from the newest Remodelista book, The Organized Home and realized that organization is beautiful.  Or it least it can be beautiful, especially if you don't use plastic. That's a tough one in the kitchen, but I'm trying! I always says this, but it really is the little things, right?
I started using these trays from Terrain for organizing things in bathrooms and one on Madeline's desk.  I loved them so much I decided to organize the kitchen using them. I used a combination of trays made by Habit + Form in brass and zinc.  They come in several shapes and sizes and are perfect for every shelf and drawer in the kitchen.
As with all projects–even one as simple as organizing the kitchen, it leads to another project: finding the perfect runner for the kitchen.  When we renovated our kitchen we tried to have floors that matched the rest of the house, but that proves to be a difficult task when the house was built in 1900.  Should have gone with cement tiles, but we didn't so I've been on the search for the perfect runner.  When buying trays at Terrain I discovered the perfect one!  It's the leather cotton weave in black, of course!
Found the perfect runner at Terrain.
Organization takes on a whole new meaning when using beautiful trays from Terrain.
The Remodelista book talks a lot about using things that you already have to organize.  I love that idea and try to do that when possible.  I use my McCoy small planters in my desk and re-purposed jars to hold art and craft supplies in my workroom.  I broke the "use what you have rule" when buying an armload of trays at Terrain, but I'll have them forever and can use them for ton of things around the house. Like at the holidays when I used this one for Advent candles.  What would you use them for?
You can find everything on my SHOP pages, here and here.

Springtime at Terrain in Westport, Connecticut
SaveSave
SaveSave
SaveSave