The tinned fish trend has foodies of all ages talking! Over the past few years, a fascinating trend has become quite popular in the food scene as more and more people are discovering tinned fish. From the classic tuna and sardines to more options like mackerel and anchovies, these humble cans pack both flavor and nutrition (calcium, proteins, omega-3 fatty acids), making them a fun option for your next casual get-together.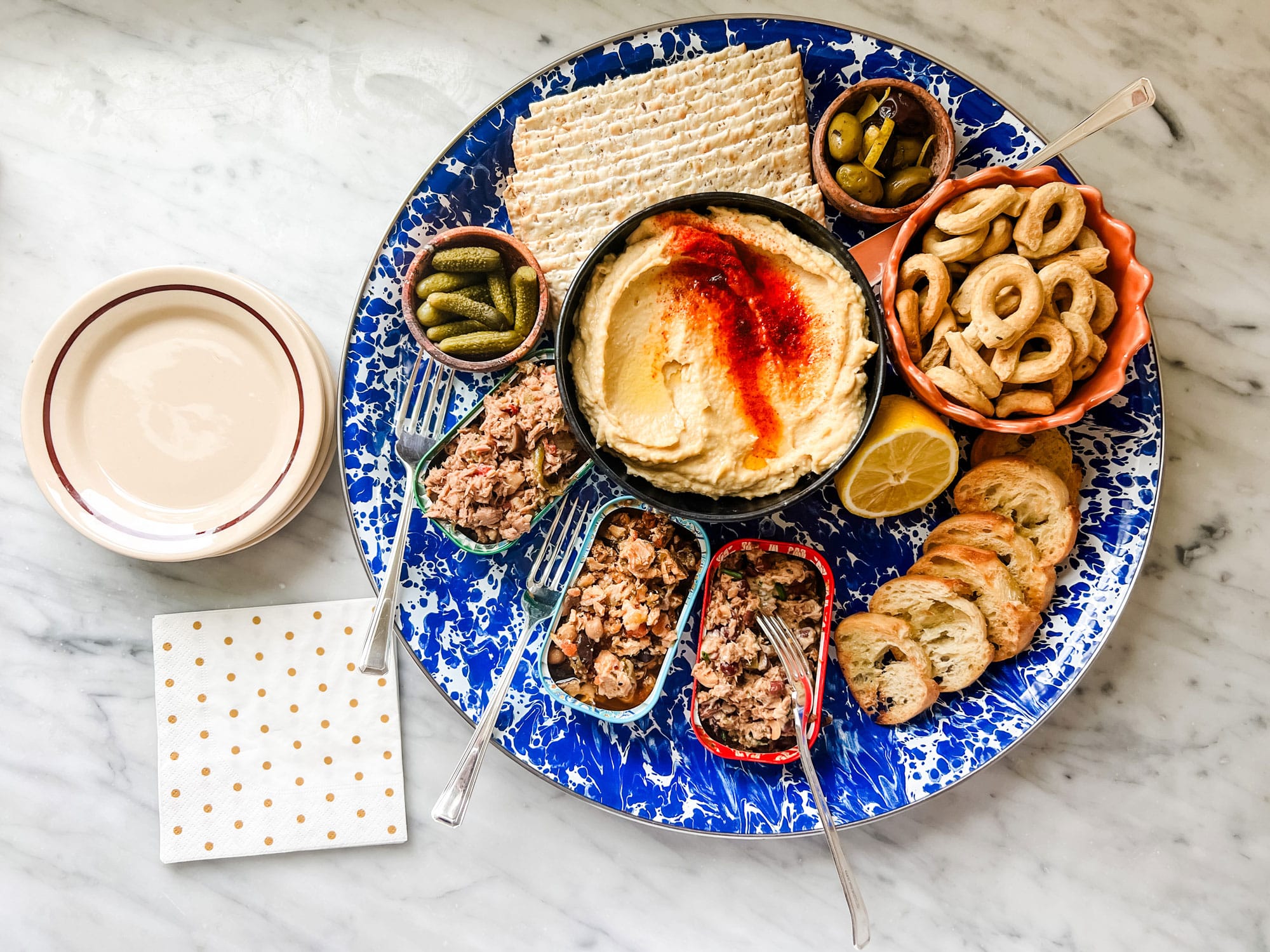 Not one to follow every trend out there, I've been reluctant to embrace it. I've had a hard time getting the old-school thinking out of my mind: tinned fish is bad, cheap food. But seeing it beginning to show up everywhere, I decided I needed to give it a chance and see if it lived up to the hype, making tinned fish part of my Sunday Faves with Cindy and Mary Ann.
Art and the tinned fish trend?
After thinking about it for way too long, I finally decided to look into tinned fish and see what's behind this trend and why it has become a pantry staple for many, partly because of its long shelf-life.
Aside from the culinary aspect of tinned fish, what I find most interesting about the trend is the art featured on the cans. Gone are the days of "Charlie the Tuna" and plain, unremarkable packaging. Today it seems like the companies are all including art as part of the packaging.
Artists and designers have embraced the opportunity to showcase their creativity on these small canvases, turning the once-ordinary tins into miniature works of art. The labels often include vivid colors and intricate illustrations meant to reflect the brand's personality and the product's story.
This artistic approach adds to the overall appeal of the product. People are not just purchasing tinned fish for taste and convenience; the packaging also draws them in. Also, the emphasis on art often reflects the companies' commitment to sustainability and quality, which seems to be a major part of the overall movement.
What's behind the tinned fish movement?
It's hard to talk about tinned fish and not talk about the TikTok creators behind its popularity. I think most credit Tiktock and the early adopters for popularizing this trend. But it is interesting to point out that tinned fish has always been a staple in European cuisine, most notably in Portugal and Spain, which is probably why tinned fish is often referred to as Tapas.
While new in popularity, tinned fish has been around forever. In fact, you can find references to it dating back to the 1700s.
My introduction to tinned fish
I first started using tinned seafood when I discovered Alison Roman's Carmelized Shallot Pasta which uses a healthy amount of anchovies. It's one of my favorite all-time recipes that I've shared here on my blog. The anchovies really add a great umami flavor that is distinct and fun.
Other than this pasta dish and anchovies in a great Ceasar salad dressing, I hadn't really eaten that much tinned fish other than the occasional tuna melt (one of my favorite comfort foods). Although a few years ago, our daughter gave my husband a can of gourmet smoked mussels in a tomato sauce along with a few other accouterments as a very fun and thoughtful birthday present.
From there, I've been slowly branching out in my tinned fish experiences and, I hate to admit it, jumped onto the tinned fish trend. And I'm having some fun with it.
How I serve tinned fish as a fun appetizer, tapas, or charcuterie board
You can open the tins and serve them as is, or you can take out the fish, mix it with a few things like chopped herbs, cornichons, olives, and a little Kewpie Mayo, and then put it back into the tin. Spread on flat bread, toasts, or crackers. Homemade hummus seemed like the perfect thing to add to this Mediterranean platter.
Have you tried tinned fish, or will you try it in the future? It's fun and starts a conversation about food trends!
More favorites this week: Quince
In case you missed it, Mary Ann, Cindy, and I posted our favorites from the lifestyle brand Quince. If you haven't had the chance to check it out, read the post here or go straight to the Quince website. They have everything from cashmere and cotton sweaters and throws to baby and kids, bedding, and more.
This gold/silver backpack comes in three sizes and has a matching lunch box.
I've been seeing a lot of mixed necklaces on Pinterest. Some pearls, some beaded necklaces, and a lot of gold chains. All worn together. You can see more on my new Pinterest board titled: jewelry. I was thrilled to see that Quince has this 18″ gold link chain for $220.
Let's head over to see what Cindy and Mary Ann found this week in their travels!