When we decided to spend our last night in Paris I had two things I knew I wanted to do for sure: Stay at The Hoxton and have breakfast at Buvette. The last time we were in Paris, Madeline and I remembered the pain perdu that was beyond delicious.
Buvette
on a Sunday
Morning in Paris
A window seat
at Buvette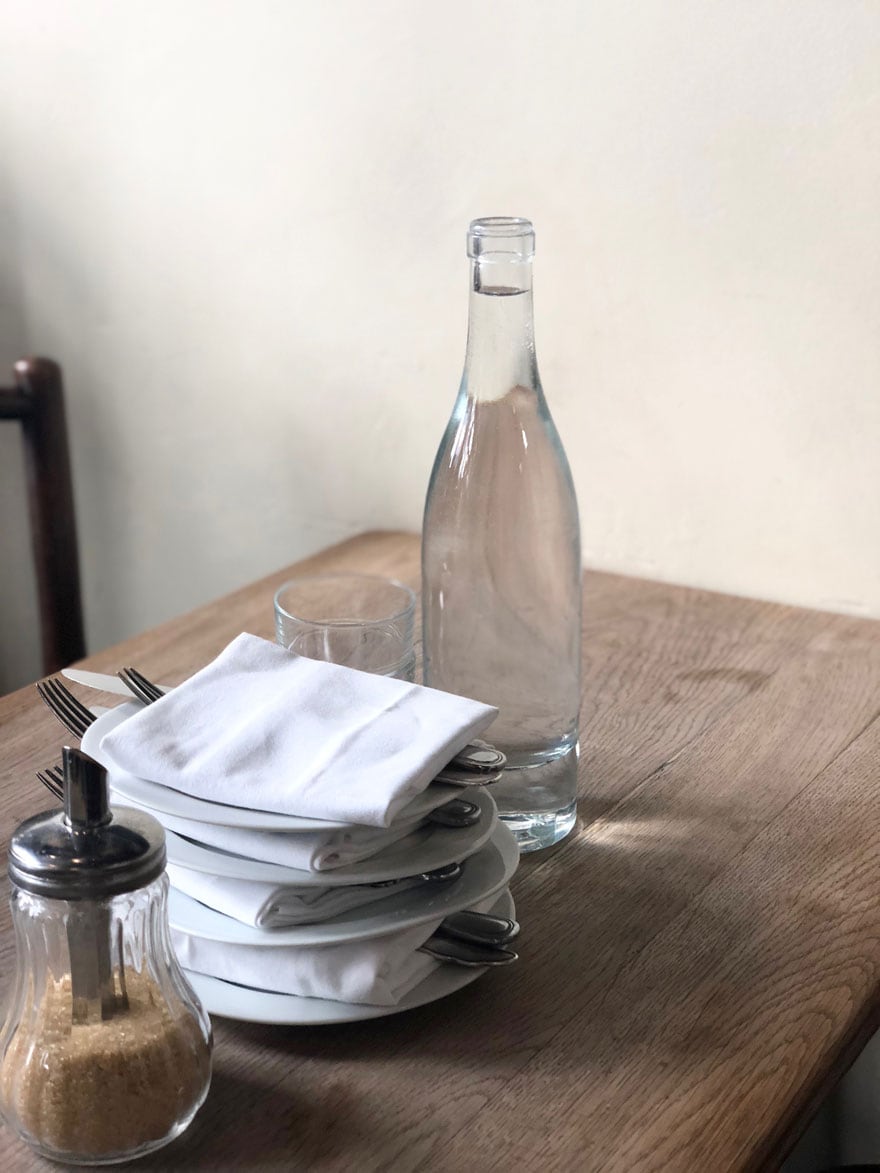 Simple details
Croissants on a
tarnished silver compote
We also couldn't wait to take a look at the colorful basketball court in Pigalle, which, conveniently, is right by Buvette. There's also a Pigalle Basketball Nike shop right across the street from the basketball court selling cool t-shirts and Pigalle basketball stuff and what not…but it was Sunday. And everything is closed in the summer on Sunday in Paris…except Buvette!
Pigalle Basketball
17 Rue Duperré,
The Hoxton is a beautiful hotel that I've been pinning images of to various Pinterest boards before I even knew it was The Hoxton Paris. Like this one with the dreamy living wall and the four modern arm chairs with gorgeous gold velvet cushions.  I took this photo the moment after four young women stood and walked away…all while France was playing Argentina in the World Cup playing on a large screen just opposite these chairs across the lobby bar. The place was packed!  But you would not have known from this lovely spot at that moment!
The Hoxton Paris
The Hoxton Paris opened in 2017.  It's in an elegant 18th century residence in the 2nd arrondissement. It has 172 rooms that range in size from Shoebox to Biggy.  I think we may have had a Cosy room and I'm pretty sure the kids has the Biggy with two beds.  I loved the design of the room and simple things like a Nespresso coffee maker with pods in a ceramic Le Creuset Canister and in the refrigerator, boxed water and a small bottle of milk for your coffee.  They had a tote bag that you could put outside your door and they would leave a light breakfast.  Coffee in our room and breakfast delivered.  How divine, right?
Luxurious
seating areas
The bathroom was my favorite part of the room decor.  Simple and timeless. I love how they used mixed metals with the mirror, brass sconces and copper faucet.  A simple enameled soap dish with removal tray and the durable glass tumblers (made in France) are perfect finishing touches.
As much as we loved The Hoxton, we might have to try the newly renovated Hotel Lutetia, just around the corner from the Paris bakery, Poilâne in the bohemian St.Germain-des-Prés neighborhood. It opens today, July 12th!  Shall we book now?

SaveSave
SaveSave
SaveSave
SaveSave
SaveSave
SaveSave
SaveSave
SaveSave
SaveSave
SaveSave
SaveSave
SaveSave
SaveSave
Title:
The Hoxton and Buvette in Paris
Mentions:
buvette, France, travel
Keywords:
The Hoxton and Buvette in Paris
Last Updated:
July 12, 2018