Good morning! I'm joining my good friends Mary Ann and Cindy with our five favorites and this week I talked to someone I met through my blog and she lives in New Jersey with a small, but beautiful garden. I had no idea it was small until I started interviewing Sandy! You would never know that with the beautiful things she creates and shares on Instagram.
1. The Collected Garden
A few years ago I met by chance through social media, Sandy who now has a lovely Instagram called @thecollectedgarden. I asked Sandy if I could interview her for this post to talk about what exactly the collected garden means and she said yes! By the way, we did actually meet in person about a year ago at Terrain in Westport! The perfect place to meet and she brought me two jars of homemade pickles!
My interview with Sandy about the meaning of the collected garden
A: Sandy, how long have you been a gardener?
S: I have been gardening for 20 years. We bought the house with no foundation plants or flower beds. I have added a little every year through trial and error. I am inspired in the garden to create areas that are beneficial to the environment. A perennial and cutting garden that is pollinator-friendly. Shrubbery that provides privacy, but also nesting spaces for the birds.
A: Do you have a large collection of vases for your beautiful arrangements?
S: I have a collection of vases that includes vintage pottery, milk glass, and lots of jars and bottles (too many)!!
A: Tell us about your garden.
S: My property is only 50 x 125 feet, and living in a densely populated area 1/2 hour from NYC, doesn't leave a ton of garden space. I have a perennial garden, a white flower garden, three 4 x 12 cutting beds, and a 4 x 8 raised vegetable garden. I squeeze in herbs and some odds and ends in pots on the patio as well.
A: What famous gardens are on your list to visit once we can travel again?
S: I would love to travel to England, endless inspiration there for sure. Paris as well, I think the overall approach for flowers everywhere, especially in a city environment is a great inspiration for small space gardening.
Living so close to NYC, the NY, and Brooklyn botanical gardens are great to visit. Especially the Holiday Train Show (New York Botanical Garden) where everything is made from natural materials. Duke Farms and Peony's Envy here in New Jersey is also worth visiting.
Thank you, Sandy! Make sure to follow Sandy on Instagram for all gardening related inspiration through the seasons.
Dahlias and foraged finds in a vintage vase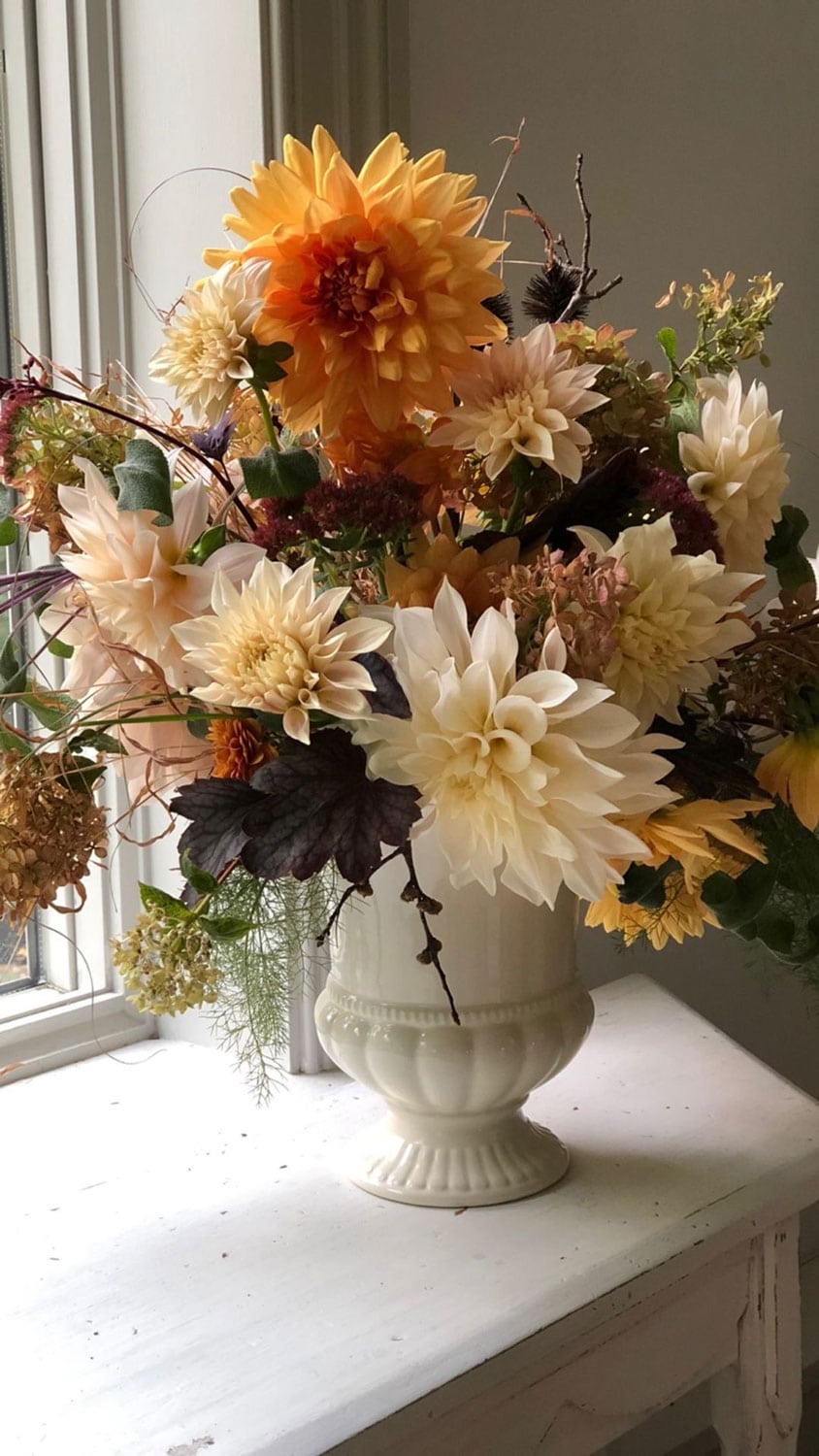 2. The Staub Rice Pot
I tossed my clunky rice cooker and replaced it with a simple Staub Rice Pot. The round bottom and the texture inside of the lid are similar in design to the traditional Japanese cast-iron tool for cooking rice. And of course, this pot can be used for cooking other things as well. I also have my eye on a set or two of these, also from Staub.

I came across this on Pinterest and saved it to several boards! It's so charming and someday I would love this to be integrated into our backyard! It could be perfect for children to play, but also perfect for a very small dinner party! I could see Brent making this with maybe a little help with the foundation. Read more about it here!
I always use the phrase "it's the little things" and when my friend Diane found this shop on Etsy, it could not be more true! Jordan Goodwin is a traditional blacksmith creating hand-forged ironwork. Diane placed an order for some nails and hooks. We used the nails to hang small hand tools on her husband's garden hutch in the garage and the hooks will be used to hang three large Lodge Cast iron pans in her pantry. Wait until you see her pantry! Coming soon! You can see more of Diane's home here and here.
5. Sheet Pan Cauliflower
When I saw this in Cooking with the NY Times, I knew it was a good thing. We love to cook once and eat two or three times. So this with a few other vegetables and maybe some chicken with a little rice (made in our Staub rice pot) and we have dinner for two at least three nights! It makes cooking and shopping so much more rewarding!
Print
Sheet Pan Cauliflower
A simple way to cook cauliflower and it reheats beautifully!
Prep Time:

20 minutes

Cook Time:

40 minutes

Total Time:

1 hour
1

large head cauliflower, trimmed and cut into bite-size florets

½

olive oil

½ teaspoon

salt
A handful castelvetrano olives, pitted & chopped

2

garlic cloves minced

1 ½ tablespoon

fresh lemon juice (or you could substitute using 8 drops lemon vitality essential oil and the water

1/4 teaspoon

red pepper flakes

4 ounces

pancetta, diced

¾ teaspoon

cumin or

6

drops cumin vitality essential oil

½ cup

shredded Parmesan
Instructions
Heat oven to 425 degrees. Place cauliflower on a rimmed baking sheet and toss with 1/4 cup olive oil & salt. Roast for 15 minutes.
In a small bowl, whisk together olives, garlic, lemon juice, red pepper flakes, and a large pinch of salt. Drizzle in the rest of the olive oil and whisk together.
After the cauliflower has roasted for 15 minutes, add pancetta and cumin or cumin vitality essential oil to the pan and gently mix to combine. Sprinkle Parmesan on top and roast for another 20 minutes, until cauliflower is tender and the cheese is golden brown.

 
Notes
We make this almost every week to reheat as a side dish or to add to a rice bowl with other vegetables!