Back again on this first Sunday of the new year feeling grateful to be joining my dear friends Mary Ann and Cindy every Sunday for our favorites of the week post! we have a guest this week, Sandra Sallin. Sandra is an artist and at 72 decided to start blogging. Make sure to follow her on Instagram too! @Sandrasallin She's fascinating!
Chartwell – Oil on Canvas 40 x 60
This past year has made me especially thankful for so many things and of course, I would be remiss in not thanking those that read my blog. Whether it's every post, or once in a while or you just came over from something you saw on Pinterest, thank you for taking time to read, maybe leave a comment or tag me in a post on Instagram. Whatever the connection is, I am truly grateful. And now let's get to those favorites. The first one is going to make you hungry.
1. The best darn grilled cheese with one simple twist
I have been making grilled cheese sandwiches for years. I mean like say 45 years, maybe a little more. I've always made them with butter smeared on the outside pieces and then put them into a hot pan with cheese in the middle along with caramelized shallots. Well, I saw something from Martha Stewart recently, maybe you saw it too? She combines butter and mayonnaise and it makes the most perfect crust. I will never again make a grilled cheese without doing this one little change in the way I've done things. I would love to know if this is something you already do or if you plan to try it next time you make a grilled cheese. I promise you will love it!
Print
The Best Grilled Cheese Sandwich
I know you might be thinking…what's the big deal, it's just grilled cheese, but wait…just wait. With this tiny change, you'll have the best-grilled cheese sandwich and made in your own kitchen!
For Two Grilled Cheese Sandwiches:
2 tablespoons

softened butter

2 tablespoons

mayonnaise

4

slices of white sandwich bread (something like Farmhouse Style)

6

slices of Sharp Cheddar Cheese (or whatever you like)
a spread of tomato jam topped with caramelized shallots
Instructions
Using room temperature butter (or slightly melted), mix with an equal amount of mayonnaise. Whisk together and spread on one side of all four slices.
Put into a cast-iron skillet and spread a thin layer of tomato jam on each slice and top with caramelized shallots.
add the slices of cheese and the top piece of bread.
cook on medium heat, watching closely,
and turn when the crust on one side is golden brown. You can put a lid on top resting on the grilled cheese for a more even crust. (it will stick to the buttered bread, so be careful when removing and getting ready to flip.
adjust the heat according to how much time your cheese needs to melt and remove when the cheese is melted perfectly and the crust is golden brown on both sides!
Enjoy!
Notes
I love a yummy grilled cheese beacuse you can always have the ingredients on hand. It's the perfect meal on a rainy night, or after returning from a vacation. I've made this grilled cheese at 6 pm and at 3 am and it's the BEST GRILLED CHEESE ever!
Sandwich bread and a block of cheese that keeps forever, and butter and mayo and that's all you need. If you have a jar of tomato or fig jam and onion or a shallot that you can caramelize in a little olive oil…do that!
2. Fresh Start with Thieves
Every new years day (or new years eve if I'm feeling super motivated) I go through my cabinets. I clean out my pantry and re-organize it, I toss old make-up and skincare products in my bathroom and organize my cleaning products under the kitchen sink. In the last few years, this last task especially has been pretty easy. I read this post in Apartment Therapy that made me decide to mention it as one of my favorites of the week.
Thieves Household Cleaner concentrate is the only thing I use to clean my house. I combine Thieves with a little baking soda to make a soft scrub and add a few drops of lemon essential oil for an extra boost. In my window and glass cleaner, I'll add a teaspoon of white vinegar to a capful of Thieves. Over the last two years, I have replaced over 40 products in my house and many of those items were cleaning products that are toxic and harmful. I always recommend using the THINK DIRTY App and look at some of the products you are using to see where they rate. Leave a comment if you are interested in trying Thieves.
You can read more about why we made the switch in this post.
3. The most Hygge flower bouquet from florabrook
My friend Sheri Silver surprised me with a beautiful bouquet of the prettiest dried flowers. You can read more about the shop and the designer in Sheri's post, here.
I love all the texture and the colors. All neutrals, which is what I crave after the holidays. I have them still their bundle right out of the box, and will probably leave them arranged this way and use one of my vintage McCoy creamy white vases. Later I may make them into smaller bouquets in jars for my table for a dinner party. (Hopefully, we will be having dinner parties again this year). But they will last for a very long time…and that's what I love. I think they are so beautiful and add an extra layer of hygge for the winter. Like the way sheepskins and cozy pillows and throws do for a room, a bouquet is a lovely addition for the new year!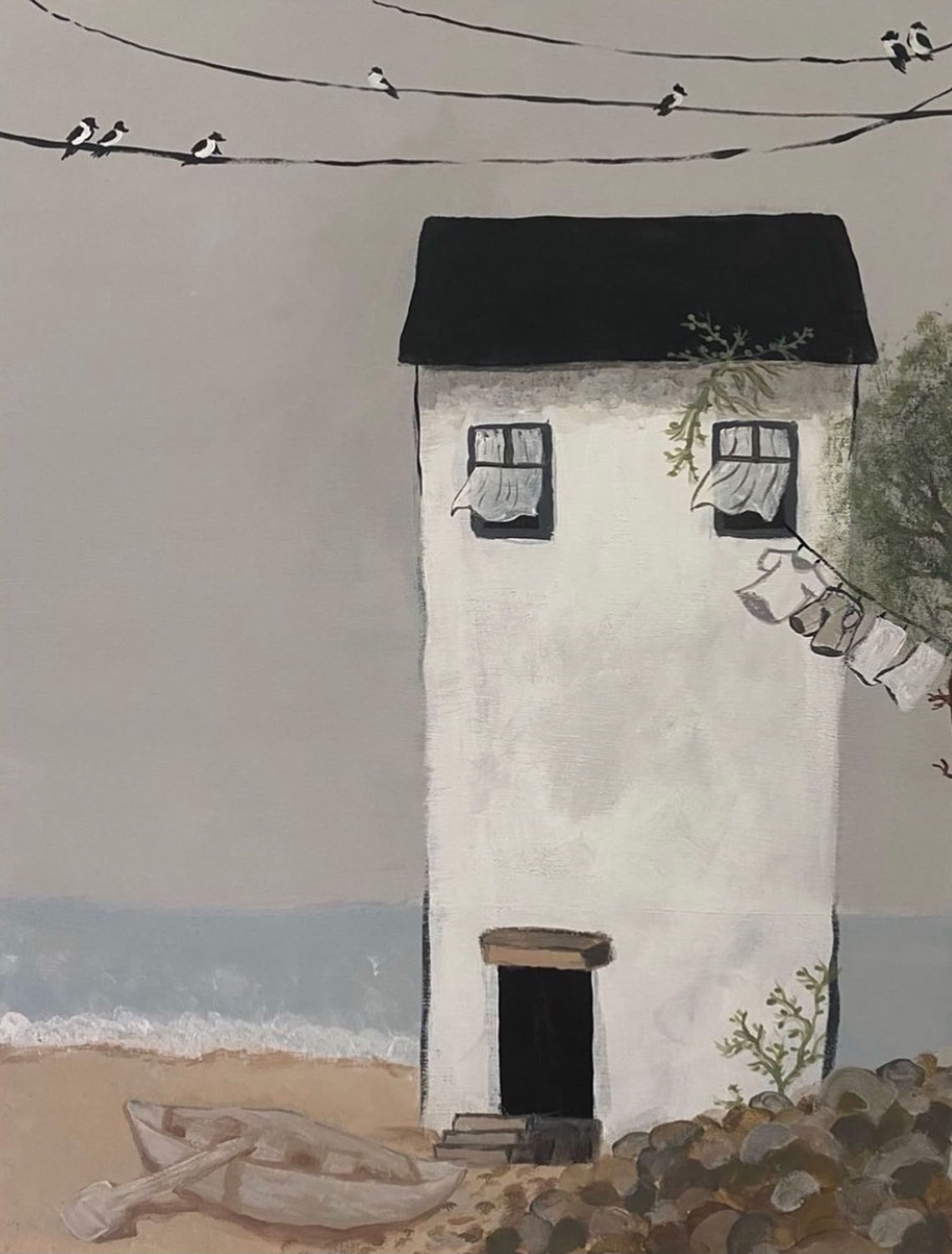 Again, I am sharing this young talented artist. He is 14 years old and self-taught. He wrote a post with this photo, a recent painting he completed introducing himself. You can follow him on Instagram @throughaidenseyes. Look for this photo to read about the artist. You can see the painting he did for me in this post.
5. A personal mood Board
This is the year I create a personal mood board in my home office. I kept many of the pieces from one I created at our old house inspired by the person that inspired my love of design in my early years, Mrs. White. You can read that post here. Below is a bulletin board of sorts that my husband made for me using a sheet of plywood. He created a checkerboard with alternating cork squares and exposed plywood.
Photo: @dominomag via @meganwestdesign
Have a beautiful Sunday and make sure to check out the favorites from Mary Ann, Cindy & Sandra