Why we bought a starter kit to switch & Ditch toxins in our home, including candles and cleaning supplies!
About a year and a half ago, I bought my first diffuser and for the first time, started using essential oils. Never in a million years, did I imagine that by diffusing essential oils instead of burning candles that it would also lead to discovering how many products I was using around my house and things like skincare that are filled with toxins. I'm not going to go into the details about toxins, because I am not qualified to do that. But I will share an app and a documentary that was eye-opening to me and my family.
I highly recommend watching the documentary "STINK!" on Netflix. Then you'll want to start scanning everything under your kitchen sink, the laundry room, and your bathroom. The Think Dirty app makes it so easy, you can scan the bar code or just enter the name of the product. Some of the things I used in our home for years, like Tide Laundry Detergent, Bounce Dryer Sheets, Dawn Dish Soap, my shampoo & conditioner, my make up…and fragrance are filled with toxins. I used to actually wear fragrance almost every day! I willingly applied it to my wrists and on my neck. Yikes! Now I wear Stress Away. It's a blend of lime, cedarwood, and vanilla and it's made 100% from plants.
Diffusing in the kitchen
For years I burned candles all day and into the evening! A scented candle in the kitchen and on my desk and then at night, several candles and votives lit all through the main floor of the house. I wanted to create that Hygge feeling in my home. However, even The Little Book of Hygge talks about the serious drawbacks of being crazy about candles. "Studies show that lighting just one candle fills the air with more microparticles than traffic in a busy street."
The Wood & Glass Aria Diffuser
I started with one Aria diffuser and I now have a total of ten diffusers. I have them in the bathrooms, the bedrooms, my office, the attic, kitchen, on the coffee bar, and one or two in the living room. I can customize the essential oils for each person's needs. In our bedroom, we diffuse lavender, frankincense, and cedarwood for a good night's sleep and in the bathrooms, I love diffusing Stress Away and Citrus Fresh. I diffuse seasonal blends or something like Citrus Fresh and Thieves in the kitchen and in the main living spaces. In my office, while I work, I love to add peppermint to Lemon for focus. In the late afternoon, it may be something like Peace & Calming. Ten diffusers may sound like a lot, but for me, it was to replace candles.
The Desert Mist on the Coffee Bar on the candle flicker setting
The best way to start with essential oils is with a Premium Starter Kit. It is by far the best value which is why they are only offered to new members. You'll get your choice of a diffuser (the Desert Mist above is the most popular) or maybe you want to start with the Thieves Starter Kit.
The Welcome Home Kit is another option. You get eight wonderful oils and if you choose this option, I can send you a diffuser as your welcome gift.
Grab Your Kit – 7 Starter kit to choose from!
If you are still not convinced or ready to ditch your candles, it's still better to start somewhere. I recommend the Thieves Starter Bundle. It's considered a premium starter kit so you become a "member." Do not let the term scare you! It just means that you are able to buy at wholesale over retail pricing. You don't have to ever sell. You don't have to get something every month. But if you are ditching and switching out safe products for toxic products, then you may want to sign up for the optional Essential Rewards program. The Essential Rewards program is designed to reward you for purchases that you are making anyway. Each month you spend a minimum of $50 and for the first 1-3 months, you get 10% back in Shop Credit to use on almost anything. (There are a few restrictions on new products). It goes up to 20% month 4-24 and after 25+ months, it's 25% back in Shop Credits on everything you buy! Those points add up fast! You can cancel at any time!
Choose Your Gift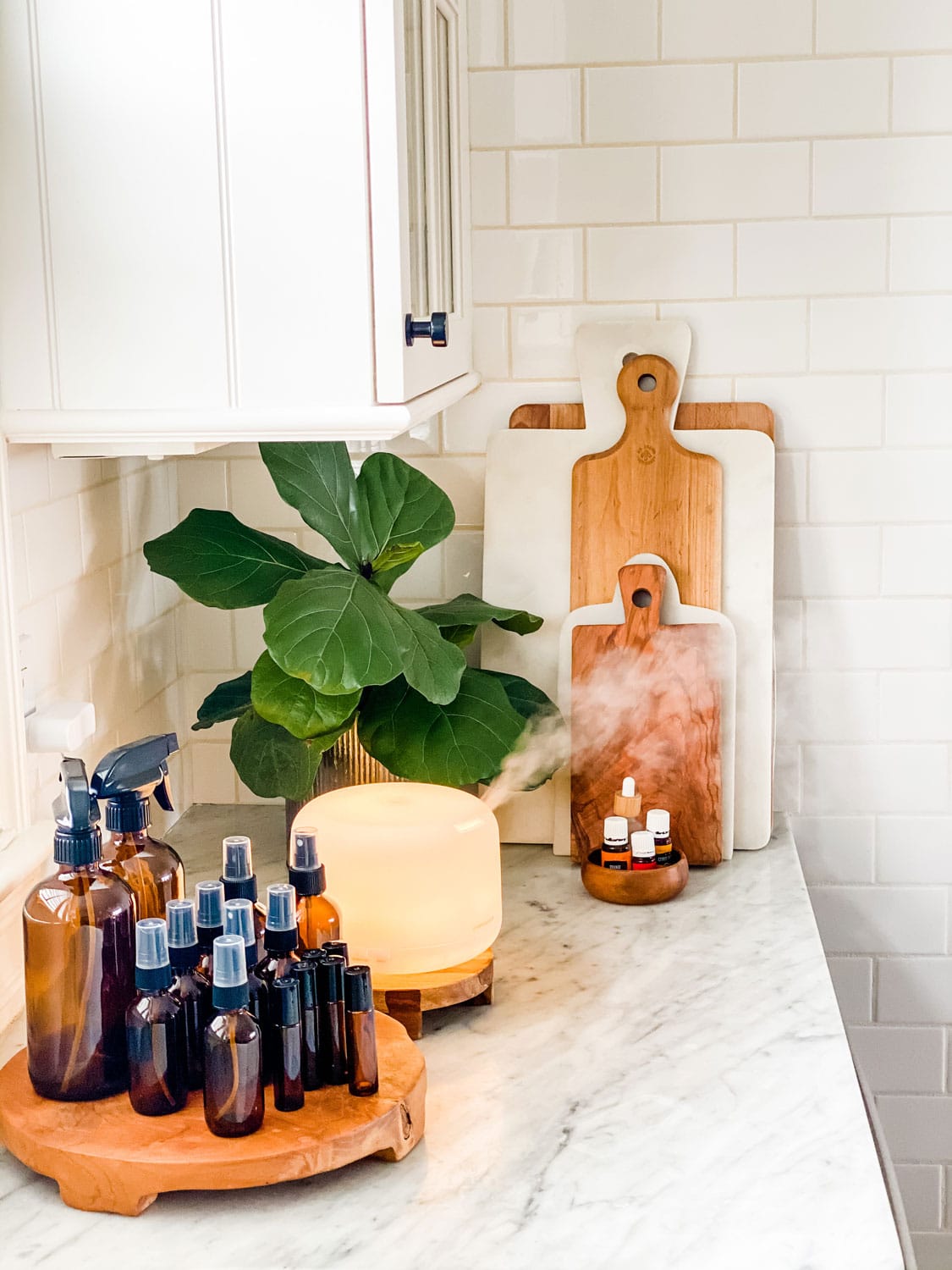 Order your kit here. Choose your gift: An amber glass bottle set or an extra diffuser from Amazon (shown above). I'll also send a welcome box with recipe cards, The Oily Life Book, a Thieves label, a small sample of Thieves Household Cleaner concentrate, and a few other fun surprises. In addition to my support, you'll have access to exclusive FaceBook groups, and monthly newsletters.
Here is a list of items you might want to eventually purchase to use along with your essential oils.
Carrier Oils/Products
Glass Bottles
Amber Bottle Set – Assorted Sizes
Frosted Roller Bottle set (10)
16-Ounce Glass Bottles (Amber)
16-Ounce Glass Bottle (Clear)
10ml Dropper Bottle (Frosted with Wood Top)
Diffusers
My favorite diffusers are those that are from Young Living. There are a few others that work really well and we have used them for almost two years and they are still going strong. Perfect for bedrooms, bathrooms, home office, home gym…anywhere!
Labels & Decals
You might also like this post.