Biarritz, France

What we've learned from our second trip to the same spot…
Our family of four is fortunate to still be taking family vacations together since our "kids" are now adults. Madeline is 24 and living in NYC and Patrick is 20 and just started his junior year at Syracuse University. Our love for beach towns and surfing goes back to the days when my husband worked for Surfer Publishing based in San Juan Capistrano, California. We fell in love with California and the lifestyle and even after relocating for work to NYC, we continued to spend every summer in Dana Point. We all treasure our California memories. So when we plan a family surf vacation, many are surprised it's not back to Dana Point. But here's the thing…living on the east coast makes it almost as easy to travel to France as it is to head right back to California. We love the adventure of foreign travel, but a summer vacation for us is not about sightseeing as it is sun and fun. This year we all sat around the table and once we had determined a date that we could all go…it took us about an hour to plan our trip. We did almost the exact same trip last year so planning made it a little easier this time around. Also the few mistakes we made are ones you won't have to!
Where to stay
We stayed once again at La Réserve Saint Jean de Luz. The hotel is very low key and sits high up on a hill with incredible views. Breakfast is served each morning on the terrace overlooking the sea. There's even a Michelin Star restaurant at the hotel. The pool area is beautiful and the perfect spot to spend the late afternoon before venturing out for dinner. We had the perfect weather during the entire trip, so we didn't spend much time in the lobby area of the hotel. It's divided into several comfortable seating areas for those times when it's not perfect outdoors. The rooms are comfortable and each time we have had wonderful water views. This resort is not luxury, but it almost feels like it…and the price is right. You can read more about La Réserve in this post.
The Lobby/lounge at La Réserve
The pool area with beautiful views of the Basque Coastline
Where to Surf
It is a short drive to Biarritz from Saint Jéan De Luz, but in order to get parking in the beach lot we typically arrived by 9am. It was high tide a few of the mornings with no beach so we enjoyed another coffee at the beachside cafe with the locals and then made our way down to rent surf boards. There are several places to rent boards. We were careful to arrive early so that we had our choice of boards. There are several surf camps if you want to take lessons.
Where to have coffee/breakfast before surfing
Etxola Bibi is described on their facebook page as a cabin. I'm not exactly sure how that translates, but it is a small wood building that sits up on the edge along the main road that runs along the water. It has several large cement tables and there's also bar stools at the counter. It seemed to be a meeting place for surfers to locals just wanting to start their day with a coffee at the beach.
Etxola Bibi
Where to have lunch after surfing
After surfing we found a favorite burger place that was a quick walk from the beach. There's nothing better than a delicious burger and fries after surfing and then a long walk up the hill….it makes you feel like you've earned it!
Black & white interior & exterior at Bonheur

Biarritz
Biarritz is a little city that feels like a surf town as much as it does a city. The shopping includes department stores like Galeries Lafayette, but we head straight for the surf shops. There's a 64 Surf Shop in almost every town in the Basque region and they have great t-shirts, towels, sweatshirt, bags, flip flops…and anything you need surf related. BTW, 64 is the first two numbers of the post code for this region. Another great surf shop is BTZ located just above the the Grande Plage. Les Halles is wonderful a market where you can pick up charcuterie or just about anything to have a picnic lunch on the Grande Plage.
La Grande Plage – Biarritz
Hossegor
Hossegor is known for big waves. We have been a couple of times and haven't seen the big waves they are known for, but it is an amazing beach with one of the coolest restaurants right on the sand. Perfect for taking in the sunset.
Anglet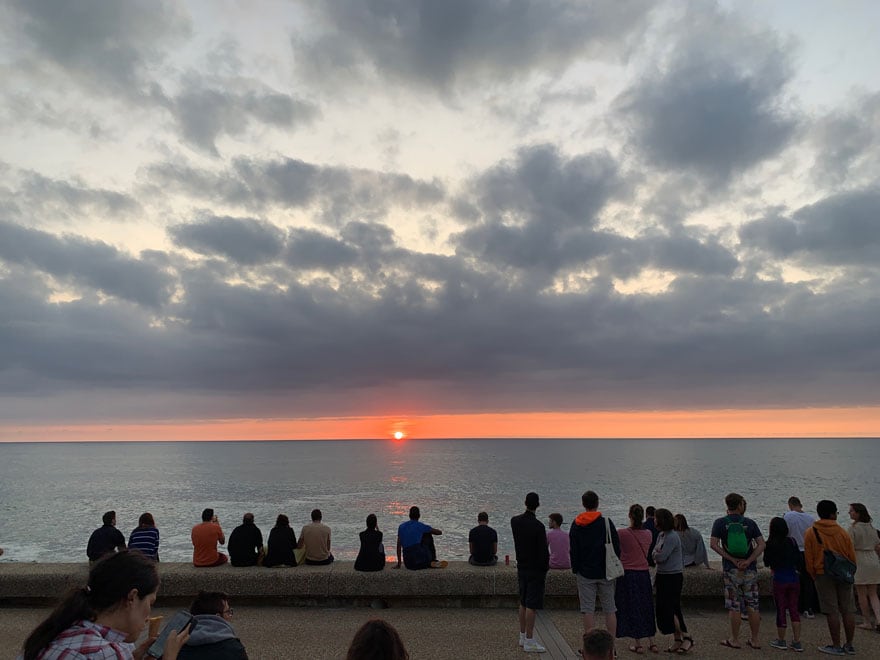 One of our favorite spots is in the surf town of Anglet. It's called Beach House restaurant and it is a very cool place that has an eclectic vibe and very beachy…as you would expect. As you walk up there's a taco truck on one side and a bar in a big sand box and bocce ball on the other side. Out back there's even a pool (open only during Sunday Bruch), but still a pretty cool backdrop. Inside is just as eclectic with homey feel. There's a fireplace that has that very 1970s beach house feel to it that is actually becoming cool again. Our favorite dish is the Nasi Goreng. You can read more about here.
Nasi Goreng

A few last tips to make your trip more comfortable
You will need to take a taxi from CDG to the Montparnasse train station in Paris. The train station at the airport does not go to Biarritz. The taxi to the train station takes about 30 minutes and the travel time from Paris to Biarritz is about four hours.
There's a festival going on in every beach town during the summer, so make sure to check before you go or give yourself time and patience to find a parking spot.
At places like train stations, you'll need a little pocket change to use the restroom, so make sure to have a few euros.
There are several surf spots in France, but we love the town of Biarritz and the nearby beach towns that each have something a little different to offer. We flew int0 Paris and took the train to Biarritz. We arrived past the time when rental car companies are open at the train station (I believe they close at 6pm). We took a taxi to the Biarritz airport where they are open 24/7. Flying from Paris to Biarritz is also an option, but we all love train travel in Europe. Last year we drove from Paris to Biarritz, but after a long overnight flight, I would advise against it. It is about a 7 hour drive from Charles De Gaulle Airport.
If you've forgotten anything, a trip to Monoprix in Saint Jéan de Luz will have just about everything you need. Monoprix is like the Target of France. I found a pair of 100% linen pants to wear to the pool/beach for around $15 and Madeline found a few cute t-shirts that she couldn't resist. We also bought water, more sunscreen and hair conditioner. Why do European hotels not have conditioner?
The best place to buy fun and inexpensive souvenirs…the grocery store. La Grande Epicerie at Le Bon Marche in Paris is our favorite. But we did stop in at a Carrefour Market in Saint Jean de Luz where they had espadrilles in every color and pattern you can imagine for around 8 euros.
We ended our trip with 2 days in Paris…Stay tuned for Part II!
Make the most of 2 days in Paris
Where to stay
Where to enjoy an authentic French meal
Where to eat like the locals
Best place for coffee
Get the app to ride electric scooters or bikes ahead of time