Here's how to make a minimal fall wreath with supplies you might already have. I just returned from a month-long trip to France, so my motivation to use what I had on hand was out of necessity. While traveling, I thought about this post, knowing I would need to create it the very day I got home. I knew that I had a few grapevine wreaths hanging in the garage. I could always come up with a ribbon of some sort. And lucky me, my very dear sweet friend dropped off a few groceries and one tiny pumpkin. The apples were in the refrigerator and, surprisingly, still quite fine! Well, at least for wreath-making!
Here's What You'll Need to Make this Very Minimal Fall Wreath
Supplies:
A grapevine wreath (on the smaller side)
An apple or a tiny pumpkin
Some ribbon or frayed fabric/canvas
A few toothpicks
Note: I bought the checked fabric at Walmart. I think it was around $4 per yard. It's similar to this fabric. The canvas is a heavyweight canvas from an art supply store.
Here's How I Made the Minimal Apple Wreath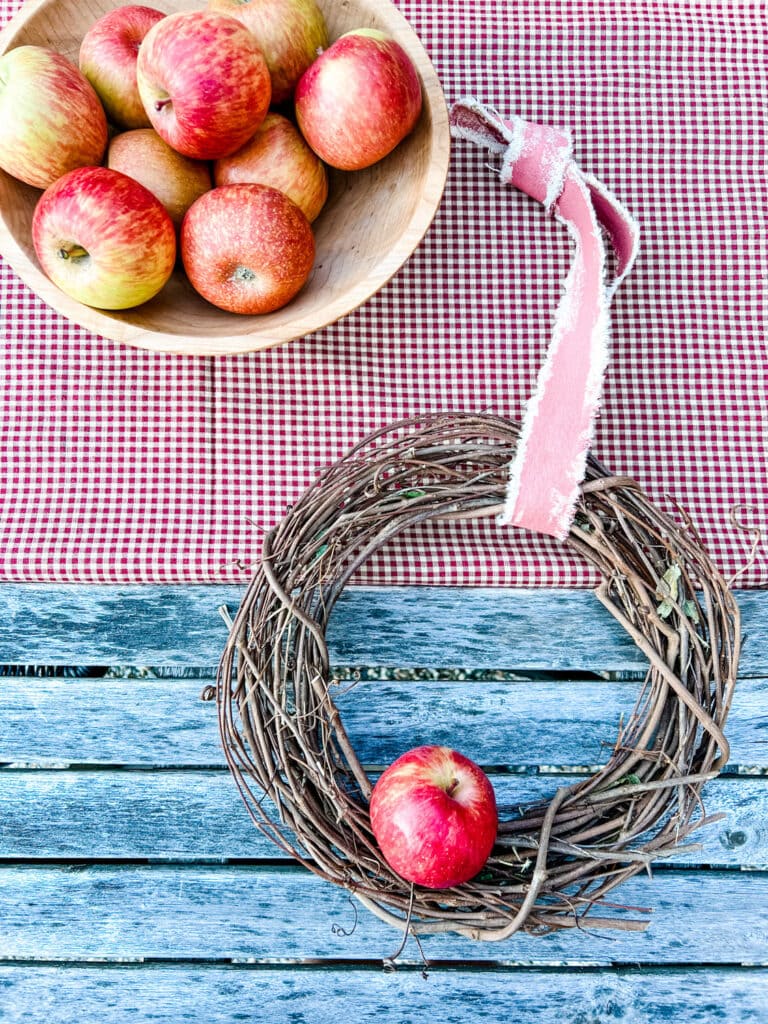 I used a piece of frayed canvas like I use to wrap all of our MLT Shop packages. I also used it to decorate our tree and hang our Christmas wreath. This was a piece I had painted for this post on sustainable gift wrap. And indeed, it is sustainable because here I am using it again!
I painted the canvas using Pink Sky from Clare Paint that we used in Madeline's apartment.
I used three toothpicks inserted at the bottom of the apple and then positioned them into the grapevines. Then I tied the ribbon (painted canvas) and hung it up outside on the side of our black garage for some simple and minimal fall decor. I'm dying to get pumpkins and mums, but as you can imagine, I have a lot of work to catch up on first!
Here's How I Made the Minimal Pumpkin Wreath
I used a piece of fabric that I cut and frayed the edges by ripping it. This is what I used to hang the wreath. But first, I used some dried flowers that I've had for years (I think from Trader Joe's), and I secured them with a piece of twine. Then I used hot glue to attach it to the wreath and then attached the mini pumpkin with more hot glue. I hung it up outside next to the apple wreath. Simple, but I like it that way!
Eight More Ideas for Fall Wreaths!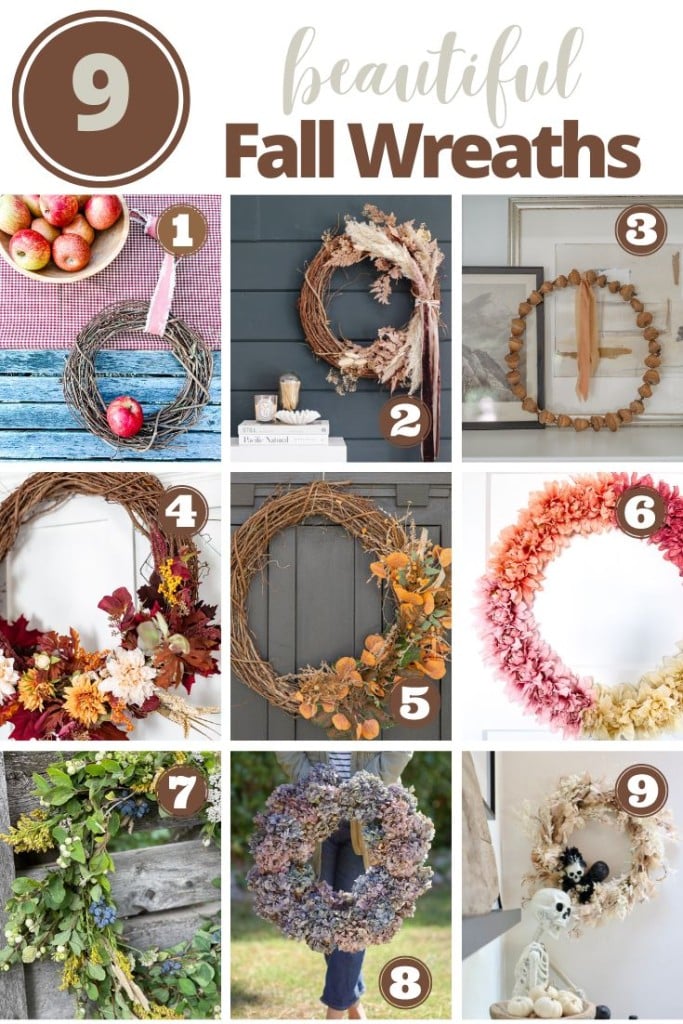 Blogger's Best Fall Wreaths