How is everyone doing? We have four of us working from home all spread out in the house. Madeline left the city and is working from home at our house. On most days we take a walk in the early evening and then last night we baked this lemony turmeric cake that she saw on @nytcooking. It's a recipe by Alison Roman so you know it's good. So. Much. Baking. But seriously, I'm trying to see the silver lining…like baking a cake on a weeknight with my 25-year-old daughter who lives in Manhattan in normal circumstances. This cake is so delicious and is the warmest, brightest yellow color. Using parchment paper in the loaf pan makes it easy to lift the cake out, wrap in a new dishtowel and take to a friend. That's what I plan to do is soon as things to return to normal, we'll just go ahead and enjoy this one!
Cake.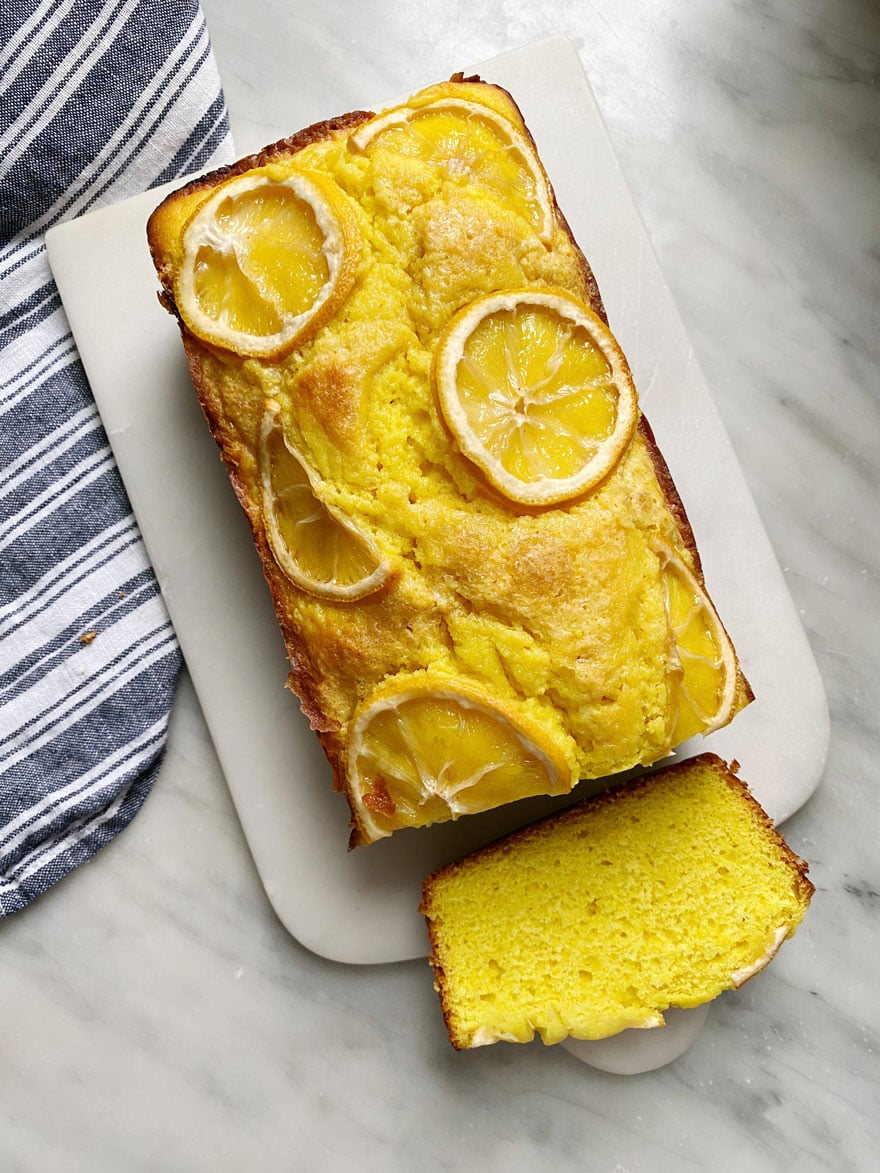 Print
lemony turmeric cake
We adapted this recipe from Alison Roman. We had only one lemon in the house, so we used it for the lemon zest and the slices on top for decoration and substituted the juice of two lemons with lemon vitality essential oil and water for the same bright taste as fresh.
Prep Time:

15 minutes

Cook Time:

60 minutes

Total Time:

75 minutes
Nonstick cooking spray and parchment paper

1 1/2 cups

all-purpose flour

2 teaspoons

baking powder

1 teaspoon

salt

3/4 teaspoon

ground turmeric

2

lemons (the zest from 1 lemon and 2 tablespoons juice, plus slices for decoration from the other lemon. –Or you can substitute lemon vitality essential oil and water for

two tablespoons

of fresh lemon.

one cup

sugar

2 tablespoons

turbinado sugar (sugar in the raw)

3/4 cup

Greek plain yogurt

2

eggs

1

stick (1/2 cup) butter, melted
Instructions
Heat oven to 350º
Prepare loaf pan by spraying it with nonstick spray and then place parchment paper cut into pieces so there is overlap on all sides. This makes it easier to lift out of the pan.
Whisk the flour, baking powder, salt and turmeric in a medium bowl.
In a separate bowl, grate 2 tablespoons lemon zest and mix with the sugar using your fingertips until the sugar is fragrant.
Using a mixer, combine the sugar mixture with the yogurt, eggs and lemon juice until blended.
Using a spatula, mix the wet ingredients with the flour until combined. Fold in the melted butter and pour into prepared pan.
Smooth the batter and arrange the lemon slices on top and sprinkle with the turbinado sugar.
Notes
Bake for 50-60 minutes or until the edges are golden brown and the cake starts to pull away from the edges. If the lemons start to burn, gently cover loosely with a piece of foil.
Keywords: cake, lemon cake
My favorites from this week:
Not only did we make Alison Roman's Lemony Tea Cake, but tonight Brent made the most amazing caramelized shallot pasta from her book: Nothing Fancy: Unfussy Food for Having People Over. He improvised slightly since we are trying to limit our trips to the grocery store, like no fresh parsley…but it was so good. I can't wait to have friends over for dinner once this is all over!
I watched Elizabeth Gilbert's Ted Conference last week with Madeline. She wrote about it here.
Sheri Silver's Top 50 Kitchen Tips
My friend Sheri Silver has the best ideas! And she has rounded them up into one post! You will learn a trick or two that will make you wonder how you ever lived without it! You can read her post right here!
My twin sister sent me this How to Look Good on Zoom Calls. I wished I had watched it before my zoom call with The Design Twins! Later that day my friend Diane sent me this How to Look Good on Camera, According to Tom Ford. I'll take all the advice and help I can get!
This Classic Tie-Dyed Button Down is on sale for $68 this weekend from Anthropologie. Mad started home tie-dying at about week two of quarantine. She used this $20 kit and Patrick's old soft undershirts, of course, then cut them off. Pretty cute though.
Try this trick to make peeling hard-boiled eggs easier
@maternalisticmelissa uses 2-3 drops of lemon essential oil to help peel hard-boiled eggs. Once the eggs are cooked and in cold water, just add the drops of lemon essential oil and chill for 15-20 minutes. I can't wait to try this! I'm thinking egg salad is in my near future! Read my recent post on essential oils here.
A workshop that makes kneelers for praying at home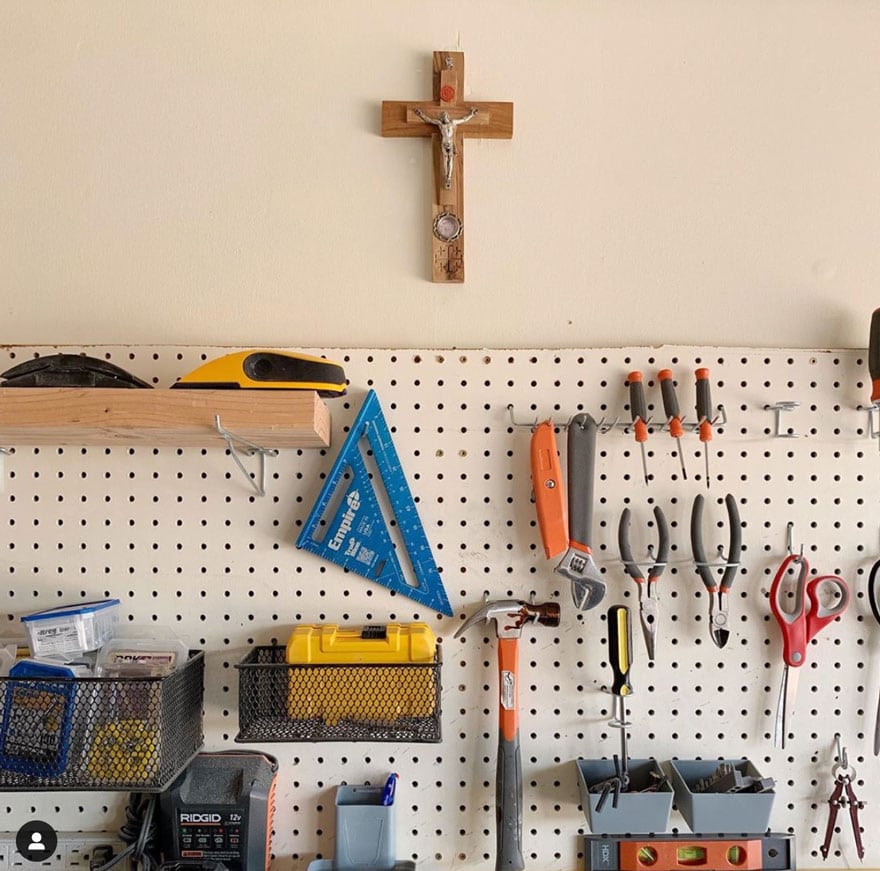 I have mentioned several small businesses recently in a post and on my Instagram. This is one that is near and dear to my sister's heart. A young couple crafting custom prayer kneelers from Phoenix, AZ. You can follow them on Instagram @atthenamekneelers or visit their Etsy shop here.
Happy Easter! Stay Safe everyone!
xo
annie