***Updated Post***
Wow! A lot has changed since I created this post about creating a coffee bar from a piece of furniture. First, we no longer burn candles, so it seems ridiculous that I had so many! We replaced the white floating shelves with industrial kitchen supply shelves. They are so much better and very reasonably priced. They can hold a lot more weight so I can use them for both the look and function we needed for storage. Read more about how we switched to diffusing instead of burning candles in this post.
Before
I've been wanting to create a coffee bar in our kitchen ever since I saw my friend Diane Karmen's black and white coffee bar. Diane has plenty of counter space in her kitchen but wanted to have a designated coffee area. She created hers by having her cabinet maker create a simple cabinet with drawers and open space for baskets and then used a leftover piece of granite from her kitchen during the remodel. I knew we already had the perfect piece of furniture, it just needed a stone top. Diane and I found a remnant when shopping for her client's kitchen.
A coffee bar between the dining room & kitchen
Once we added the stone, which was $300, delivered to our existing piece of furniture, it instantly felt more like a real piece intended for a kitchen. Using the original wood top was okay, but it never felt clean. The stone is perfect for the look and overall feel. We added two simple white floating shelves 36″ long and baskets from The Container Store to hold linens underneath. The piece has plenty of storage for dishes, candles, and linens, but the look all came together with the floating shelves. We are still not sure if we will be keeping our existing upper cabinets in the kitchen or removing them for open shelving, so I had to be sure and get a little open shelving for displaying our favorite things. Coffee and tea related things!
Our home is pretty open concept, which we love, so the dining room blends into the coffee bar, which is right in-between the dining room and kitchen.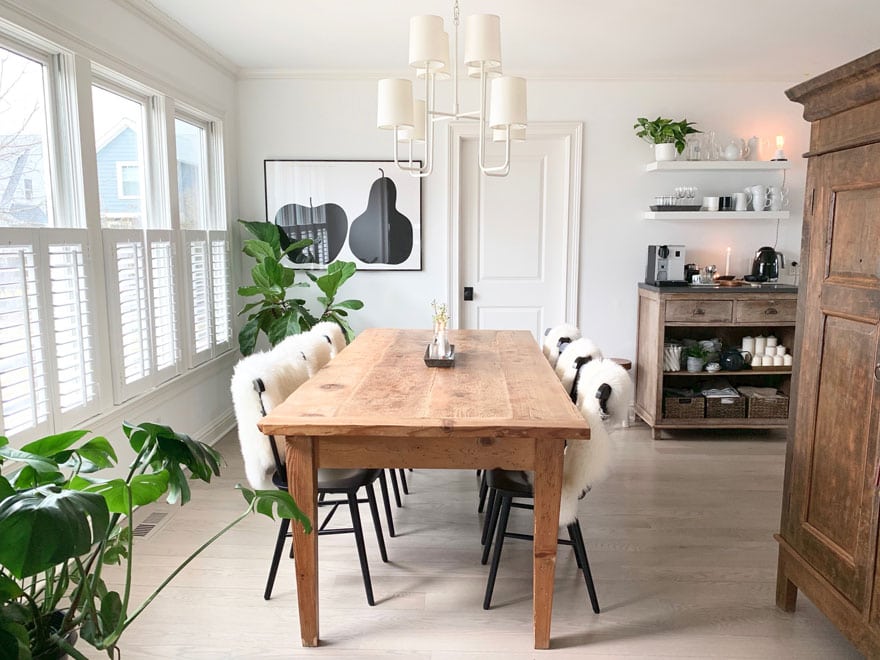 The total cost for the project was about $600 and that excludes the price of the existing piece of furniture. I see pieces like this everywhere from consignment stores to goodwill for under $100. Most need a coat of paint, but could easily be made into a coffee bar with a stone or marble remnant. The place we went had a ton of options in stone, marble and granite. We already have marble countertops in the kitchen so I wanted to have something different.
If you have a coffee bar, station, or counter set up in your home, I would love to see it and share it. Email me a photo and I'll create a post sharing everyone's interpretation of a coffee/tea set-up. annie@mostlovelythings.com
Shop my coffee bar
https://rstyle.me/+wWHGUgVVIsQywE9TDk92Sw
Shop my dining room